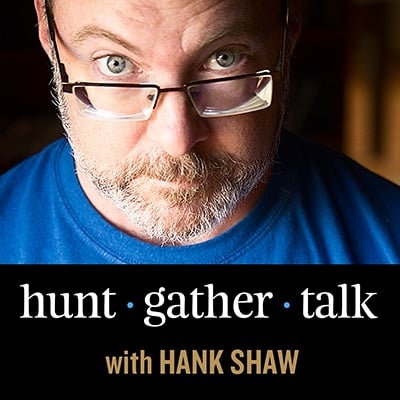 Welcome to the Hunt Gather Talk podcast!
If you're interested in wild food, whether it's venison, wild mushrooms, freshwater or saltwater fish, upland game birds, waterfowl, wild edible plants or small game, you'll hear about it here. I've spent a lifetime gathering wild edible plants and fishing the waters of North America, and have become one of the better-known wild game cooks out there.
This podcast is a chance for me to talk directly to you about current events in the wild food world, to answer listener and reader questions, to discuss tips, tricks and techniques for acquiring, prepping and cooking all varieties of game, fish and wild plants — and shoot the breeze with fellow outdoor experts.
Ultimately I hope to include the occasional audio adventure a la Freakonomics or This American Life. I don't have that kind of skill just yet, but I am working on it.
Why a podcast? Because as much of a writer as I am, there is an immediacy in the spoken word that excites me. A podcast is raw, real and allows me to be a bit more of, well, me. And besides, you can't really read one of my essays while driving to the office or working out.
I plan on rolling out a new episode every few weeks, and most episodes will be an hour or so. I reckon that's as long as I want to listen to someone else's radio show, so I'll apply the same rule to my own ramblings.
I take requests, both for topics to talk about and people to interview. If you have a suggestion, drop me a line at scrbblr AT hotmail DOT com.
Click Here to Subscribe via iTunes or here for Stitcher 
Click Here to Subscribe via RSS (non-iTunes feed)
Episode 1 covers how to properly hang game birds, forage for seaweed, make venison stock and care for fish as soon as they come over the rail.