Podcast: Play in new window | Download
Subscribe: Android | RSS | More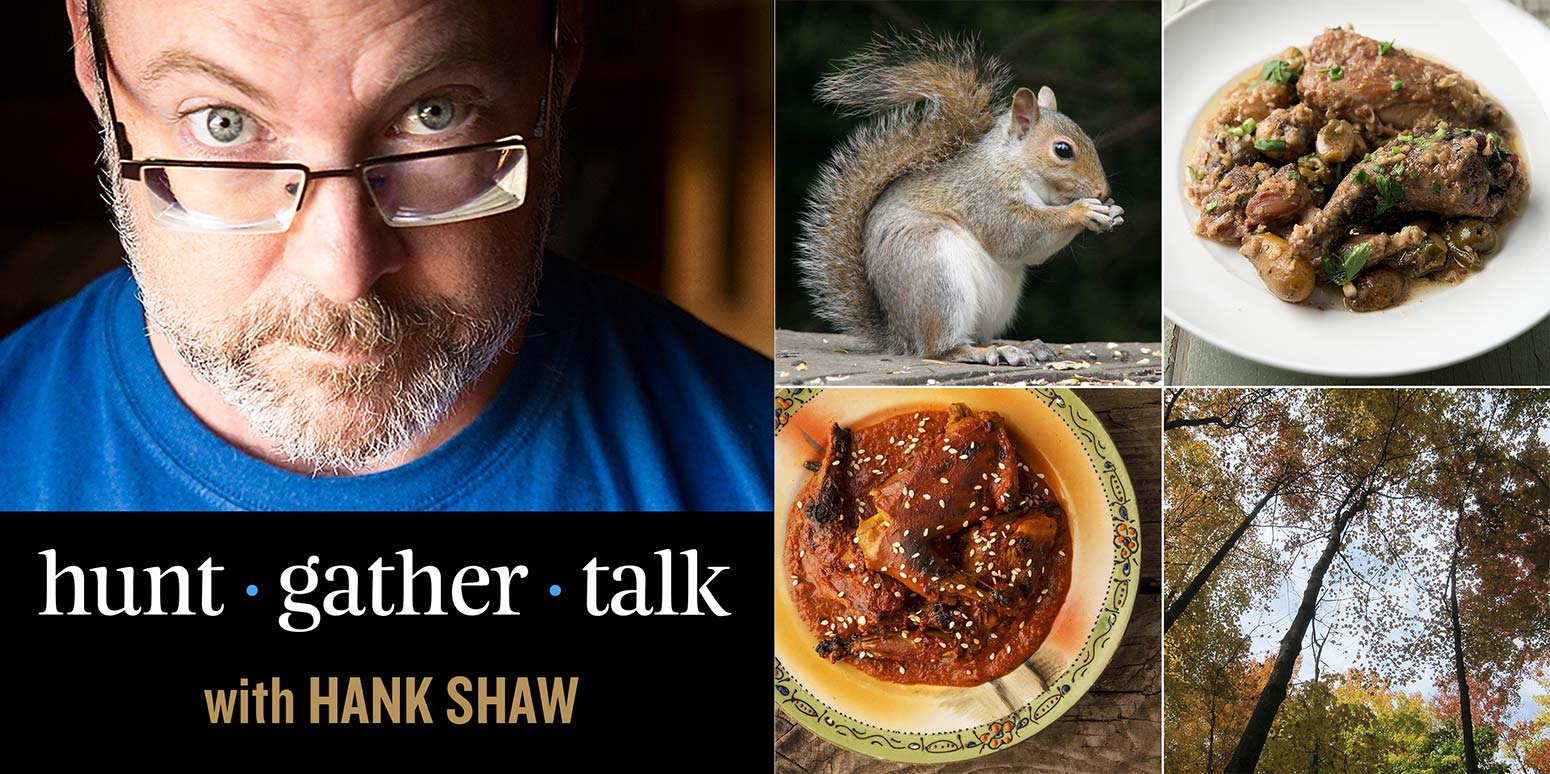 I'm back!
After a long hiatus, I am bringing back the Hunt Gather Talk podcast for a Season Two. This season will focus entirely on upland game, not only upland birds but also small game. Think of this as the podcast behind my latest cookbook, Pheasant, Quail, Cottontail, which covers all things upland.
I am happy to be working with two title sponsors, Hunt to Eat and Filson. These will be the only two commercial sponsors of the show, a move I've made to keep things as uncluttered as possible. I happen to already wear a lot of both Filson and Hunt to Eat gear anyway, so it's a natural fit.
Every episode of Season Two will dig deep into the life, habits, hunting, lore, myth and of course prepping and cooking of a particular animal. Expect episodes on pheasants, rabbits, every species of quail, every species of grouse, wild turkeys, rails, woodcock, pigeons and doves, chukars and huns — and yes, tree ninjas. In fact, that's where we'll start.
In this episode I talk with Arizona Game & Fish biologist Johnathan O'Dell all about squirrels.
Johnathan is the first person ever recorded to have hunted, shot and eaten every species of tree squirrel it's legal to hunt in the United States. Field & Stream wrote him up for the achievement, even. Johnathan helped me follow him in the Great American Squirrel Slam, which I finished out in December 2018.
If you want to see what it looked like when I finished the Grand Squirrel Slam, here's the video.
In this episode, we go over all kinds of squirrel-related things, from biology to the rifle vs. shotgun debate, how to hunt the various species, cooking squirrels, the myth of barking squirrels, as well as gear you might want to have while chasing Mr. Bushytail.
For more information on these topics, here are some helpful links:
A Request
I am bringing back Hunt Gather Talk with the hopes that your generosity can help keep it going season after season. My two sponsors help things a lot, but you are the third leg of the stool. Think of this like public radio, only with hunting and fishing and wild food and stuff. No, Hunt Gather Talk won't be a "pay-to-play" podcast, so you don't necessarily have to chip in. But I am asking you to consider it. Every little bit helps to pay for editing, servers, and, frankly to keep the lights on here. Thanks in advance for whatever you can contribute!
What's to Come
After today, I plan to whet your appetite by releasing two more episodes very quickly: One on snipe, and one on ptarmigan and the Himalayan snowcock. You can expect those soon. After that, the schedule I am hoping to hold to is one episode every other week, more or less. I expect about 22 to 24 episodes total, so stay tuned!
Subscribe
You can find an archive of all my episodes here, and you can subscribe to the podcast here via RSS.
Subscribe via iTunes and Stitcher here.