Hunt Gather Talk 17: Wild Food Geek-Out with Pascal
July 05, 2016 | Updated April 30, 2021
As an Amazon Associate I earn from qualifying purchases.
Podcast: Play in new window | Download
I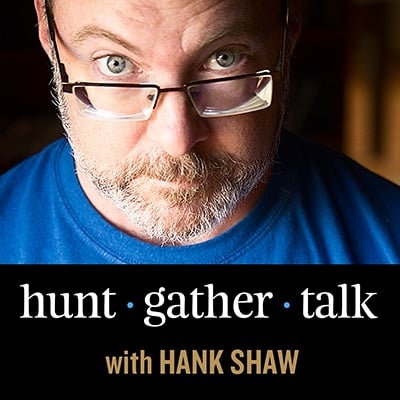 t's a rare day that I get a chance to geek out on wild foods the way I do when I talk with Pascal Baudar.
Pascal, if you are not familiar with him, is a wizard with wild foods. He does a lot of the things I do, and I do some of the things he does. His book, The New Wildcrafted Cuisine: Exploring the Exotic Gastronomy of Local Terroir
, is an absolute treasure trove of cool things to do with foraged ingredients. It is this book that finally got me into making beers with wild foods, and yeah, we do talk about beer a bit in this episode — but the conversation goes way beyond that.
We talked about everything from making sugar from the crystallized honeydew from an insect that lives on eucalyptus trees to Native American ethnobotany to the ethics of foraging on public land.
We talk especially about wildcrafting, which we define as specifically growing wild native plants on your own property to use. In my case, I have several kinds of cactus to make prickly pear syrup, a cholla plant for cholla buds, lots of manzanita to make manzanita cider, lemonade bushes, white sage, rosemary, lavender, figs, fennel… I could go on and on.
Most of all, I grow edible bulbs I bought from Van Engelen, like blue camas, that are cultivated varieties of those wild bulbs that live all around me — when you dig a bulb, you kill the plant, so if you want lots of bulbs, growing your own is the only responsible way to go about it. AS foraging grows more popular, Pascal and I see this as the way forward.
The flipside of that is our discussion on eating the invasives.
Everything from wild fennel to dandelions to curly dock, chickweed, burdock, and chicory are all non-native plants that can be invasive here in the United States. Garlic mustard is a great example in the East. Eat all you can, because these plants are both tasty and bad for the native ecosystem.
Pascal revealed that he is at work on his second book, a book about primitive brewing — both alcoholic drinks as well as sodas. We mention several key books to read (besides Pascal's first book) if you are interested in this sort of thing — Wild Brews: Beer Beyond the Influence of Brewer's Yeast
 by Jeff Sparrow; American Sour Beers
by Michael Tonsmeire; and Sacred and Herbal Healing Beers: The Secrets of Ancient Fermentation
by Stephen Buhner.
Hope you enjoy this episode! And, as always, if you like it, please subscribe and leave a review. It helps me a lot. Thanks!