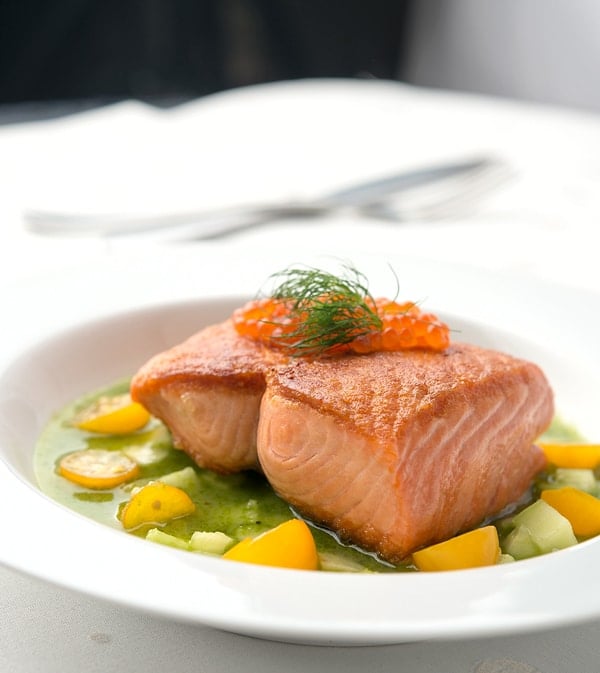 Find It Fast
About
I do an awful lot of salmon and trout fishing, and have so many salmon recipes and trout recipes that I've separated them out on this page.
The default species for these recipes are king salmon and for trout recipes it's rainbow trout, or steelhead, but in most cases these dishes will work just fine with all sorts of other salmonids, ranging from Arctic char to sockeye salmon and kokanee, other trout, pinks, silvers — yes, even farmed, store-bought Atlantic salmon or rainbows.
General Advice
Keep in mind that the designations in the recipes below are suggestions. I've made trout recipes with salmon and salmon recipes with trout.
In general, you will be dealing with salmon fillets. I prefer skin-on fillets because I like the crispy skin, but any such recipe will work perfectly well with skinless salmon fillets, too.
The bigger the fish, the more likely you'll use a piece of salmon and not the whole fillet or side, or even the whole fish. Smaller salmon, like kokanee and pinks, interchange perfectly with trout. Similarly, very large lake trout and steelhead or char can sub in perfectly for salmon.
A word on fresh salmon vs. frozen salmon (or trout). Fresh is better if you catch it yourself of have access to freshly caught fish. Fresh salmon will taste better, be less fishy and won't stink up your kitchen. But if you have to buy salmon from a market, buy frozen — unless you can be assured that the fish is pristine.
Prefrozen salmon will taste cleaner than "fresh frozen," which is market-speak for thawed. Oh, and thaw your fish this way: Remove from any packaging and wrap in paper towels. Put in the fridge to thaw over a day or so. Every so often, replace the paper towels if they get damp. This will go a long way toward stinkless salmon.
Basics
Some baseline techniques you will find useful as you cook your salmon and trout. Many of these apply to so many different kinds of seafood it's worth compiling them here.
Salmon Recipes
Trout Recipes