As an Amazon Associate I earn from qualifying purchases.
Podcast: Play in new window | Download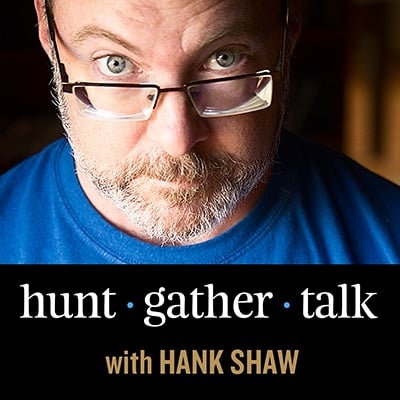 I've been an angler and cook far longer than I've been a hunter and cook. I started cooking fish and seafood for myself in my teenage years, and have cooked more types of fish than I can count. Every spring and summer I am on the water as much as I can be, and I eat fish or seafood probably three or four times a week during that period.
So, in this episode of Hunt Gather Talk, I offer some of my tips and techniques for cooking fish — both freshwater and saltwater, as well as all sorts of other sea creatures.
There's no way I can get through all I know in one podcast, so think of this as a start to a longer conversation. To that end, I'll begin with my thoughts on the most common way to cook a fish: frying. Why are we so dependent on this method? There are reasons. When to fry and when not to? Batter, cornmeal or flour? That sort of thing.
I offer you some tips on flour-dusted fried fish, like alternative flours, oils and seasonings that work well.
How to properly bread and fry a fish fillet. You'd be surprised how many people actually mess this one up.
The secrets of awesome fish and chips and tempura.
What fish to fry, and what fish to cook in other ways.
I mention an amazing spiced, clarified butter I used to make at the Ethiopian restaurant I once worked at called niter kebbeh. Here is the recipe. In terms of tools, by far the most useful frying tools I have, other than pans and a fryer, are a Chinese spider skimmer
and a laser thermometer
.
If you like the episode and want to check out my (pretty damn large) collection of fish and seafood recipes, start here.
And you can drill down to find recipes for "regular" fish, recipes specifically for salmon and trout, recipes for shellfish and crustaceans, as well as a section on little fish and oddballs.
If you want to listen to more episodes of the podcast, they can be found here.
Enjoy this week's podcast, and, as always, if you like it, please subscribe and leave a review. It helps me a lot. Thanks!