As an Amazon Associate I earn from qualifying purchases.
Podcast: Play in new window | Download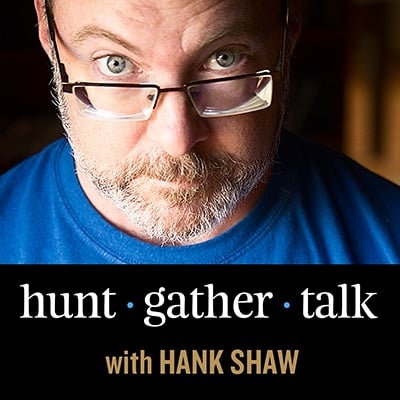 In this episode of Hunt Gather Talk, I talk about beer. And not just any beer. Wild beers.
That term can mean two things: Beers fermented with wild yeast instead of introduced beer yeast, and beers using wild, foraged ingredients. Bitter, aromatic herbs as an alternative to hops. Hell, wild hops if it grows near you. Maybe it's adding roasted dandelion or chicory root to a porter or stout. Or a wild fruit lambic or saison. Try your hand at making a local version of the ancient gruit herbs that were used in beers before the dominance of hops. (More on that in the next HAGC post)
This week Rick Sellers, formerly of Auburn Alehouse joins me in the conversation. Rick has been a professional brewer, bar owner, beertender and nationally known beer writer. He's the real deal when it comes to knowing how the suds are made.
We talk all about wildness in beer, about the rise of hops as beer's primary herbal additive, and we brainstorm about how you can introduce the wild into your own brewing. This isn't a how-to podcast, it's more of an idea starter. I fully intend to talk more about beers and brewing as time goes on, so stay tuned.
We made a lot references in the hour's conversation, and the following links will help you out if you want more information:
We reference several good books, starting with Pascal Baudar's The New Wildcrafted Cuisine: Exploring the Exotic Gastronomy of Local Terroir, then Stephen Harrod Buhner's Sacred and Herbal Healing Beers: The Secrets of Ancient Fermentation, Bitters: A Spirited History of a Classic Cure-All, with Cocktails, Recipes, and Formulas by Brad Parsons, and The Drunken Botanist by Amy Stewart.
I brought up the idea of adding roasted California coffeeberry seeds to a porter or stout; Kentucky coffeeberry would work, too. If you want to forage for California coffeeberry, here is my article that will help you do so.
I am making a wild ginger saison beer. Wild ginger is a controversial ingredients, and here is my research on the topic.
Enjoy this week's podcast, and, as always, if you like it, please subscribe and leave a review. It helps me a lot. Thanks!