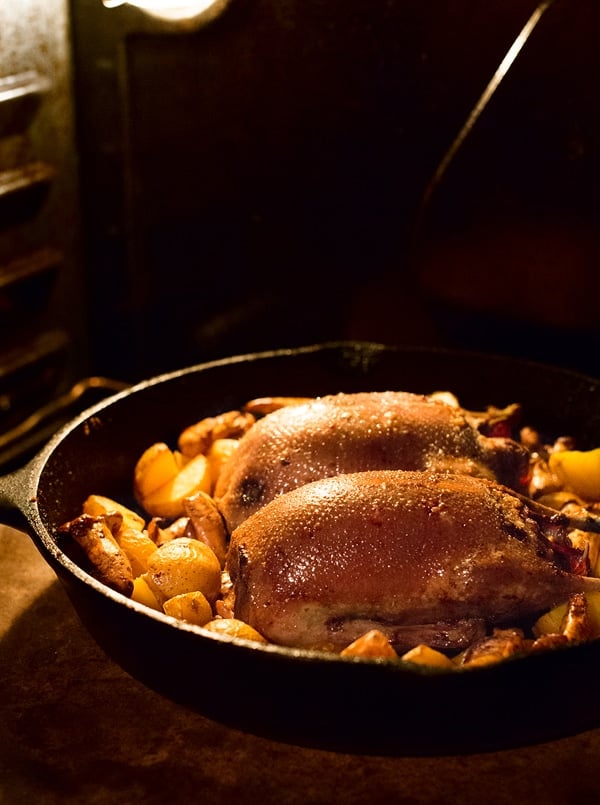 Find It Fast
About | Some Basic Tips | Prep Work | Master Recipes | Recipes by Part of Bird | Stinky Ducks
About
This is my collection of duck recipes, primarily for wild ducks as well as geese. While most wild ducks enjoy a good reputation, geese are undeservedly maligned as greasy, livery and tough. Yes, they can be all these things, but properly done, a wild goose (or a domestic, for that matter) is essentially a large duck.
As for what types of duck we eat, it runs the gamut from domesticated Pekin ducks (that's the AFLAC duck) and Muscovy ducks and ye olde white barnyard goose, all the way through mallards, pintails, wood ducks, Canada geese and other wild geese, to the more challenging diver ducks and sea ducks.
Some Basic Tips
A normal wild goose, such as a Canada, snow or whitefront will feed four, while a small goose (cackler, Aleutian or Ross') will serve two heartily. A domestic goose or a giant Canada (really any Canada larger than 10 pounds) can serve as many as six.
Don't overcook waterfowl breasts or they will be livery. Rare-to-medium is the mantra. As for the legs, thighs and wings, slow cook them to make them tender. Duck and goose legs are not nearly as tough as pheasant legs because waterfowl don't do as much walking around. But their wings can be very tough.
If you find yourself with diving ducks, such as scaup, ringnecks, red-heads, buffleheads, goldeneyes, ruddy ducks, oldsquaw or eiders, you may need to brine them to soften any possible fishy taste. A good simple brine for duck is 1/4 cup kosher salt to 1 quart of water. Brine overnight in the fridge.
One easy way to tell if the fat in your wild duck is tasty is to cut off the "Pope's Nose," or tail of the duck, and render out the fat in a small frying pan. If the fat smells icky, brine the duck.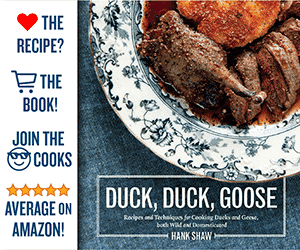 A note on all these duck recipes: If you use domestic geese or ducks for any of them, it is vital that after you thaw them out, you remove all of the body cavity fat and then prick the skin all around with the point of a filet knife or something else narrow and pointy. Domestic geese are flying pigs, raised for their delicious fat as much as their meat.
Prep Work
Basic instructions on how to render your own duck or goose fat.
My video for plucking ducks or geese with hot water and melted paraffin wax.
If you only have a few ducks to pluck, or don't want to use hot wax, here is my video for dry-plucking a duck or goose:
My video for skinning a duck or goose. I skin sea ducks, fishy divers and snow geese.
MASTER RECIPES
RECIPES BY PART OF THE BIRD
Other Topics