As an Amazon Associate I earn from qualifying purchases.
Podcast: Play in new window | Download
Welcome to Hunt Gather Talk, Season Three. This season will focus entirely on fish and seafood, freshwater and salt. Think of this as the podcast behind my latest cookbook, Hook, Line, and Supper, which covers all things aquatic.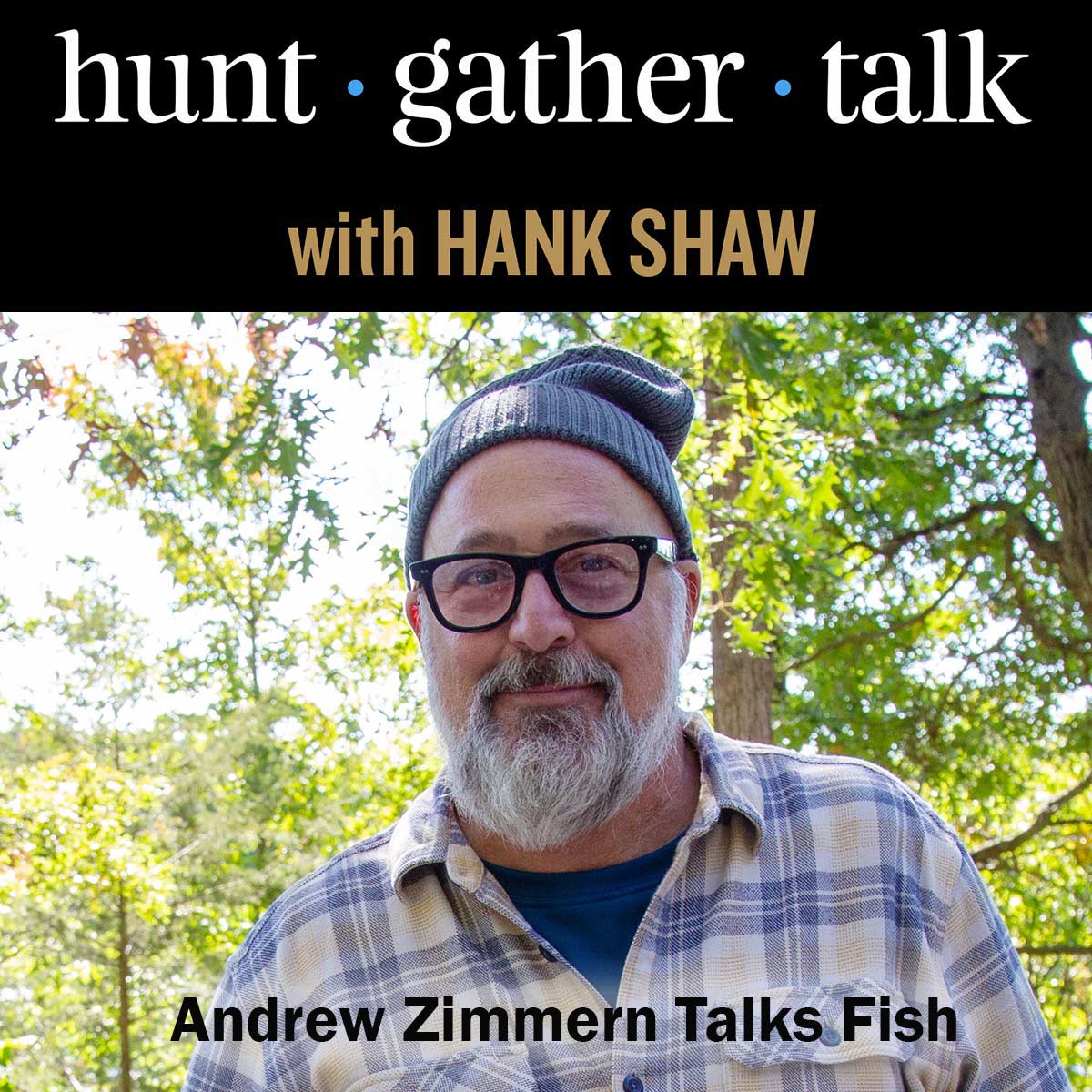 I am happy to be working with two title sponsors, E-Fish and Filson. These will be the only two commercial sponsors of the show, a move I've made to keep things as uncluttered as possible. I happen to already wear a lot of both Filson and I love what the folks at E-Fish are doing, so it's a natural fit.
Every episode of Season Three will dig deep into some aspect of the fish and seafood world, from prep and how to sessions to sustainability and the farmed vs. wild debate, to how fish and seafood plays into other world cuisines, to episodes on specific kinds of fish.
Between the two of us, I think Andrew Zimmern and I have eaten close to 1,000 varieties of fish and seafood. So who better to get into the intricacies of describing flavor and texture in fish and seafood?
Many of you know Andrew Zimmern from his show "Bizarre Foods," as well as its spinoffs. Zimmern is a judge on the latest incarnation of Iron Chef on Netflix, and he and I have fished and hunted together right here in California. (I looked for video online of our episodes, but they seem to have been taken off the internet.) Zimmern also runs the Substack newsletter Spilled Milk.
For more information on this episode, here are some helpful links:
A Request
I have brought back Hunt Gather Talk with the hopes that your generosity can help keep it going season after season. My two sponsors help things a lot, but you are the third leg of the stool. Think of this like public radio, only with hunting and fishing and wild food and stuff. No, Hunt Gather Talk won't be a "pay-to-play" podcast, so you don't necessarily have to chip in. But I am asking you to consider it. Every little bit helps to pay for editing, servers, and, frankly to keep the lights on here. Thanks in advance for whatever you can contribute!
Subscribe
You can find an archive of all my episodes here, and you can subscribe to the podcast here via RSS.
Subscribe via iTunes and Stitcher here.