As an Amazon Associate I earn from qualifying purchases.
Podcast: Play in new window | Download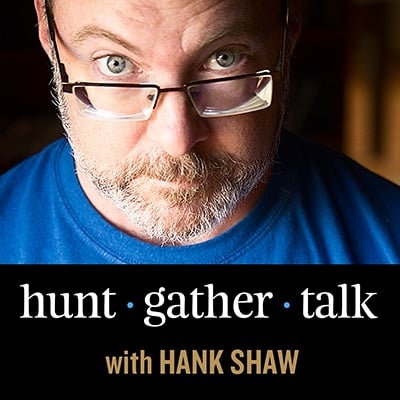 Offal. Variety meats. The wobbly or jiggly bits. Yep, we're talking guts in this week's episode of Hunt Gather Talk. And I am excited to have Chef Brad Farmerie on the show to join me!
If you don't know him, Brad is a Michelin-starred chef based in New York whose food is at once innovative and easy-to-eat. His main restaurant, Public, is joined by Saxon & Parole and two more casual places, all in NYC. He's been on lots of TV shows, including Food Network's The Next Iron Chef. But besides all the accolades, I wanted to talk with Brad because no one is better at presenting odd cuts of meat in ways that a jaded and skeptical New York dining crowd not only will like, but will come to his restaurants specifically to eat.
He and I met in 2010 at the International Association of Culinary Professionals conference, and have been friends ever since. It was at that conference where I saw Brad make a liver dessert. I know, right? It was a liver creme caramel, and I set out to replicate it here on Hunter Angler Gardener Cook. (Here is my version.) In turn, he still makes my 24-hour, slow-cooked gizzards. Every time we talk, we each get cool new ideas.
One of those we walk about that I suspect Brad might try in his restaurants is crispy fish skin chicharrones. We also talked about making Alpine blood noodles, a specialty of Northern Italy, blood sausages, and blood pudding, which we have decided to rename "blood loaf." (OK, that was a joke. Maybe.)
We also talked about a few key books you might want to pick up, including British Chef Fergus Henderson's The Complete Nose to Tail
, New York Chef April Bloomfield's A Girl and Her Pig: Recipes and Stories
, and that fantastic pasta book by Oretta Zanini, Encyclopedia of Pasta
.
I hope you get inspired to work with the "fifth quarter" after listening to this week's episode. And, as always, if you want to listen to more episodes of the podcast, they can be found here.
Enjoy this week's podcast, and, as always, if you like it, please subscribe and leave a review. It helps me a lot. Thanks!