Hunt Gather Talk: All Hail the King! Ruffed Grouse
November 13, 2020 | Updated May 26, 2022
As an Amazon Associate I earn from qualifying purchases.
Podcast: Play in new window | Download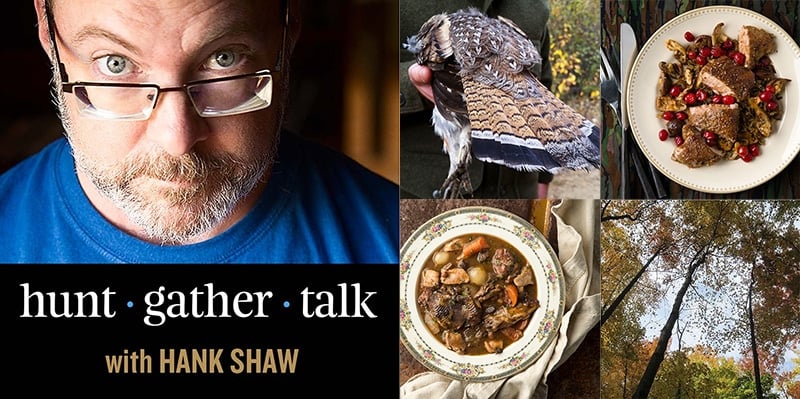 To many, the king of all gamebirds is the ruffed grouse. It can be challenging to hunt, and ranges all the way from California to the Canadian Maritimes.
In this episode, I talk with hunter-biologists Heather Shaw and Rocky Gutierrez about this amazing bird. Both have studied ruffies and both have hunted them in a variety of places, as have I.
Every episode of Hunt Gather Talk digs deep into the life, habits, hunting, lore, myth and of course prepping and cooking of a particular animal. Expect episodes on pheasants, rabbits, every species of quail, every species of grouse, wild turkeys, rails, woodcock, pigeons and doves, and huns. Thanks go out to Filson and Hunt to Eat for sponsoring the show!
We get into the biology of the grouse, its habitat, why it is so tame in the West yet so tricky in the East, the various hunting cultures around the grouse, as well as a healthy conversation about cooking and eating them.
For more information on these topics, here are some helpful links:
Recipes
A Request
I am bringing back Hunt Gather Talk with the hopes that your generosity can help keep it going season after season. Think of this like public radio, only with hunting and fishing and wild food and stuff. No, this won't be a "pay-to-play" podcast, so you don't necessarily have to chip in. But I am asking you to consider it. Every little bit helps to pay for editing, servers, and, frankly to keep the lights on here. Thanks in advance for whatever you can contribute!
Subscribe
You can find an archive of all my episodes here, and you can subscribe to the podcast here via RSS.
Subscribe via iTunes and Stitcher here.
Transcript
As a service to those with hearing issues, or for anyone who would rather read our conversation than hear it, here is the transcript of the show. Enjoy!
Hank Shaw:
Welcome, guys, to the show. This is a rare opportunity to have two, count them, two wildlife biologists on. Normally it's me, the cook, obviously some guy who is usually pretty good at hunting whatever it is that we're talking about, and then the stray biologist. But this is going to be a good opportunity to get in the weeds a little bit about what is arguably the king of all upland game birds. I can take arguments that it can be another bird, but for most people, especially if they live east of the Great Plains, the ruffed grouse is a king. And it has developed, along with the woodcock, an entire weird Northeastern culture with leather patches on their elbows and strange double guns and weird behavior that those of us as Westerners, because Rocky and I are Westerners, we know a very different ruffed grouse, and they act very differently. And I definitely want to get into that as we talk over the next hour, hour and a half or so. So for people who may not have heard the mountain quail episode, Rocky Gutierrez, why don't you introduce yourself a little bit?
Rocky Gutierrez:
Hi. Thank you very much, Hank. As you mentioned, we were speaking together about mountain quail a few weeks ago. And I am the Gordon Goulian Emeritus in Wildlife Management from the University of Minnesota. Emeritus simply means that I'm supposed to be retired, but I'm actually not because I'm still working every day on my research on spotted owls and grouse and other species. So that's about all I really think I need to add, unless you want me to say more.
Hank Shaw:
No, I'll fill in the gaps. Basically, everybody out there, you're listening to the Yoda of upland game bird biology. He has published probably, what is it? 175 peer review papers now?
Rocky Gutierrez:
Something like that.
Hank Shaw:
For almost a 50 year span. '73 was your first one, I think.
Rocky Gutierrez:
Actually, 1971 was my first publication.
Hank Shaw:
There you go. So it's almost 50 years of publication. And there are very few upland game bird biologists with the chops of Rocky Gutierrez. And we are going to talk about the fact that all three of us on this call are Big Ten people, and we're going to no doubt throw stones at each other in a minute. But Heather Shaw, no relation, I don't think, unless there's a mailman or a cousin that we don't know about. But you are also a game bird biologist. Tell us about yourself.
Heather Shaw:
Thank you so much, Hank. And maybe we are related from a distant cousin. But until I figure that out, we'll go from there. Yeah, so I am a wildlife biologist. I've been practicing wildlife biology and ecology for about 14 years now. So I definitely don't have the chaps that Rocky does whatsoever. I still consider myself quite new to the field, even after a decade of work. And my work has definitely surrounded, throughout my entire career, around avian ecology and management, specifically game bird ecology and management. So I have worked for state, federal, non-profit agencies that include Wyoming Game and Fish Department, North Dakota Game and Fish Department, ducks unlimited, and the Ruffed Grouse Society, as well as their regional wildlife biologists.
Heather Shaw:
So right now, I'm really focusing my efforts on more R3 type work and events, and really working to engage additional new hunters, specifically women, into the upland hunting community. And trying to create that sense of community and create that tribe, if you will, for folks. And trying to break down some barriers that others may have felt have been conflicting for them trying to enter into their new hunting ventures. And hopefully create traditions and relationships that last a lifetime for them as well.
Hank Shaw:
There's a big recruitment… What is it? Recruitment, retention, and what's the other one?
Heather Shaw:
Reactivation.
Hank Shaw:
Re what??
Heather Shaw:
Reactivation.
Hank Shaw:
Reactivation. Okay, that's the third. I always remember recruitment and retention, but the reactivation is a hard one to remember. So let's talk about grouse. So let's just start with a real first basic question. How is it that the ruffed grouse, of all the different species, got to be known by many as the king of all upland game birds?
Rocky Gutierrez:
I'll let you go first, Heather.
Heather Shaw:
Anything for you, Rocky. Everyone's going to have their own interpretation of how the king came to be, I think, on upland hunting culture and lore and folklore, and hunting behind different breeds of dogs as well. That's a whole other podcast, I think, when you really want to dive into the culture and the history of that.
Heather Shaw:
In my own opinion, I find that because of the challenges that we see pursuing this bird. We can pursue various game species, especially upland game, throughout the country, throughout the world. But I really don't see additional challenges rising to the caliber that ruffed grouse really present to the hunter. It's challenging for our dogs, even the finest of bird dogs, too. And I'm hunting a lot of young dogs right now, and we find this every day. But they present their own challenges to us in our pursuits. And we are always a student to the bird. So this bird is always humbling even the best of hunters and the best of dogs.
Heather Shaw:
And even wildlife biologists and ecologists, and Rocky, I'm sure you as well as myself and others, find this every day. We can think that we know as much as we do about the most studied game bird in North America. Over 100 years of proven amazing groundwork and research has been laid before us. But until you get out in those covers and you really pursue this bird, you don't know it all. We're always humbled and we're just always a student. So I think that really gives it that caliber of being the king over other game species, especially upland game species that we pursue.
Rocky Gutierrez:
I agree 100%. And the reason why I asked you to go first is because I always enjoy hearing the perspective of other people, because that's what broadens our own way of thinking about things. And as you were speaking, I thought back, everything she's saying is true. Yet I wonder, why did that bird ever become so wild? And I thought, as you were speaking, I says, I wonder if it has to do with the fact that the ruffed grouse and other game species in the Eastern United States were hunted so hard through the development of the nation that they became quite rare. And the survivors, we essentially imposed Darwinian selection on them. And all the dumb ones got killed, and the smart ones yet survive. And we are just, in a sense, the beneficiaries of that huge selection pressure. So now these birds, they know every single trick. And they have better hearing than we do, better eyesight and so forth. So they are able to use all of those facilities to evade us. And I think that's why they have risen to the level of the king of game birds.
Hank Shaw:
I'm glad you brought that up. Because when Heather was talking, I'm thinking, man, you've never hunted out West where you can kill them with a Nalgene. The ruffed grouse in the Uinta Mountains in Utah and Idaho and Northern California, they're just dumb as a bag of hammers. They'll sit there. They're almost as bad as fool hens. And so it's very interesting to hear the East versus West perspective.
Hank Shaw:
Now, my take on why it became the king is because right at the get-go, you have people who are familiar with what was in Great Britain or in France or in Germany. So you're dealing with a glorious 12th, the 12th of August, the opening of grouse season in Scotland, which goes back before our country was founded. And so you had this grouse hunting tradition, although that particular grouse is probably closer to a ptarmigan because it's a dark meat bird. But they've got partridges and all these other things in Europe. So there's this tradition of bird hunting that really… And if you want to go way back, it predates recorded history, because they were chucking nets on chuckers back in the neolithic. But in terms of grouse, which were more singular, you have to wait for the shotgun. And the shotgun doesn't really become much of anything until, I would say, 1700s at the earliest. And you're really talking 1800s. So both the countries have been founded and we're independent at this point.
Hank Shaw:
But you have this old tradition of hunting grouse is a big deal. And it is, other than the wild turkey, the biggest game bird, other than waterfowl and the wild turkey, it is the biggest game bird in the Northeast, which is the first part of the country settled. At least unless you were on the Oñate expedition in New Mexico. So you've got, from cultural standpoint, you've got like, oh yeah, here's the biggest, wildest chicken that lives in the woods. And people like hunting chickens, man. I don't care where you are in the world. If there's a chicken thing, we're going to go after it. That's my take.
Rocky Gutierrez:
Hard to argue with that.
Hank Shaw:
Is this the reason why it's the most studied game bird in North America?
Rocky Gutierrez:
I think that's definitely one of the reasons. Because the grouse have this cyclic behavior over much of its range. And they go to through… They're abundant at one point in time, and then they gradually decline, and then they rise again. And usually that's a 10 year cycle, or at least it has been historically in many parts of the range. Those cycles don't occur out in the West, but in the Northeast and throughout boreal Canada and Alaska, they do this 10 year cycle. And I think that people may have misinterpreted these declines as something more serious than they were. And because of that, they were worried that this favorite game bird of theirs was going to disappear. They began to try to think of ways to manage them. And that's when they asked people like Gardiner Bump from Cornell University to begin studies in New York to learn about the ecology of ruffed grouse, such that they could better manage them. And so I think that's the connection there with why they became so studied.
Hank Shaw:
They're also, of all our grouse, correct me if I'm wrong, they're the most wide spread of all the grouse in North America, right?
Rocky Gutierrez:
I think so. Yes. I was just trying to think of the blue grouse has as wide a distribution, but it doesn't. Blue grouse occurs from Southern New Mexico to Alaska. And the ruffed grouse occurs from Alaska all the way to Georgia and Northern Alabama. And they also occurred as far south as Northwestern California. And down into, well, now into the Northern Colorado. So they have pretty huge distribution. It is coincident almost with the distribution of aspen. Now, that's not true in the Southeastern United States or in the Pacific Northwest. But by and large, the rest of the distribution is coincident with aspen.
Hank Shaw:
Really? In the Northeast too?
Rocky Gutierrez:
Yes.
Heather Shaw:
So I'd like to touch on that as well. And Rocky, you bring up a lot of great points. But range and distribution is something that currently, managers and wildlife biologists throughout the ruffed grouse range have been struggling with. Because it did, coincidentally of course, occur with the occurrence of aspen throughout those ranges. But now that is very much restricted, and it's very much moving from the Southern US, where ruffed grouse used to occur and we used to also have plentiful aspen on the landscape, to a much more constricted area. And that's due to a lot of different factors. A lot of different ingredients in a very complex soup, if you will.
Heather Shaw:
But I think we're seeing that restriction due to mainly political views on forest management, a lack of appropriate forest management, and age class diversity in some states. Social pressure against some forms of active science-based forest management as well. And when that occurs, we're not only losing aspen or other components on the landscape, but we're losing those forest age classes as well that really support young forest dependent wildlife. And as such, a lot of the states I worked within, and still continue to do work within, are looking at future endangered listing of ruffed grouse in their state, Indiana being one. And I was definitely on the forefront of those NRC meetings and presenting the data and the science to the NRC, to make sure, along with our local chapters, too, that we were pushing for that status, to then hopefully develop a recovery plan moving forward in some of those States.
Heather Shaw:
So Indiana and Ohio, if you will, and our southern States, are seeing that constriction too, where seasons are closed, bag limits are reduced, birds are not plentiful. And we go from a culture of folks who were raised to pursue these birds and have an amazing sporting tradition that they want to hang on to and that keeps them fighting for this bird, but they don't have the opportunity to pursue it anymore, either legally or justifiably, if the numbers are so low in such states. So we're really in quite a conundrum right now where we're seeing extrapation in some of those areas when it comes to ruffed grouse and state specific populations.
Hank Shaw:
Totally. My buddy, Joe, I've had on this podcast in season one, he's a trapper and a hunter in Ohio in Geauga County, near Cleveland. He's convinced he killed the last grouse in Ohio 10 years ago.
Heather Shaw:
[inaudible 00:15:55] Because hunters go afield. And a lot of people say that to me in Ohio, too, that they don't want to even pursue them, although their season is still open and very shortened. And just actually recently shortened as well in 2020. They don't want to go out and pursue that last bird. They're that concerned and that avid of a conservationist that they'd rather make sure that they're working towards active conservation. Although hunting, of course, is not going to be additive to the decline in the population there. They still have that mentality, too, and I fully understand it.
Hank Shaw:
Do you ruffies need different habitats? Whether they're in Humboldt County, California, or Idaho or the UP or Maine? Or Ohio, for that matter. So what most grouse hunters know is they need middling forest. They don't like the old forest and they don't like the brand new forest. They like it a few years old, from what I understand. But is that universal across the range of habitats? I've hunted grouse any number of places and there's not an aspen to be found, because usually in the West, the blue grouse are in the aspens. But so they have to like other trees besides aspens. And so I guess the short version of this question is what sort of forest would be a good place to start looking for grouse to go hunting in?
Rocky Gutierrez:
Well, again, it depends on where you are in the country. But they do, in fact, prefer habitats that are very dense, and these are usually young forests. There are some situations in which they're found, say, in the Pacific Northwest or in California, where they're found in these [inaudible 00:17:48] forests with madrone and live oak and deciduous oaks and understory of shrubs. And also riparian areas, which are oftentimes dominated by hollers and willows and in the like.
Rocky Gutierrez:
But overall, they like relatively thick forest for cover, especially for breeding habitat. Because when the males display to attract, they're exceptionally vulnerable to predation because they're beating their wings to make this drumming sound. And when they're doing that, they can't really see anything that's coming up behind him, and oftentimes from the side either. So they prefer to be in a very dense thicket of vegetation to drum.
Rocky Gutierrez:
So when you're talking about hunting in the West, I'd say work the riparian areas along streams and rivers. If you're in the Midwest, I'd say hunt near clear cuts. And if you're in the Appalachians, I'd say logging areas, even if they're selectively logged, if they have oaks. Because it turns out the oaks are a very important food resource for ruffed grouse in the Appalachian regions.
Hank Shaw:
What about the Maine, New Hampshire area?
Rocky Gutierrez:
Primarily aspen in those areas. And the same way with the Midwest, all through Canada and Alaska. In the winter time, their diet consists of probably 90% to 95% male aspen catkins.
Heather Shaw:
No. So Rocky, he obviously hit the nail on the head too. And it's interesting to see how it changes. So I could speak more specifically to Great Lakes habitat. The way I typically try to describe it to folks is that they need a patchwork mosaic, not only for diversity, but for additional food resources and cover too. So food and cover on the landscape, drumming locations. Drumming logs, if that's included in a contract for a timber sale. All of these are big components. Again, just other ingredients in a very complex, diverse landscape that these birds utilize.
Heather Shaw:
Then we bring in the component of food resource availability, and how their food and diet, food that they seek out and their forage ability and diet that they have, changes throughout the seasons too. So they'll switch from a very leafy vegetation focus to then, of course, berries and crabapple or whatever it may be, thorn apple, earlier on in the season, to more hard mass acorns about this time of year in most states, at least in the Great Lakes, and I think East Coast as well. Where we're harvesting birds right now, oak is a huge component on the landscape, just as much as aspen, and for a thermal component. And other understory species like beaked hazelnut and another soft mass too. But they're switching right now between hard mass and leafy vegetation, so we'll find craps full of both, and they're on that transfer. And then throughout the fall shuffle into the winter, then they really transfer that really fat, rich protein, rich catkin, mostly, for the winter food sources.
Heather Shaw:
But in states that don't have that resource, that don't have aspen, that age class diversity of different species, whether it be hardwoods or softwood, is still really critical too. So there are states that don't have the aspen component as much as we might here in the UP of Michigan, but we're still finding birds persisting because there's young forest or drumming cover and brood-rearing cover, and that herbaceous vegetation that is critical for insect production for young chicks that need that rich protein source. Then they move on throughout their food sources, throughout the life cycle, to their winter, which is typically more mature species. So it really does vary.
Heather Shaw:
Just now learning about where to pursue birds potentially, and what period of time from fall to late season. And maybe if your season runs into January. We [inaudible 00:22:20] the first here in Michigan. You really need to study the biology of the bird and study food resource availability, and look at forest age classes too. And there's just so much information out there. That would, again, be just going down the rabbit hole. But they really utilize a lot of different resources on the landscape, and you can't pinpoint just one.
Hank Shaw:
Yeah. And Baudette, upper Minnesota Canada border, I have hunted grouse quite a bit there. And the snow berries are always a key. If you see the little white snow berries, prick your ears up. And if you're hunting with snow on the ground, so like a December hunt, the hazel catkins, alder and hazel catkins, you'll see them sticking out. And then because often there's a little bit of snow on the ground, you can see chicken prints and be like, oh, they've been hitting these things. Because they're messy eaters, so you can see the debris around, and then you can prick your ears up as well. I did not know that they ate so many acorns. That's an interesting one.
Rocky Gutierrez:
Yeah. That's particularly true in the Southeast. And there really haven't been very many studies in California of ruffed grouse. But I would not be at all surprised in Northwest California that they're not also eating quite a bit of acorn, because we have so many oaks here.
Hank Shaw:
Yeah. You've got the… What's the little… I guess it's a coastal live oak that's out there that has the little acorns. Because there's so many different species in California that it's just crazy. If you guys listening out there don't really know, we've got something on the order of 20… Well, there's really more, because oaks hybridize quite a bit. But there's 20 some odd species of oak in California, and their acorns can range from microscopic, like just a couple species that have an acorn that's about the size of the digit on your pinky finger, all the way up to a valley oak, which is like the size of your ring finger. So anything from very small to huge, and you can see them all one on top of each other. And there's a particularly small one that lives in the grouse area. I think it's a coastal live oak. You might know the actual species, Rocky. I don't know.
Rocky Gutierrez:
It might be quercus turbinella, which is just a scrub oak. I'm confused with the one in Arizona.
Hank Shaw:
That's the Emory oak.
Rocky Gutierrez:
Yeah. Well, no, that's the one that's in the Mexican and Chihuahuan grassland habitats.
Rocky Gutierrez:
Mexican encinal habitat that grassland habitat, but there there's a couple of species of shrub oaks, one in Arizona and one in California that look almost identical. And one of them is turbinella. And I cannot remember the scientific name of the other one, but they have these little, tiny acorns about, like you say, about the size of the tip of your finger.
Hank Shaw:
Oh yeah, yeah, yeah. I see. You know where I see those? When I'm hiking way the hell up around 9,000, 10,000 feet in the Sierra Nevada and Eldorado County it's like a shrub, but it's an oak. And you really only see those acorns once every three or four years and they're way up high.
Rocky Gutierrez:
[crosstalk 00:25:49] as well.
Hank Shaw:
Here's a question for you. If you're wandering through the woods, can you spot a drumming log? Is there something that makes a drumming log look different from say any other log?
Heather Shaw:
There absolutely is. So you really look for grouse scat essentially. And scat can, like any wildlife species, can tell you a lot about the individual itself and the bird itself, but also its habitat. So it can tell you what they're eating based on color, whether it's a yellowish orange color or whether it's purple later on in the season as well, when it starts to really get that protein-rich, fat-rich, catkin diet too. So your drumming logs are typically going to be eight to 10 inches in diameter, probably something more mature about four feet off the ground. We call it diameter at breast height. So we typically try to encourage these included in most timber sale contracts too, but I find them quite often. And you can definitely find a bird that's very fidelic or continues to utilize the same drumming log for years in a row if not its entire life cycle.
Heather Shaw:
So that drumming log will typically be again, large in diameter, eight to 10 inches, laying on the ground, maybe covered in moss, typically butting up to the stump that the actual tree fell from. And that offers additional cover for that male while they're drumming. And some will drum all season long. You'll have male drummers, fall drummers. Sometimes you might be fortunate enough to hear them, throughout the winter depending on where you're at. Don't hear them as much in the winter in Michigan. So you'll see something very well-used due to the amount of grouse scat that's there. And then that can tell you the time of year, depending on what they're feeding on, what those birds in that area or that cover might be utilizing.
Rocky Gutierrez:
One other tidbit for identifying logs is that they spend so much time on it and they walk back and forth. There's often a little worn spot where they spend a lot of the time doing their drumming and rocking back and forth and strutting on the log. So you'll have bark and then you'll have this worn spot. And even if there isn't any grouse droppings there because of rain or whatnot, you can be sure that that's been probably used by a grouse.
Heather Shaw:
I definitely encourage folks that do find one or come across one in their spring mushroom hunting ventures or spring foraging ventures to put a trail camera out there. That's really an interesting way to get some amazing footage of male drummers in the spring too, when they're very active is to just sneak in and put some trail cameras out and try to learn a little bit more about those birds and the covers that they have.
Hank Shaw:
So grouse in general, to my knowledge, and you guys probably know more than I do, but random grouse in general, because of course there's zillions of species, they tend to not like each other for much of the year. They're not quail, they don't covey up. You don't see, "Oh, I flushed 27 ruffed grouse in one thing." And might see two but usually it's onesies twosies, or really just onesies. So how does a grouse interact with his family and friends on any given day?
Rocky Gutierrez:
Well, again, it depends on the grouse of course. There are some grouse that in fact that do covey up and the prairie grouse are notable among those as are the ptarmigan, which are either the high altitude grouse or the ones that are found in the far north above the tree line or in the scrubby willows zones. But, and of course the red grouse is a covey bird too, as well at times. And, but the other ones, as you say, they are relatively sedentary. When you find them in groups, it's usually the family group at the beginning of the fall before they have broken out, but they pretty much go off on their own and spend time either solitary or in loose groups. I mean lose one or two individuals associated, but most of the time you don't find them together.
Rocky Gutierrez:
And the reason is probably an anti predator defense mechanism because one bird can be a lot more stealthy then having two or three moving around because they're in a dense habitat and when a predator sees them, like a goshawk, they're very close to them. And in fact, Gordon GoLean believed that if there's a goshawk nest in an area that that goshawk will kill, essentially all the grouse within a certain radius around the nest, that they just won't escape them.
Rocky Gutierrez:
And I've seen how persistent these goshawks are after ruffed grouse. When we had small radios on grouse, following them around, I saw grouse fly past me that I was trying to monitor and I realized that it was the marked bird and a goshawk was after it. And I could never get that signal to localize because that bird was being chased by that grouse all day. And it was a pretty amazing observation. So again, the reason why they stay solitary, I think is probably to facilitate avoidance of predation.
Hank Shaw:
Good hunting tip. If you see a hawk nest where you're hunting, just keep walking.
Rocky Gutierrez:
Well, it depends on just bend on the hawk. Some other hawks will attempt to get them, but the only ones that are really successful are these goshawks. Those are the main, avian predators. Although we have observations of barn owls with nighttime infrared cameras at their logs, trying to catch them, which is pretty interesting to see.
Hank Shaw:
I bet.
Heather Shaw:
I think it's interesting too, when you talk about behavior, because grouse do go through what we call the fall shuffle. And that's when those broods are starting to break up and starting to claim their own territories as well. But it doesn't happen the way that we used to think it does. And this year specifically in my covers that I've been hunting in the UP, I don't know if they did break up we're still coming into coveys of birds or what we know to be young birds with maybe one mature bird as well and broods. So it's been really interesting to see. Typically what we see in a normal annual fall cycle, where those birds are breaking up, a lot of people don't want to start working dogs when it's early on in that season, when public land opens again here in August, until that opener is September 15th in Michigan, because the birds are so young and they're still in their broods essentially. But we really haven't seen a full breakup in some different covers that I've noticed this year.
Heather Shaw:
So that's been interesting and it's not just coveys of just adult birds coming back together. There's still some immature, potentially late hatched birds, that are still together. So again, I think things really vary when it comes to behavior and how they're claiming their territories and how they definitely stake out their own territories and start to break up. I don't know 100% what definitely would cause that or what other underlying factors would create that other than additional pressure potentially, the season opening up… I don't know if additional hunting pressure might create birds to stick more closely together and not seek out own territories because at the end of the day, any wildlife species goal is to survive and reproduce and hopefully see that reproduction as successful and move on to the next year of its life cycle too. It's been really fascinating to see how things have changed a little bit year to year here.
Rocky Gutierrez:
So Heather, let me ask you this question. Do you know if they hatched out later this year? So that the cycle, this particular year just happened to be a little bit later? So sometimes birds will nest later because of whatever conditions are out in the field, and then it's just a normal breakup, but they're just delayed by some period of time.
Heather Shaw:
Absolutely. And here we really see a variation between the northern lower peninsula and the upper peninsula, and even the upper peninsula split between the east and west zones too where weather is key, food availability might be key. I mean, we're under snow right now and in the central upper peninsula, we've been hunting with snow. And I think winter is here to stay now much like Minnesota and Wisconsin. So yeah, in a lot of parts of the state, we did see a late hatch due to several reasons too, but there's certain covers that you come across that definitely do have younger birds that just stay together, that didn't break up in that fall shuffle and claim their own territories too. And they may just retain, just stay as a covey for the rest of winter and potentially [inaudible 00:35:10] roost together too, or closely together.
Heather Shaw:
But I can't speak to the entire state as having a late hatch. It's quite anecdotal here in Michigan, especially this year. There's been a quite long spell of time where we haven't conducted drumming surveys and brewed surveys. So a lot of the information that we get is very anecdotal and really just consists of field reports from folks in the upland hunting community that want to know what's going on with the local population and how things are doing.
Hank Shaw:
So let me ask a question that's been burning in my head for this entire season. I have had episodes about all the different species of grouse and one I've never really gotten a good answer to why are grouse so resistant to being raised like a chicken, considering they're relatively similar in biology? You can farm raise pheasants, but apparently you can't farm raise grouse.
Rocky Gutierrez:
Actually, the very first comprehensive study that was done on ruffed grouse that I mentioned earlier in the program was… Now a book came out on it called The Ruffed Grouse, but Gardiner Bump. And one of the objects was to see whether or not they actually could raise these birds in captive conditions. And it turns out you can, but it's very difficult. And it has to do with the diet primarily and their natural tendency to be quite skiddish and they injure themselves frequently. They don't take tame down very easily. But diet is one of the big, major issues. And secondarily, there are some disease issues as well.
Hank Shaw:
Interesting. So they're super nervous and trying to figure out what they want to eat has been probably your biggest problem if you're a farmer?
Rocky Gutierrez:
Right. Because they normally don't take to grains. Although sometimes ruffed grouse will eat grains in certain situations, but normally they don't eat those things. They eat rough food. Like you mentioned that the catkins of hazels, that's a secondary food, but Aspen is a primary food like that. They eat a lot of berries, buds, they'll eat some leaves and so forth. So they're almost like, in a sense, almost like a deer, except that they forage more on the very tips of these plants, like buds and catkins and so forth.
Hank Shaw:
So Heather, and then Rocky, tell me about why you got interested in ruffed grouse.
Heather Shaw:
That's a great question. And sometimes a difficult one to ask. So I cut my teeth in my interest and passion in the upland hunting as an adult onset hunter actually. So hunting and my passion for upland bird hunting, definitely developed due to the fact that I was going into wildlife biology and ecology. My family hunted, but didn't necessarily involve me in that at that time. But I had a lot of other things going on and I was showing in rodeos and I had a lot of other passions at the time, but I started out waterfowl hunting. That was my first introduction into game birds.
Heather Shaw:
And then really started working towards game bird ecology and management as waterfowl as my gateway and just became enveloped in this passion. I had lived out west and pursued grouse out west and then came back to Michigan and it just hit me just spending time out in the woods and having the opportunity to work with a dog. It changed the way that I looked at my surroundings. And that definitely drove my passion for ruffed grouse long before I had the ability to work solely on ruffed grouse ecology and management, and American Woodcock ecology and management too.
Heather Shaw:
And over the past few years, it really has just developed into my ethos. It wasn't a job, it didn't start out as a job, but it definitely didn't remain one either. It just became a part of who I am and my soul and my culture, not a job where it's a nine to five. Of course I was very fortunate to talk about nothing but ruffed grouse and rough grouse management on public lands and talk with other hunters, just as passionate as I am. It just is a part of who I am now and just became ingrained. So I had a great answer. It just fell into a part of my life when I was very passionate about bird hunting in general and thought that I was going to be duck obsessed for so long and then grouse hunting hit me. And this is my first, actually I have a young setter right now, who's now three and still figuring the world of grouse out. And he's really changed-
Hank Shaw:
It's hard to be duck obsessed in Michigan though. I've got a buddy who lives near Lansing and he is a duck obsessed. I mean, come on it's Michigan. I mean-
Heather Shaw:
[crosstalk 00:40:22] the flyway all sides of great lakes too. So you really can't beat it in some respects, but-
Hank Shaw:
[crosstalk 00:40:28] It doesn't last that long. It's a migratory state.
Heather Shaw:
Exactly. There's nothing that really beats the north winds up here. So that's what brought me even up to the UP. I've lived in the new now almost a year and a half. And I tell everyone I'm going to die here. I'm living in God's country when it comes to grouse hunting. And it's just absolutely phenomenal. So it's a way of life for me now. And one that I'm so fortunate to have found, but it didn't start out that way. But I'm so glad that I ended up where I did now. And I can't wait to share that with other people that I come across down the road.
Hank Shaw:
All right, [inaudible 00:15:59], you got to answer me this question before you [crosstalk 00:41:01] to Rocky. How do you not shoot a [inaudible 00:41:05] hen when you're up in the UP hunting? Because you can't shoot the spruce grouse, but they're there. So what's your trick for not getting a ticket?
Heather Shaw:
Well, for me, it's easy. I mean, as a game bird biologist too, I can identify them almost immediately on the wing or if they're still budding in a tree and in different covers. I mean, I read the cover and I know if I'm going to spruce grouse bog, and we're maybe pushing a few ruffed grouse into an area that we may come into sprucies, just to be aware. I try to identify just like duck hunting. You have to identify a bird on the wing before you really pull the trigger. And that really that is maturity as a bird hunter. Knowing the game that you're pursuing and knowing how to identify and differentiate different species, is maturity as a bird hunter. No matter what your age is, but learning that identification and that skill is key. And you can lose it too, if you don't stay on top of it.
Heather Shaw:
So I would encourage anyone to just stay on top of their bird ID on the wing, or if they're still roosting, which I've never had a problem with it. And there's so much larger here of course, then than a ruffed grouse. They behave differently. They're a darker color. They've got a beautiful gold band on their tail fan too. It's pretty easy for me to identify them. And luckily I've been in situations where I've been able to call that out to other folks and actually hunted them on the North shore of Minnesota with a few of my fellow lady biologists. And we shoot-
Hank Shaw:
You hunt them with Bailey?
Heather Shaw:
Bailey and Meadow. Yes. Yep. Bailey Peterson and Meadow Cofield, shout out to those ladies. We had an amazing hunt out there and they're tricky.
Hank Shaw:
They can be, or they can be, like you have to stop shooting because it's just, you just feel bad about yourself.
Heather Shaw:
We were in great covers too. And we had some great biological data behind the areas that we were hunting and just couldn't find a ton of birds on the wing. We had seven or eight dogs in tow and just had an amazing time. And they're a difficult bird to hunt. The terrain's difficult too. So I mean that, in a nutshell, just know what you're shooting at. Know what you're pursuing, know what cover and habitat you're in and you'll figure it out from there.
Hank Shaw:
So Rocky, you grew up in New Mexico, so that is not really a ruffed grass hotspot. So did you first encounter them when you were up in Humboldt?
Rocky Gutierrez:
No, actually where I encountered them was in New York State. So before I get started on my little rendition of your question there, I just have to say, I'm sitting here in Skype watching Heather and I'm sitting there looking around and trying to find my shot gun, because she wants to make me go out hunting. And I got all excited. So I'm just hugely proud and happy that she's working on behalf of ruffed grouse and wildlife biology. So that's great, Heather.
Rocky Gutierrez:
Anyway, to get back to your question. My first professional position, I was on the faculty at Cornell University in the Department of Natural Resources there. And of course the first semester I was there, we were getting ready for grouse season. And my mother didn't believe that I'd actually, was an actual professor. So she came to visit me from New Mexico and I took her on a tour of the Cornell campus. And I was driving her back to my sister's who lives in the Hudson Valley and we're driving through the fog and out of the fog comes this ruffed grouse, comes [inaudible 00:44:40] the window. So it was an enigmatic introduction to the ruffed grouse.
Rocky Gutierrez:
And I picked up this bird and it was nice and plump. And of course I ate it later and it was so good. I said, "I have got to hunt these things." So it turned out that there was a fellow in my department by the name of Ron. And Ron took me hunting. And I had my bird dog that I talked to you about before, that exceptional mountain quail dog, Tosha. And Ron says, "Let me give you some advice, Rocky." He said, "You shoot where you think they're going to be and you don't count the shells." And I don't know, I probably shot 10 or 12 times and I didn't touch a feather. And because they were up and gone through these… And I was waiting like I had been for quail for a nice point. And then my dog did point some of them, but when they flushed, they were in just in this dense habitat.
Rocky Gutierrez:
And I could not bring myself to accept Ron's advice that I just had to swing through and watch that bird going through the thing and just hope that when I pulled the trigger, that it was going to be in an open spot and a pellet was going to get through it and get him. And so I just, I pretty much muffed it. And after that, I left Cornell and I came out to Humboldt and I kept in my mind this thing about ruffed grouse as being very interesting. And so I forgot about it, but I started some work on genetics of grouse, of all grouse of the world. And I had the opportunity, my wife and I one summer, to drive and hunt grouse from Northwest California to north of the Arctic Circle. And we spent a month and a half doing nothing but shooting grouse all the way up there, collecting specimens of course, for scientific purposes.
Hank Shaw:
Oh yeah. That's the only reason you did it.
Rocky Gutierrez:
That's right.
Hank Shaw:
And the next year we went to Europe and I spent a month in Finland hunting Hazel grouse, which to looks very similar to a ruffed grouse. And then capercaillie and black grouse and on to the UK to hunt red grouse. And I realized from doing that hunting, that grouse are very different depending on where you are in their range. And they act very differently and they use different microhabitats and broad-scale habitats. So I had quite a strong interest in grouse in general. And then the university of Minnesota had an endowed chair available called the Gordon GoLean endowed chair, which I mentioned at the beginning of the program.
Hank Shaw:
And they called me up and asked me if I would apply for it. And I wasn't really interested in leaving Humboldt because I liked where I live here. And so I went, I said, "Okay, I'll go and interview and see what they have to say." And it was one of these things. It was, they give you an offer. Like the godfather said, "We gave him an offer that he couldn't refuse." So I went back to Minnesota and one of my objectives in doing that is I'm going to get back at these grouse. I'm going to learn a lot about them, and I'm going to actually learn how to hunt them so I can get them occasionally. And so that's my story of how I got involved in grouse.
Hank Shaw:
And I had two PhD students and one master student Meadow Cofield, who Heather mentioned earlier. She was my graduate student that worked on ruffed grouse under my direction. And so we did a whole ten-year cycles worth, and we're still working on that data and we hope to get it wrapped up sometime in the next year or so. But I guess if I could encapsulate this, Heather was born to be a grouser, a ruffed grouser and had that immediate passion. And I had to get my nose bloodied a few times and start peaking that scientific interest in me to saying, "What is it about this thing that could make me feel so tiny after a hunting trip, but feel tiny in a very good sense that here's a bird that, it just unlike almost all other birds in the world."
Hank Shaw:
And to give you a side example of this, I have a very good colleague who is the department head at nature conservation at Tshwane University in Pretoria, South Africa. And he wanted to come and work with me for his sabbatical leave. And he came. And so I said fine. So he lived at our house for a year. His name is Brian Riley. And Brian, he's one-
Rocky Gutierrez:
And Brian, he's one of the greatest wing shots I've ever seen in my life. I mean, this guy, he actually shoots skeet virtually every other day, and he is fantastic. And has hunted many [inaudible 00:50:18] around the world. And so he says, "I've really got a hunt. I've really got a hunt real fast." I said, "No problem." I said, "Well, I'll go out."
Rocky Gutierrez:
Well, it happened to be a low cycle year. And even though I had a reasonably decent bird dog, and we found some point, they can be a huge challenge. And after, for the first four or five days of hunting, he finally got a grouse on the wing and he came back that evening and he says, "You know," he says, "I have never been challenged by a bird, like the ruffed grouse has." And for Brian Riley to say something like that, that was a big statement because he's hunted all over the world, the game birds. And he's a absolutely fabulous shot. You know? I mean, I see him break 300 straight legs and without blinking an eye. He's that good. And he just said, "Man, those things are something else." He says, "I feel more proud of this grouse than any other bird I've ever shot."
Heather Shaw:
Weird. I totally don't have that experience at all. And I've hunted all of the great legs. Like I like hunting grouse. I find them challenging. I find any number of birds harder to hit than grouse. I think one advantage that I have decided to give myself is I shoot a very short barreled over and under, and I shoot business sixes and business sixes will go through anything. So I don't care if it's a tree stump, it's going to kill that grouse and grouse dies super easy. So like, they're not like ducks. You get them on the ground and you get that flutter flutter. And then you just walk to where you can hear them. I mean, maybe I've just been lucky, but I've never been skunked grouse hunting and I've grouse hunted 20, 30, 40 times.
Heather Shaw:
That's saying a lot.
Rocky Gutierrez:
Well, I [crosstalk 00:52:16] for you.
Hank Shaw:
Yeah and so what I think is part of it … Okay, I'm going to admit that many of those times were either in Canada or in the west. So there you're getting the not wildly grouse, but the great lakes, since both of you guys have cut your hard teeth in grouse in the great lakes, I would have to say that I have never hunted Maine. So Maine could be an exception, but in my opinion, if you want to hunt grouse as sort of the platonic ideal of grouse, you go to the great lakes because they're numerous, they're going to give you enough chances where you should get a couple. And they're actually an exciting bird to hunt, as opposed to, like I mentioned before in Utah where they just look at you. Because yeah, you talk to you people in the mountain west states and about the glories of grass, something like we're doing, and they look at you, cross-eyed like this, "What are we talking about the same bird?"
Hank Shaw:
And we're not. I mean, biologically, they are the same, but just the hunting experience, it's just very, very different as you go from east to west. One question I've had is the various phases, the red, the charcoal, and then the various other color phases, is that just like, sort of, it just happens or is there any rhyme or reason to it?
Rocky Gutierrez:
There is a hypothesis that the color phase is right related to either temperature or an adaptive response to predation.
Rocky Gutierrez:
So that if you look at the distribution that … The two main phases are gray and red, although there's different sorts of phases that people have identified and we've done some spectrophotometry work on these. And we haven't published that, we're working on it. It turns out that there's really only red and gray and all these other different phases are like subsets of the gray and not the red.
Rocky Gutierrez:
So if you start in Alaska, virtually all the grouse in Alaska are gray. And as you go further south, a proportion or the percentage of red birds or reddish rent phase birds, increases till you get all the way down to the southeast and they're all red. So that distribution between starting from gray and then going into red, is thought to be either temperature related or related to the coloration, the vegetation, particularly snow in the north and the human moisture, darker conditions and in the South.
Heather Shaw:
One thing that's been interesting that I've noted too, within the rough grouse range. And again, really speaking more to the great lakes and south, and then over to the east coast is that, you know, some people and some grouse hunters, I've heard of them more as an Appalachian subspecies. And we tend to see, and this is in my own mind, not 100% scientifically proven.
Heather Shaw:
And again, Rocky, I can't wait to hear about that additional work that you guys are conducting right now with regards to this too. We tend to see more northern latitudes, see more gray phase grouse, and then southerly latitudes. There seems to kind of be a dividing line where that red phase is a lot more common than we have up in the northern latitudes too, if you will. So, there's been some work that Steve Backs, at Ohio Divisional Wildlife, has done as well, where historically, he kind of splits the state of Indiana into two secs and two sections and regions where even in northern Indiana and southern Indiana, when grouse were historically, with their range, existed throughout the state, there was still kind of a dividing line there between that potential subspecies, whether or not it was scientifically a subspecies is not for me to speak to.
Heather Shaw:
So, you know, I think it depends on how you talk to, and I hear a lot of that too, with a lot of our hunters. And I mean, here in Michigan, red phase grouse for me is not common., Not as common, of course, as some of the gray phase too. So it's really a treat to come across in the woods and really wonderful to hear about just varying areas and regions where you might come across too.
Hank Shaw:
Yeah. We shot mostly gray ones in Alberta, but I think we got one or two red ones and we were in the boreal forest, North of Edmonton.
Heather Shaw:
Right.
Hank Shaw:
Yeah, they're not super brilliant there too, by the way. So …
Heather Shaw:
We came into a copy, a guy, which I then deducted to be a brood a few days ago. And a friend of mine had referred to them as acting like Canada birds. And I've never pursued growth in Canada yet, but I laughed.
Hank Shaw:
Oh, I mean, we did the episode with Bailey and my friend, Kevin [Caucasian 00:07:22], who's from Edmonton about spruce grouse, right. And Kevin life, you know, he's a little younger than I am, but he's in his forties. And he, until he met me, had never hunted grouse with anything other than a 22. And, you know, can't even imagine hunting grouse with a 22 in the great lakes because you're just not going to get your opportunity. I mean, you might get it once in a while when they're sitting on the road picking up crit. But yeah. He's like, "Well, no," it never occurred to him to shoot grouse with a shotgun until he met me. And this is, you know, now he's cleaning up.
Heather Shaw:
He gave him a trick of the trade now.
Hank Shaw:
Is there something about rough grouse, biologically? Like do they do something weird and different that say, other species of grass don't do?
Heather Shaw:
Everything is weird and different. Rocky, do want to take this one first?
Rocky Gutierrez:
Yeah. You know, that's a tough one. I guess, you know, I could say, well, you know, just dependency on Aspen through most of their range could be one. Except that, you know, they, in other parts of their range, they don't even have Aspen and blue grouse like Aspen.
Hank Shaw:
Yeah.
Heather Shaw:
This is why they're the King, you know, so many questions. This is why we consider them the King, I think. Pondering these types of questions that are tough to answer, that in itself is …
Hank Shaw:
Let me switch gears then. Do you see a Bergman's rule effect from like Alaskan birds versus Appalachian birds? In other words, you know, big, giant ones up in Alaska and smaller ones in the southern part of the range?
Rocky Gutierrez:
Well, I mean, you would predict that the birds in Alaska would be larger. I actually haven't seen data on that. I mean, I'm certain it's available. I just don't recall noticing it. But there is a general biogeographic rule that would predict that animals in the north of the same species are going to be larger than they are in the south because of the volume ratio of the animal. So that means that there's a smaller surface area from which to lose heat in the north and that's why they're larger. So if you look at, say white-tailed deer in Alberta, you know, it's not really that unusual to see a 300 pound Alberta white-tail, and then they go all the way down to these little teeny things in Key West Florida that look like analog jackrabbits.
Heather Shaw:
They do.
Hank Shaw:
They're pretty small.
Rocky Gutierrez:
And so that's a pretty good example. That's an extreme example of this biogeographic rule about body size and surface to volume ratio. So you'd predicts the grouse in Alaska would be bigger than they would be in say, Alabama. It's true, like with bobwhites. Bobwhites in Maine are bigger than bobwhites in Florida.
Hank Shaw:
Yeah. But there aren't very many bobwhites in Maine are there?
Rocky Gutierrez:
There used to be in southern Maine and New York and, you know, Y.
Hank Shaw:
Side note, it's called the northern bobwhite. Is there a southern bobwhite?
Rocky Gutierrez:
No. They call it northern to call us all the subspecies of Bob whites that are different from the bobwhites that are true species, that are found in Mexico and Central America and South America.
Hank Shaw:
Okay. So dogs or no dogs? And then if you're a committed dog person, because I mostly hunt grouse without a dog. That's seems to be like an apostasy through many grouse hunters. And my best grouse hunting has always been with a really little black lab, a flushing one, a flushing bird or a flushing dog. So I have kind of a different experience from sort of the classic grouse hunter, which is running a pointing dog. And you know, you shoot birds over a point, but I'd like to hear your guys' thoughts on if you're a dogless hunter and you're hunting grouse, what are some tips to be more successful?
Rocky Gutierrez:
A dogless hunter?
Hank Shaw:
Correct.
Rocky Gutierrez:
Walk very slowly. Get into the right habitat and walk very slowly. Walk five or six or seven yards. Stop. Look around. Walk a few steps. Stop, look around and then just keep doing that because one of the things that will often happen … Of course, they're just hiding there and they get nervous. And so when they hear the stopping going, they're not sure whether you're honing in on them and they lose their nerve, some of them, and flush. And so that's when you get them. But some of those things have nerves of steel. And I'll tell you that share this little story. My wife loves to go out hunting. She doesn't hunt, but she likes to watch the dog and, and go mucking around, crashing through the brush and whatnot. And she wound up getting this little Lhasa Apso, this little Tibetan dog.
Rocky Gutierrez:
And it's a great little dog and thinks it's a bird dog because it watches the short hair point and do all this sort of stuff and it wants to point, but it can't really do anything because it's so small, it can't really get through the brush. So she would walk on a trail with me and we'd go hunting some area and she'd be walking maybe 50, 60 yards behind us. And she would tell me how many grouse she flushed that were up in a tree or up above where the dog couldn't smell them, as we pass through.
Rocky Gutierrez:
Because these things after they get pressured and hunted quite a bit, they get really cagey and they pull out their tricks, you know. One of the tricks is when they hear the dog coming, they jump up into the tree where the synth is and the dog gets birdie, but the bird's not there. Well, it's up in a tree somewhere hiding. So if you walk very slowly and stop, those birds that are hiding, hear you and jump up in the tree or stay on the ground. They finally lose their nerve. So that's what I would recommend for a dogless hunter.
Hank Shaw:
That's exactly how I hunt. And you know why I learned how to do that? Is because I first started hunting … I also started, Heather, as an adult and the first hunting that I started doing was squirrels and rabbits. And if you hunt cottontails without a dog, that's precisely how you hunt cottontails without a dog. You walk without rhythm. It's like you're trying not to get eaten by a sand worm and dune and the stutter step, stop, rest, walk, walk, don't walk in a straight line. And then the rabbit will freak. It'll lose its shit and then it'll run. And then, you know, it's going to, then you have a rabbit. So I just naturally started doing that. And the grouse woods in Minnesota, when I first started hunting them, and well, okay.
Hank Shaw:
Full disclosure. I am not above shooting a grouse out of a tree. So this is also helping to explain to you guys why I don't usually get skunked shoot and grouse is because, "Hey, it's in the tree, sorry, dude-"
Rocky Gutierrez:
You need to put a little sensor on that because they're listening to this. That will just have a connection.
Hank Shaw:
Good for them because you know what? They have leather patches on their elbows.
Rocky Gutierrez:
Yeah.
Hank Shaw:
But yeah, so I noticed that sometimes they'll fly into a tree and you can just blast them out of the tree that way. Or, you know, if you're lucky to catch them on the flush, you get them that way.
Hank Shaw:
The other thing that I noticed, and I bet you guys will have the same reaction. The most common grouse shot for me is it's a pirouette shot behind me. Like, so I'm walking and then they bust pretty close to you on the left or the right, but kind of right behind, you going away. And so there's this pivot shoot that you get good at if you hunt a lot, especially without a dog and especially if you're solo, because then you don't Dick Cheney somebody, but it's this, you know, wheel and shoot kind of because they're busting away from you. And it's just, this is that nerves of steel thing where they waited, waited, waited, and then now you're past them and they get the heck out of dodge. Have you guys had that too?
Heather Shaw:
Oh yeah. I think most of my shots are definitely passing shots, but I think for me, so it's a passing shot to the left or the right, because that may be where the escape route is. So another word of advice if someone's hunting without a dog and I definitely prefer to hunt over dogs and that just creates its own romanticism. And now I hunt more for the dog and that experience then sometimes even the bird. You know, just being out with the dogs means the world to me. And that's where my passion lies. The birds are of course a huge added bonus, but you have to look for those escape routes too.
Heather Shaw:
So that's what will catch you with an escape route behind you or a passing shot to the left or the right. Try to find those. If you're walking into a cover, to anyone who isn't a seasoned grouse hunter and even those of us who are sometimes, I still just watch them knowing, you know, maybe it's sometimes I don't even shoulder my gun when I could have had probably the easiest shot I might see on a bird in the best look I might have in a bird all season.
Heather Shaw:
Those escape routes are key. So reading habitat and trying to just know your surroundings and kind of figure out if you were that bird where you might flush towards an opening or towards thicker cover is definitely where they're going to have a tendency to fly when you do flush them either, you know, from a dog on point or a flushing dog or walking in and flushing the bird yourself as a way to do it. But yeah, the pivot shot behind me. I don't always pull that one off because I'm usually with one other person. If it's myself, not a problem, but you have to be aware of who's around you, of course.
Hank Shaw:
It works well if there's just two of you, because then you know that you got one, I got to pivot on the, and somebody else has got to pivot on the left. And so that way you don't shoot each other, which is a bonus.
Heather Shaw:
Yeah, that's a bonus.
Hank Shaw:
All right, let's just not get into species because that just gets annoying. Design for me, what does a perfect ruffed grouse hunting dog do, you know? Not necessarily in terms of the species, but what are the attributes in any breed of dog that make it a very, very good ruffed grouse dog?
Heather Shaw:
Oh, this is a fun question. Is this Rocky or do you want me to …
Rocky Gutierrez:
No, I did went first last time, you go ahead.
Heather Shaw:
Shooting from the hip here. Ah, that's a great one. So first of all, that dogs your best friend. For me, that dog is my confidant. Our dogs are family dogs as well, too. So first and foremost, being socialized and being a dog that I can take anywhere, any place and time, on the road with me in any scenario is amazing and key for me. So that dog's my wing man, 100% starting off. I have a young lone setter right now who is still putting the pieces together. And a lot of people, if they follow me through my trials and tribulations on social media and throughout other podcasts, I've talked about this a lot too. It's been a test in patience and it's still amazing to see a young dog just figure the world out, but especially figure the grouse world out.
Heather Shaw:
This dog will point anything, but ruffed grouse have been his challenge. So for me, a dog that's willing to learn and very biddable, that has a great prey drive, but also wants to hunt with me. So me and my dog have an amazing relationship and we have two other Brittany's, my better half and I as well, and they're all just amazing dogs and have their own personalities in themselves. And of course they live hunt, but they also just love to be our best friends as well. But at the end of the day, that amazing grouse dog is one that I'm still building. So I can't really answer it. You know, I'm still working on training that amazing grouse dog right now to see what he's going to be. So right now, what I love seeing is him just putting those pieces together and learning and being just as excited as I am when we hunt a different cover and we have different bird contacts and he's pointing a bird and not going in and flushing it and nose to the ground, kicking birds up.
Heather Shaw:
So, the journey, you know, and just enjoying the journey with the dog is my biggest passion. So I probably didn't really get to your question, but that's what's in it for me, 100% is the journey with the dog and down the road, I think my answer will probably change when I've had numerous other grouse dogs and I know exactly what I want in a breeding and I know exactly what characteristics I'm expecting as I'm training and kind of filtering my way through it too. But yeah, right now it's the journey and hoping that the dog's enjoying it just as much as I am and their passion for the grouse bird was just as strong as mine is it a key characteristic.
Rocky Gutierrez:
You know, in thinking about these characteristics that Heather was talking about, it sort of reminded me back of our conversation previously about the mountain quail and the extraordinarily luck that I had with my first dog who was my … Well, my buddy, my main companion for many years, and I've noticed this with other good bird dogs and people who had good bird dogs, and especially for mountain quail, and especially for ruffed grouse, the main characteristic of a dog, or one of the main characteristics of a good grouse dog or a good mountain quail dog, is it has to recognize that it is part of a team. Many dogs hunt for themselves. They'll obey commands and they'll come to the whistle finally or whatever. And with a Bob [Hawaiter 00:21:58], open country birds, you can compensate to a degree with a dog that's not really hunting as part of a dedicated team or that recognizes he's part of a team. And you'll know that. You'll know when a dog is hunting for you versus whether it's hunting for itself when you get some experience. And so that's a key characteristic.
Rocky Gutierrez:
Another characteristic that I think is important for grouse dogs. And I think why people favor English Setters so much as classic grouse dogs is the dog has to have … I mean, most dogs have good noses. I mean, if it's a bird dog, virtually all dogs have good noses because that's what they're bred to do, but they don't also have the temperament to use that nose and to have the restraint to not bump birds. These mountain quail, and these grouse are prone to flush or to do devious things to get rid of you. And when they smell that bird, they need to really slow down and be very cautious and work that bird and stay far enough away from that, that they don't bump that bird. So I think a patient dog with a good nose, that's hunting as part of a team, that recognized as part of a team is an ideal grouse dog.
Heather Shaw:
Brian, [crosstalk 00:23:40].
Hank Shaw:
It's funny. I was listening to both of you because I've hunted behind dozens and dozens of, of grouse dogs. And my favorite experiences have been with this little, it was a little, it was Finn the dog. It was my friend Chris [Neskinins 01:13:57] little black lab, and she was a close working flushing dog. So that close working flushing dog gives you that. Well, first of all, she was definitely part of the team. Second of all, she kept, she didn't reign super far away. So by the time she got birdie, you knew that there was a bird like there. And so they very rarely fluffed wild on us because she didn't work. She didn't range very far.
Hank Shaw:
Whereas I've worked with some English pointers that a.) were absolutely hunting for themselves and b.) I don't know where in the forest they were, they were just, they were somewhere. And it was not exactly the super successful because in my experience, a big, huge ranging pointing dog, like those pointers … No, I mean, people are going to be listening to this and be like, "I've killed billions of grouse with my English pointer." But in my experience, those dogs have been really good for like chukars or Hungarian partridges or prairie grouse because of-
Hank Shaw:
…or Hungarian partridges or prairie grouse because they're big ranging. And I can't even imagine because, I mean, grouse, they walk away. They're not going to hold point for you super well, at least in my experience there. And usually when I'm with a pointing dog, if it has ranged far enough where you can't see it, where it's gone on point, by the time you get to it, that bird has moved off some ways. And now, of course, you can reacquire them, but that doesn't always work.
Heather Shaw:
Yeah. Those are good points. And, Rocky, it's funny because the two things that you mentioned are solid qualities that we look for in our grouse dogs, are two of my ailments that I've been dealing with my young dog, as he earns his salt in the grouse woods too, and I couldn't agree more. And when it comes to species, I mean, we have a young Brittany male that we swear that grouse are just stringing him along on a string when grouse are on the move and happen to kind of break away and don't hold as well. I've hunted over a huge variety of different dog species… Different dog breeds, shouldn't say species. I think every one has their own great characteristic and still has an amazing benefit to our hunters that are pursuing those birds, too. So it's all about what your style is and how you might move through the woods, too, and what your pace and your gait might be as you follow your dog through as well. So, yeah, it's a fun conversation and one that tends to go down a rabbit hole very quickly.
Hank Shaw:
Oh my God, yeah. I mean, as a non-dog owner, I mean, I sit back and just eat popcorn while I see these people go at each other's throats.
Heather Shaw:
To the death. My dog's better than yours to the death, yeah. Oh, I don't know. Just like with the birds, I mean, even with dogs and training dogs and trying to figure out where your place is in the dog training world and working with them, humility is key and everyone's learning from each other and learning from our dogs and our experiences too. So that's life, right?
Hank Shaw:
Totally. So once you have a bunch of grouse in your bag, what do you guys like to do with them when you get home?
Heather Shaw:
I was hoping you were going to talk about cooking at some point in time.
Hank Shaw:
Yeah. Yeah.
Heather Shaw:
I want to ask you that question. So for us, we're really kind of diversifying our grouse pallet and woodcock palette right now, too. But we have a pellet grill smoker now that we really like too. We haven't smoked whole birds yet, so we'll still try to utilize, of course, as much of the bird as we can, but we've been testing our luck with that. And grouse nuggets with a very certain breading have become a favorite of ours. And, of course, you can utilize the bird in a number of ways, too, and really capitalize on the amazing flavor. They're not gamey and I would prefer it over chicken any day.
Heather Shaw:
So we use it in any sense that you would with poultry too. But there's a woodcock popper that my better half, Eric, makes that is just phenomenal. It doesn't overpower the flavor of the bird, that he is just honed in, that we grill. And everyone who says that they're not a fan of eating woodcock… I know this is about grouse, but woodcock really need to shine some light here, I think, too. They're just kind of a delicacy on their own too, and we've just really enjoyed sharing that with folks that normally might not eat them or feed them to their dogs or don't even harvest them when they're still here. And I miss them when they're gone, but…
Hank Shaw:
That's a particular Michigan prejudice.
Heather Shaw:
Is it?
Hank Shaw:
Yeah. I find that that upland hunters in Wisconsin and Minnesota and Canada and the Northeast do not have that problem with woodcock the way the Michiganders do.
Heather Shaw:
We love them.
Hank Shaw:
I've seen it many times, many times, that Michiganders are like… I'll be like, "Yes. I got three woodcocks. Sweet. Woo," doing the happy dance, and I got like one grouse and they're like, "Oh, it's a terrible day in the woods."
Heather Shaw:
Save a hunt in a heartbeat, and they're so delicious.
Hank Shaw:
Do you primarily skin them or pluck them?
Heather Shaw:
Well, I should have talked to you about this before. There's, well, a story that I'll tell you down the road here, after I'm sure this episode airs, but I have a hard time plucking them. Their skin is so paper thin. Eric and I have tried it several times, too. And we find that either the dog might handle them, and when they're bringing us the bird pierce through that skin or the shot might go through. So it's so hard to have a perfect bird that has a perfect shot that you can harvest and have the ability to pluck it where the skin is still intact. So we typically do skin them and we've utilized legs and wings and breasts, but I've yet to actually have a perfect whole-body woodcock that we can utilize. That would be ideal because they-
Hank Shaw:
This is one other advantage of being a dogless hunter; whenever I'm hunting with somebody who has a dog, I will try to get to the bird before the dog can. Always. And it pisses the dog off to no end. But, sorry.
Heather Shaw:
Sure.
Hank Shaw:
I mean, most dogs…
Rocky Gutierrez:
The dog deserves it, that's the thing.
Hank Shaw:
I know. Most dogs that I've hunted had pretty good mouths, but even then, you're right, grouse skin is thin.
Rocky Gutierrez:
Yeah. I've only had one dog that's had a hard mouth, but even then I let the dog have the birds, because that was their reward for all the hard work they were doing. But I can give you a recipe of what I do. It's pretty simple. Well, it's simple, but one of the ingredients is maybe a little hard to get. What I do is filet the meat off of the grouse, both the legs and the breast, and then I lightly saute them in olive oil and I served them on a bed of pasta with squid ink. And that's one variation. And if you don't have pasta with the squid ink, you can make a Mornay sauce and lay them on top of that. And they are so succulent and sweet, they're just wonderful.
Rocky Gutierrez:
And I have another recipe for ruffed grouse… I mean, for woodcock… and that is you put the woodcock… Well, you get a bottle of whiskey and you get the woodcock and a half a gallon of turpentine and you boil the woodcock in the turpentine, and then you mix the whiskey with the turpentine and throw the woodcock away and drink the rest of the stuff.
Heather Shaw:
This is like the old coot joke, Rocky, where you boil the coot with a brick and then and then you eat the brick.
Hank Shaw:
It's totally that. All right you Philistines.
Heather Shaw:
Maybe a-
Hank Shaw:
So, number one, woodcock are super easy to pluck.
Heather Shaw:
I don't believe you.
Hank Shaw:
Woodcock are way easier to pluck than anything other than a columbid. So the doves and the pigeons are by far the easiest to pick. I mean, that's why your dogs don't like to pick up doves or pigeons is because their feathers are falling off. So woodcock are only slightly more difficult than that. Grouse do present a challenge, but is no bigger or less challenge than any other gallinaceous birds.
Hank Shaw:
So the problem with plucking, and I've said this a zillion times. If you're a regular listener to this podcast, I'm doing the speech again. The problem with people plucking upland birds, especially gallinaceous birds, is that they pluck them at precisely the wrong time. You either want to do it when you come home that night or you want to do it the night before or the morning after, which is precisely the worst time to pick, really, any bird, but especially an upland bird.
Hank Shaw:
You need to get your birds… If they're smaller than a turkey, so this is like blue grouse on down, which includes the ruffed grouse, it's fine in your pack because it'll usually cool out. And if it's not, your pack is usually still okay. Don't stack them. Line them up in the back of your truck or whatever. Obviously you don't want them to freeze-freeze, but you want to cool them down.
Hank Shaw:
And now you're back home at the shack or your house or wherever, get them in the fridge. Put them in the fridge. Leave them in the fridge whole and in the feathers. Don't mess with them for three days. And so day one is the hunt, day two you forget about them, the third day or the fourth day or the fifth day… it's all good, as long as they're in the refrigerator… and they will pick a hundred times easier. Now, I'm not going to lie to you. I'm not going to say that they will pluck then like a dove or a pigeon, but they will pluck infinitely more easily.
Hank Shaw:
There's a few detail tricks. I'll post it in the show notes of some of the detail stuff, but the short version is this. You will know by pulling the feathers out of the wings, and they will come right out of the wings. So all those flight feathers, the big, long feathers, they'll come pop, pop, pop, pop, and you'll get them really super easy.
Hank Shaw:
The next thing you do is you work the foofy feet. And I always pick from the knee. I don't know if it's actually a knee, but it looks like a knee, which is foofy in a grouse. Foofy is a technical term. And then you pick down on the legs. The places where you're going to rip them are, are primarily three. One is the coverts, the shoulders. Right? With the wing. I mean, you guys know, but I'm talking to the real listeners too. So the shoulders, that typically is an area where you can get high rippage. So you just slow down and make sure that you're not picking loose skin. So I often will have my off-hand anchoring the skin while I'm picking with the other.
Hank Shaw:
The second area where the feathers tend to come off really easy. I'm sorry, the second area where people rip the skin are those guard feathers on either side of the breasts. So like on all of the gallinaceous birds, on the edge of the breasts are these long kind of display feathers that make the bird look like the bird, and in the center of the breasts are much smaller and thinner feathers. Those come off super easy. There'll be no problem with that. The ones that are going to get you are on the right hand, on the outside of the breast.
Hank Shaw:
It's also where there's a big line of fat. And so on those you really do sometimes have to go feather, by feather, by feather, but it doesn't mean you have to go slow. I mean, it does when you start, but when you get the hang of it, you can go pop, pop, pop, pop, pop, pop, and you just get them all, but you're going one or two feathers at a shot down one side and down the other.
Hank Shaw:
Now the last place where you get big rippage is those same big, fancy feathers that are on the thighs. So the legs pluck… The drum sticks pluck super easy. But once you get into the thighs, you get these, they're kind of long, guard feathers. I don't know what the technical term is, but they're long and they can rip. So you always pick them with the head of the bird facing you. And you're picking away from yourself. You're picking those long thigh feathers away towards where the feet are. And, again, sometimes you have to go one at a time, but you can go bup, bup, bup, bup, bup, and you'll get them all and you won't rip anything. It'll be great.
Hank Shaw:
You can leave the tail on or off because most people don't eat the pope's nose, the tail. And you can if you want because it's a good source of fat, but most of the upland birds that we hunt are not fat. The Chachalaca is the notable exception and they're a very different kind of bird.
Hank Shaw:
But yeah, if you wait two to three to four days after you shot that bird and you've kept it cold so it doesn't go bad, the difference is so profound that the reason I think that grouse are the king of all birds is because a whole plucked grouse is arguably a death-bed meal, because the character of that bird from the skin and the fat is so radically different from a skinned bird that it's not even the same animal. It's funky, it's woodsy, it's beguiling, for lack of a better term. It is so different from a skinned bird that it's one of the things that has gotten me to drive 1,500 miles to the Great Lakes area, just to hunt grouse, to eat them.
Rocky Gutierrez:
Let me ask you a question. So when you put these things in the fridge, are they gutted or not gutted?
Hank Shaw:
They're whole. Whole and in the feathers. Because it's way harder to pluck a… It's much harder to pluck a gutted bird than an ungutted bird.
Rocky Gutierrez:
Okay.
Heather Shaw:
So you're dry-aging three to five days? And how long does it typically take you… If you've got an aged bird, say three days, how long does it typically take you to pluck one? I mean, you're seasoned at it, but…
Hank Shaw:
About 10 minutes.
Heather Shaw:
Okay.
Hank Shaw:
It'll take you three times as long.
Heather Shaw:
So if it takes 20 I'm in trouble. I should be reconsidering what I'm doing.
Hank Shaw:
No, no, no. I mean, it's better to have it take a long time because, let's face it, unless you're… I mean, I know a couple of guys in Wisconsin who shoot five grouse every time they go out, but that's rare. Let's face it, typical grouse day, you shoot one, two, three. Occasionally you'll get more than three, but you're not talking about a huge… It's not like you and your significant other just shot 14 ducks between the two of you, which is… Holly and I do that all the time and that's a project. Three grouse is not that hard.
Heather Shaw:
I really enjoy your romantic depiction of the flavor and the robust memory that you get from that bird too, and that's something that I definitely need to take more time and, I guess, putting into the preparation of that bird, to really do it justice, but, I mean, to just additionally create that memory and really enjoy that bird in a way that I haven't enjoyed it before. And I love your take on that. It's really enlightening.
Heather Shaw:
There's no way… I don't think it's going to take me 10 minutes. I feel like, as an unseasoned plucker, it's probably going to take me about a half hour per bird, which I think is where I get my impatience from, where in game preparation I should just let it take longer and make sure I'm doing it when I've got the time to put into it.
Hank Shaw:
Hashtag give a pluck.
Heather Shaw:
Right.
Hank Shaw:
Yes. It's going to take you a half an hour to 45 minutes the first few times you do it.
Heather Shaw:
[inaudible 00:14:50]. Okay.
Hank Shaw:
Yeah. I will not lie to you, the payoff is profound. Another fun thing that you can do with ruffed grouse, because as you guys both know, being biologists, ruffed grouse live fast and die hard. It's a rare grouse that's three or four years old, right?
Rocky Gutierrez:
Yep.
Hank Shaw:
So typically you're shooting young-of-the-year, and you can check if it's young-of-the-year by the covert feathers. And if you get a young-of-the-year… By the way, if you're listening out there, if you look at the shoulder feathers, little shoulder feathers, if the color doesn't go all the way down to the edge… So this is kind of like a buffy tip or a light color tip to those shoulder feathers, the coverts, that's a young-of-the-year bird. Am I right?
Rocky Gutierrez:
Another one is the outer two primary feathers. So if they're ragged or if they're pointed then they're young-of-the-year, and if they're rounded they're adults.
Hank Shaw:
So there you go. So there's another good tip on aging your bird. I say this because if you get a young bird and you pluck it, you can deep fry the whole thing and it's crazy good. It's crazy good because that skin crisps up like a Kentucky Fried Chicken and it's crazy good. It's going to make you want to buy all kinds of ammunition. Rocky's giving me the thumbs down, huh.
Heather Shaw:
You could use woodcock. Eventually we all need to get together and hang. I think we definitely need to prepare a Rocky some woodcock. I would love to hear more of-
Hank Shaw:
True juvenile joke here.
Heather Shaw:
Hank, I think this should spur another offshoot. I know you do this all the time too, and you've done it recently with other grouse and woodcock recipes, but I think you should do some off-the-cuff recipes that aren't normally in your books or in your podcasts that are kind of off-the-cuff that we wouldn't normally think about doing. Like, yeah, I would not think to deep fry a whole bird, especially a grouse or a woodcock, because I want to try and savor all that flavor, but I'll take your word for it and I would absolutely try the preparation on any of those once.
Hank Shaw:
Yeah. I mean, those were some of the things… Another one that blows people's minds is if you shoot a lot of ruffed grouse… Again, I'm picking the birds because even when I was living in Minnesota, I would only get… I think the limit is three there, but I don't think I've ever gotten more than three in a day in Minnesota.
Hank Shaw:
So even when I'm shooting a bunch of them, what I end up doing is I will save my plucked wings, mostly the drumettes on a ruffed grouse, but the drumettes and the flats of pheasants, and you basically save them all up for Super Bowl. And the morning of Super Bowl you put them in a Dutch oven or a pot and cover them with water. You basically think about making chicken broth with all of the wings, except you're not going to take it past the point to which the meat wants to fall off the bone. So you really actually are making a pretty good grouse or pheasant broth for whatever it is. And you can use that for risotto or soup or whatever it is that you want to use it.
Hank Shaw:
But what you're left with are tender grouse and pheasant wings that you then toss in whatever sauce makes you happy, whether it's buffalo wing sauce or barbecue or whatever whatever. And then since they've already been cooked, you can't really fry them like you do in the bar, but you stick them on a… You've covered it in a bit of sauce and you stick them on a cooling rack that is set over a baking sheet, and you roast that at 450 degrees until it's crispy, which will take about 20 minutes.
Hank Shaw:
And then you have grouse, pheasant… By the way, this works with turkey wings. And it's the single greatest thing… It's the single greatest part of the turkey, by the way. This is going to blow people's heads. Braise turkey, grouse, pheasant wing until it's tender. Right? Coat it with your favorite sauce and then roast it at high heat till it gets caramelized. Then when you eat it, you go and suck that meat off the bone. I mean, it's slap-your-mom-in-the-face good.
Heather Shaw:
That's amazing. That sounds absolutely phenomenal. All right, I'm going to start saving every wing and drumette from every bird now.
Hank Shaw:
And the giblets, the heart, gizzard, and liver of all of these upland birds. I collected them either for… sometimes I throw them in the ground meat pile. Like if I shoot a bunch of spoonies, I'll throw them into the ground meat pile. The other thing I tend to do is Cajun dirty rice, which if you're not a giblet eater is the single greatest introduction to giblets because it's completely inoffensive. There's nobody who won't like it. It's basically Cajun fried rice. And it's called dirty because you cut the liver up so finely that it just basically makes the rice look dirty. You're not eating chunks of liver. Because I don't know about you guys, but I don't love liver. It's okay. But I have a textural thing with it.
Rocky Gutierrez:
Yeah. Lots of people do. I mean, I don't eat liver simply because it's a detoxification organ.
Hank Shaw:
You shoot a lot of alcoholic grouse?
Rocky Gutierrez:
Yeah. There's a lot of stuff in it that and who knows. But, no, I know lots of people that do that.
Rocky Gutierrez:
So one thing I might mention there's actually a… For people who are interested in a coffee book, there's a pretty nice coffee-table book called A Passion for Grouse that's published by the Wild River Press. Now don't go to Amazon because it's not on Amazon, and there is another book called Passion for Grouse that is on Amazon. But it's at Wild River Press, which is a small press outside of Seattle. And it's got a bunch of recipes in there, but it's got chapters on biology, on hunting, on bird dogs, on grouse guns, and it's… Oh, there it is right there.
Hank Shaw:
Heather's showing it.
Rocky Gutierrez:
Yeah.
Hank Shaw:
I'll put a link to it in the show notes.
Rocky Gutierrez:
Okay.
Hank Shaw:
Well, thank you guys. We've been going for almost, well, an hour and 40 minutes this looks like.
Rocky Gutierrez:
Yeah. And I was just going to say you probably ought to break up because I have to walk in the dark to my house and I had a bear bluff-charge me a few days ago and it makes me nervous to walk down in the dark.
Hank Shaw:
Well, that is a great way to end this episode. So I already know how people can get in touch with you, Rocky. And I will put that into the show notes. Before we go, Heather, how can people get in touch with you if they want to?
Heather Shaw:
So if they'd like to, just find me on social media right now. I think that's the best form of contact, and we can go from there. And if you find yourself in the UP and want to hit the grouse and woodcock woods later this season or next year, find me on Instagram, I'm HeatherShaw00. And Facebook, Heather Shaw. It's just a picture of me and my Llewellin Setter, Chip. So if you search that and ruffed grouse, I should pop up from someone you know.
Hank Shaw:
All right, good deal. Well, be safe, dodge the bears, and I will talk to you guys soon.
Heather Shaw:
Thank you so much.
Rocky Gutierrez:
Okay. Thanks a lot, Hank.