As an Amazon Associate I earn from qualifying purchases.
Smoked venison jerky may well be the finest expression of this type of food. Lean, meaty, smoky, chewy and a little spicy, this is the Platonic Ideal of jerky. Here's how to make it yourself.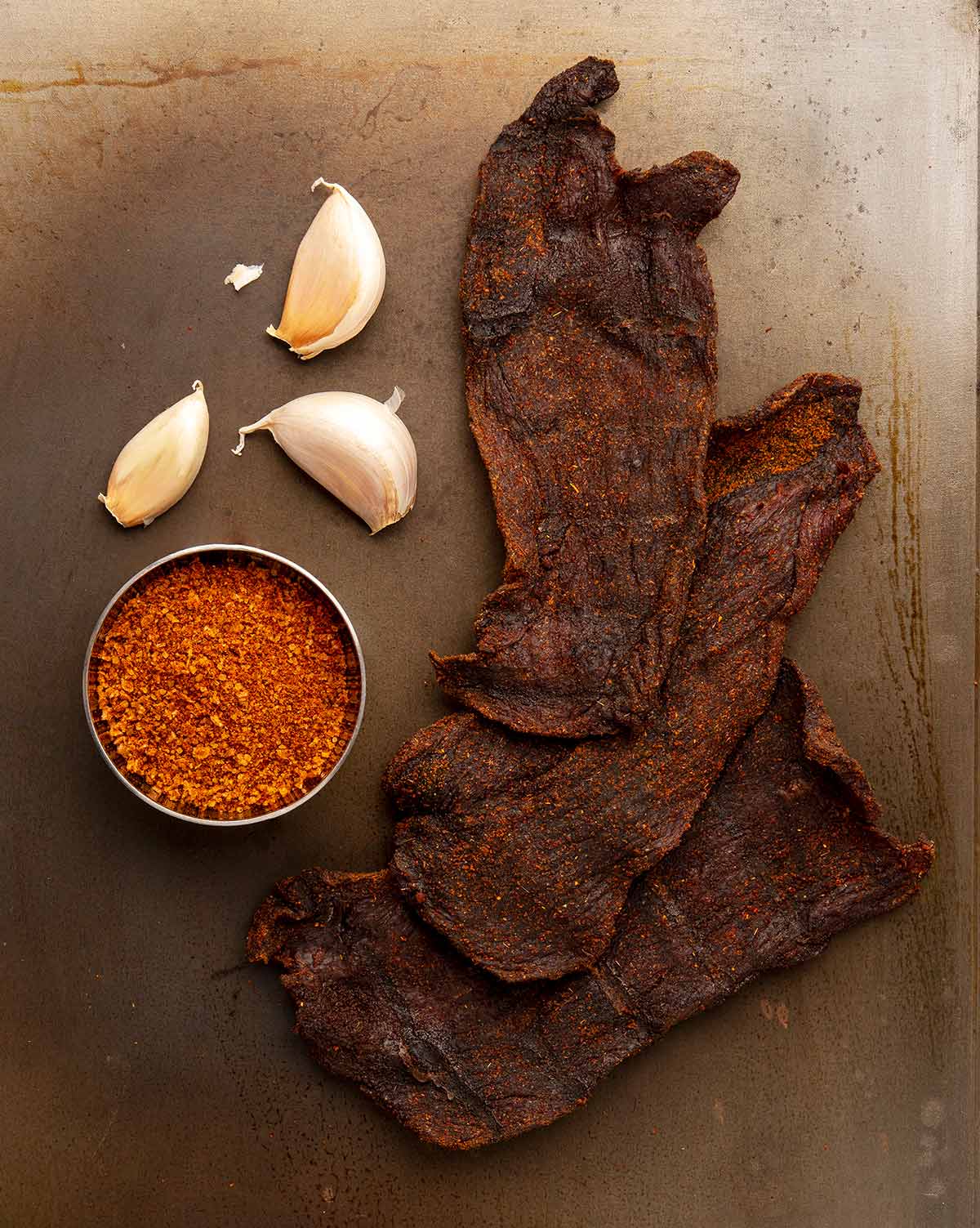 For starters, this is a regular, i.e., not ground meat, extruded venison jerky — my ground venison jerky recipe is here — and it is a dry cured jerky, not a brine-based one like my chipotle jerky.
You should know that either of those other recipes I just linked to can be made into smoked venison jerky, too. After all, the smoking step is merely an alternative method of drying your venison jerky.
The best meat for venison jerky, in my opinion, are slices from whole muscle roasts from the animal's hind leg. These will be clean of sinew, and you can easily slice them across the grain, which makes them easier to eat.
It doesn't matter what animal you are using, either. I've made "venison" jerky out of deer, yes, but also antelope, elk, moose, nilgai, bison, etc. And there is no reason you can't use caribou, wild goat or sheep, or hell, beef. Any red meat works — and yes, that means slices of Canada goose breast work really well, too.
When you are making slices for smoked venison jerky, you will want to only partially thaw your roasts. When they are sort of half-frozen, it is far easier to make nice, even slices. I like them around 1/4 inch thick, which results in a chewy jerky, not a brittle one.
In practical terms, this generally means 12 to 24 hours after you have moved a roast from the freezer to the fridge.
The spice mix I use changes pretty much every time I make smoked venison jerky. But it is always, more or less, like Mexican Tajin, which is a combination of powdered chiles, lime and salt. I almost always add either mashed, pounded fresh garlic or garlic powder. The fresh, mashed garlic will give you a stronger garlic flavor.
For the acidity, you can do one of a few things. You can either wet your venison with vinegar or citrus juice, or you can include citric acid in your spice blend. I do this here, using Fruit Fresh, which you can find in the canning section in your local supermarket.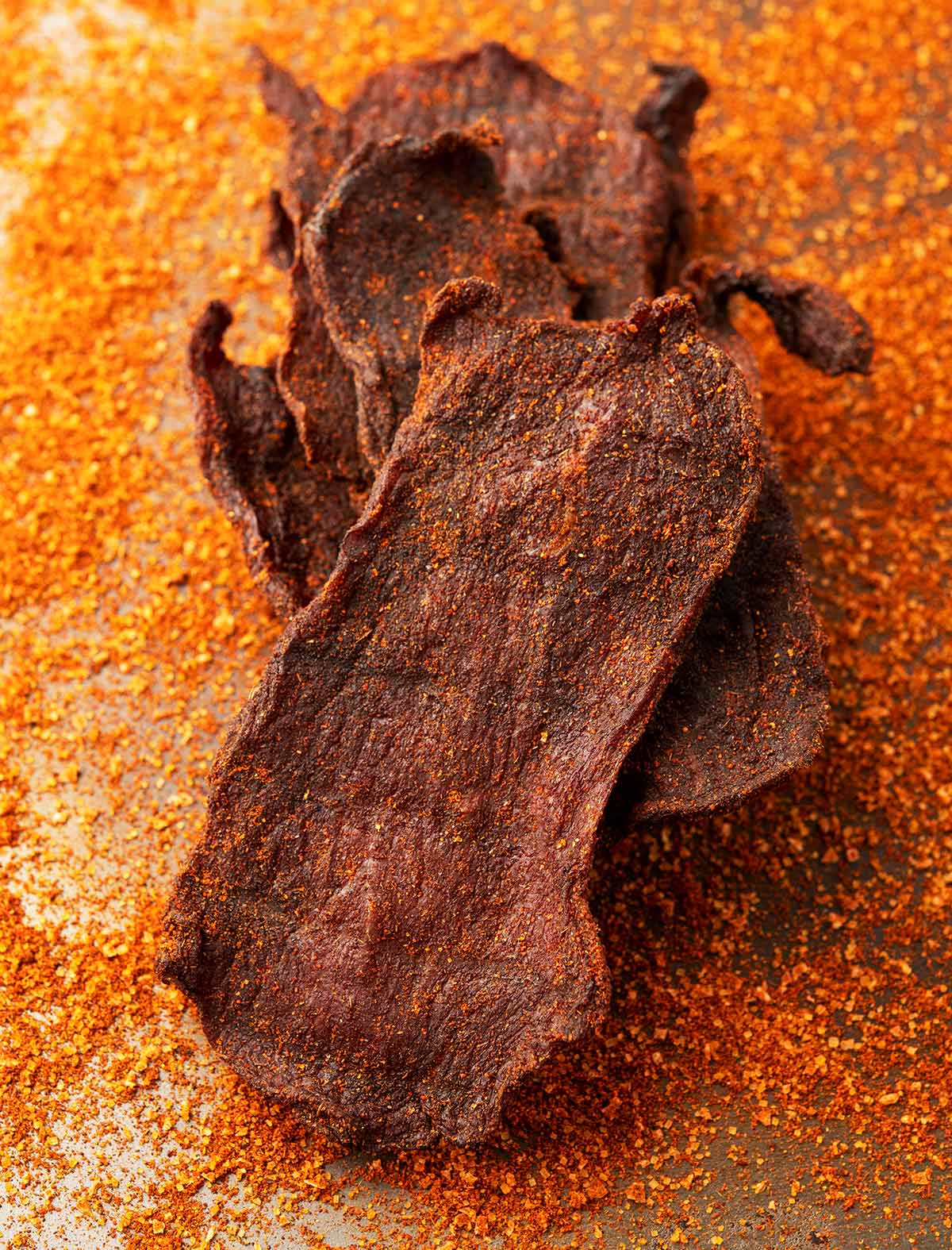 And remember, there is no shame in simply making smoked venison jerky with salt and black pepper alone.
As for the smoke, remember you are drying the venison here, not really cooking it — although yes, it gets cooked. That means you want your smoker relatively cool; I use a Traeger Timberline, and I keep it at 165°F on full smoke. No matter what you do, you want the smoker under 200°F.
Wood choice is up to you, but here I really do like mesquite, hickory and pecan, which are all assertive woods. Fruit and nut woods are all good choices. I'd avoid alder here, as it's a little "meh" for smoked venison jerky.
Once made, the jerky will keep for months in the fridge, weeks at room temperature, and until the Second Coming in the freezer.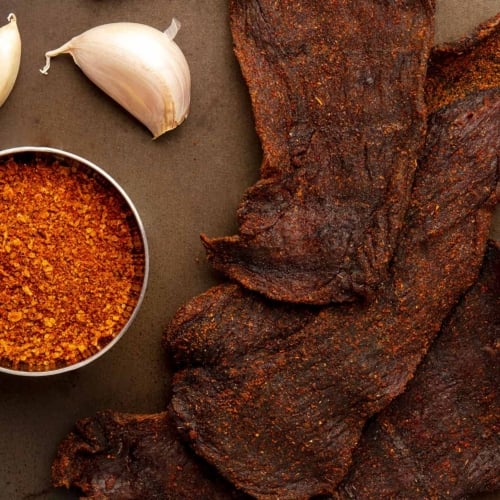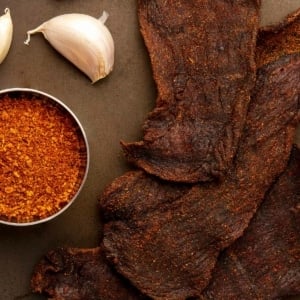 Smoked Venison Jerky
I mostly use slices against the grain from whole-muscle, hind leg roasts to make this jerky. Backstrap is another good option. Do not use overly sinewy cuts.
Ingredients
5

pounds

venison,

sliced against the grain 1/4 inch thick

1/2

cup

lime or lemon juice

(see below)

1/2

cup

salt

1/4

cup

paprika

2

tablespoons

cayenne or other chile powder

2

tablespoon

garlic powder,

or 8 garlic cloves, minced and mashed

1

tablespoon

black pepper

1

tablespoon

dried oregano

(optional)

1

tablespoon

citric acid

(optional)
Instructions
Mix all the spices together in a bowl. If you are not using the citric acid powder (Fruit Fresh), wet the slices of the venison with the lime juice. Coat the venison with the spice mix well, pressing and massaging it into the meat. Put all this in a covered container in the fridge for a day, and up to 2 days. More than that and things might get too salty.

Get your smoker going at about 165°F and no hotter than 200°F. Wood choice is up to you, but I like mesquite. Remove the meat from the container and shake off any excess spices; you do want some on there, though. Lay the meat out in the smoker so they are not touching. Smoke until leathery, so not juicy and not brittle. Start checking on the meat at 2 hours, then every 20 minutes past that.

Once the jerky is to your liking, let this cool to room temperature before you put in the fridge.
Notes
Once made, your jerky will keep for a few weeks at room temperature, and forever in the freezer. 
Keys to Success
Definitely pay attention to your meat when slicing. No sinew or silverskin! For those of you who get a lot of deer in a year, backstrap is great for this. I mostly use roasts from the hind leg. 
Keep the salt to meat ratio as it is in this recipe, but the other spices you can play with. Some variations could be to add allspice or coriander, cinnamon, or hell, just use Tajin from a Mexican market. 
You can also soak your meat in soy sauce plus 1/2 cup of sugar, let it sit no longer than 8 hours, then smoke it. Soy is very salty, so you don't want to oversoak it. 
Definitely try a batch with just the salt and black pepper once. It really shows off the quality of your venison.  
Nutrition
Calories:
249
kcal
|
Carbohydrates:
4
g
|
Protein:
44
g
|
Fat:
5
g
|
Saturated Fat:
2
g
|
Polyunsaturated Fat:
1
g
|
Monounsaturated Fat:
1
g
|
Cholesterol:
161
mg
|
Sodium:
4815
mg
|
Potassium:
710
mg
|
Fiber:
1
g
|
Sugar:
1
g
|
Vitamin A:
1470
IU
|
Vitamin C:
4
mg
|
Calcium:
30
mg
|
Iron:
7
mg
Nutrition information is automatically calculated, so should only be used as an approximation.