Hey there, my name is Hank Shaw. Welcome to my little corner of the internet.
I write. I fish. I dig earth, gather things from the wild, raise plants, live for food and hunt anything that tastes good. I'll drink fancy Scotch, craft beer, Hamm's, a fine Barolo or hell, even kombucha, depending on my mood or who's offering. I spend my days thinking about new ways to cook and eat anything that walks, flies, swims, crawls, skitters, jumps – or grows.
I am the omnivore who has solved his dilemma. This is my story.
Honest food is what I'm after. Nothing packaged, nothing in a box, nothing wrapped in plastic — unless I wrapped it in plastic myself. I eat meat, but I loathe industrial farming. So I have not bought meat or fish more than a handful of times since 2005.
I am especially interested in those meats and vegetables that people don't eat much any more, like pigeons or shad or cardoons. I have nothing against good grass-fed beef or a head of lettuce, it's just that others are doing just fine writing about those foods. I'm trying to walk a less-traveled path.
---
Who am I?
I am a former restaurant cook, I've caught fish and dug clams for a living and, after 18 years as a political reporter for newspapers ranging from New York to Virginia to Wisconsin, Minnesota and California, I now pay the bills writing cookbooks, fishing, foraging and hunting. I've written five cookbooks, the most recent in spring 2021.
(You can find out more about me on this Wikipedia page.)
As a food writer, my work has been published in Food & Wine, Petersen's Hunting, Garden & Gun, Organic Gardening, The Art of Eating, Field and Stream, Sactown and several other publications. I was profiled in the March 2009 issue of Field & Stream magazine for my wild game cookery.
I was honored to be the consulting editor of both the wild game and the fish and seafood sections of the latest edition of the classic, The Joy of Cooking. To be a part of such an iconic work was incredibly rewarding.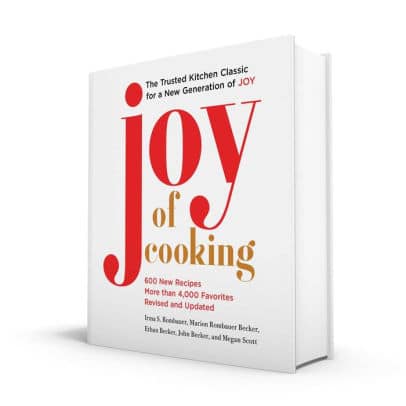 I've been featured on a few TV shows, too. I've been on Andrew Zimmern's "Bizarre Foods America," and have been on Steve Rinella's "Meateater, " Mike Rowe's "Somebody's Gotta Do It" on CNN, and on Scott Leysath's "The Sporting Chef."
I've also been on the Joe Rogan Experience.
If you want to see a short video about what I am all about, here it is. And if you still want to see more of me on video, here's another profile.
---
Contact
To reach me, email hank@huntgathercook.com
---
Books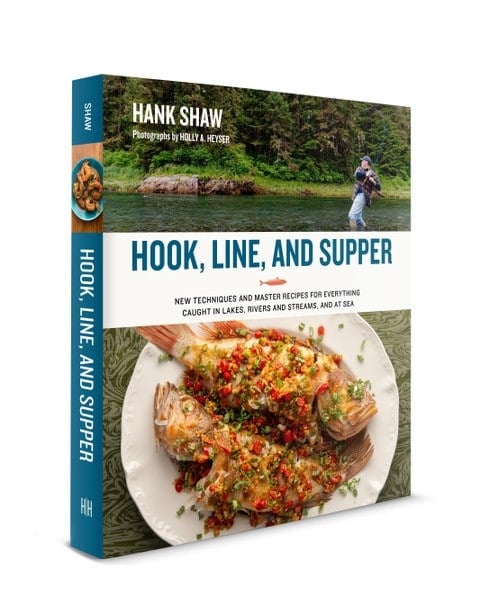 My latest book, Hook, Line and Supper, was released in May 2021, and covers all things fish and seafood, freshwater and salt. It's a comprehensive compendium of techniques and recipes to handle whatever you bring forth from the water, regardless of species or region. It's available wherever books are sold in the US, Canada, UK, Australia and New Zealand.
Pheasant, Quail, Cottontail: Upland Birds and Small Game from Field to Feast, was released in March 2018. It covers all the upland birds, doves, pigeons and all the small mammals we normally hunt in North America.
Buck, Buck, Moose: Recipes and Techniques for Cooking Deer, Elk, Moose, Antelope and Other Antlered Things, published in September 2016. It is the most comprehensive, lushly photographed book on cooking all sorts of deer and deer-like things ever produced. I hope it opens up whole new worlds for those who hunt deer, elk, moose, antelope and caribou.
My second book, Duck, Duck, Goose: Recipes and Techniques for Ducks and Geese, both Wild and Domesticated, was released by Ten Speed Press in October 2013. This book I hope will be useful both to waterfowl hunters and home cooks alike. I tried to include everything you'd want to know about cooking ducks and geese, and the recipes work just as well for store-bought birds as wild ones.
My first book, Hunt, Gather, Cook: Finding the Forgotten Feast, was released in 2011 by Rodale Books. My hope is that the book will help open the world of foraging, hunting and fishing to those interested in food, but who may have never hunted mushrooms or picked up a gun or cast a rod and reel before. It is also my hope that hunters who want to expand their skills to foraging, or anglers who want to hunt, or foragers who want to fish, will find value in this book.
---
Essays and Hunting Stories
I run a blog on Substack called To the Bone, and it is where I write the way I used to back in the old days of blogging: Essays on hunting and fishing ethics, travelogues, stories from the field, deeper stuff about us and those we love, observations about life and nature, that sort of stuff. You can subscribe for free, but if you like it, a paid subscription gets you a lot more access in terms of what I write as well as deals on things like my cookbooks. 
---
Podcast
I run the Hunt Gather Talk podcast, which runs in thematic seasons. I've done four seasons, the latest covering all things about preservation. You can scroll through the archive here. 
---
Media
I've been featured on a bunch of shows, podcasts, etc. These are some of my favorites.
---
Awards

Hunter Angler Gardener Cook won Best Food Blog by the James Beard Foundation in 2013, and was nominated for the award, which is considered the "Oscars of the Food World," in 2009 and 2010.
My book Pheasant, Quail, Cottontail won the International Association of Culinary Professionals (IACP) book award for best self-published book in 2019.
I was honored to win a Bert Greene Award from the IACP for Best Food Blog in both 2010 and 2011. In addition, a story I contributed to for Field & Stream was nominated for an American Society of Magazine Editors award in 2010, and my foraging column in Sactown magazine won a national award by the society for city and regional magazines in 2014.
I've also been featured twice in the book Best Food Writing by Da Capo Press. An essay I wrote on this site, "On Killing," was included in Best Food Writing 2012, and another piece from Hunter Angler Gardener Cook, "An Awful Mercy," was included in Best Food Writing 2013.
My books Duck, Duck, Goose and Buck, Buck, Moose each won Excellence in Craft awards from the Outdoor Writers Association of America in 2013 and 2017, respectively.
---
About the Pictures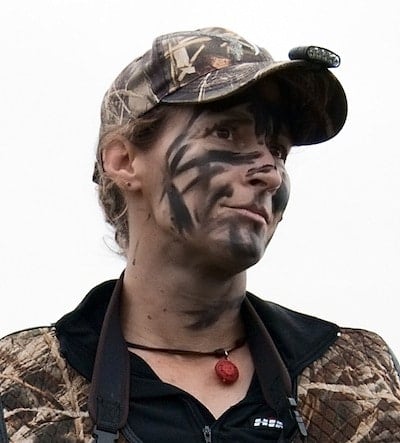 While I do take some of the pictures on this site, the vast majority (and all of the really good ones!) of the images you see here are taken by Holly A. Heyser.
Holly is a professional editor, writer and food photographer. You can see her most recent writing here.
Contact Holly at holly@huntgathercook.com.
Never miss a recipe
Subscribe to get recipes sent directly to your inbox.
Subscribe