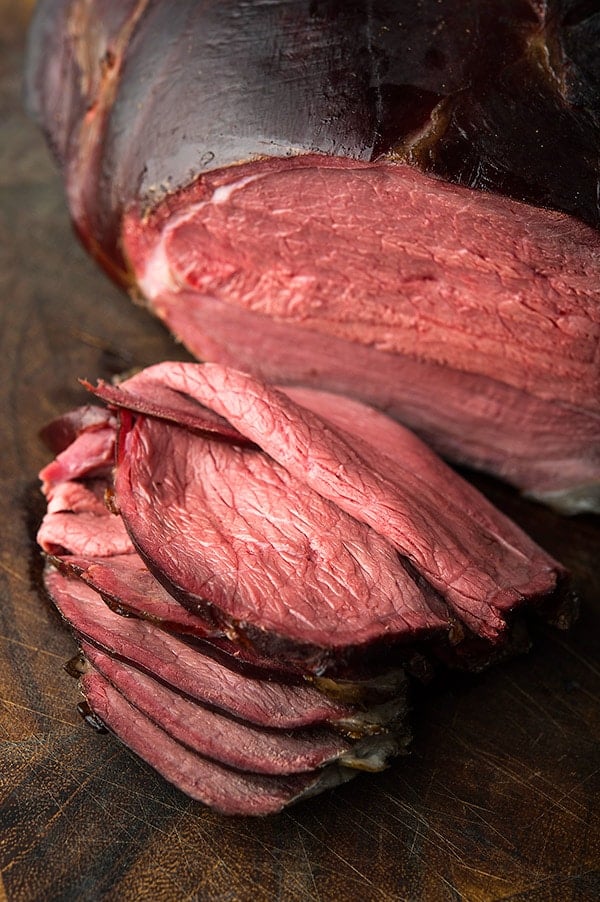 Find It Fast
About Venison: Qualities | "Gamey" Meat | Interchangeability
Basics: Sausage & Charcuterie | Fat | Marinades | Cut a Flat Iron Steak | Prepare a Deer Heart | Dry Aging
Buy my venison cookbook – we sell signed copies


About Venison
Venison, a/k/a deer meat, may or may not be the most popular game meat, but it is definitely the most abused. This page aims to give you tried and tested venison recipes to help you get more out of your deer, elk, moose or pronghorn.
I can't tell you how many people I have served venison to who have had to overcome some prior bad experience with it. "Ew, it's so tough. It tastes like liver." Yes, if you overcook it and handle the meat poorly when you kill the animal it will be poor fare at the table.
Venison is lean, clean meat. Higher in protein and lower in fat than beef, it is as free range and healthy as you get. If you've never tasted venison, it is close in flavor to grass-fed beef or bison. Rich, lean, but easy to overcook. A general rule is to cook the tender cuts a bit less than you think, and to cook the tougher cuts a bit more than you think.
I have found that while the taste of elk or moose or whitetail deer or mule deer may differ slightly, the cooking methods and recipes are all interchangeable. And if you are worried about it being "gamey," here is what you need to know about gamey meat.
Below are some of my favorite venison recipes, grouped by style of cooking or cut of meat.
Basics
Venison Recipes by Cut of Meat