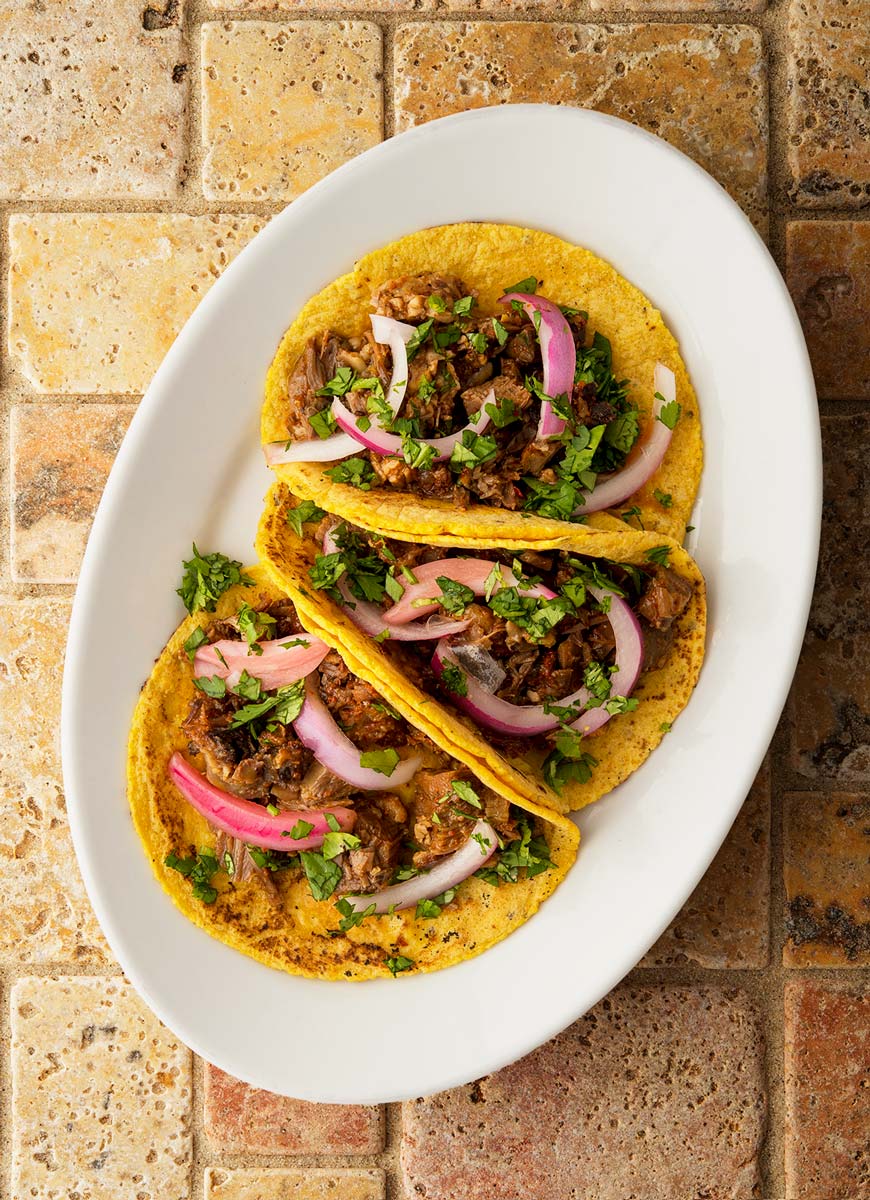 Find It Fast
About
Let me start by saying that the concept of taco recipes is something of a misnomer, because, well, as the great Mexican chef Gabriela Camara notes, "everything can be a taco." That means you can put anything you want in a taco.
I've been inspired by scores of Mexican cookbooks, both in English and in Spanish, as well as the Mexican chefs I have known, especially my friends Patricio and Cinthia of Nixtaco, here in the Sacramento area.
After having made hundreds of tortillas and countless taco recipes, after reading all those books and talking with all those chefs, here are some guidelines for the best tacos no matter what is in them:
Good tortillas, flour, corn or whatever. It's important. (Here's an essay I wrote about the importance of mastering the tortilla.)
A centerpiece, usually meat or fish but it can be mushrooms or a vegetable.
A mix of textures — crunchy, crispy, soft, dense, etc.
Different colors, ideally. Not necessary, but nice. Remember people eat with their eyes first.
Something spicy and something tart. Salsa and lime are usual here, but you could in theory do horseradish and vinegar if you want to.
Fill generously but not so much you can't eat the taco.
Oh, and one more thing. Like sandwiches where I grew up in New Jersey, once you pick up a taco, you never set it down. This is why real-deal tacos are always small. They are antojitos, little cravings, not giant discs that are a meal in itself.
A word on the term "street taco." It's generally an American name for a small taco that isn't made in the American style, i.e., with chopped lettuce, pre-shredded cheese and diced tomatoes. A street taco will typically be on a corn tortilla, and is normally very simple, with the meat in question, plus white onions soaked in lime, cilantro and whatever salsa you like.
A proper taco night has lots of options for you to choose your own adventure. Maybe more than one meat or fish or whatever. Definitely chopped herbs, usually cilantro. Definitely a crunchy thing, usually radishes. Often crumbly or shredded cheese. And always salsas, ideally at least two.
Here are a bunch of my salsa recipes you can choose from.
Tortillas
Let's start with the tortilla.
Your call, flour or corn. Flour is more common on Mexico's northern tier, as well as in our states that border that region. Corn is the rule everywhere else.
Favorite tacos
And here are my personal taco recipes. They range from meat and fish to vegetables and even wild mushrooms. They're what I do, and they can guide you to many great taco nights in the future!
Meats for Taco Recipes
These are recipes for fillings for tacos, burritos, quesadillas, sopes… hell, they're all great just poured over rice. As a general rule, 1 pound of taco meat will make around 8 to 10 tacos.
Fish and Seafood for Taco Recipes
Moles
These are elaborate sauces for various meats. There are many kinds, and all are excellent on a tortilla!