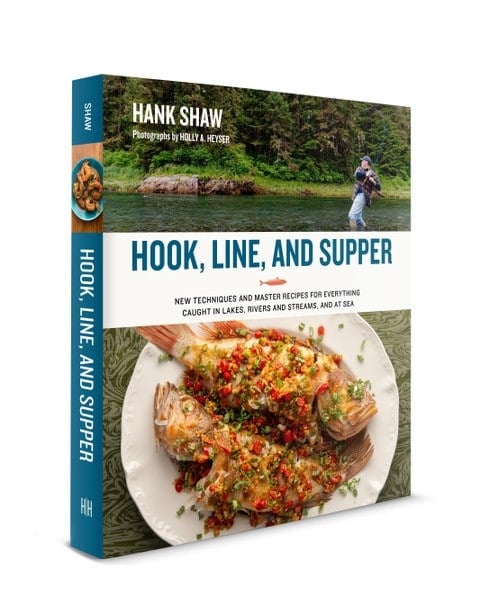 If you are looking for Hank Shaw book tour information, well, this is the place. We finally have events, after a year long absence, for obvious reasons. I will be hitting the road as best I can this year to support my latest cookbook, Hook, Line, and Supper, which covers all things fish and seafood, freshwater and salt.
To get you started, here is the virtual book launch conversation I did with April Vokey of Anchored Outdoors and the Book Larder, a cookbook-focused bookstore in Seattle. This talk gives you a good overview of the book, and I answer a ton of reader questions!
Media About the Book
I'll post some of the media and buzz about Hook, Line, and Supper below, in case you want to learn more about how this book came about, what's in it, and more.
September 14
Denver Book Dinner
Denver, Colorado
Chef Amos Watts and I are teaming up again at his restaurant The Fifth String, where Old Major used to be on Tejon Street. Looking like $80 plus tax and tip, which includes a signed copy of the book. Reservations are live! Here is the link to reserve your spot.
September 16
Michigan Book Dinner
Okemos, Michigan
I'll be back at Red Haven in Okemos, Michigan (near Lansing), for another book dinner! Every time I've done a dinner with these folks it's been fantastic, and this time should be no different. Call them at (517) 679-6309 for reservations. You can make an online reservation here.
September 17
Buffalo Book Dinner
Buffalo, New York
I'll be back at The Black Sheep with my friend Steve Gedra, and this rare Friday night book dinner will be co-themed for the Bills-Dolphins game that Sunday. No, we won't be serving marine mammals, but it should be fun nonetheless! Every time I've done a dinner with these folks it's been fantastic, and this time should be no different. You can make your reservations here.
September 20
Gloucester Book Signing
Gloucester, Massachusetts
I will be signing books and talking fish and seafood at The Bookstore of Gloucester, 61 Main St, from 4 to 6:30 pm. This will be a free event, and we will have lots of books to sell. NOTE: Make sure you email the bookstore at gloucesterbookstore@gmail.com or call them at 978/281-1548 to reserve a spot. The bookstore is small so they need to limit the number of people in at any given time. Also, masks will be required.
September 30
Roseville Taco Party
Roseville, California
We're doing Mexican seafood at Nixtaco in Roseville! Chef Patricio Wise and I will be teaming up to make a special menu for Nixtaco — a few of his existing seafood specials, plus several new dishes featured in the cookbook. SOLD OUT.
October 9
Seattle Book Signing
Seattle, Washington
I'll be signing books and answering questions about all things fish and seafood at the Filson flagship store on 1741 1st Ave., from about 5 pm until closing. Books will be for sale, and I will bring copies of my earlier books, too, in case you want to pick up signed copies of them.
October 10
Spokane Book Dinner
Spokane, Washington
It's been a decade, but I am finally teaming back up with Chef Chad White of Top Chef fame at his restaurant Zona Blanca. Reserve your spot here!
October 11
Bend Book Dinner
Bend, Oregon
If you liked the other book dinners I did with Chef John Gurnee of Drake in Bend, you'll love this one. All Oregon seafood, all the time! Details are TBD, so stay tuned.
October 18
Kansas City Taco Party
Kansas City, Missouri
I'll be teaming up with Yoli Tortilleria in KC for a special pop up dinner of fish and seafood tacos. Stay tuned for reservation details.
October 19
Missouri Book Presentation
Kansas City, Missouri
I will be giving a presentation on how to better care for and cook your fish with the Missouri Dept. of Conservation. Stay tuned for RSVP details; this will be a free event, but we want to get a sense of who is coming so I know how many books to bring.