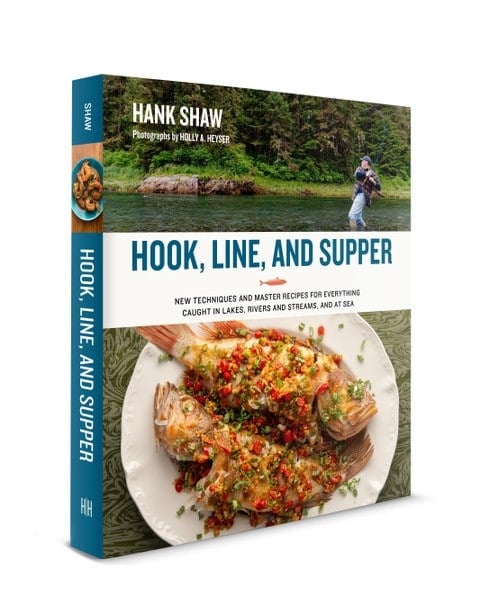 If you are looking for Hank Shaw book tour information, well, this is the place. I have been hitting the road as best I can this year to support my latest cookbook, Hook, Line, and Supper, which covers all things fish and seafood, freshwater and salt.
To get you started, here is the virtual book launch conversation I did with April Vokey of Anchored Outdoors and the Book Larder, a cookbook-focused bookstore in Seattle. This talk gives you a good overview of the book, and I answer a ton of reader questions!
Media About the New Book
I'll post some of the media and buzz about Hook, Line, and Supper below, in case you want to learn more about how this book came about, what's in it, and more.
2022 Events
Pheasant Fest and Quail Classic
Omaha, Nebraska
March 11-13
I'll be leading a seminar about how to get more out of your upland game birds, cooking some great food and even delivering the keynote address at the annual Pheasant Fest and Quail Classic, the big shindig put on by Pheasants Forever and Quail Forever. This year will be in Omaha. My schedule:
Friday, March 12, 3 p.m.: I'll be talking about stew. How to make any sort of stew perfectly, with whatever you have handy, in a way that will change the way you look at these simple suppers. And to demonstrate, I'll be cooking up my famous chilindron stew, with free samples!
Saturday, March 13, 10 a.m.: I'll be leading a presentation on How to Get More Out of Your Gamebirds, or, there's more to life than skinless breasts. I give you tips and tricks on using more of what you bring home, with easy methods — and a couple harder ones for accomplished home cooks.
Saturday, March 13, 7 p.m.: I will deliver the Keynote Address at the main banquet. I will be talking about the intersection of food and hunting, and how it can help save the pursuit and expand our conservation efforts.
Sunday, March 14, noon: I'll be doing my How to Get More Out of Your Gamebirds presentation again.