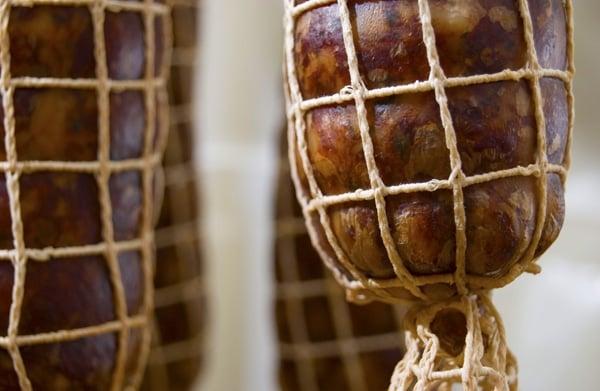 Find It Fast
About
I was initially hesitant to post salami recipes. These are the hard ones in the charcuterie craft. Salami is fermented sausage, and you must carefully control your humidity, salt levels, acidity and temperature for everything to come out OK. If you mess things up, you can get sick.
Salami, at its finest, is made of pork, salt, and time. Yes, there are all sorts of variations, many of them below. Pepperoni, for example, is a highly spiced salami — all pepperoni is salami, not all salami is pepperoni, capisce?
Salami is raw, salted and fermented pork. It is safe to eat because of the salt content and because the fermentation of the meat and fat drops the pH of the mixture low enough to kill any bad bacteria. That acidity is the tang you taste when you eat it.
You can make salami without pork, but it is rarely as good. This is because of the melting point of pork fat; only bear fat is similar, and that's a rare thing. Beef fat and lamb fat can get chalky and overly dense in salami, while duck and goose fat is too unsaturated to make good salami.
When you are ready, start with these simple salami recipes, which can also be done with regular domestic pork.