Tacos Gobernador
August 03, 2020 | Updated October 15, 2020
As an Amazon Associate I earn from qualifying purchases.
Tacos gobernador, governor's tacos, is one of those modern classics of Mexican cuisine. Interestingly, it's the second such seafood classic from Sinaloa, a state known for good seafood; the other is aguachile, a modern take on ceviche.
It is also one of the many Mexican dishes that combines shrimp and cheese, a combination I have learned to love over the years — breaking from the "no cheese and seafood" rules I grew up with.
You can make these tacos on a griddle or a grill, and there are variations to tacos gobernador all over the Pacific coast of Mexico. The original is from Sinaloa, and legend has it that in 1987, the chefs at Los Arcos in Mazatlan invented these tacos to impress the governor of Sinaloa, who was visiting them.
But even searching for the original recipe from Los Arcos turns up variation. Some versions claiming to be the original include celery and, oddly, machaca, which is finely shredded dried beef. Most do not, however, and I suspect this could be a mix-up in conversations between cooks: Machaca de camaron is a term in Pacific Mexico for chopped shrimp. I've seen cooks from other parts of Mexico miss this and add the dried beef.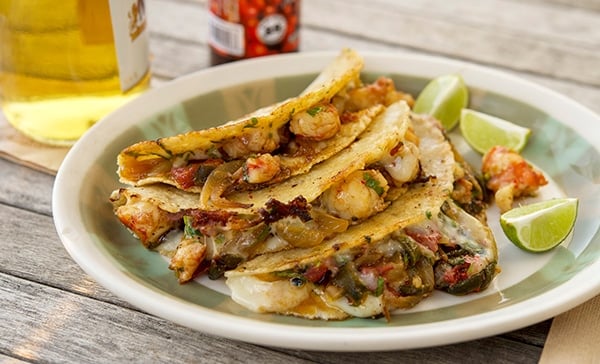 All variations of tacos gobernador that I have seen and eaten, and there are a lot of them, include the following:
Shrimp. Usually medium or large shrimp, cut into pieces.
Cheese. Always melty cheese, usually queso Chihuahua or asadero or Oaxaca. Most are easily available in Latin markets, but mozzarella is a very good substitute.
Always onions, usually white. Sliced or chopped.
A bit of chopped garlic.
Chiles of some sort. I've seen chipotles in adobo, but mostly I see roasted, skinned and seeded poblanos, cut into rajas, strips. Green bell pepper is a decent substitute.
Often dried Mexican oregano and/or fresh chopped cilantro.
Sometimes tomato, sometimes not. Apparently not at Los Arcos.
Butter is the fat, although I actually prefer lard and I've seen olive oil.
Corn tortillas are traditional, but I've seen tacos gobernador served on flour tortillas in Baja.
Regardless of the exact combination you choose, it's a good one. The cheese adds heft to the taco, and the little edges that brown or even burn are one of the highlights. Even with all that, tacos gobernador are still light enough to make a half dozen disappear.
Making these is a bit more like making a quesadilla than a traditional taco. You warm the tortillas, then add some cheese, and, once it starts melting, add the remaining filling and fold the taco over to get it to stick. You are shooting for an open quesadilla, as you can see in the picture.
Be warned: Tacos gobernador are as messy as they are delicious. Eat with plenty of beer and some hot sauce. Extra points if you can spot why I chose the particular hot sauce you see in the pictures…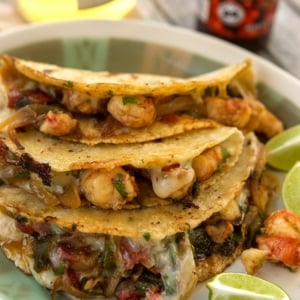 Tacos Gobernador
There are a number of variations on this recipe, which I outline above. If you are looking for make-ahead tips, the poblanos can be roasted and sliced a day or three beforehand, and the filling mix can be cooked ahead of time, although the shrimp will get a bit overcooked if you reheat it.
Ingredients
2

poblano chiles, skinned, seeded and cut into strips

2

tablespoons

butter, lard or olive oil

1

white onion, sliced thin

2

cloves

garlic, minced

4

small, hot chiles, chopped

(optional)

2

Roma tomatoes, seeded and diced

1

pound

peeled shrimp, cut into bite-sized pieces

Salt

1/2

teaspoon

Mexican oregano

(optional)

2

tablespoons

chopped cilantro

1/2

pound

shredded melty cheese

(see notes above for options)

Corn tortillas
Instructions
Roast the poblanos and set them in a plastic bag to steam the skins off. Skin, then remove the tops and all the seeds. Slice them into strips crosswise. You can dice them if you prefer.

Heat the butter in a large pan over medium-high heat. Add the onions and saute until wilted, about 3 to 5 minutes. Add the garlic, chiles if using, diced tomato, shrimp, oregano and salt and toss to combine. Saute until the shrimp turns pink, about 3 to 4 minutes. Mix in the cilantro and turn off the heat.

Heat tortillas on a comal, griddle or large frying pan, or on a grill. Set the tortilla down, then add a generous portion of shredded cheese on it. As soon as the cheese starts to melt, spoon some filling into the center and fold the taco over. Press down with a spatula to set the taco, let it char just a bit on that first side, then flip to brown the other side. Serve at once.
Nutrition
Calories:
366
kcal
|
Carbohydrates:
9
g
|
Protein:
37
g
|
Fat:
20
g
|
Saturated Fat:
11
g
|
Cholesterol:
346
mg
|
Sodium:
1242
mg
|
Potassium:
362
mg
|
Fiber:
2
g
|
Sugar:
4
g
|
Vitamin A:
1085
IU
|
Vitamin C:
67
mg
|
Calcium:
473
mg
|
Iron:
3
mg
Nutrition information is automatically calculated, so should only be used as an approximation.