Pork Chile Verde
February 26, 2018 | Updated February 03, 2022
As an Amazon Associate I earn from qualifying purchases.
This chile verde recipe is my go-to Mexican comfort food, easy to make and it keeps well all week. If you're not familiar with it, Chile verde is braised meat with lots of green elements, like green chiles, cilantro and other herbs, as well as tomatillos.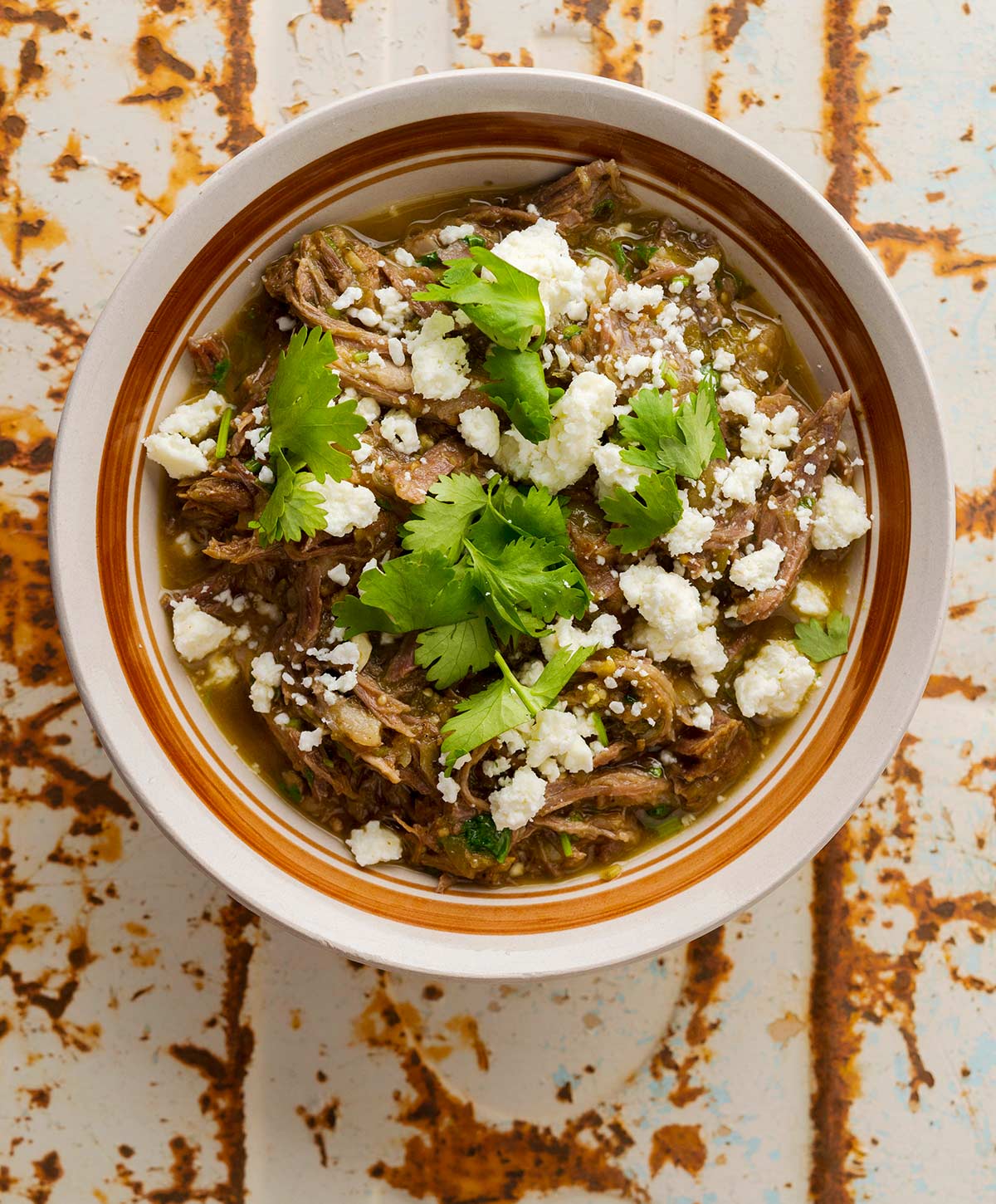 I should be clear at the start that chile verde is not green chili, nor is it the New Mexican dish green chile stew. Those are great dishes, but they are American. Chile verde is Mexican.
It is a staple in Mexican restaurants around here. This chile verde recipe is based on several I've read, or eaten in the Sonoran Desert area around Arizona, although there are variations on this dish all over both Mexico and our own Desert Southwest.
Wherever it comes from, this is a damn good dish, up there with my chile colorado and venison chili.
Chile Verde Ingredients
Unlike green chili or green chile stew, Mexican chile verde requires tomatillos, those cousins of the tomato you see encased in a papery husk. They come in many varieties, from great big domesticated ones to these funny little tomatillos that grow in my garden.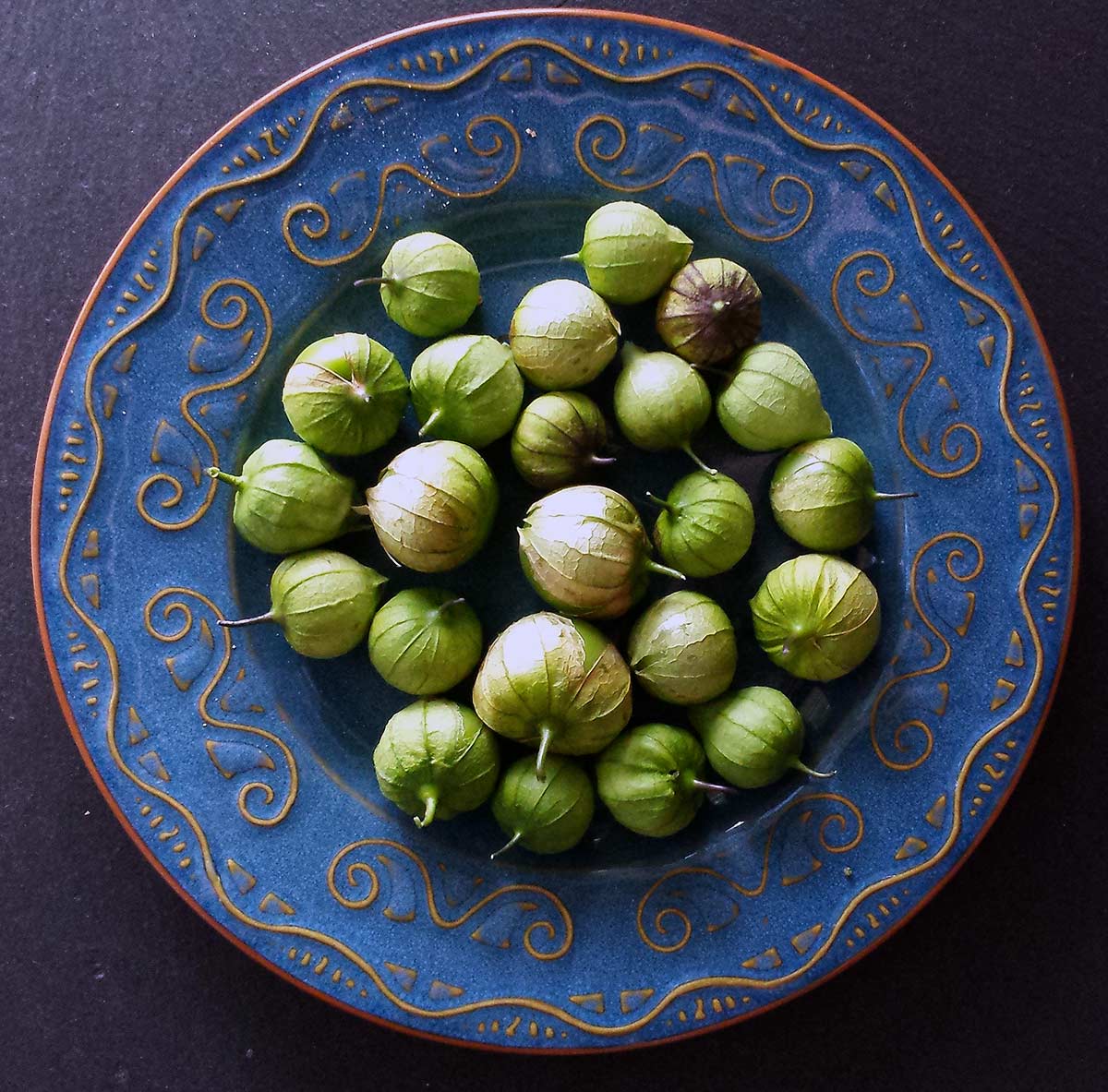 I never planted them. They just appeared. Lots of gardeners in my neighborhood get them, so I think they are wild, or at least feral. There do happen to be a number of various "ground cherry" species growing all over the country, so I am not certain which one this is. All I can tell you is that this is a welcome weed.
So whenever they're ripe, I pick masses of the little buggers. You can find them in Mexican markets sold as tomatillos de milpa.
You strip off the husk, and inside is a kinda sticky green tomato-like thing. When they get perfect, the fruit fills the husk and sticks to it, so sometimes you may need to husk them under cold water. You want tomatillos when they are green and unripe; these turn purple when they are dead ripe, and the big ones turn sort of creamy-yellow.
When I am inundated with tomatillos, I make loads of my tomatillo salsa verde, which is great on tortilla chips, and can it. This is key, because, once canned, you have almost instant chile verde.
Other than tomatillos, you need other green ingredients: cilantro and a couple kinds of green chiles. I use a mix of Anaheim and/or poblano chiles, plus serranos or jalapenos for heat. In late summer, I get access to green Hatch chiles, which, when hot, take care of all your green chile needs.
The Sauce
Making chile verde sauce is kind of a production, like most good Mexican sauces. (Ever make mole? Not easy.) You put the peppers, onion, tomatillos and garlic on a grill or under a broiler to char, then peel the garlic and chiles — both hot and mild — cilantro, etc. and chop up everything in a food processor.
As I mentioned above, you can do all this way ahead of time by making salsa verde and canning it.
Once you have your salsa verde, making chile verde is easy. Keep in mind that tomatillos are acidic. For geeks, their average pH is 3.8, which is only a little milder than an orange. This means your chile verde will be acidic, too. So go easy on the lime until you've tasted it.
If you end up with sour chile verde, serve it with sour cream or Mexican crema. Yes, those are sour, too, but the dairy helps a lot.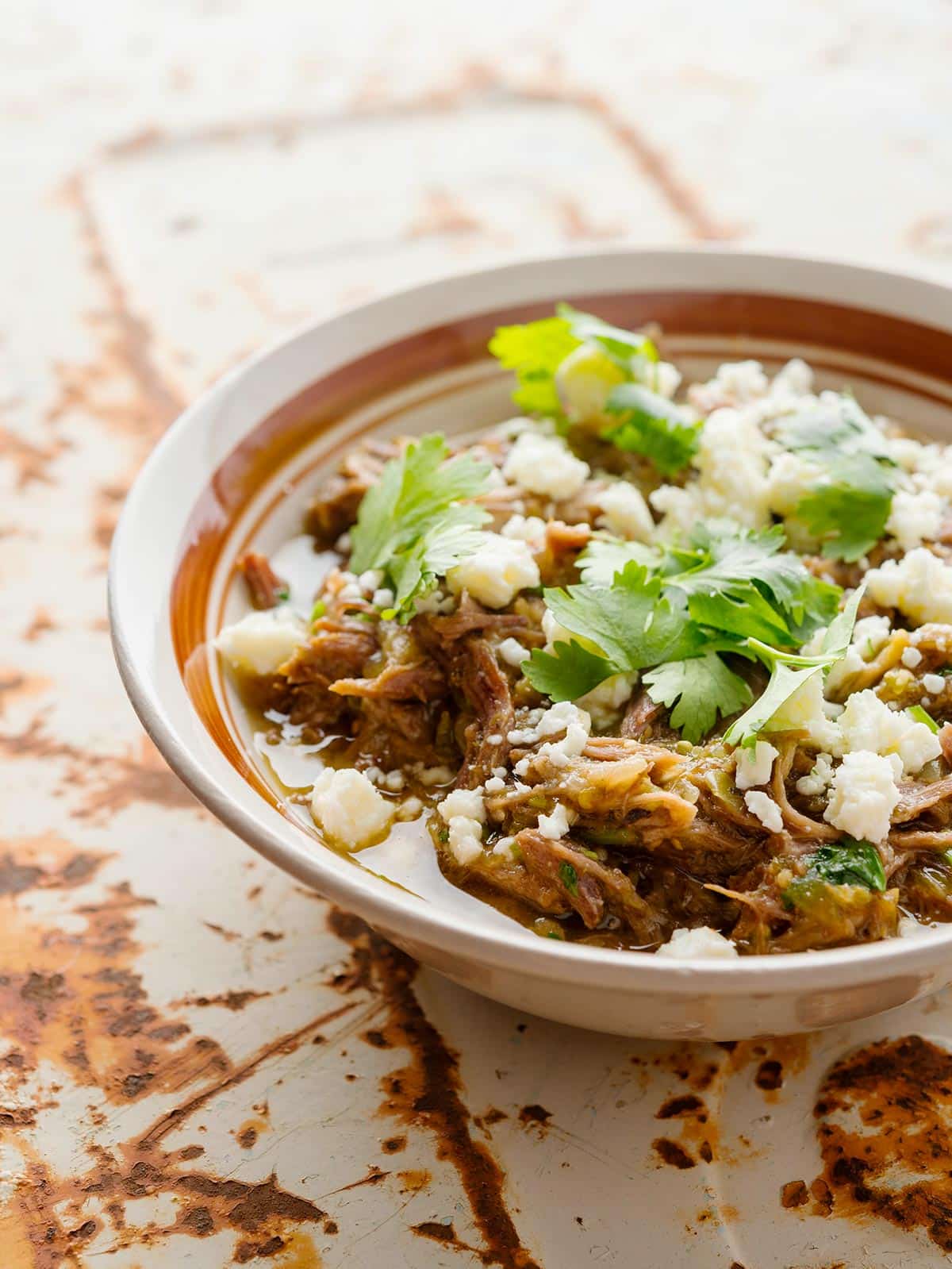 Meat in Chile Verde
Meat is up to you. Think pork first, wild or domesticated. Chicken, pheasant, turkey (wild or domestic) are other good choices. Think light meat first, although I will admit, it's damn good with beef, venison and yes, even things like squirrels or jackrabbits. Play with it!
I serve my chile verde with rice, Mexican cotija cheese, avocado, cilantro and a dollop of crema. You can also serve chile verde on tortillas, and a chile verde burrito is damn good.
OTHER GREEN CHILE DISHES
In addition to green chile stew, here are some other recipes that make good use of roasted green Hatch chiles, which I love.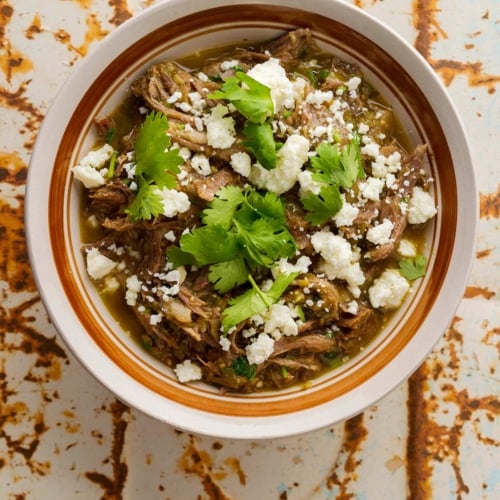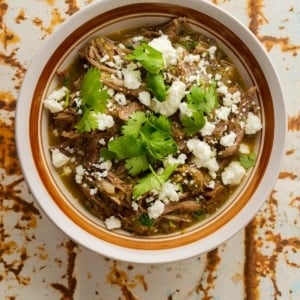 Pork Chile Verde
Chile verde is almost always made with pork. You will need tomatillos here, although green tomatoes can kinda-sorta substitute. You will also need some hot and mild green peppers, too. I prefer fire-roasted jalapenos and either Anaheim or poblano peppers, or as a last resort, green bell peppers.
Ingredients
BRAISE
3

to 4 pounds pork shoulder

(wild or farmed)

Salt

3

tablespoons

lard or vegetable oil

1

large onion,

sliced root to tip

1

quart

stock

(chicken, game, etc)

4

bay leaves
CHILE VERDE
1 1/2

pounds

tomatillos

1

head garlic,

separated into cloves but not peeled

1

large white onion

2 to 4

serranos or jalapenos,

seeded and chopped

4

poblano,

Anaheim or green bell peppers

1/2

cup

chopped cilantro,

loosely packed

1/4

cup

chopped epazote

(optional)

3

tablespoons

lard or vegetable oil

1

tablespoon

dried oregano,

preferably Mexican

2

teaspoons

ground cumin

Salt

Cilantro,

Mexican cheese and sour cream, for garnish
Instructions
Keep the pork or wild boar in large pieces -- cut them only small enough to fit into your Dutch oven or other heavy, lidded pot. Salt the meat well and brown it in the pot in the lard over medium-high heat. When the pork has browned, remove it and add the onions. Cook the onions until they get a little brown on the edges. Return the pork to the pot, add the bay leaves, stock and as much water as you need to submerge the meat. Cover pot and cook over low heat until the meat wants to fall apart -- about 3 hours for a wild hog shoulder, less for store-bought.

To prep the sauce, slice the tomatillos in half and arrange, cut side up, on a foil-lined baking sheet. Quarter the onion and put that on the sheet. Put the garlic cloves on the sheet, too and set under the broiler. Remove when they are a little charred, but not burned to a crisp, about 8 to 10 minutes. Or, you can char everything on a comal, which is what I do.

While the tomatillos are broiling, set the jalapenos and the poblano or Anaheim chiles directly on your gas burner or over your grill. (If you have an electric stove, add them to the broiler as well.) Blacken the skins of the peppers, turning them as needed. Once the skins are black, put the chiles in a paper bag. Close the bag to let the peppers steam themselves for 20 minutes. When they've steamed, take them out of the bag and remove the skins. Do this in the sink to minimize the mess. Remove all the seeds and the stems of the peppers, too. (Note: If you've ever been burned working with chiles, you might want to wear gloves for this. Working with the roasted jalapenos might irritate your skin.)

Put the tomatillos, onion and the roasted chiles into a food processor. Peel the garlic and put the garlic in, too. Add the 1/2 cup of cilantro, oregano, epazote if using, and a healthy pinch of salt. Buzz until everything is combined but there are still some little chunks; you want texture to the sauce. Mix in the cumin and set the sauce aside. Fry this sauce in the lard, stirring often, for about 5 minutes. Turn off the heat. 

When the meat's ready, lift it out of the pot and onto a baking sheet to cool a little. Keep the pot uncovered and turn the heat to high to boil down the braising liquid. Chop, or shred the meat with your fingers or with two forks.

Once the braising liquid has boiled down by about 2/3, remove the bay leaves and return the pork to the pot. Add the chile verde sauce and mix well. Serve over white rice with cilantro, some Mexican hard cheese and sour cream.
Notes
A note on the chile verde sauce. I make big batches and can it, which is a lot easier. It's basically the same recipe as here, only with a bit of added vinegar. If you're looking for a base recipe, this one is a good start. Once you make this, it will keep for a week in the fridge.
Keys to Success
Take your time browning the meat. It adds a lot of flavor. 
Adding the chile verde sauce at the end keeps flavors bright, and the sauce greener. That said, you can add it to the braising liquid and simmer it all together. This is traditional, and is tasty, but the sauce will be browner. 
This is a guisado, a thick stew you can put on a tortilla. You don't want this thin, so if it is, cook it down uncovered. 
Go easy on the hot peppers. It's easy to add them, hard to tame the heat if you overdid it. If you did, add potatoes; they help.
You do want lots of blackened char on the vegetables. That adds a ton of flavor here, and you will absolutely notice it. 
Nutrition
Calories:
690
kcal
|
Carbohydrates:
15
g
|
Protein:
85
g
|
Fat:
32
g
|
Saturated Fat:
11
g
|
Polyunsaturated Fat:
4
g
|
Monounsaturated Fat:
14
g
|
Cholesterol:
278
mg
|
Sodium:
359
mg
|
Potassium:
1964
mg
|
Fiber:
4
g
|
Sugar:
6
g
|
Vitamin A:
448
IU
|
Vitamin C:
65
mg
|
Calcium:
118
mg
|
Iron:
7
mg
Nutrition information is automatically calculated, so should only be used as an approximation.