Shredded Turkey Yucatan
April 25, 2016 | Updated March 20, 2021
As an Amazon Associate I earn from qualifying purchases.
Perhaps nowhere in the world are the more or better recipes for turkey than Mexico. After all, it was in Central and the upper part of South America where turkeys were first domesticated.
And the best evidence suggests that it was the Maya who managed this feat first. As it happens, the part of Mexico that is most Mayan now is the Yucatan. And this shredded turkey recipe may well have its origins before the Spanish arrived there in the 1500s.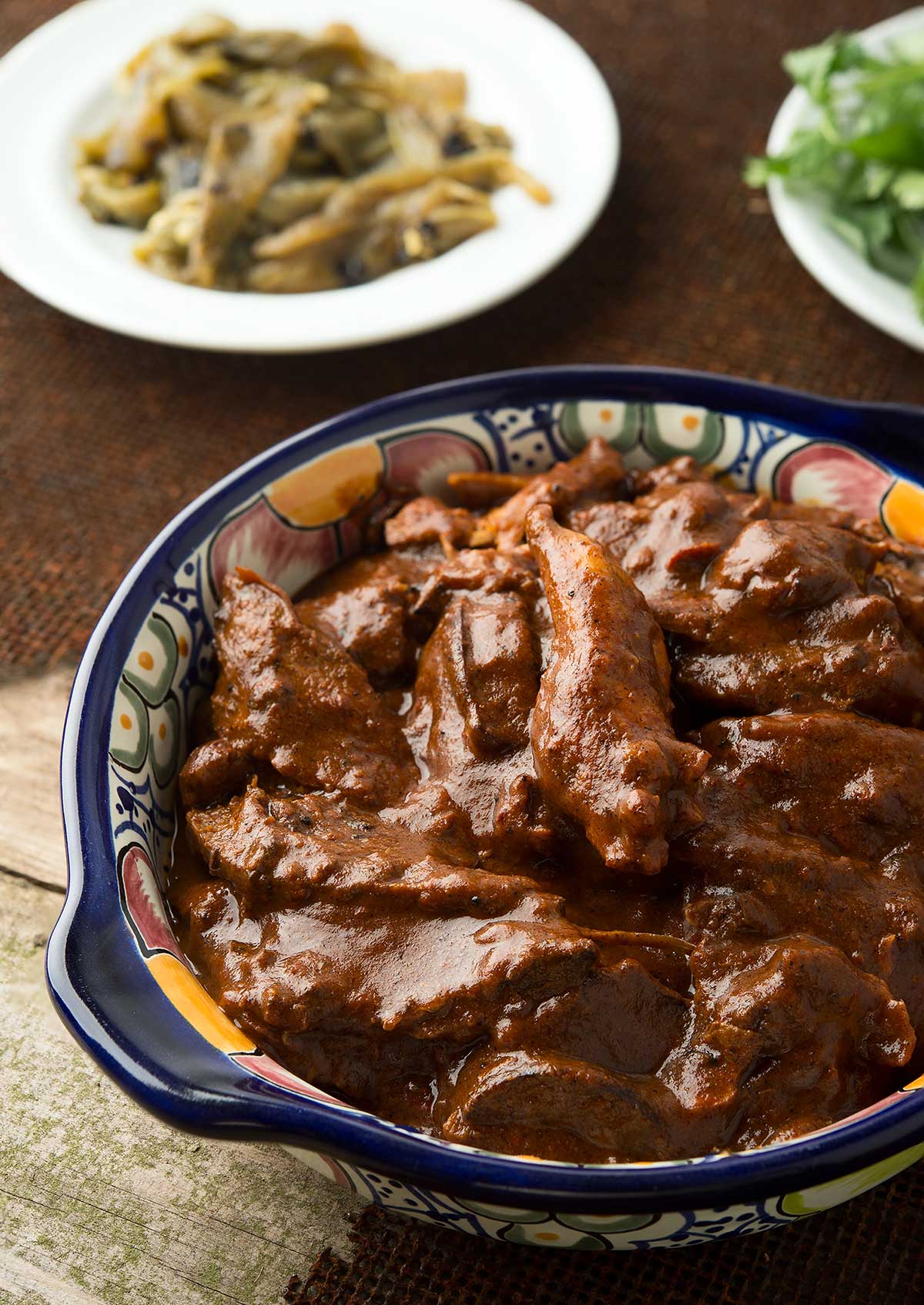 I first learned about this dish, called pavo del monte en k'ool rojo, in David Sterling's excellent book Yucatán: Recipes from a Culinary Expedition. This recipe is a slight adaptation from his. The Yucatecan pavo del monte, or "mountain turkey," is the famed ocellated turkey — the hardest of the six subspecies to get. It's smaller than the others and actually looks a bit more like a peacock, as its face lacks the droopy snood of the others. It's also psychedelically iridescent. Think Lucy in the Sky, with Turkey.
But, of course, any turkey will do. I used a Rio Grande. You could use whatever.
What attracts me to this recipe is not just the exotic and fascinating cooking of the Yucatan, but also the technique. The combination of grilling and then braising an otherwise tough piece of meat to produce something so tender you can easily bite though big pieces in a taco is nothing short of miraculous — especially for an old tom turkey.
And I mean that: We slapped the shredded turkey you see in the picture on a small corn tortilla and could easily bit through them. If you've ever bitten a piece of meat in a taco only to have it completely pull out of the tortilla you know how nice this is.
The other attractive thing about this dish is the flavor. It looks like a pretty standard Mexican mole, like the Oaxacan mole chichilo I make with venison.
But looks are deceiving. There is only a hint of chile in this sauce. It is mostly a mixture of charred, pureed onions, garlic and tomato, with a hefty dose of ground annatto, or achiote, seeds. That's the red color. It starts out almost tandoori red, but mellows with the long braising you need to tenderize the shredded turkey legs.
The result is floral, fairly mild — the chipotle adds a touch of smoky heat — bright with citrus. Ideally you would use the bitter juice of the Seville orange, but this hard-to-find citrus can be reasonably replicated with regular supermarket oranges, limes and grapefruit.
Most of all, this is a beautiful way to use an unloved part of a wild turkey. A great many hunters simply breast out their birds, which is a damn shame. There is far more meat that isn't breast meat than what is. The legs, thighs and drumettes, plus heart and gizzard, made for four hearty meals for Holly and me — and I even held back one thigh, too.
There are all sorts of substitutions you can do here, but some things are vital.
First, it is important to actually char your vegetables for the sauce. If you don't do this, the signature flavors just won't be there. Also, you absolutely do need the achiote rojo. You can't do this recipe without it. I do have a recipe for making it from scratch here, so if you can find annatto seeds you are in business. Thankfully achiote rojo is in most Latin markets. You can also buy achiote paste online.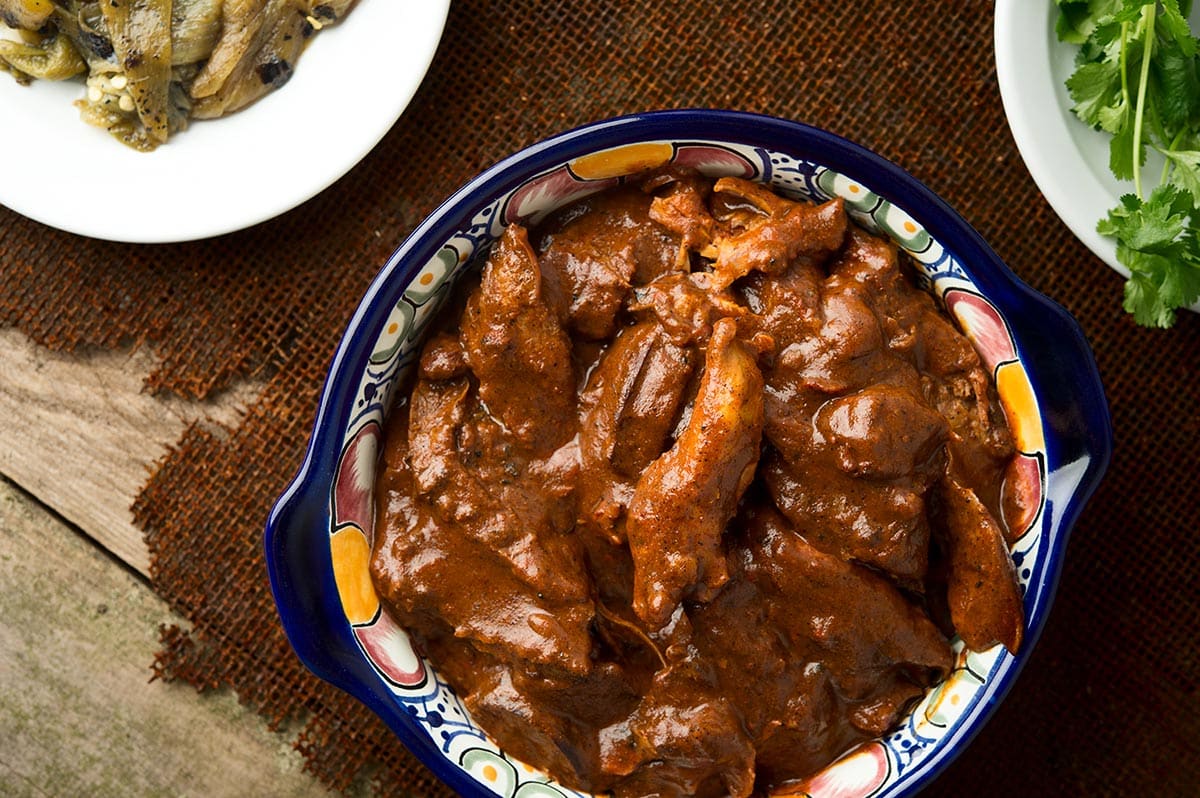 Most people don't have Seville orange juice. This is the juice of a particular type of orange that is bitter. To make a substitute, mix the following:
2 parts lime juice
1 part regular orange juice
1 part grapefruit juice
I cook quite a lot of Yucatecan food, so if you like this recipe, you might want to try my rendition of cochinita pibil, poc chuc, which is grilled pork, dzik, which is a shredded venison salad, a stew called ajiaco, or sopa de lima.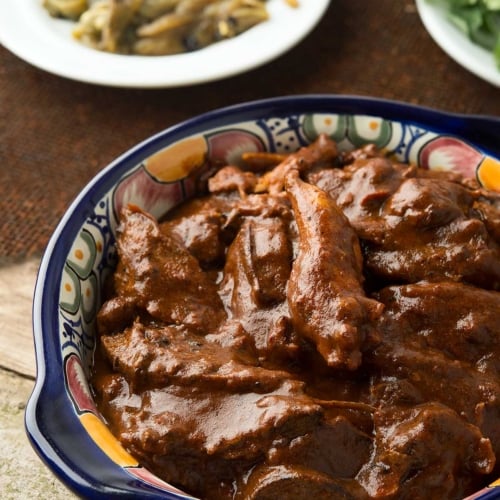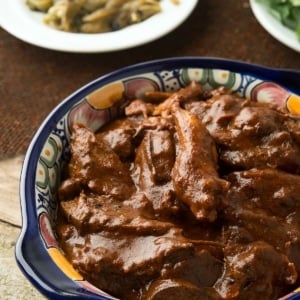 Yucatan-style Shredded Turkey
I made this with the legs, thighs and wings of a decent tom. Gauge your cooking times off this. A jake or domesticated turkey will take less time to cook, and older longbeard more. Needless to say this recipe is more about method than meat choice. The Yucatecans also do this same dish with either chicken and venison, and anything you think might taste good here will work. Serve your turkey with tortillas or rice, along with a fresh salsa if you want, cilantro and maybe some roasted and sliced poblano peppers. Chopped chives mixed with the cilantro is a good idea, too.
Ingredients
TURKEY
Drumsticks,

thighs and wings from a turkey

Gizzard and heart of a turkey, cut in chunks

(optional)

1/2

cup

achiote paste

2

teaspoons

salt

(smoked salt if you have it)

2

tablespoons

melted lard or vegetable oil

1/3

cup

Seville orange juice

(see above)
SAUCE
2

heads garlic

1

white or yellow onion,

quartered

3

Roma tomatoes

, sliced in half lengthwise

2

tablespoons

lard or vegetable oil

1

tablespoon

oregano

(Mexican if you can get it)

1

teaspoon

achiote verde

(optional)

2

sprigs fresh epazote

(optional)

1/4

cup

achiote paste

1

or 2 chipotles in adobo

(optional)

Masa harina,

only if you are making your own achiote paste
Instructions
To get the turkey ready, you can brine it at a ratio of 1/4 cup kosher salt to 1 quart of water for a few hours if you want. Definitely do this for old turkeys. Next mix all the remaining turkey ingredients together to make a mixture that has the consistency of BBQ sauce. Coat the turkey pieces with it and marinate in the fridge at least 30 minutes, and up to a day.

If you want to save time, while the turkey is marinating, you can char the 2 heads of garlic, onion and tomatoes on the grill. Or you can do it all at once. Obviously a wood-burning grill is best, but any type will be fine. You want a good char on all the vegetables. Char only the cut side of the tomatoes. Get some good char marks on the turkey, too, but don't worry about cooking the pieces all the way through -- that's what the braising is for. Once everything is nicely charred, set it aside.

To make the sauce, roughly chop the onion and tomato, and peel the cloves of 1 head of garlic, plus at least 4 more cloves from the second head. I like to use all of both head of garlic. In a large, heavy pot or Dutch oven, cook the vegetables in lard or vegetable oil over medium heat for about 5 minutes, stirring occasionally. Remove from the heat and move everything into a blender or food processor.

Add to this the oregano, achiote paste and epazote (if using), the red achiote paste, chipotles and about a cup or so of water. Puree until more or less smooth.

Put the turkey pieces into the pot and cover with the sauce. Pour some more water into the blender to get every bit of the sauce stuck to the sides and pour that into the pot, too. You want the turkey to just barely be submerged. Bring this to a simmer and add salt to taste. Cover the pot and simmer gently over low heat, stirring once in a while, until the turkey is tender. A domesticated turkey should take 45 minutes or so, a jake maybe an hour or 90 minutes, and an old tom up to 3 hours.

By now the sauce should be plenty thick. If it is not, whisk in some masa harina until it thickens to the consistency of BBQ sauce.

To serve, you have a few choices. You can lift away large pieces of turkey from the bones (make sure to remove all the drumstick tendons!) and serve in the sauce with rice or tortillas. Or, if you want to go the taco route, shred the meat more fully. Top with any of the accompaniments listed in the headnotes.
Notes
If you happen to have leftovers, they will keep for a week in the fridge.
Nutrition
Calories:
200
kcal
|
Carbohydrates:
4
g
|
Protein:
14
g
|
Fat:
14
g
|
Saturated Fat:
8
g
|
Trans Fat:
1
g
|
Cholesterol:
70
mg
|
Sodium:
686
mg
|
Potassium:
278
mg
|
Fiber:
1
g
|
Sugar:
2
g
|
Vitamin A:
354
IU
|
Vitamin C:
10
mg
|
Calcium:
27
mg
|
Iron:
1
mg
Nutrition information is automatically calculated, so should only be used as an approximation.