Venison Carne Guisada
January 20, 2020 | Updated September 13, 2021
As an Amazon Associate I earn from qualifying purchases.
Chances are that if you are not from Mexico, New Mexico or Texas, you aren't familiar with carne guisada.
In Mexico there is an entire category of taco fillings called guisados, which are all basically thick stews you can eat with a tortilla. If you have not yet seen The Taco Chronicles on Netflix, you are missing out: There's a whole episode on guisados, which, incidentally, are pronounced "gee-SAH-dohs."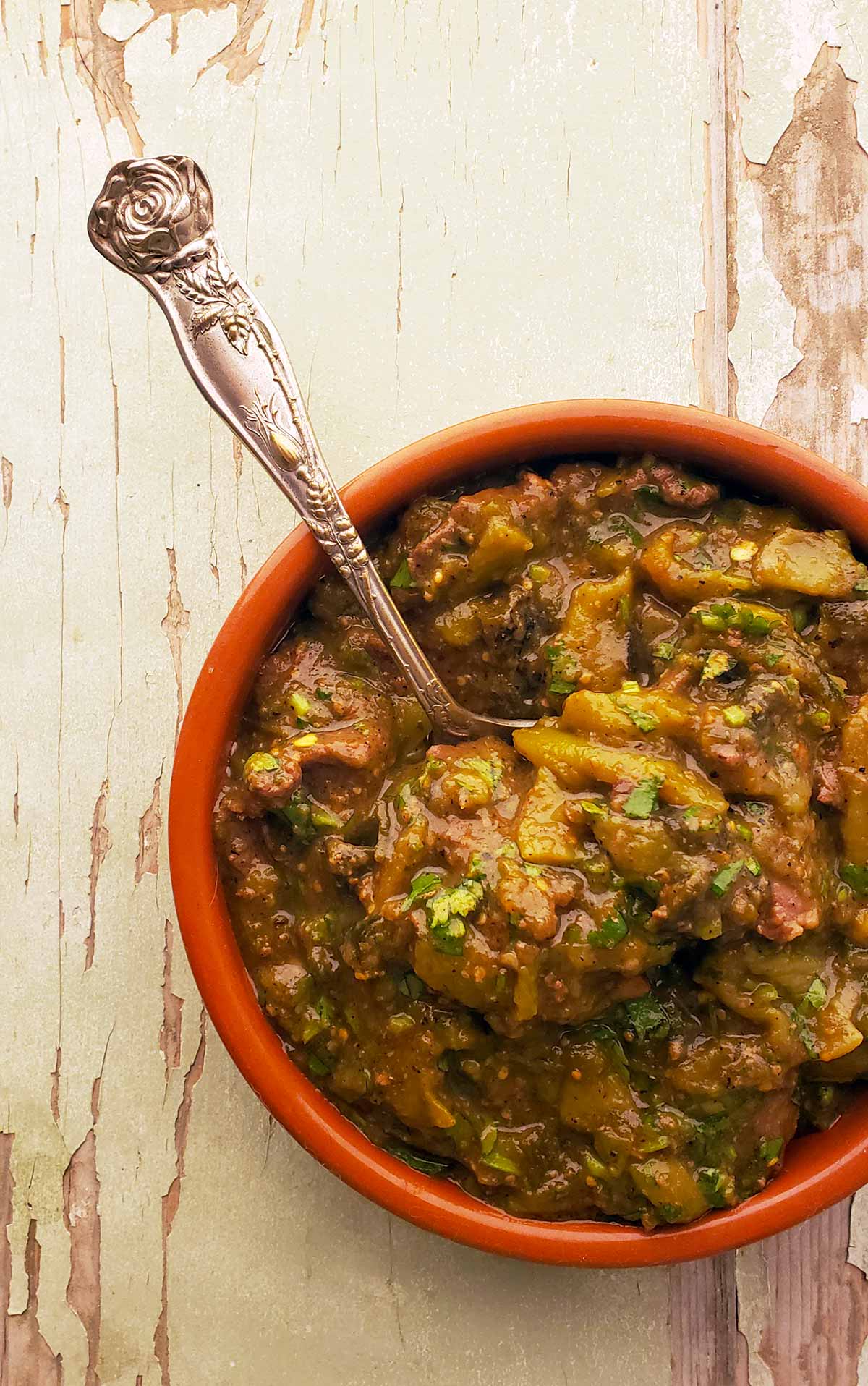 Texas has its own versions of carne guisada, and you will see it made with venison pretty often, at least in people's homes. This is how I make carne guisada.
It's origins are the quasi-famous caldillo durangueño, the signature dish of the state of Durango in Mexico. It's normally made with chiles pasado, which I happen to make, tomatillos or tomatoes, broth, onions, garlic and either fresh or dried red meat, beef rump or carne seca that has been rehydrated.
Typically caldillo durangueño is a brothy stew, but if you let it cook down it becomes a thicker guisado.
Keep in mind that there is no absolute need to go through the labor of roasting, seeding, peeling and then drying your poblano or Hatch (Anaheim) chiles just to make this recipe. You can of course skip the drying step. But there is a noticeable difference between rehydrated chiles and fresh, and I like to mix the two here. It's up to you.
As for your tortilla choices, up to you. This is a norteño recipe, so homemade flour tortillas are totally appropriate here. But of course corn tortillas are wonderful, too.
There is one trick I use for the venison, or really whatever meat you use. When you cut it, use a piece of meat that has a definite grain to it. I like the hind leg roasts on a deer. Then, slice big chunks across that grain, then keep whittling the pieces down into taco-sized chunks, again against the grain. Doing this speeds up your cooking time and will result in meat you can bite easily without it pulling out of your tortillas.
Poblanos are a great choice for the green chile here, as are the various Anaheim/Hatch style chiles. My advice is to use mostly poblanos, then some hot Hatch chiles to get the heat to where you like it. If you are not familiar with the procedure to roast, peel, seed and stem your chiles, here is an excellent tutorial.
Once made, your carne guisada will keep in the fridge a week, and it can be both frozen and pressure canned. I do like this canned, so you can have wonderful tacos on a moment's notice.
Venison Carne Guisada
You can of course make this with other meats, but I prefer venison hind leg roasts. You can also eat this as a stew without tortillas if you don't cook it down all the way. If you are making tacos, toppings are up to you. I'd keep it simple: cheese, pickled onions, maybe a little pico de gallo.
Ingredients
3

tablespoons

lard or vegetable oil

1 to 2

pounds

venison roast, sliced and cut into small pieces

(see above)

1

teaspoon

ground cumin

Salt

2

large white or yellow onions,

quartered

4

cloves

garlic,

unpeeled

1/2

pound

tomatillos,

husked and halved

1

teaspoon

dried sage

1

quart

venison or beef broth

8 to 12

poblano, Hatch or Anaheim chiles,

roasted, seeded, peeled and cut into pieces

1/2

cup

chopped fresh cilantro
Instructions
Heat the lard in a Dutch oven or other large, lidded pot over high heat. When it is just barely smoking, add the venison and stir well. Sear the venison well. If it gives off a lot of water, just keep searing it until the water boils away. While this is happening, mix in the salt and cumin.

Meanwhile, char the onion, garlic and tomatillos either under a broiler or on a comal or cast iron frying pan. You want some blackening. Roughly chop the onion and put it, the tomatillos, and the garlic (peel it first), into a blender with the sage. Puree this, adding broth as needed.

Add the contents of the blender to the pot and stir well. Pour broth into the blender to get all the good bits left there, and pour that in the pot. If by chance you happened to have used chiles pasado and rehydrated them, pour some of the rehydrating water into the pot, too. At the start, everything should be rather thin. Bring this to a simmer and let it cook, stirring occasionally, for 1 hour.

After 1 hour, add the green chiles and continue to simmer until the meat is tender. You can eat this as a stew, or continue to cook it down until thickened, in which case you can eat it as a guisado on tortillas.
Nutrition
Calories:
224
kcal
|
Carbohydrates:
14
g
|
Protein:
22
g
|
Fat:
10
g
|
Saturated Fat:
7
g
|
Cholesterol:
64
mg
|
Sodium:
336
mg
|
Potassium:
1009
mg
|
Fiber:
4
g
|
Sugar:
7
g
|
Vitamin A:
720
IU
|
Vitamin C:
136
mg
|
Calcium:
37
mg
|
Iron:
4
mg
Nutrition information is automatically calculated, so should only be used as an approximation.