Mole Amarillo, Mexico's Golden Sauce
As an Amazon Associate I earn from qualifying purchases.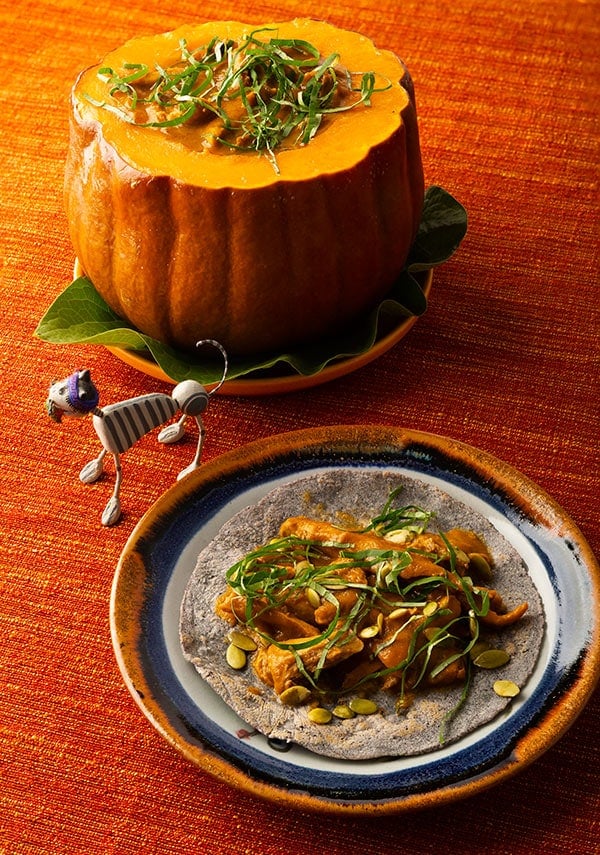 With the possible exceptions of France, India and China, no cuisine relies so much on complex sauces as does Mexico. And the queens of those sauces are the moles, and they come in many colors. As you might have guessed, this is mole amarillo, the yellow one.
If you are looking for other mole recipes — it's pronounced "mole-A," not like the teeny rodent — I also have recipes for mole negro, mole coloradito and mole chichilo on this site, as well as my rendition of the classic mole poblano.
I don't normally think of mole amarillo as ultra seasonal — after all, this sauce pairs will with lots of lighter, more summery things like poultry and fish. But I was struck with the notion of serving it in a roasted pumpkin, so here it is. An ode to autumn.
I've spent a lot of time working on my mole amarillo recipe, tinkering with spices and chiles and proportions. I've also spent a lot of time researching (and eating) this sauce wherever I can. These are the constants I have found within several dozen recipes I've read and tried.
First off, mole amarillo is light, complex and fragrant. It's generally used with chicken or other white meats, and it's zippy rather than "holy crap" spicy. There is tartness from a few tomatillos, a little sweetness from tomatoes, along with a bit of a "pumpkin spice" effect from the allspice, cinnamon, clove and pepper. This is why I decided to serve it in a pumpkin.
Even though this mole is called yellow, is often presented more as a mole naranja, or orange mole. The reason for this is because the two most traditional chiles that underpin the sauce, chilhuacle amarillo and costeño amarillo, are hard to come by, even in Mexico. So most cooks get by with the bright red guajillo chiles, sometimes with a couple deep red anchos tossed in.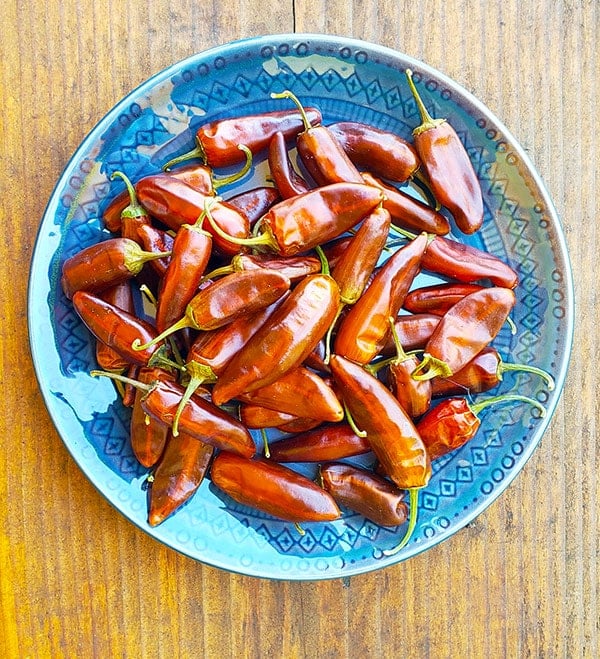 I happen to grow costeño amarillo chiles, which solved that problem. You will get a yellower mole if you use the traditional chiles, and a more orange mole if you use red ones. I've also made this mole with Peruvian aji amarillo chiles, which happen to be orange (as are the costeño amarillos, incidentally), and it works very well.
I'm spending time discussing the chiles in mole amarillo because they are the prime ingredient. Pretty much everyone reading this can find guajillos or a reasonable substitute, which would be dried red New Mexico or Anaheim chiles. The thinking behind this choice is that they are bright red, and not too picante. And in the end, it will make a pretty orange mole.
But, if you want to get real, you can buy chilhuacle amarillo peppers online, or you can buy chilhuacle amarillo seeds and grow them yourself. You can also do the same for costeño amarillo peppers, and seeds.
What's the difference? The chilhuacle is larger, and fuller in flavor, where the costeño is smaller and more citrusy. Both are great. And you could combine them, although I don't think that's traditional.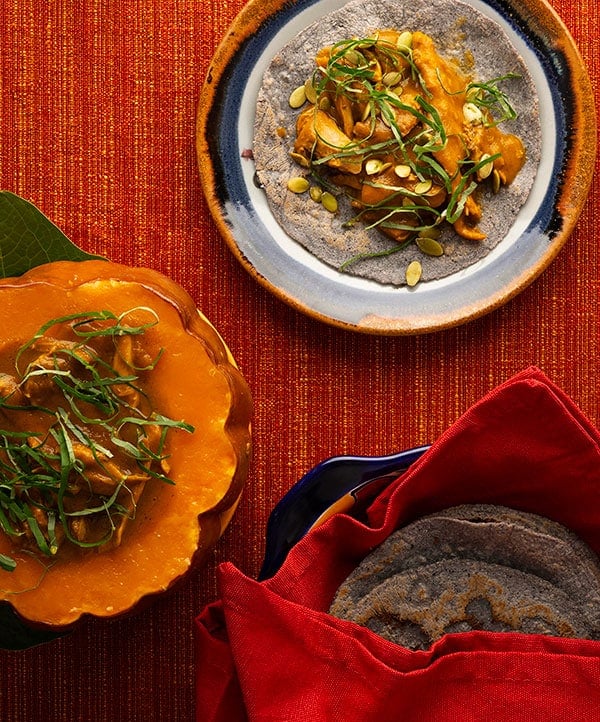 I also boost the color of my mole amarillo by using golden brandywine tomato puree, which I make in summertime and store all year. It's a gorgeous yellow-orange, the same color as the chiles. Most recipes call for Roma tomatoes, and they are fine.
So why is this mole not overly orange, given that there are orange chiles and orange tomatoes in it? Because the spices and the tomatillos tint it more towards that yellow-green you see. Tomatillos are in almost every mole amarillo recipe because they are a pre-Columbian source of tartness and acidity; they are native, where citrus is not. You only use a few, just for that bright note.
The spice mix, with the exception of the allspice, is Spanish. It is indeed the "pumpkin spice" mix, more or less, that we all know and love… or hate. But it's not overpowering in this sauce. You know it's there, but the chiles and tomato are the stars.
Mole amarillo is nice right out of the blender, but it gets better once you cook it in lard and/or add masa, ideally yellow masa, to thicken it. These last two steps are important. Frying in lard tames any rough edges to the sauce, and adds needed richness to and otherwise fat-free sauce. The masa also adds richness to the mole, and if you use yellow masa it boosts color, too.
If you hate lard, use vegetable oil or butter. If you don't have masa, skip it.
How do you serve your mole amarillo? Well, you can serve it in a pumpkin like I did — cut the top off the pumpkin, scoop out the insides, and roast it at 350°F for 45 minutes — or smother meats in the sauce for a taco filling, or as a sauce for enchiladas (in which case they will be enmoladas), or for tamales.
Once made, this sauce keeps well in the fridge and can be frozen.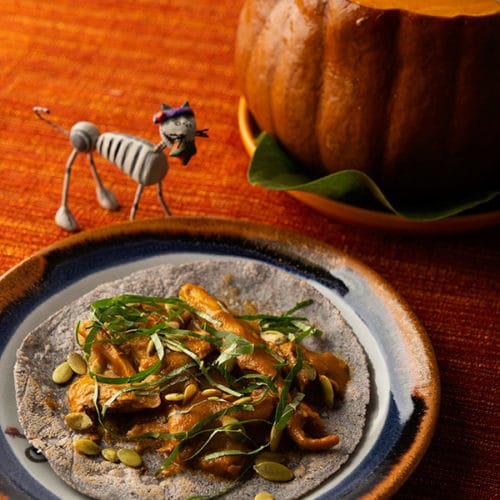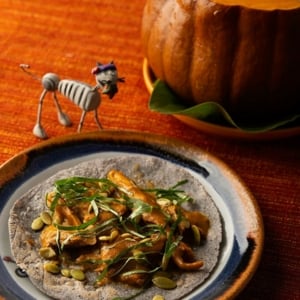 Mole Amarillo
This is my rendition of mole amarillo, made as true to form as I can. I offer some substitutions for the harder to find ingredients. Serve this with shredded chicken or other poultry, pork or fish.
Ingredients
2 to 3

ounces

dried chiles, stemmed and seeded

(see headnotes for types)

1

white onion, quartered

5

cloves

garlic, unpeeled

3

tablespoons

tomatillo puree,

about 4 large tomatillos

1

pint

tomato sauce,

fire-roasted if possible

10

allspice berries,

or 1/2 teaspoon ground

8

whole cloves,

or 1/4 teaspoon ground

20

peppercorns,

or 1/2 teaspoon ground

1/4

teaspoon

ground cinnamon

1/2

teaspoon

ground cumin

2

teaspoons

dried Mexican oregano

1

bay leaf

2

teaspoons

salt

3

cups

chicken stock or water

3

tablespoons

lard

masa for thickening

(optional)
Instructions
Start by putting the chiles in a bowl and pouring boiling water over them. Cover the bowl to let them rehydrate, about 20 to 30 minutes. Don't let them soak more than 1 hour or they can become bitter.

Meanwhile, get a comal hot, or a heavy frying pan if you don't have a skillet, and char the onion and garlic. If you are using whole tomatillos because you don't have puree on hand, husk and char them, too. Ditto for tomatoes if you don't have tomato sauce. You will need about 8 Roma tomatoes, halved and charred, to equal about 1 pint of fire-roasted puree.

Once they've been charred, put the tomatillos in a blender. Roughly chop the onion and peel the garlic, then put those in the blender, too. If you've hand roasted the tomatoes, they go into the blender as well. If not, pour in the premade tomato sauce.

As the vegetables are charring and the chiles are soaking, toast the allspice, cloves and peppercorns in a hot, dry skillet until you can smell them. Move to a mortar and pestle with the salt. Crush the bay leaf as small as you can with your hands, then put it in the mortar. Add the ground cumin, cinnamon and oregano. Grind all of this to a powder and add to the blender. If you don't have a mortar and pestle, you can use a spice grinder.

Add the rehydrated chiles to the blender. Taste a little of the soaking water: If it's not bitter, add 1 cup. If it is bitter, toss it. Either way add 2 cups of the chicken stock; you'll want the third cup of stock if the soaking water was bitter. Puree this.

Optional step: Pour the sauce into a fine-meshed strainer set over a bowl and push it through with a rubber spatula, discarding the solids that won't go through the strainer. This reduces bitterness and makes a smoother sauce.

Get the lard hot in a sauce pot set over medium-high heat. Pour the sauce in all at once. It will spatter, so start stirring it vigorously to incorporate the fat. It should absorb it. Drop the heat to low and stir until the sauce is just barely bubbling.

Optional step: If the sauce is thinner than you want it, whisk in masa -- the actual dough, not masa harina -- a knob at a time until it is as thick as you want it. If you only have masa harina, follow the directions on the package to hydrate if before adding to the sauce.

Don't let the mole boil, but heat it through about 5 to 10 minutes. Keep it warm, not simmering, for service.
Nutrition
Calories:
103
kcal
|
Carbohydrates:
12
g
|
Protein:
4
g
|
Fat:
5
g
|
Saturated Fat:
3
g
|
Cholesterol:
11
mg
|
Sodium:
964
mg
|
Potassium:
453
mg
|
Fiber:
4
g
|
Sugar:
6
g
|
Vitamin A:
2279
IU
|
Vitamin C:
9
mg
|
Calcium:
31
mg
|
Iron:
2
mg
Nutrition information is automatically calculated, so should only be used as an approximation.