Mole Coloradito
February 13, 2020 | Updated April 14, 2021
As an Amazon Associate I earn from qualifying purchases.
Chances are if you are familiar at all with Mexican mole, you are thinking of the dark, chocolatey sauce known as mole poblano, which is, arguably, the national dish of Mexico. Mole coloradito is not that mole.
Nope, this is a lighter, brighter, easier mole (pronounced "mole-ay") that is from Oaxaca, where mole is king. Mole coloradito, if you understand Spanish, means "little red mole," and it is indeed different from mole colorado; colorado is a color, not a state, in Spanish.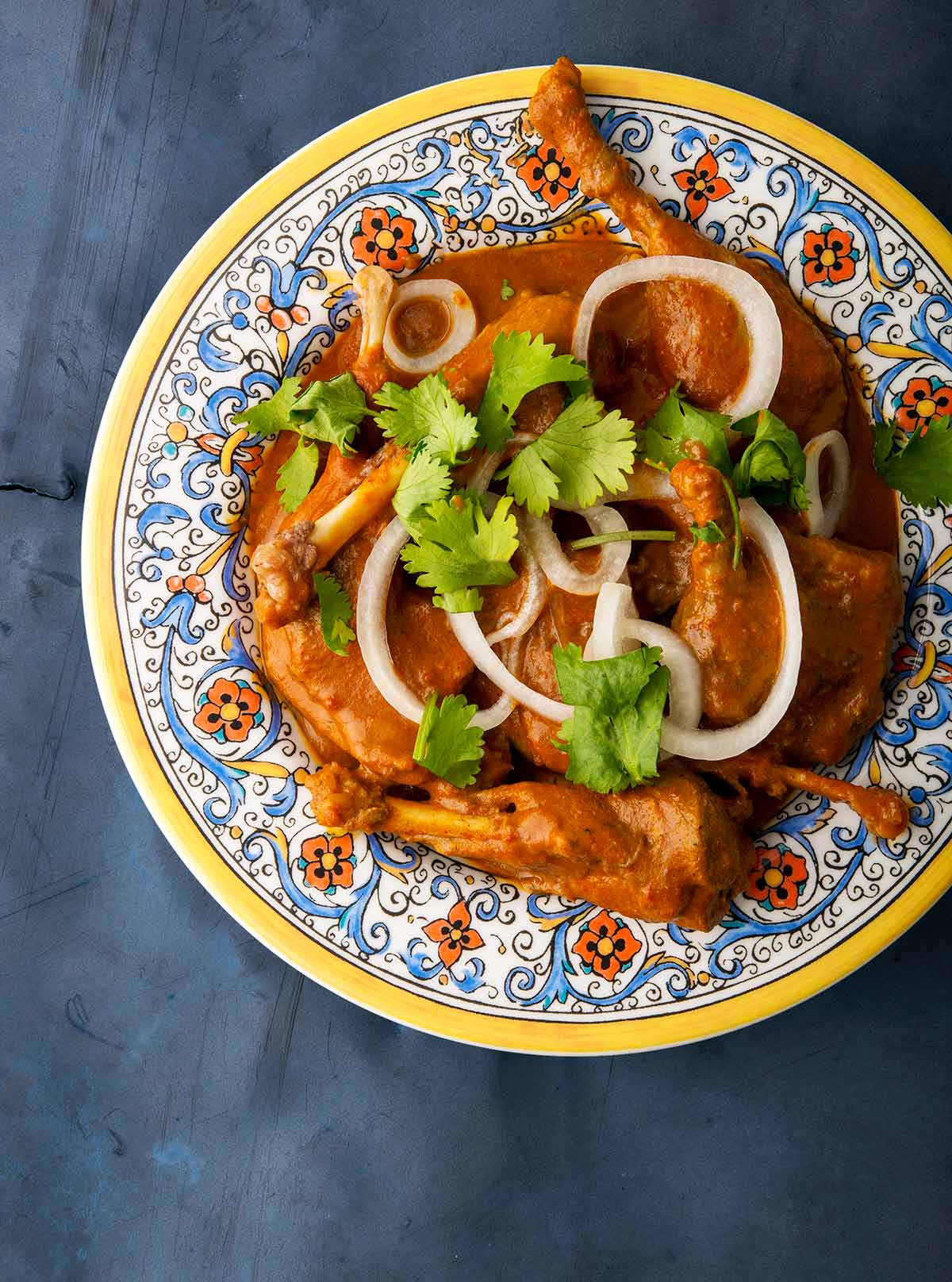 I like this mole because unlike my recipes for mole negro and mole chichilo, there are fewer ingredients and the end result is lighter, more approachable — dare I say, more fun? The other moles are amazing, but a definitely more dramatic.
If you want a quick primer on all the various moles, start here, and here.
Fun fact: Peoples from what is now Mexico are the first to domesticate the Muscovy duck. So you can find quite a number of ancient duck recipes if you look. Along those lines, I decided to pair my mole coloradito with Mexican ducks. Seems fitting, eh?
What is a Mexican duck? Well, it is Anas diazi, a variant on a mallard that lives all over Mexico as well as our border with Mexico. Holly and I got a few on a recent trip to Arizona.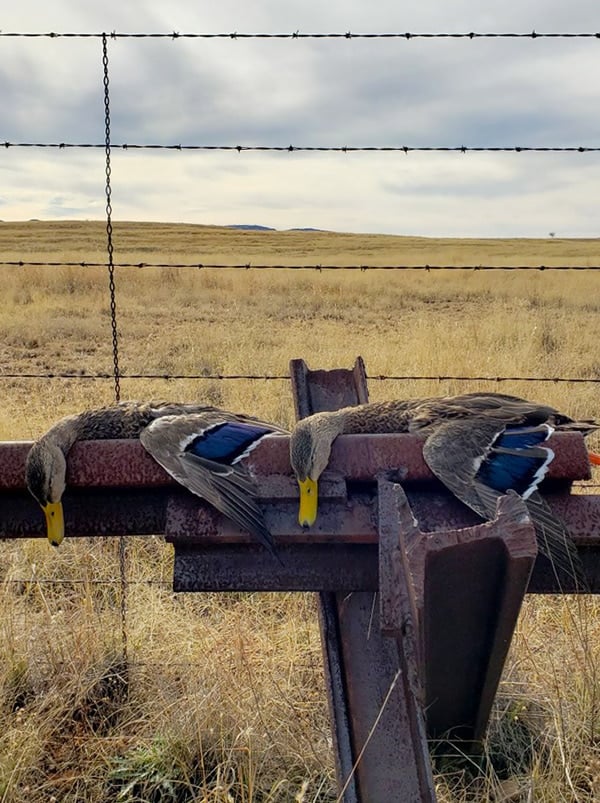 And yes, that is indeed the border fence! We just had to take a photo of Mexican ducks on the Mexican border.
In the kitchen, a Mexican duck is basically the same as a mallard. And don't get all hung up on using wild ducks or even duck at all with your mole coloradito. I've seen it paired with chicken, turkey, pork and even beef, although beef is unusual.
There are a few ways to eat your mole coloradito. Simplest is to just use it as a salsa for tortilla chips. Yes, really. It's damn good that way. Most traditionally, you would simmer whatever thing you are eating with the mole in the sauce itself. I don't love this because I find that it overcooks the mole.
Better is to cook your thing — in this case duck legs and wings — in a nice broth (even store-bought chicken or vegetable broth is fine) and then coat it with mole coloradito, garnish with some cilantro and pickled onions and call it a day.
Why? Because this keeps the flavors bright and happy.
Once made, mole coloradito will keep in the fridge for several weeks, and it freezes really well. That means you can make it on a weekend, then cook whatever you feel like during the week, coat it in warmed up mole, and have a remarkable meal on a weeknight.
Or, hell, do that thing with the tortilla chips and eat mole in front of the TV.
Mole Coloradito
This is a lighter, brighter Mexican mole that works very well with duck, chicken, turkey or quail. Once made, it keeps very well in the fridge and freezes well, too. Most of the unusual ingredients here can be found in any Latin market in America.
Ingredients
DUCK
2 to 3

pounds

duck legs and wings

(or chicken or turkey)

1

quart

chicken or duck broth

3

bay leaves

2

ribs

celery, chopped

1

carrot, chopped

1

onion, chopped

2

hot, dried chiles, broken up

(optional)

Salt
MOLE COLORADITO
10

dried guajillo chiles, stemmed and deseeded

(or New Mexican or California chiles)

1/2

cup

sesame seeds

12

whole black peppercorns

8

whole cloves

4

bay leaves

1

teaspoon

dried thyme

1

teaspoon

dried oregano,

Mexican if possible

1

teaspoon

ground cinnamon

1

small white or yellow onion, chopped

6

cloves

garlic, chopped

1/4

cup

blanched almonds

1/4

cup

raisins

(golden, if possible)

Broth or stock

(see below)

Salt

2

hoja santa leaves

(optional)

1/4

cup

lard or duck fat

2

pints

pureed tomatoes,

fire-roasted if possible

1

3-ounce

tablet of Mexican chocolate, grated
GARNISH
1/4

cup

roughly chopped cilantro

1/4

cup

lime juice

1

small white onion, sliced into rings
Instructions
DUCK
Put the duck and the broth, plus another quart or even two of water into a large, lidded pot and bring to a simmer. Add the remaining duck ingredients and salt to taste, then simmer, partially covered, until the meat is tender, but not falling off the bone. This usually takes 2 to 3 hours.
MOLE COLORADITO
Soak the onion slices in the lime juice to make a quick pickle. Set this aside for now.

Meanwhile, make the mole. Start by setting the stemmed and seeded guajillo chiles into a bowl. Pour boiling water over them to cover, and then cover the bowl to let them steep for 30 minutes.

While that is happening, put the sesame seeds in a small frying pan and toast on high, tossing often, until they brown just a little. Keep an eye on them because sesame seeds can burn easily. Move to the bowl of a blender.

Using the same small frying pan, toast the peppercorns and cloves until aromatic. Move to a spice grinder and grind with the bay leaves, dried thyme and oregano, until mostly powdered. Add this to the bowl of the blender along with the cinnamon.

Add the chopped onion and garlic to the blender, along with the soaked chiles, and the blanched almonds and raisins. Add the hoja santa leaves if you have them. Blend until smooth. You will need broth for this or the blender won't spin right. You can take some from the duck pot, or use chicken broth. Most times I find I need at least a pint, sometimes more. Add salt to taste before you take the sauce from the blender.

Heat the duck fat or lard in a large, lidded pot over medium heat. Add the contents of the blender, plus the pureed tomatoes, and stir well. It will sputter at first, then emulsify. Simmer this 10 minutes, then stir in the grated Mexican chocolate. Simmer this very gently for 30 minutes to 1 hour. It should finish with the consistency of melted ice cream.

To finish, remove the duck from its pot and put in a bowl. Toss with a ladle of the mole. Give everyone some duck, add some more mole, and garnish with chopped cilantro and the lime-soaked onions.
Notes
NOTE: Hoja santa leaves are very tough to find, so skip them if your local Latin market does not have them. They'll be where the other dried herbs are. 
Nutrition
Calories:
278
kcal
|
Carbohydrates:
18
g
|
Protein:
19
g
|
Fat:
16
g
|
Saturated Fat:
4
g
|
Cholesterol:
64
mg
|
Sodium:
196
mg
|
Potassium:
493
mg
|
Fiber:
4
g
|
Sugar:
7
g
|
Vitamin A:
1836
IU
|
Vitamin C:
14
mg
|
Calcium:
122
mg
|
Iron:
4
mg
Nutrition information is automatically calculated, so should only be used as an approximation.