Mole Negro
December 19, 2019 | Updated October 15, 2020
As an Amazon Associate I earn from qualifying purchases.
Mole negro, black mole, is the darkest, most layered in flavor, and silkiest sauce in all of Mexico.
Originally from Oaxaca, widely considered to be that nation's culinary heart, mole negro is many things, but it is not that chocolaty sauce you may be thinking of right now. That sauce is likely a poorly made version of mole poblano, which most Mexican restaurants in America sell.
This sauce does include Mexican chocolate, but very little. It's not sweet. It's not overly spicy. It is exotic. Complex, with flavors that linger and grab you and hold on. Make it well and you will want it on everything.
Mole negro, however, is not simple. You need to make it on a day off. And it has some unusual steps that you must do or it won't be right. Steps that will surprise you. But it's worth it in the end.
Still with me? Awesome.
The origins of all moles, pronounced "mole-ay," are in pre-Hispanic Mexico. At their core, this sauce is a smooth mix of seeds and nuts, chiles, often tomatoes and/or tomatillos, some sort of allium (onion or garlic), herbs, spices like cinnamon and allspice, and broth or water. Even some of the old versions have a dozen ingredients. Mole is special occasion food.
Once the Spaniards arrived, you start to see their influence. Almonds, raisins or other dried fruit, onions and garlic as we know it (not the wild varieties), as well as Silk Road spices like cloves.
Each mole has its own character, and I have several on this site. I do a mole chichilo with venison, a reddish turkey mole, and even a variant to mole called a pipian, which hinges on seeds.
But mole negro remains as the One Ring of moles. It rules them all, and, when done perfectly, is as black as Sauron's soul. It's hard to get it that black, so yours on your first try is more likely to be a very dark brown. That's OK.
One mole negro ingredient that is almost impossible to find is the chilhuacle negro chile. You can buy them online sometimes, but chances are you will need to substitute mulatto or pasilla negro chiles. Lots of people do that in Mexico.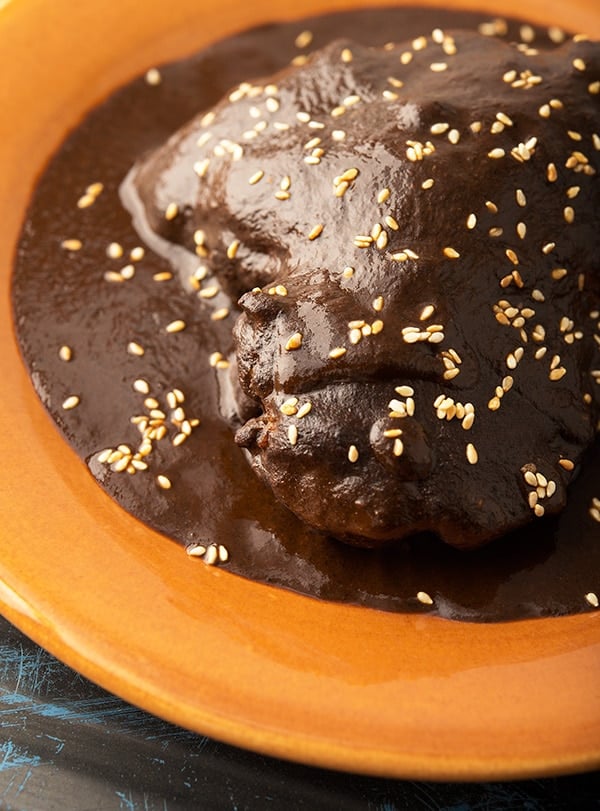 Read this recipe in full before starting, then follow the steps closely. I have designed this recipe to make things as easy as I can.
And once you make your mole negro, serve it with wild turkey, as I did in the pictures, chicken, pork, quail, rabbit, squirrel or any other light meat.
Mole negro keeps a couple weeks in the fridge, and freezes well.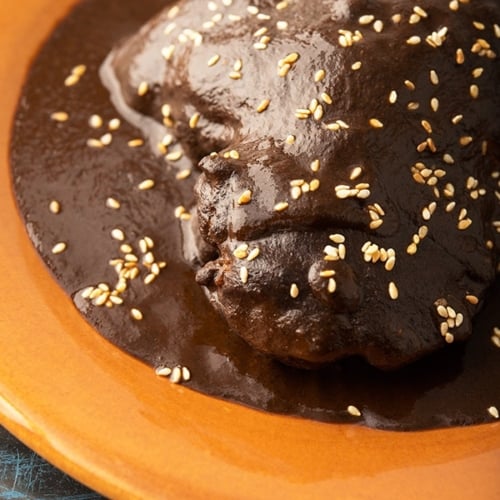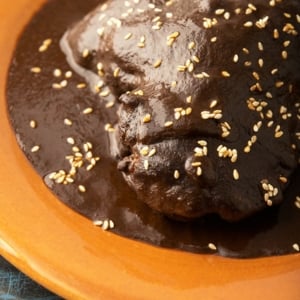 Mexican Mole Negro
You generally simmer whatever meat you want to eat with mole (turkey, pork and chicken are most common) until tender in broth, then bathe it in this sauce. Or you can cook the meat in some thinned mole.
Ingredients
HERBS AND SPICES
1

teaspoon

dried thyme

3

tablespoons

dried oregano,

Mexican if possible

10

cloves,

or 1/2 tsp ground

10

allspice berries,

or 1/2 tsp ground

20

black peppercorns,

or 1 teaspoon ground
SEEDS AND NUTS
1/2

cup

sesame seeds

1

cup

pecans

1/2

cup

roasted peanuts
VEGETABLES AND FRUIT
1

large white onion,

quartered

6

cloves

garlic,

unpeeled

10

tomatillos,

husked and halved

4

plum tomatoes,

halved

1

cup

raisins

1

ripe plantain,

peeled and sliced

2

tablespoons

lard or vegetable oil

1

quart

turkey, chicken or vegetable broth
CHILES
1/2

pound

chilhuacle negro chiles,

or a combination of mulato or pasilla negro chiles

1

cup

lard or oil
MISCELLANEOUS
1/2

cup

breadcrumbs

3

ounces

Mexican chocolate,

1 tablet

Salt
Instructions
TOAST HERBS
In a small pan, toast the cloves, allspice and peppercorns until fragrant, about 3 minutes, stirring often. Add the thyme and oregano, toss for about 10 to 15 seconds, then pour the contents of the pan into a spice grinder and grind fine. Set aside.
TOAST NUTS
Add the sesame seeds to the pan you toasted the spices in and toast them, stirring often, until they just begin to brown. You need to keep an eye on this because they can burn easily. Move them to a bowl.

Add the pecans and peanuts to the pan and toast, again stirring often, until you see some browning on the pecans, about 3 minutes. Move them to the same bowl as the sesame seeds.

Grind finely all the nuts in a food processor or spice grinder. Set aside.
VEGETABLES AND FRUIT
Heat a cast iron frying pan or comal or other heavy pan over high heat. You'll want your oven fan on here. Start by setting the onions and garlic on the hot pan to char. You want the cut sides of the onion to be good and blackened. When they are -- the garlic will be ready, too -- peel the garlic and roughly chop the onion and put it in a blender.

Set the tomatoes and tomatillos, cut side down, on the hot pan. Let them sit there for a solid 3 to 5 minutes. Use a thin metal spatula to remove them to the blender, scraping up all the blackened bits and adding that to the blender, too.

If you are using a frying pan and not a comal, add 2 tablespoons of lard or oil to it. If you are using a comal you need to switch to a pan that has sides. Add the plantain and raisins and fry until the plantains are well browned and the raisins plump. Turn off the heat and stir in the breadcrumbs. Scrape out the contents of the pan into the blender.

Add enough broth to the blender to allow it to spin correctly, and puree the fruits and vegetables well.
CHILES
Remove the stems from all the chiles. Collect all the seeds from the chiles and set them in a bowl.

Here's the gnarly step: Heat the comal or frying pan on high heat. Turn the oven fan on high. Open the windows. Maybe get a facemask. Incinerate all the chile seeds. You want them black, carbonized. If you can do this outside, all the better. Once this is done, move the blackened chile seeds into a bowl of cold water.

Now pour the cup of lard or oil into a pan and heat it to about 350F. Break the dried chiles into large pieces and fry them in the oil until very dark and crispy, about 5 minutes. You will need to work in batches, and you might need more oil. Press the chiles into the oil as they fry, because they will want to float. Once dark and crisp, move to a colander to drain.

Once all the chiles are ready, submerge them in hot water to soften about 30 minutes. While this is happening, change the water on the seeds. This is important -- if you don't change the water on the seeds your mole will be very bitter. Do this twice over 2 hours. You don't need to change the water on the chiles themselves.

When the seeds and chiles are ready, puree them in the blender with a little of the chile soaking water (not the seed water) and some of the broth from the vegetable step. Set aside.
FINISHING THE MOLE
Almost there! In a large pot with a lid, add any remaining chile frying oil. You need a total of between 3 and 6 tablespoons. Get this oil hot over medium-high heat.

Add the chile puree first. It will sputter and pop. Stir well to incorporate the lard or oil. Turn the heat down to medium and add the herbs and spices, the ground nuts, and the vegetable and fruit puree. Stir very well. Chances are this will be brown, not black. That's OK.

Now it's time to very slowly cook your mole. Add the remaining broth, the chocolate and salt to taste. Drop the heat to low and cook your mole very gently, stirring every so often to make sure nothing burns on the bottom of the pot, for at least 30 minutes, and really up to 4 hours. You want the end mole to be thicker than gravy; you thin it later as you need it.

As for what you're eating with your mole negro, you generally simmer the turkey or chicken or pork in broth mixed with a ladle of the mole until it's tender. Then you will want to serve it with finished mole, thinned to the consistency of melted ice cream, topped with toasted sesame seeds.
Notes
NOTE: If you are allergic to peanuts substitute pumpkin seeds. If you want to make this gluten free, use 3 charred and broken up corn tortillas. 
Nutrition
Calories:
168
kcal
|
Carbohydrates:
21
g
|
Protein:
4
g
|
Fat:
9
g
|
Saturated Fat:
3
g
|
Cholesterol:
1
mg
|
Sodium:
179
mg
|
Potassium:
437
mg
|
Fiber:
5
g
|
Sugar:
7
g
|
Vitamin A:
2594
IU
|
Vitamin C:
11
mg
|
Calcium:
64
mg
|
Iron:
2
mg
Nutrition information is automatically calculated, so should only be used as an approximation.