Venison Tacos
July 14, 2014 | Updated August 11, 2022
As an Amazon Associate I earn from qualifying purchases.
Tacos! Everyone loves tacos, right? I do. And if you're a deer hunter, you will want venison tacos in your rotation.
But what sort of venison tacos? Since venison is, more or less, a stand-in for beef, you have an array of choices. I'll go through them here, then give you my go-to venison taco recipe.
Let's start with the venison for the tacos. For what I am making here, your best bets are flank, skirt and backstrap or tenderloin because I prefer to either grill my venison for tacos or sear it hard on a comal or flattop.
For an overview of venison cuts, check out my primer on how to cook venison. Short version: Flank is a lean, thin strip off the outside of the ribs, skirt is on the inside of the ribs, backstrap is the loin and tenderloin is underneath it, attached to the inside of the spine.
All work well. My all-time favorite is skirt steak, which in Mexico is called arrachera tacos; that link is for my recipe specifically for that. Another option, if you have a really big deer, or an elk, moose or nilgai, is to cut a flat iron steak. That's off the shoulder.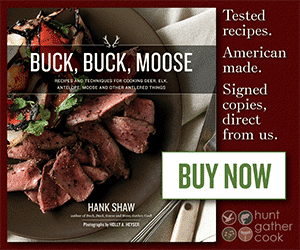 ?Other Types of Venison Tacos
Before I get too far along, know that this venison tacos recipe does not use ground venison. If you want that, I do have a fantastic recipe for Mexican picadillo, which uses ground venison and is to typical "taco meat" what a ribeye is to textured vegetable protein. So for ground venison tacos, use that recipe.
Also, there are tons of recipes for venison shank, shoulder or neck that can then be shredded and put on a tortilla to make venison tacos, notably venison barbacoa. Some other outstanding slow-cooked venison recipes for tacos would be:
Grilled Venison Tacos
These are my preferred venison tacos, especially in summertime. I will save backstrap and flank for hot summer nights, as a break from fish and seafood. I like to keep things simple with the meat when I do tacos because there are so many other flavors going on in that tortilla. Here are a few tips when grilling venison tacos:
Use skirt or flank steak if you can. It's a perfect cut for tacos, with a distinct grain that you can slice across. Flank has a lot of flavor and is thin enough to grill very quickly. If you do get venison flank, put it on the grill cold — don't let the meat warm up first. The reason is because the meat is so thin it can overcook before you get that nice char on the outside. Hot grill, cool meat.
If you use venison backstrap, follow these directions for grilled backstrap.
If you use a leg steak, make sure you get rid of all connective tissue and sinew — it will get stuck in your teeth when you bite into the tortilla and pull the whole piece of meat out. No bueno.
Chop or slice the venison very small or very thin. This is important. You want to be able to get a little bit of venison in every bite of your taco, and large pieces tend to fall out when you take a bite.
Tenderness is the key. If you have meat from an old deer, you might want to tenderize it with either a meat mallet or a jaccard to get there. That, plus removing all silverskin, sinew or connective tissue, will make a good venison taco a great one.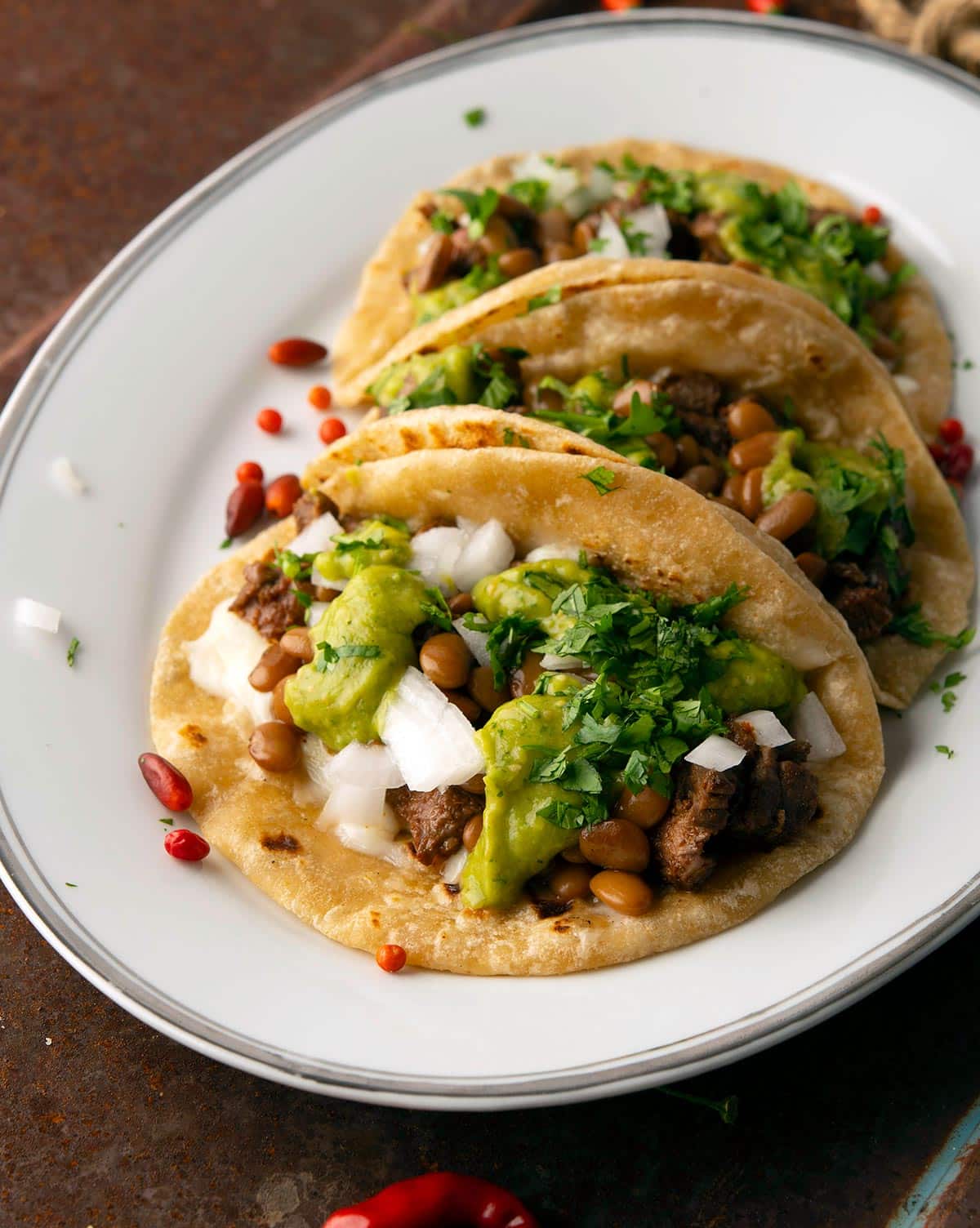 Tortillas and Salsas
For me, venison tacos are best on homemade flour tortillas. It's a Sonora thing, and it just works really well. Obviously good store-bought tortillas are fine. That said, homemade corn tortillas are amazing, too, as are quality store-bought ones. If you have to buy tortillas, go with flour unless you have a source for really good corn ones.
Salsas are really personal, so you can use whatever makes you happy. Me? My go tos are a combination of my fire-roasted salsa and my avocado-tomatillo salsa — red and green, fiery and soothing.
Some other great options for venison tacos are salsa de chile de arbol (¡muy picoso!), salsa morita or a straight-up salsa verde.
Want more ideas for venison tacos? I have a whole section of Hunter Angler Gardener Cook dedicated to tacos.
Venison Tacos
Everything here is variable. That's the nature of taco night. But the key here is the grilling of the venison, which makes this recipe different from, say, a venison taco done with ground meat. I also really like serving rajas, roasted poblanos and onions, with this -- they just seem to go well together. But if you don't like them, skip it. Hey, it's taco night. Do what makes you happy!
Ingredients
VENISON
2

pounds

venison flank, skirt steak,

backstrap or leg steak, all sinew and silverskin removed

Salt

Vegetable oil to coat

Chipotle powder,

ancho chile powder or taco seasoning
OPTIONAL RAJAS
4

poblano,

Anaheim or green bell peppers

1

white or yellow onion,

sliced thin

3

tablespoons

olive oil

2

garlic cloves,

sliced thin

Salt
EXTRAS
Corn or flour tortillas

Dry cotija cheese,

or shredded jack cheese

diced white onion,

soaked in lime juice

Sliced serrano chiles,

or any fresh chile you like

Sliced avocado or guacamole

Cilantro
Instructions
I like to make the rajas first. Char the skins of the poblano chiles over a grill or your stovetop burner with tongs until the skin blackens. Put the charred chiles into a plastic bag to steam for a half hour or so. Peel off the charred skin, remove the seeds, and slice the poblanos into strips.

Heat the olive oil in a small frying pan over medium-high heat. Cook the sliced onions until they char a little at the edges. Add the poblanos and garlic and cook another minute or two. Add salt to taste, turn off the heat and set aside.

Get your grill ready. It should be very hot, and when it is you need to scrape down the grates with a brush. Coat the venison with some vegetable oil and salt it well. Set it on the grill and leave the grill cover open. Sear it hard without touching the venison for 2 to 4 minutes, depending on how hot your fire is and how thick your venison is. You want good grill marks. If your venison is thicker than an inch, you can get cross-hatched grill marks by picking up the meat with tongs after 2 to 4 minutes, then rotating it 45 degrees and searing it for another 2 minutes or so.

Flip the venison and sear until it's medium-rare, or rare. How to tell? Use the finger test for doneness. When the meat's ready, move it to a plate or tray and sprinkle some chipotle powder on it. Let the meat rest for 5 minutes before slicing against the grain, then chopping into bite-sized pieces.

Heat the tortillas until they are flexible (read the package's instructions or make them by hand) and keep them warm by covering with a kitchen towel or putting them in a tortilla box. Serve the tortillas, venison, rajas, and everything else spread out on the table so everyone can mix and match while they build their own tortillas.
Notes
If you have leftover venison, it's great with eggs and potatoes the next morning in a breakfast taco or burrito. 
Keys to Success
If you are using thin pieces of venison, put them on the grill or flat top cold, right out of the fridge. That lets you get good char without seriously overcooking the meat. 
Always chop the venison small after cooking, so you get a little in every bite. 
Beans are a nice addition to venison tacos, either refried or whole. I really like these "border beans," a recipe from Baja. 
Toppings are always personal, so you do you. 
Nutrition
Calories:
268
kcal
|
Carbohydrates:
6
g
|
Protein:
36
g
|
Fat:
11
g
|
Saturated Fat:
2
g
|
Cholesterol:
129
mg
|
Sodium:
81
mg
|
Potassium:
646
mg
|
Fiber:
2
g
|
Sugar:
3
g
|
Vitamin A:
294
IU
|
Vitamin C:
65
mg
|
Calcium:
22
mg
|
Iron:
5
mg
Nutrition information is automatically calculated, so should only be used as an approximation.