Ultimate Pheasant Tacos
October 28, 2019 | Updated October 15, 2020
As an Amazon Associate I earn from qualifying purchases.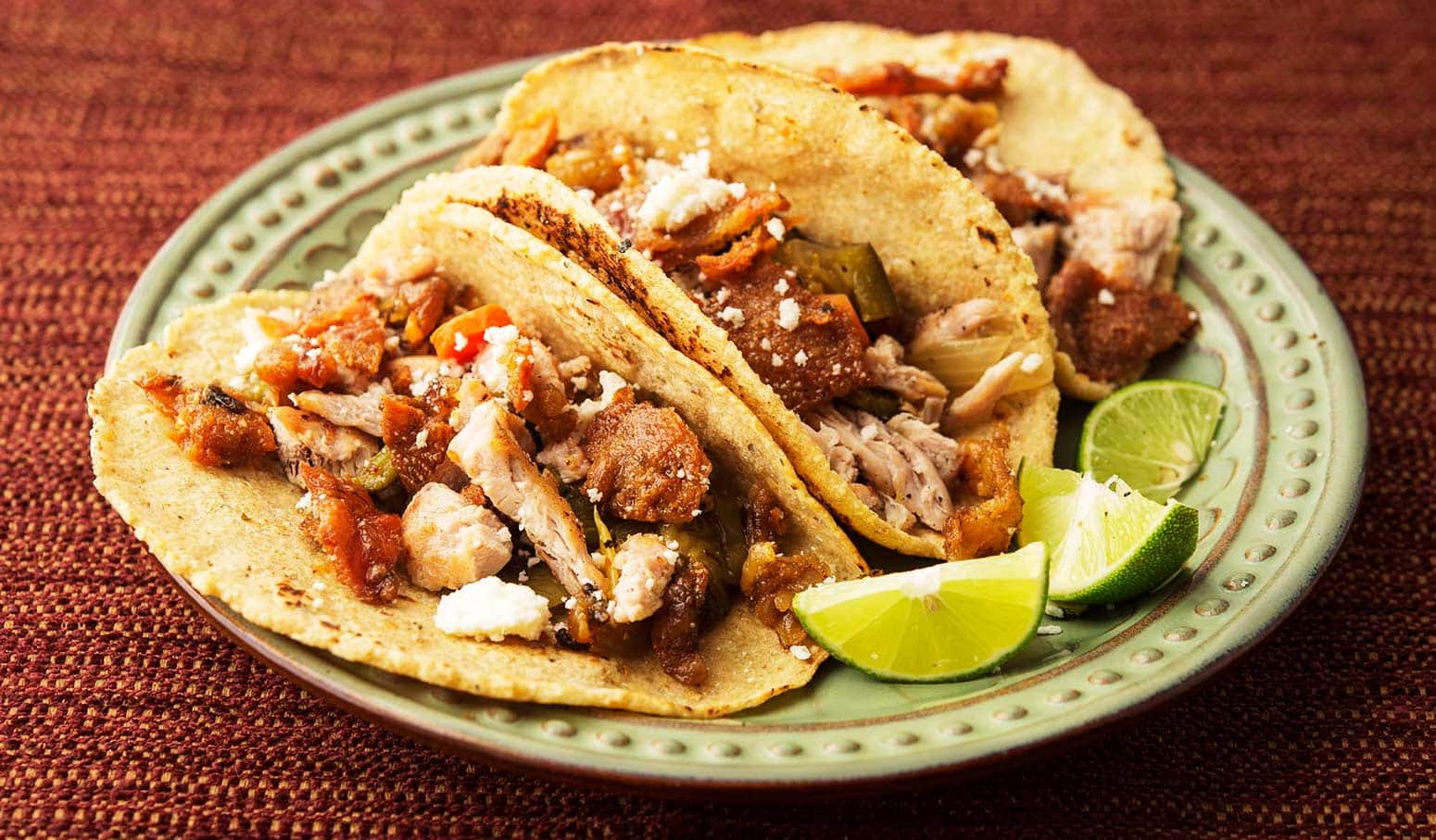 Why are these the ultimate pheasant tacos? Because not only do you get chunks of awesome seared pheasant breast, but you garnish it with crispy fried pheasant skin, too.
If you've ever eaten crispy chicken skin you know what I'm talking about. Remember that a pheasant, a "ditch chicken," is a biological cousin of the chicken. Crispy pheasant skin is as good as chicken skin — as is crispy skin from grouse, partridges and quail.
No matter what poultry you use, and even rabbit is a good choice, although no crispy skin there, you will want to brine it. Brining meat helps it retain moisture when it's cooked, and all the wild chicken relatives have a tendency to dry out. Just submerge the meat in a solution of 1/4 cup kosher salt to 1 quart water and set it in the fridge overnight.
I generally start by frying the pheasant skin crispy, then setting it aside while I do the rest. Well, actually I start by making my own homemade corn tortillas, but you don't have to if you don't want to.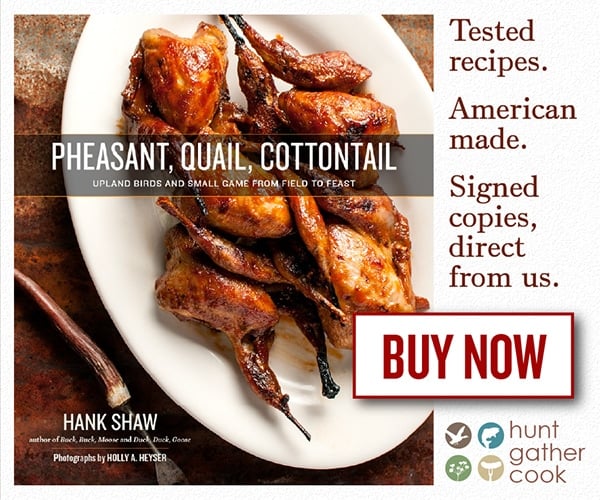 You then cook the pheasant breasts by searing them hard on a comal or frying pan, ideally cast iron. A bacon press or some other weight is a good tool to press the meat down as it sears.
You sear both sides until the meat is about medium-well, so cooked through but with a blush of pink still. Use the finger test for doneness to determine this, and err on undercooking, because you can always cook something more.
After that, just chop everything up and serve. I like to keep the filling simple.
I love adding chopped nopales en escabeche, basically that combination of pickled jalapenos, carrots and onions you get with tacos everywhere, only with pickled cactus paddles tossed in. Any pickled thing is a good call.
Crumbled Mexican cheese, like cotija, is how I roll, but any shredded cheese that makes you happy is good. After that, pick a salsa. With these pheasant tacos, I like salsa morita or my homemade tomatillo salsa verde.
If you liked this recipe, please leave a ⭐️⭐️⭐️⭐️⭐️ rating and a comment below; I'd love to hear how everything went. If you're on Instagram, share a picture and tag me at huntgathercook.
Pheasant Tacos
While I use pheasant here, any white meat would work, even fish. Obvious alternatives are chicken, grouse, quail, partridges and rabbit.
Ingredients
4 to 8

pheasant breasts,

with skin

1/4

cup

kosher salt

1

quart

water

2

tablespoons

pheasant fat, lard, clarified butter or olive oil

8 to 12

corn or flour tortillas

Mexican cheese,

crumbled

1

cup

pickled vegetables with jalapenos, escabeche

(optional)
Instructions
Stir the salt in the water to dissolve. Remove the skins from the pheasant breasts and put in a container in the fridge. Submerge the pheasant breasts in the brine and put in a container in the fridge overnight. Note that you can skip the brine, but it leaves you with less wiggle room in cooking the pheasant.

The next day, briefly rinse off the pheasant and pat it dry. Salt the skins. Heat a comal or frying pan over medium-high heat and set the skins down on it, fat side first. It's helpful to put a weight over skins so they don't curl up; I use a bacon press. Fry, turning occasionally, until nice and crispy, about 8 minutes. Set aside.

Heat your tortillas and keep them warm in a tortilla warmer or wrapped in cloth towels.

In the same pan you cooked the skin in, add the pheasant fat or lard or whatever; there should be a little fat in the pan already that came off the skins. When this is hot, sear the pheasant breast hard over high heat for about 4 minutes. Again, it's helpful to put a weight on it while cooking. Flip and repeat, this time keeping an eye on how done it is. I find this second side only needs about 2 to 3 minutes.

Move the meat to a cutting board and let it rest. Chop the pickled vegetables so they'll work well in a tortilla. Chop the pheasant breast and the skin and make tacos. Enjoy!
Nutrition
Calories:
2655
kcal
|
Carbohydrates:
25
g
|
Protein:
313
g
|
Fat:
136
g
|
Saturated Fat:
38
g
|
Cholesterol:
969
mg
|
Sodium:
1138
mg
|
Potassium:
3479
mg
|
Fiber:
4
g
|
Sugar:
1
g
|
Vitamin A:
2994
IU
|
Vitamin C:
76
mg
|
Calcium:
214
mg
|
Iron:
17
mg
Nutrition information is automatically calculated, so should only be used as an approximation.