As an Amazon Associate I earn from qualifying purchases.
Arrachera tacos, as grilled skirt steak tacos are called in Mexico, may just be my favorite taco in the world. It is, more or less, the ultimate carne asada street taco, where the meat is the star.
And yes, it all starts with the meat. Arrachera is skirt steak, and there is no real substitute. Skirt steak is more flavorful than flank steak, and its strong grain and loose construction is perfect for shopping into bite-sized bits for tacos.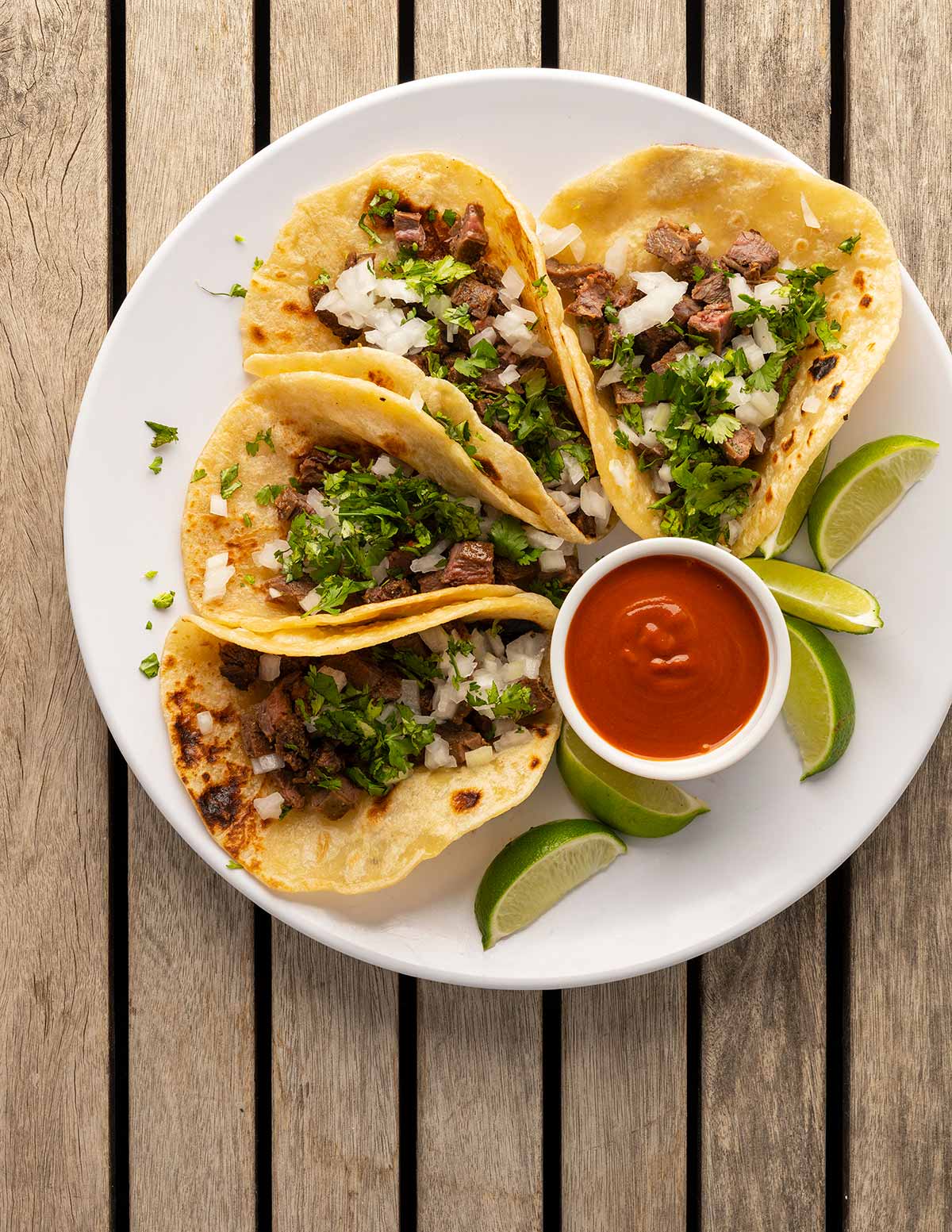 Most of you will be using beef skirt steak for your arrachera tacos. But if you are a hunter, you can get good-sized skirt steaks from larger big game animals such as moose, bighorn sheep, caribou, elk, nilgai or really big deer. Bison skirt steak is amazing, too.
The skirt steak, or arrachera, is a long strip of meat that comes off the inside of the ribs, just in front of the paunch. Flank steak is a similar thin strip, but it is on the outside of the animal's ribs. Skirt steak is part of the animal's diaphragm, and as such is tough when cut with the grain. Because animals breathe constantly (obviously), this is a heavily used muscle, which means this is an incredibly flavorful cut of meat.
My history with skirt steak goes all the way back to college. My girlfriend at the time, De Dee, was (and is) a picky eater. But she loves skirt steak, so we had grilled skirt steak often at her parent's house. I immediately understood why Dee liked it so much: It's beefier tasting than any other cut of the animal, save perhaps the cheek.
There are really only two ways to cook arrachera tacos: On a screaming hot griddle, or over a screaming hot grill. Why so hot? Because skirt steak is thin. It's one of the few steaks that you don't bring to room temperature before cooking. You want to cook skirt steak medium or medium-rare. Too rare and it is rubbery, too well done and it is too chewy.
Skirt steak is also one of the few steaks that really benefits from marinating, again because it's so thin. (Read here for more on venison marinades.)
Since arrachera is a long, thin cut of meat, you will want to cut it into lengths you can work with; I like them about a foot long. There is also quite a bit of membrane over the meat. It needs to go before you grill. This is a skirt steak from a nilgai, a sort of antelope.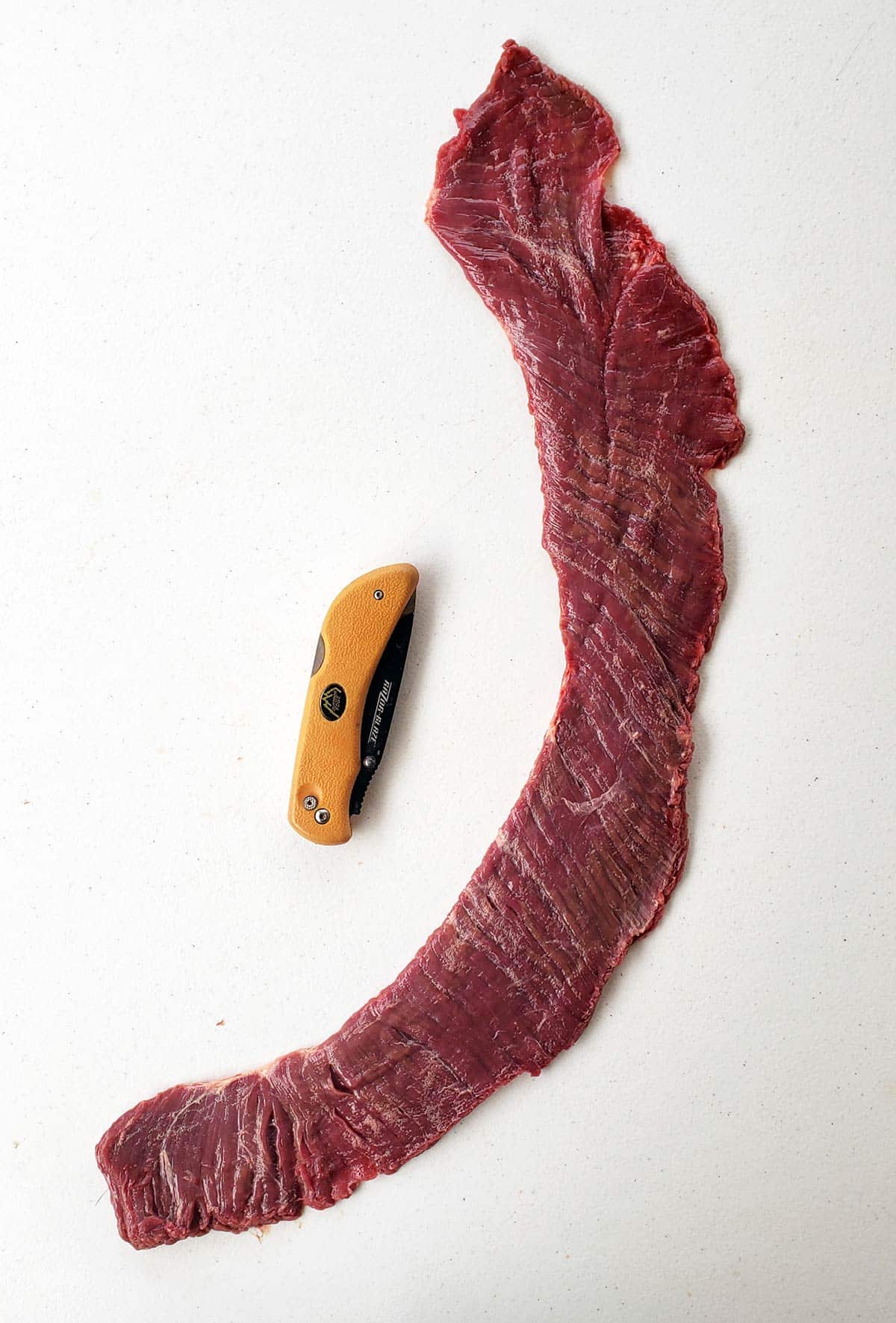 My advice? When you are butchering your elk or whatever, leave the membrane on if you're freezing it. Then, when you thaw your skirt steak, the membrane will peel off easily. It sticks annoyingly with fresh meat.
Chances are, however, you will be buying your skirt steak for arrachera tacos, and in many cases it will have been previously frozen. Either way, do your best to remove that membrane.
(You can find lots and lots of other taco recipes here, including another one that's a great use of skirt steak: tacos al carbon.)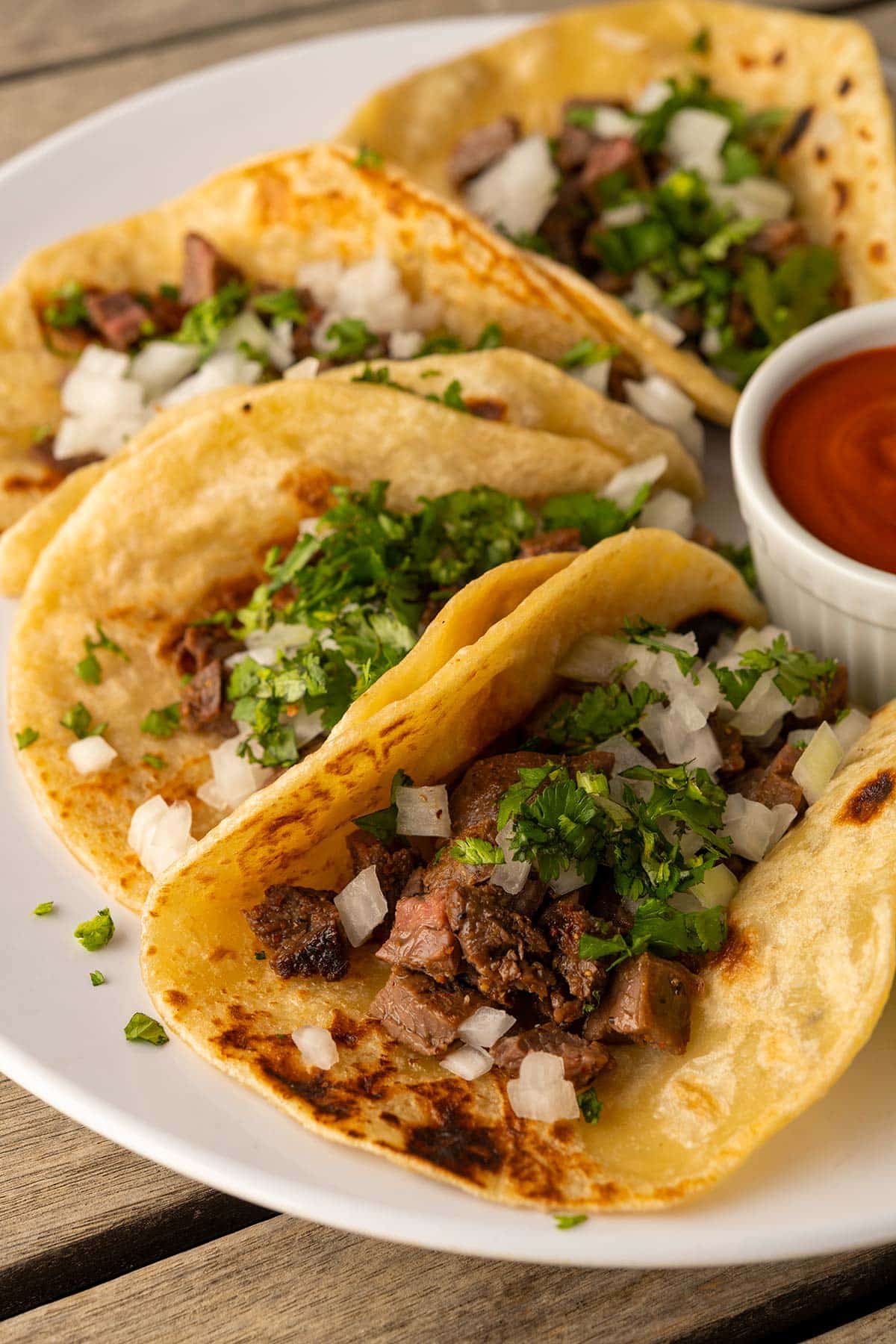 As I mentioned before, I really like skirt steak marinated. In this case, I went with a Baja-style arrachera tacos marinade I found in a Spanish language cookbook that includes soy sauce, Mexican beer, lime juice and a little chile. Interestingly, you see a ton of grilled skirt steak recipes in Mexico that use soy sauce in the marinade.
Hard to say for certain where this comes from, but Mexico's Pacific coast has a centuries-long relationship with China and the Philippines, dating back to the Spanish galleon trade of the 1500s. Wherever it's origin, this is a damn good marinade for anything; Holly pointed out that it's reminiscent of Korean bulgogi.
When you make arrachera tacos, keep them minimalist. The meat tastes so good you want to highlight it. A little cilantro, onions soaked in lime juice, a salsa — I used my salsa de chile de arbol here — and that's it. Don't go overboard here. The skirt steak is the star.
Since this marinade is from Mexicali, a border town where flour tortillas are common, I went with homemade flour tortillas. Homemade corn tortillas are every bit as good.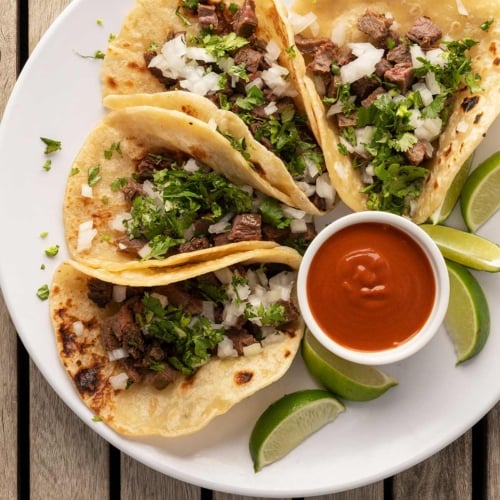 Arrachera Tacos
This is an unusual marinade from the Mexican state of Baja that includes soy sauce, an ingredient you might not think of as Mexican, but which has been used on that country's Pacific coast since the 1500s.
Ingredients
MARINADE
1/2

cup

soy sauce

1/3

cup

lager beer

(I used Modelo)

Zest and juice of 2 limes

1

teaspoon

ground black pepper

1

teaspoon

ground cayenne

1

tablespoon

garlic powder
SKIRT STEAK
1

white onion,

minced

1/3

cup

lime juice,

to soak the onions

1 1/2

pounds

skirt steak, membranes removed

3

tablespoons

olive oil

Cilantro, for garnish

12

flour or corn tortillas
Instructions
Mix all the marinade ingredients together and submerge the skirt steak in it, making sure every bit is coated with the marinade. Let this sit in the fridge for at least 1 hour, and up to overnight, although the longer you marinate the saltier the meat will get. About 4 hours is a nice amount of time.

Mix the chopped onion with the lime juice and a pinch of salt. let this sit at room temperature while you marinate the meat.

When you are ready to grill, get your fire very hot. While this is happening, heat up your tortillas on a comal or heavy skillet; keep them warm in a tortilla warmer or wrapped in kitchen towels.

Remove the steak from the marinade and pat the meat dry with paper towels. Make sure it's dry. Rub oil all over the meat.

Sear the skirt steak on the grill for only about 2 minutes per side, tops. Let it rest for a few minutes before slicing. My trick is to cut the skirt steak across the grain first, then keep chopping until you have little bite-sized pieces. Doing this ensures that you will have tender meat. Serve the skirt steak with cilantro and the quick pickled onions, plus some salsa.
Notes
The salsa in the pictures is my salsa de chile de arbol, but you can use any salsa you like. Another great option that is not so picante is my tomatillo salsa. 
Keys to Success
Marinate the skirt steak at least a few hours in the fridge. Then, pat it dry well before oiling it up. The oil keeps the meat from sticking. 
Yes, you can substitute flank steak here, but marinate it a little longer.
High heat is vital. Because the meat is so thin, it cooks fast. You want some char, and to give yourself enough time to get it, high heat and cold meat are the keys. 
Don't overload these tacos. Just a few toppings and one salsa is all. This one should be simple. 
Nutrition
Calories:
554
kcal
|
Carbohydrates:
41
g
|
Protein:
43
g
|
Fat:
25
g
|
Saturated Fat:
7
g
|
Trans Fat:
1
g
|
Cholesterol:
107
mg
|
Sodium:
475
mg
|
Potassium:
746
mg
|
Fiber:
6
g
|
Sugar:
2
g
|
Vitamin A:
230
IU
|
Vitamin C:
4
mg
|
Calcium:
87
mg
|
Iron:
4
mg
Nutrition information is automatically calculated, so should only be used as an approximation.