Tacos Dorados
March 11, 2019 | Updated September 13, 2021
As an Amazon Associate I earn from qualifying purchases.
I didn't grow up in the Taquito Belt, which, in America, runs from about Houston along Interstate 10 along into Southern California. South of the border, taquitos are called tacos dorados, or golden tacos. Put two tortillas together and you have a flauta.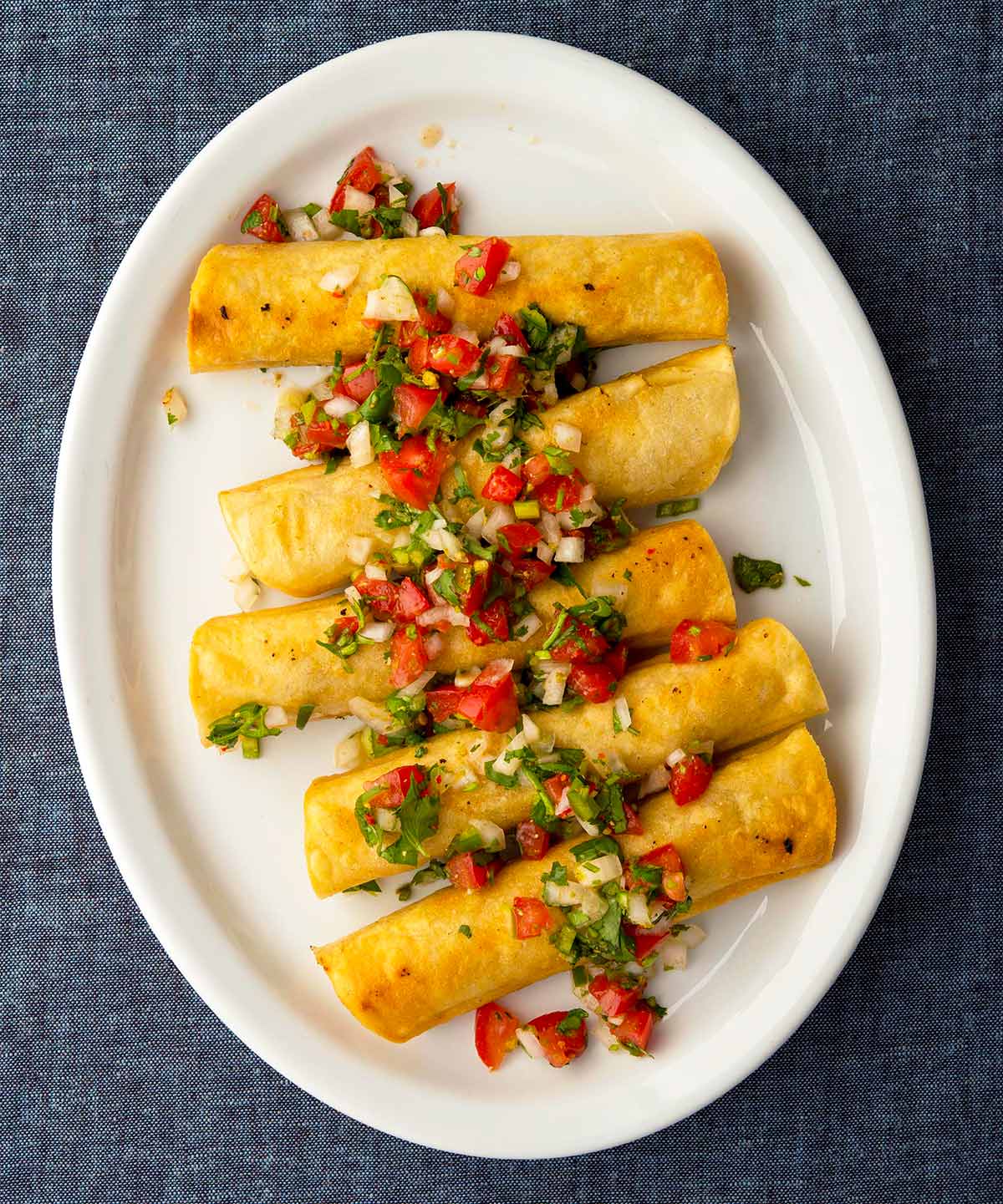 Whatever you call them, tacos dorados are easy, delicious and versatile. You can serve them as a snack, an appetizer, or as a main meal. In Texas we ate them for breakfast constantly, usually from the fast food chain Whataburger.
What are tacos dorados? A corn (sometimes flour) tortilla filled with something spare, usually shredded chicken, rolled tightly and fried in oil until crispy. You normally serve them with a salsa on top, sometimes sour cream, cheese or other good stuff.
The key to a taquito is to keep the filling limited, but make it tasty. So simple shredded chicken is nice, but it's better if you mix that meat in a sauce first. And it has to be fairly dry, so the filling doesn't blow out the tortilla when you roll it.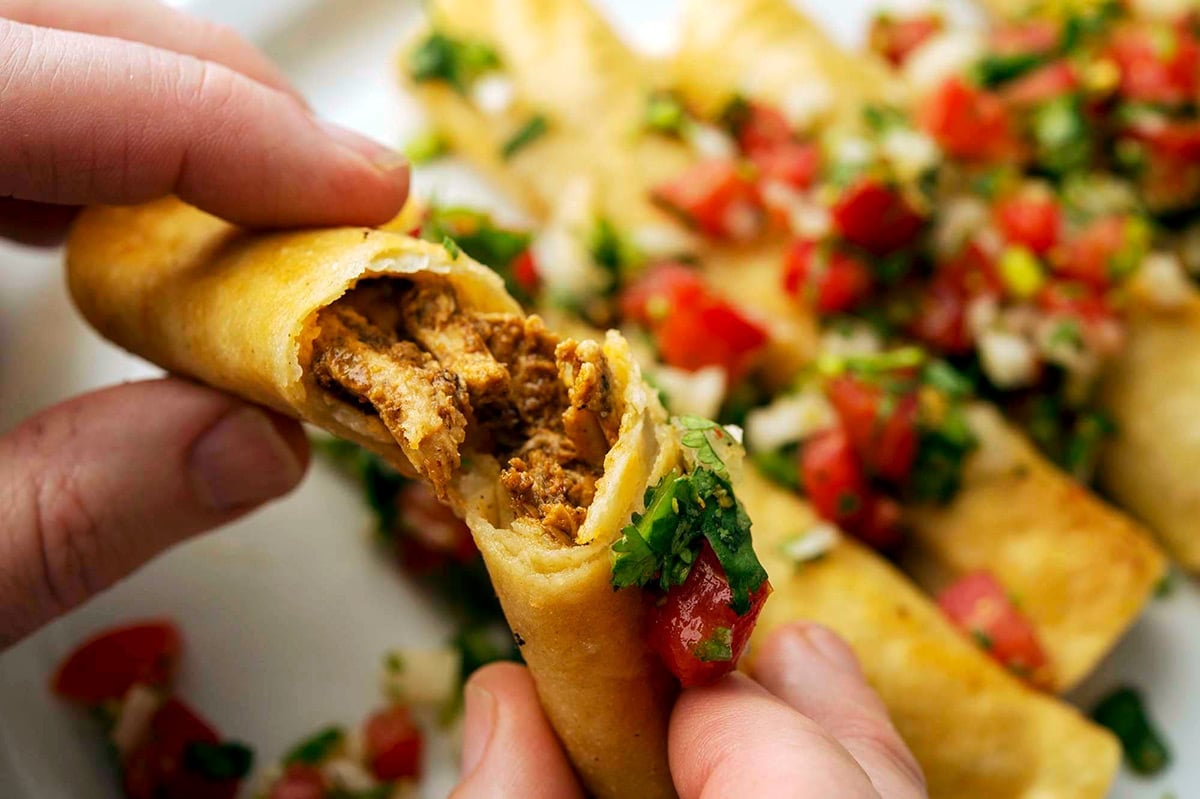 What to fill your tacos dorados with? I used shredded pheasant breast, but any meat will do. Chicken is customary, but shredded turkey breast, rabbit, beef, venison, pork or whatever all would be nice. Picadillo or some other ground meat is another popular choice.
I tossed my shredded pheasant in salsa negra, but any sauce you like is good. A little hot sauce is a good choice.
Now, to frying. Most tacos dorados recipes will tell you to secure the rolled up taquitos with a toothpick, but this isn't really necessary. What is necessary is for you to roll them fairly tightly, then set them seam side down as you make more. Then, carefully pick them up with a spatula, seam side down, and place them in hot oil, again, seam side down.
The taco dorado will then set firmly that way, and won't unroll when you turn it over in the hot oil. Keep them hot on a rack set over a cookie sheet in a warm oven as you fry them.
Two last pieces of advice: Cook more than you think, because people will eat more than they think they can, and because leftovers are great the next morning…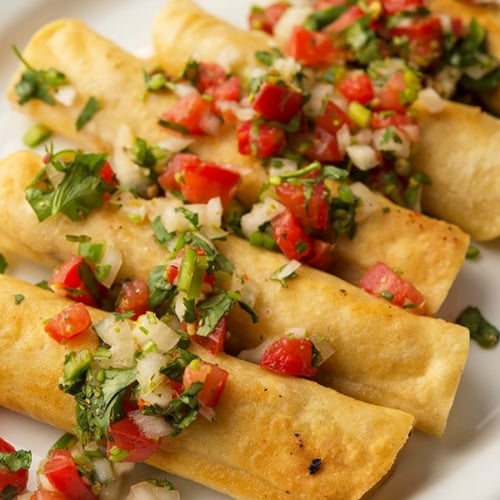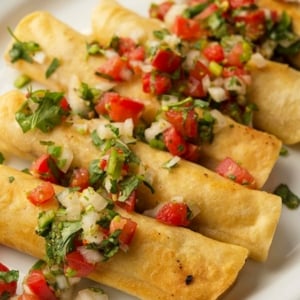 Tacos Dorados (Taquitos)
I use corn tortillas here, but I have seen this done with flour, too. Use any salsa you like on top, but mostly you will see a smooth guacamole or the pico de gallo you see in the picture.
Ingredients
3

cups

shredded chicken, pheasant, turkey, etc.

1/2

cup

salsa negra, hot sauce or other smooth sauce

16

6-inch corn tortillas

1 1/2

cups

corn oil or other neutral vegetable oil

Salsa, for garnish

Sour cream, for garnish

(optional)

Cotija or shredded cheese, for garnish

(optional)
Instructions
Mix the shredded meat with the salsa or hot sauce, breaking up any large pieces. You need to roll a delicate tortilla around this, and you want no big lumpy bits.

Heat the oil in a large frying pan over medium heat for about 4 minutes. Using tongs, dip the tortillas in the hot oil for a few seconds to soften them. Set them in a tray or plate.

Put a tablespoon or two of the shredded meat in a thin rectangle on the first third of a tortilla. Wrap it up tightly, but gently, as the tortillas are tender at this point. Slide the taquito, seam side down, aside. Repeat with the remaining taquitos.

Heat the oil to at least 325F, and ideally 350F. Using a thin spatula, slip the end of the spatula under the seam of a taquito and carefully place it in the hot oil, seam side down. Press on the top of the taquito for 10 seconds to hold it. Repeat with a few more taquitos. You will need to do this in batches so you can flip them.

Set a cooling rack on a baking sheet and put that in the oven, setting the oven to "keep warm." After 1 to 2 minutes, turn your taquitos over and fry them on the other side for another 1 to 2 minutes. Move them to the rack in the oven and repeat with the remaining taquitos.

Serve with the salsa, cheese, sour cream or whatever makes you happy.
Nutrition
Calories:
398
kcal
|
Carbohydrates:
49
g
|
Protein:
14
g
|
Fat:
18
g
|
Saturated Fat:
3
g
|
Cholesterol:
31
mg
|
Sodium:
304
mg
|
Potassium:
363
mg
|
Fiber:
7
g
|
Sugar:
2
g
|
Vitamin A:
215
IU
|
Vitamin C:
1.2
mg
|
Calcium:
98
mg
|
Iron:
1.8
mg
Nutrition information is automatically calculated, so should only be used as an approximation.