Venison Mole Chichilo
December 14, 2015 | Updated June 13, 2018
As an Amazon Associate I earn from qualifying purchases.
Venison mole is not only very special, but it is a real dish. Many times I adjust traditional recipes using beef or lamb or pork for venison, but this Mexican masterpiece is a thing in Oaxaca, where this recipe comes from. Mole, pronounced "mole-ay," is a word meaning a complex, rich sauce that you really want to eat.
It's like a salsa, only more refined. There are seven great moles of Oaxaca, a region in Mexico with a deep food culture dating back to the Aztecs and Maya.
This is one of the more obscure moles, but it's one that is actually served with venison a lot. Most Americans are more familiar with mole poblano, which is not from Oaxaca, or mole negro, the black mole with chocolate that can range from appalling to sublime depending on who makes it. This one hinges on a particular chile, but unlike a lot of mole sauces, this one is brightly acidic and not heavily spiced with things like clove or cinnamon.
Mole chichilo tastes luxurious, tart and gives you a lovely warm feeling from the chiles, which aren't overly spicy. It works perfectly with slow-cooked venison shoulder, neck or shanks, but you could use pork shoulder or lamb shoulder or duck legs.
Or, you can switch up and grill meats and smother them with this sauce. We tried the mole with some seared duck breasts and it was fantastic. Basically, once you make this sauce you'll find yourself putting it on everything.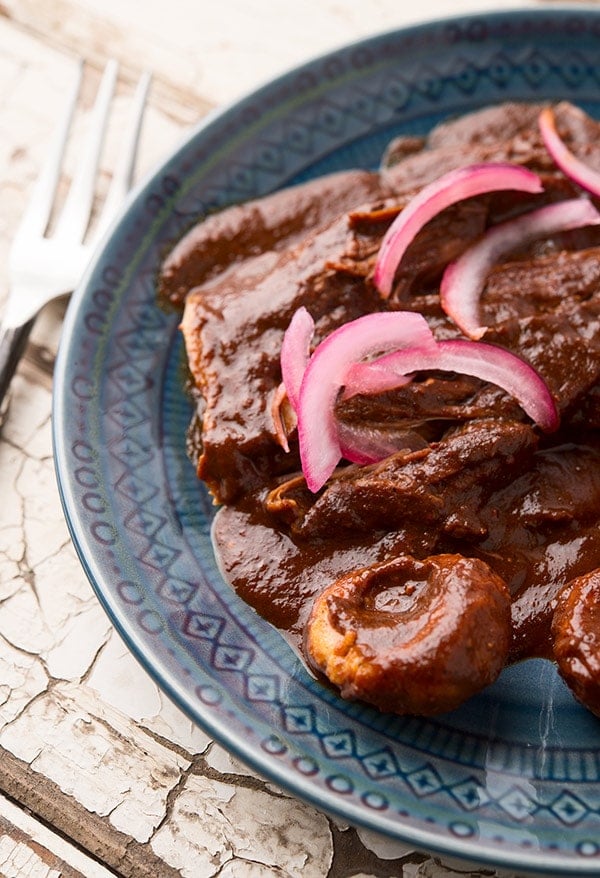 OK, I am not going to sugar coat it: You need real Mexican ingredients to make this, and the mole does take a while to come together. But, Latin markets are all over the country, and once made, the mole keeps for more than a week in the fridge. You can then use it for weeknight meals, or freeze it for later.
You will see a set number and ratio of chiles in this recipe. This is my choice, based on a lot of chichilo recipes and consultation with my friend Patricio Wise, who is a Mexican chef. Ideally you'd use a chile called a chilhuacle negro — but that seems to be impossible to get outside of Oaxaca. If for some reason you can get them, use them to the exclusion of all the other chiles.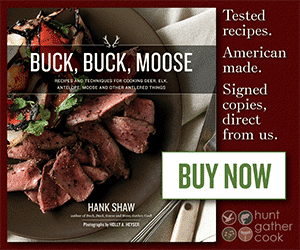 The other chiles are very common in Mexican markets. If you can't find some of them, lean more toward the negro (also called mulato) chiles, or the pasilla or anchos. Chile guajillos are very red and are the basis for a different mole sauce. The chipotle meco is a chipotle (a smoked, dried, red jalapeno) dried out. They are tannish brown.
Keep in mind that other than the chipotle, the other chiles are pretty mild. So even though there are lots of them in this recipe, it isn't picante spicy.
Tomatillos are pretty widely available, but green tomatoes would also work. Avocado leaves can be tricky to find, but you can either leave them out, or use epazote leaves, or use bay leaves and a little anise seed.
Venison Mole Chichilo with Corn Dumplings
This mole is normally served with chochoyotes, little corn dumplings. They are made with masa harina, which is nixtamalized corn -- the corn they use to make tortillas or tamales. You need this or the dumplings won't taste right. You can also serve this mole over rice or in tortillas as tacos or burritos.
Ingredients
VENISON
3

to 4 pounds of venison shoulder,

neck or shank

Salt

1

quart

venison broth or beef broth

2

bay leaves

3

or 4 smashed garlic cloves

1

chopped white or yellow onion
MOLE
5

chile negro or chile mulato

3

guajillo chiles

3

pasilla or ancho chiles

1

or 2 chipotle meco chiles

1

corn tortilla

1

head of garlic,

cloves separated but not peeled

1

white or yellow onion,

quartered

1/2

pound

tomatillos,

sliced in half

3

plum tomatoes,

sliced in half

1-2

cups

venison or beef broth

1

teaspoon

ground cumin

1

teaspoon

black pepper

1

teaspoon

oregano,

Mexican if possible

1

teaspoon

marjoram

5

avocado leaves

(optional)

1/4

cup

lard
OTHER STUFF
1

red onion

sliced root to tip

A hefty pinch of salt

Juice of 4 limes

about 1/2 cup

Chopped cilantro

optional
CHOCHOYOTES
2

cups

masa harina

1/2

cup

warm water

A hefty pinch of salt

3

tablespoons

lard
Instructions
Start by getting the venison in the oven. Salt the meat well and put everything in a lidded pot so the venison is at least halfway submerged. Braise in the oven slowly at 300°F until the meat can be pulled apart with two forks. This will take anywhere from 2 hours to 5 hours, depending on the cut and age of the deer or elk or whatever.

While the venison is braising, make the mole. First step is to remove the stems from the chiles. Save the seeds. Pull the dried chiles apart in pieces you can toast. Toast them on a hot comal or cast iron frying pan or other heavy pan set over high heat. You want the dried chiles to blister a bit when you press them down on the hot surface with a spatula. Toast for a few seconds per side, then put them into a bowl. When they are all toasted, cover the chiles with some hot water to rehydrate.

While the pan is still hot, blacken the tortilla. Just cook it over high heat until it is at least 50 percent black. You need this for flavor. When the tortilla is ready, add all the seeds from the chiles and cook them until they've blackened, too. When they're ready, put them into the bowl of a blender, and break up the tortilla and put that in the blender, too.

You will need to roast the vegetables. I do this by taking the venison out of the oven and switching over to broil. Put the quartered onion, the garlic cloves, tomatillos and tomatoes in one layer in a pan and broil them until about halfway blackened, about 15 minutes. When the vegetables are ready, switch back to baking at 300°F and return the venison to the oven. Don't clean the blender yet.

Put the broiled vegetables into the blender with the tortilla and seeds and blitz it. Remove everything and put into a bowl. Now tear the chiles into pieces that can be pureed in a blender and add them to the blender bowl. Add a little chile soaking water and a cup or two of broth and puree the chiles. This will take a solid 90 seconds in most blenders. When the chiles are smooth, add them to the bowl with the roasted vegetables.

Heat the lard in a pot large enough to hold the mole over medium-high heat. Add the mole ingredients, as well as the remaining herbs and spices. Stir well and add salt to taste. Cover the pot and let this cook very gently for 30 minutes, stirring often. Turn off the heat.

When you get a chance, mix the salt, lime juice and red onion together to make a quick pickle. You should do this at least 1 hour before you serve, and you can do it up to a couple days in advance.

To serve, remove the venison when it's ready and lift off large pieces, or shred it with two forks. Mix it with some of the mole and serve with the pickled onion.

If you want to serve your mole with the chochoyote dumplings, get a large pot of water boiling. Mix the dumpling ingredients together and pinch off enough to make little balls of about 1 inch in diameter. Press your finger into the center of each dumpling to make a little well. Simmer the dumplings in the water until they float, about 5 to 10 minutes. Serve coated with the mole.
Nutrition
Calories:
403
kcal
|
Carbohydrates:
33
g
|
Protein:
38
g
|
Fat:
14
g
|
Saturated Fat:
7
g
|
Trans Fat:
1
g
|
Cholesterol:
121
mg
|
Sodium:
350
mg
|
Potassium:
967
mg
|
Fiber:
7
g
|
Sugar:
8
g
|
Vitamin A:
3612
IU
|
Vitamin C:
12
mg
|
Calcium:
66
mg
|
Iron:
7
mg
Nutrition information is automatically calculated, so should only be used as an approximation.