As an Amazon Associate I earn from qualifying purchases.
A recipe for chicharron de ribeye in tacos. I ate these ribeye tacos in Hermosillo, Sonora, and just had to recreate them at home with venison. They're indulgent, crispy, chewy, meaty bits of awesome.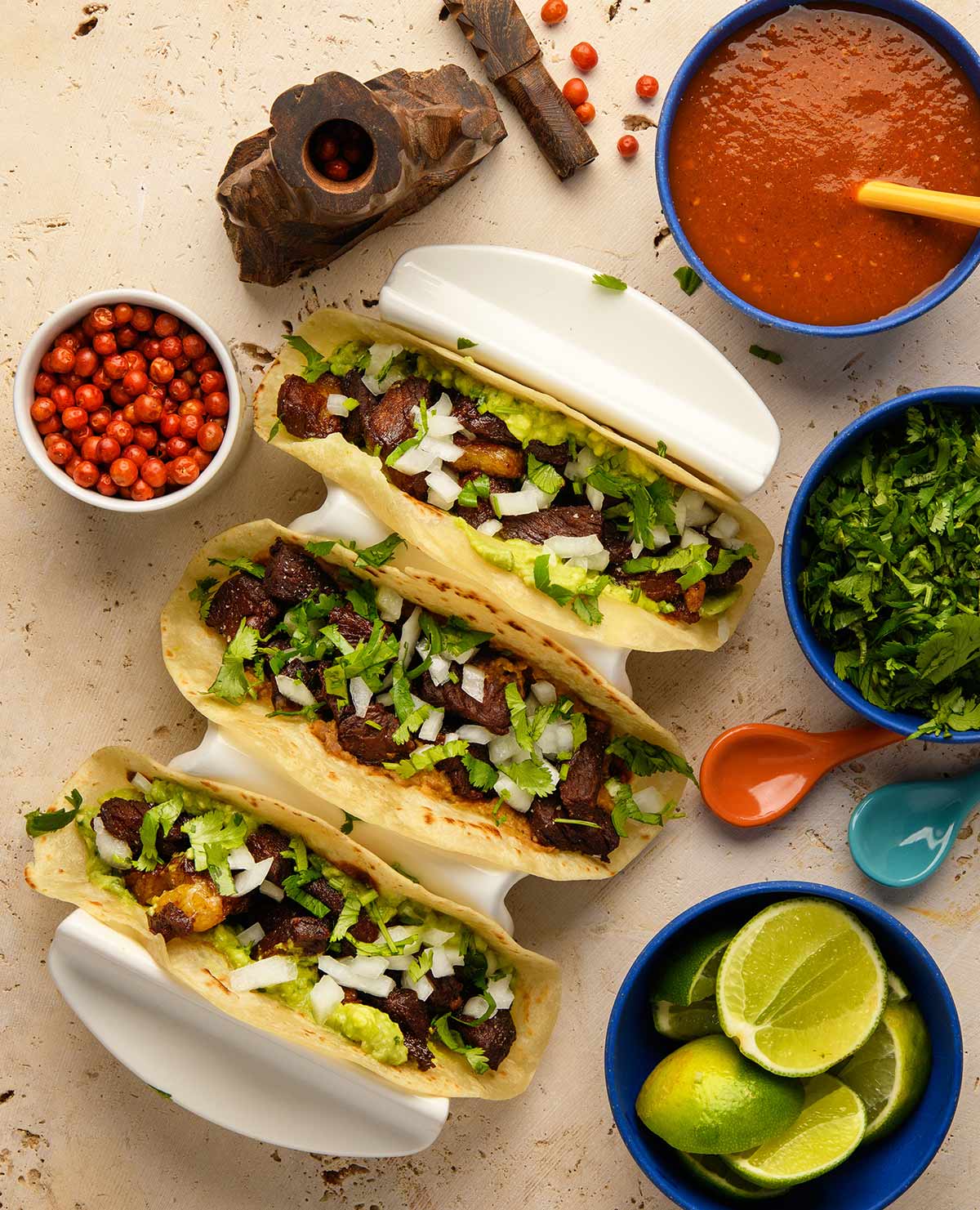 Most ribeye tacos are grilled ribeye steaks chopped small to eat on tortillas. That's great, but it's essentially my recipe for tacos al carbon, which is amazing if I do say so myself…
And most recipes for chicharron de ribeye have the meat cut larger and served in a molcajete over guacamole. It's big in south Texas, Nuevo Leon and that part of the world generally.
This style of ribeye tacos is a specialty of a fantastic taqueria in Hermosillo, Sonora, called Tacos de Armando. As you might expect in Sonora, which is a gigantic temple of beef, there are all sorts of variations on beef tacos there.
So when I saw chicharron de ribeye there, I had to have it. It did not disappoint.
Like most tacos in Sonora, they come simply: Flour tortilla and the meat. You then dress it up how you like at what is essentially a "fixins' bar" that has lots of different salsas, limes, pickled serranos, chiltepin chiles, shredded cabbage and the like.
And yes, these ribeye tacos should be served on flour tortillas. They are a northern Mexican taco and in the north, you almost always see beef on flour tortillas. That said, if you are gluten intolerant or just prefer corn tortillas, I won't come to your house and slap you or anything…
By the way, if this is sounding a whole lot like South Dakota chislic, you're right. Consider it convergent evolution of awesome.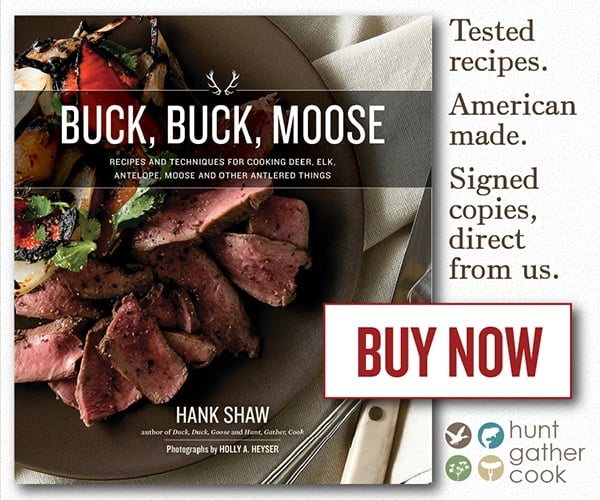 Meat in Ribeye Tacos
Well, beef ribeye, obvi! This is what is used in Mexico and in Texas, and is what you'll want to use — if you're not making this from game.
Ribeye is a) tender, and b) fatty, so you get excellent balance between crispy fat and chewy meat without it being so gnarly you're chewing for days.
Backstrap is the way to go with wild game. Anything goes, from deer, elk and moose, to pronghorn, wild sheep, bison, nilgai, oryx and whatever else you can likely think of. It should be red meat, though.
Marinade?
Claro que no — if you want to go Sonoran. Just salt. You'll get your flavor fix with the salsas.
That said, if you really can't stop yourself from marinating your ribeye tacos, you can use the marinade for my arrachera tacos, which is simple and works here.
Ribeye Tacos are Really Fried?
Yup. And here's why chicharron de ribeye is so awesome: You get serious Maillard reaction, and that crunch of the outside, the chew of the thin layer underneath that's a little overcooked, then the pink center giving you that ribeye (or backstrap) juiciness is hard to beat.
So if you want to be a baller, you'd go to a Latin market and buy a quart or two of manteca fresca, the freshly rendered pork lard you can buy there.
(If you want to be even more of a baller, you'd fry your ribeye tacos in beef tallow, but you'll have to render your own for that one.)
I normally use regular peanut oil or corn oil because a) it's cheap, b) it has a higher smoke point than lard or tallow, and c) frying beef chunks is hard on the oil, so you may only be able to reuse it once or twice.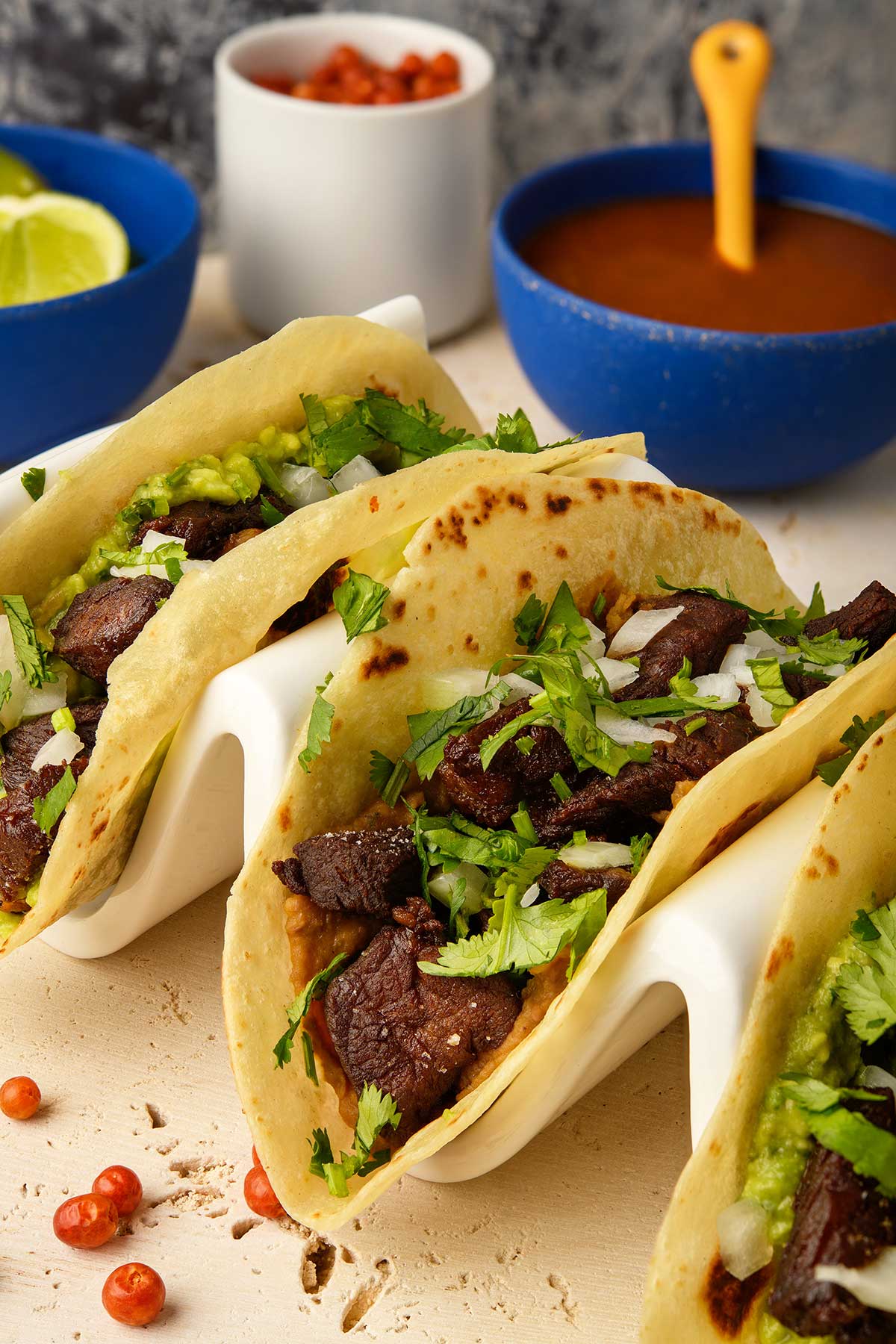 Tips for Chicharron de Ribeye
To avoid frying your ribeye or backstrap into jerky, here are a few tips.
Fry in batches. Overloading a fryer will drop the temperature too much and it will take longer to brown the meat, and it will over cook. I fried this recipe in four batches.
Salt early and chill. Salt the meat and set it in the fridge. This seasons it and keeps it cold so you will have a pink center after frying.
Pat dry before frying. Water and hot oil don't like each other. 'Nuff said.
Let the meat drain in the oven set on "warm" on a cooling rack set over a baking sheet. This keeps it from getting greasy.
Let the oil return to temperature before frying the next batch.
Salsa Options
If you want to go super traditional with ribeye tacos, you'd go with either a chiltepin salsa or a fire roasted salsa, which is often called salsa tatemada in Sonora. Chiltepins can be hard to source, so make a chile arbol salsa instead and it'll get you close.
But you'll see guacamole, and its thinner "taquero avocado salsa" that I feature in my tacos al carbon recipe.
Limes, and onions soaked in lime juice are traditional, as is chopped cilantro.
Some other legit salsas to try with ribeye tacos would be a salsa morita, which uses little chipotles, and good ole' pico de gallo.
If you liked this recipe, please leave a ⭐️⭐️⭐️⭐️⭐️ rating and a comment below; I'd love to hear how everything went. If you're on Instagram, share a picture and tag me at huntgathercook.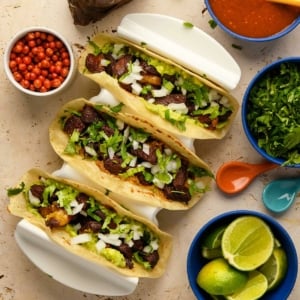 Deep Fried Ribeye Tacos
This is a specialty taco I've had in Hermosillo, Sonora. If you are looking for traditional grilled ribeye tacos, use my recipe for tacos al carbon.
Ingredients
1

small white onion,

minced

1/3

cup

lime juice

2

pounds

ribeye or venison backstrap

Salt

1

quart

lard or vegetable oil

18

flour tortillas

1/2

cup

minced cilantro

Lime wedges to serve
Instructions
Soak the minced onion in the lime juice with some salt. Set this aside as you proceed.

Trim all silverskin away from the meat. Cut it into pieces a little larger than you'd want in a taco, so maybe 1 inch square, more or less. (They shrink when fried.) Salt the pieces well and set in the fridge for 15 minutes while you chop cilantro, slice limes and get your oil hot.

Put the oil in a heavy pot — you certainly can use more than a quart if you want to fry everything all at once. Heat it to 350°F. As this is happening, put a cooling rack over a baking sheet in the oven and set the oven to "warm."

Take the meat from the fridge and pat it dry. Fry in batches so you don't crowd the pot. Fry, stirring the meat around, for about 5 to 7 minutes, until it's pretty and browned on the outside. Drain and put on the rack in the oven. Let the oil temperature return to 350°F before doing the next batch.

When the meat is done, heat the tortillas and make some tacos! At its most simple, you can go with just the meat, onions and cilantro. But I like starting with guacamole or refried beans — the meat will not roll off this way — then salsa, then the onions and cilantro.
Notes
Any salsa you want will work here, but a fire roasted salsa would be very traditional. 
Using guacamole or refried beans as the base of the taco is a great way to serve this — the guac or beans prevent the meat from rolling around. 
Nutrition
Calories:
513
kcal
|
Carbohydrates:
47
g
|
Protein:
53
g
|
Fat:
11
g
|
Saturated Fat:
4
g
|
Polyunsaturated Fat:
2
g
|
Monounsaturated Fat:
2
g
|
Cholesterol:
119
mg
|
Sodium:
750
mg
|
Potassium:
764
mg
|
Fiber:
4
g
|
Sugar:
4
g
|
Vitamin A:
97
IU
|
Vitamin C:
6
mg
|
Calcium:
147
mg
|
Iron:
10
mg
Nutrition information is automatically calculated, so should only be used as an approximation.