Chicharron en Salsa Verde
As an Amazon Associate I earn from qualifying purchases.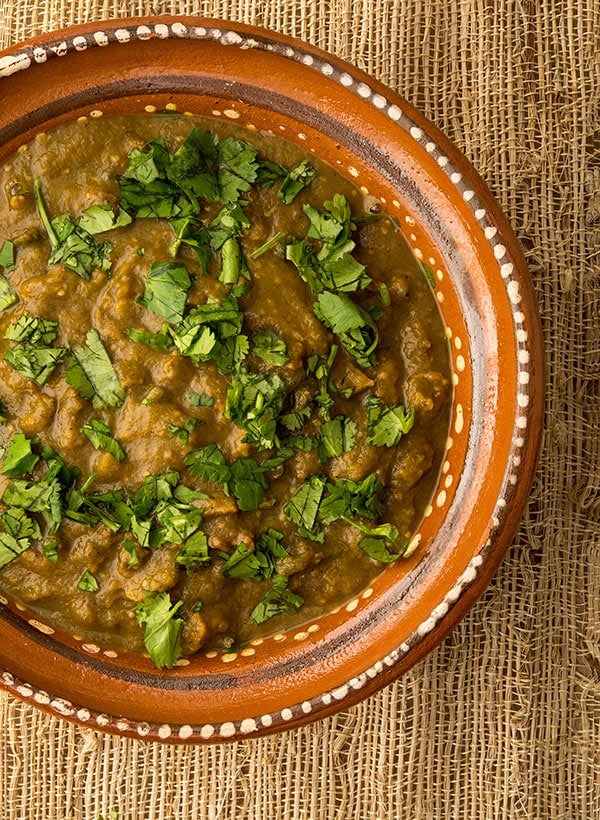 There is so much to say about chicharron en salsa verde… For starters, it is a near universal dish all over Mexico — something fairly rare in that country. It is also a food of the poor, as it is a way to extend the life of pork cracklins.
But this is also a dish that, if you have access to ducks or geese, you can make with scraps from the birds you bring home.
Yes, there are fancy versions of chicharron en salsa verde that use fresh pork belly. I've eaten them, and they are great. But in most places, the actual dish is made from crackins', the leavings after you render lard. This leads to some confusion because chicharron is a term also used for pork rinds, those light-as-air crunchy bits of fried pork skin. I've seen some recipes that use them, but if you do, the texture flabby and flaccid. No bueno.
But make it with cracklins, ideally with the skin still on them, and you have a magical dish. There's a bit of meat, some crispy fat, and a wisp of that puffed skin from a proper chicharron. All of which is simmered in a zippy, spicy tomatillo and green chile sauce.
It is the quintessential taco filling, but you'll see it in burritos, sopes, tortas, you name it. What's more, it's cheap, so it's a filling in the classic tacos de canasta, the "basket tacos" beloved by Mexican students in the way American students love Taco Hell.
Virtually every recipe for chicharron en salsa verde is made with pork cracklins. They are amazing, and use them if you have them. But there is one other option I stumbled on quite by accident at the end of last duck season: cracklins from rendering duck fat. ¡A huevo!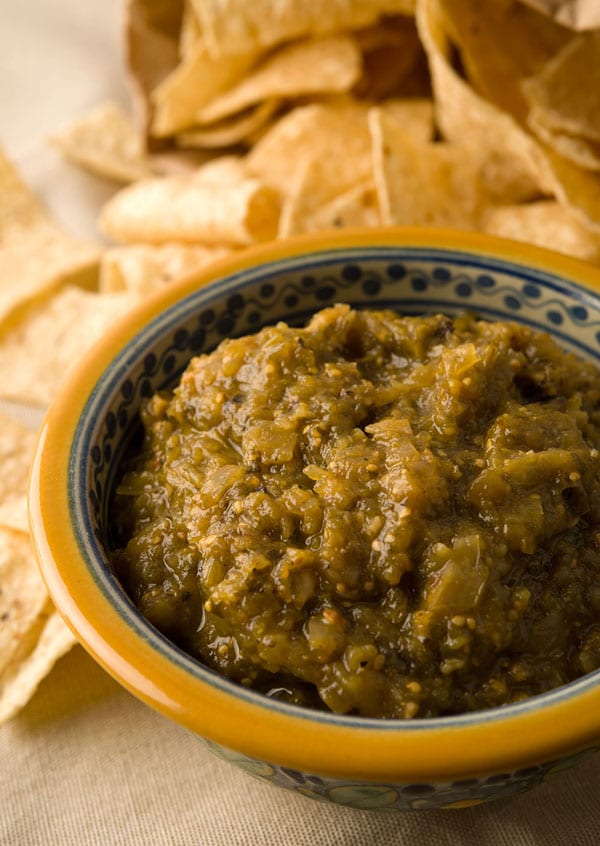 Why am I so happy? First, I love to render duck fat from the birds we bring home (Here is a tutorial on the process). But I never liked the leavings, as duck skin is too sturdy to make a nice cracklin, in my opinion. It's kind of a tooth breaker. But simmered in salsa verde? Holy crap is it good! And, what's more, it takes me one more step toward my quest to eat "Everything but the Quack."
To make chicharron en salsa verde, you need a salsa verde. You will want to make a batch of my salsa verde recipe here before you start. Well, in reality, once you have that done, all you need to do is simmer your cracklins in it 20 minutes or so and then put it on a taco.
Top your tacos with cilantro, white onions soaked in lime or sour orange juice, and some cotija cheese, which is a bit like feta.
The stew, called a guisado in Spanish, will keep in the fridge for a week or so, and it can be frozen.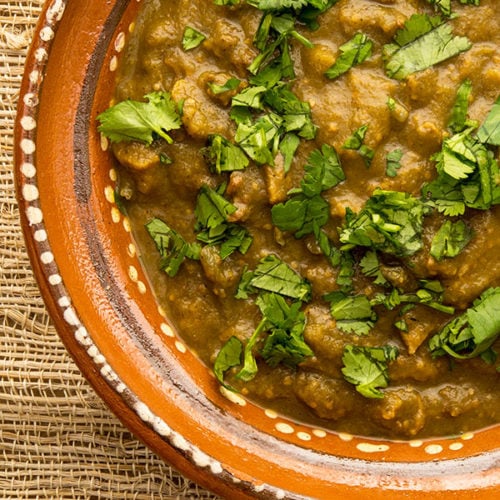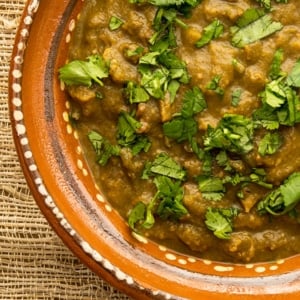 Chicharron en Salsa Verde
You will want cracklins from pork, duck or goose to make this recipe. You can buy them in Latin markets, in Cajun markets and in some specialty markets, but mostly you will make this recipe after rendering some lard or duck fat yourself.
Ingredients
1

pound

cracklins from pork, duck or goose, cut or broken into bite-sized pieces

1

recipe

salsa verde

(see notes)

4

tablespoons

chopped cilantro

1/2

cup

diced white onions

1/4

cup

lime juice

Cotija cheese, crumbled, for garnish

18

corn tortillas
Instructions
Pour your salsa over the cracklins in a pot, cover the pot and bring to a simmer for 20 minutes. You might need to add a little water or stock to keep it from sticking. You want the mixture to be stiff enough to not splooge out of a taco, though. You can cook your cracklins for more than 20 minutes if you want a softer texture.

Heat up your tortillas and make your tacos! Top with cilantro, the onions soaked in the lime juice and cotija cheese.
Nutrition
Calories:
589
kcal
|
Carbohydrates:
37
g
|
Protein:
51
g
|
Fat:
26
g
|
Saturated Fat:
9
g
|
Cholesterol:
72
mg
|
Sodium:
1427
mg
|
Potassium:
178
mg
|
Fiber:
5
g
|
Sugar:
1
g
|
Vitamin A:
64
IU
|
Vitamin C:
5
mg
|
Calcium:
91
mg
|
Iron:
2
mg
Nutrition information is automatically calculated, so should only be used as an approximation.