Homemade Flour Tortillas
March 02, 2020 | Updated January 22, 2021
As an Amazon Associate I earn from qualifying purchases.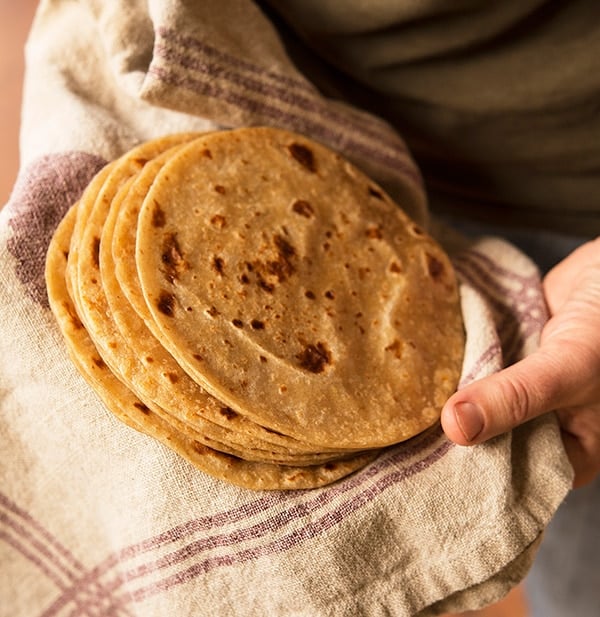 Homemade flour tortillas are one of life's greatest little pleasures. And they are surprisingly tricky to make. But, after much trial and error, I have come across a way to make perfect homemade flour tortillas.
I can't tell you how happy I am to have nailed this recipe. I started with homemade corn tortillas, which are, actually, easier to make, believe it or not. Especially if you have really good masa harina, either from a place like Masienda or if you make homemade masa harina.
But homemade flour tortillas were another matter. My first attempts were basically Italian piadine, a very similar flatbread that, while tasty, is not a tortilla. Another attempt effectively made pita bread. Still not right.
One attempt added too much fat, and I made tortilla shortbreads. Another attempt seemed to be right, but broke when folded. Yet another puffed up so much they turned into balls.
And in every case, my homemade flour tortillas were ugly, misshapen, and most definitely not round. I watched countless YouTube videos on how to roll out flour tortillas, and I came to the conclusion that hand rolling a perfectly round flour tortilla is actually harder even than making handmade tortellini.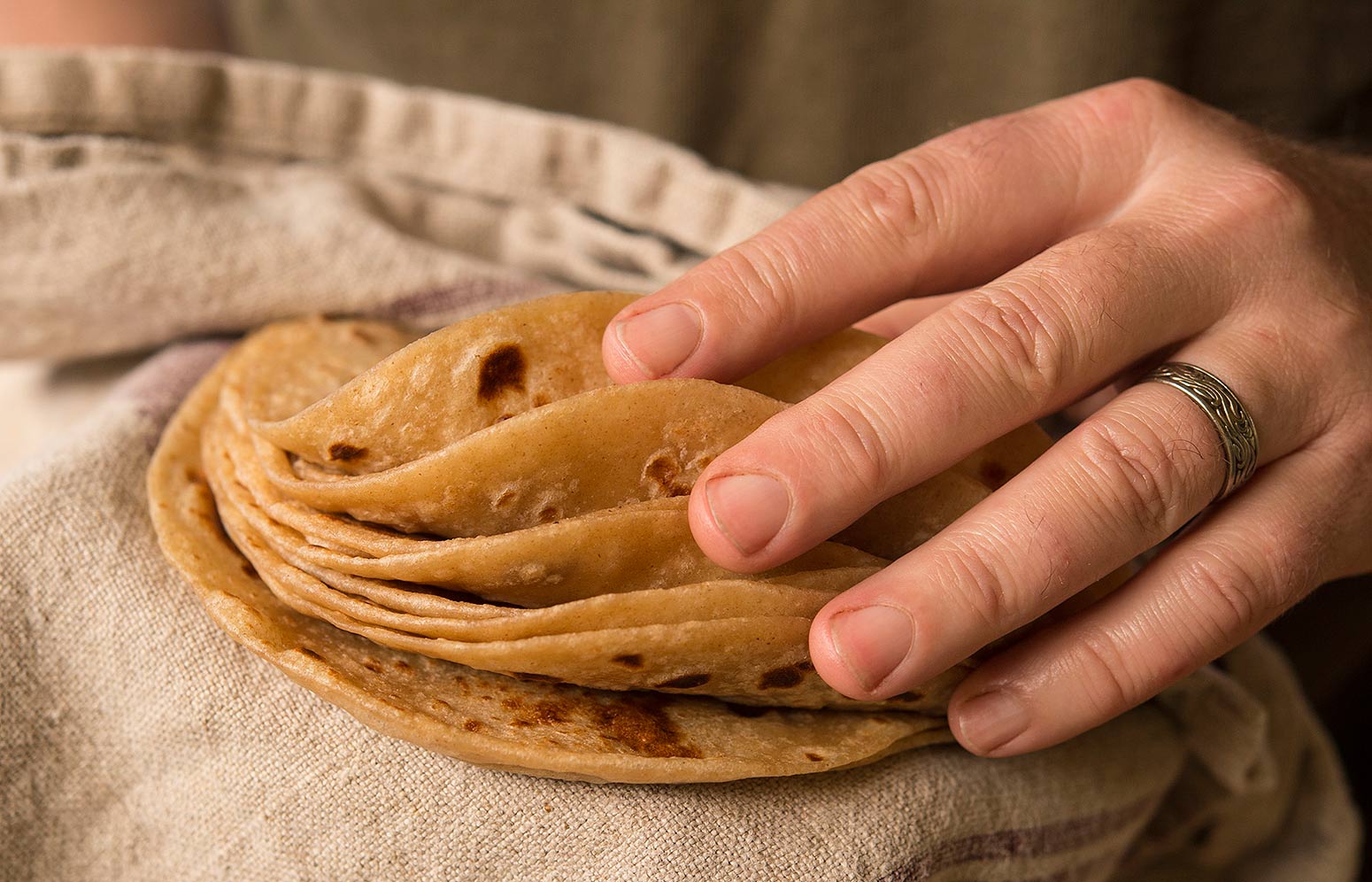 At a loss both mechanically and even for a recipe — there are many recipes for flour tortillas on the internet, and I've tried most. None were right — I turned to Spanish. Duh, right? But I am still not fluent in Spanish, so my reading comprehension isn't perfect. But I started to slog through a series of books in Spanish that had recipes for tortillas de harina, or tortillas de trigo.
I also had an ace in the hole: My friend Patricio Wise, who runs the Mexican restaurant Nixtaco. Patricio is from Monterrey, where flour tortillas are a thing. His recipe, also developed from much trial and error, helped me a lot.
Incidentally, let me pause here for a moment to say that flour tortillas are every bit as Mexican as corn tortillas. OK? They've been made in that country for close to 500 years, not long after Cortes showed up from Spain in 1521. Flour has been part of the fabric of northern Mexico ever since.
In my opinion, the best flour tortillas are from Sonora, south of Arizona. They're just my favorite, and you might prefer the slight variations you will see in Chihuahua, Nuevo Leon, Coahuila and yes, Texas. It's all good. These here are Sonoran-style homemade flour tortillas.
What makes them Sonoran? A couple things. First and foremost, no baking powder. It simply isn't needed. Make these tortillas correctly and they will puff up all by themselves.
Second, I use Sonoran flour, as well as a secret ingredient I'll get to. First, Sonoran flour is different from regular all-purpose flour — although you can absolutely use regular AP if that's all you have. (Here's a cool little article on Sonoran flour tortillas.) It is softer than typical AP flour, which means that some of the soft wheat flours you get in the South, like White Lily, will also work.
Finally, here are my idiosyncratic additions: Smoked lard and a bit of roasted flour from the San Xavier Co-op south of Tucson. The wheat berries are roasted before they're ground, which gives the flour an amazing aroma. It's a whole wheat flour, so it darkens the tortilla. It's basically impossible to find outside of Tucson, so skip it if you're not a local there.
All homemade flour tortillas have fat. What fat is up to you. You can never go wrong with fresh lard, which is what I always use. It's amazing stuff. Furthermore, I will smoke pork and then render the fat into lard, which, along with the smokiness of the roasted flour, makes the tortillas even more interesting. Bacon fat would be your easy substitute.
I've eaten flour tortillas cut with beef tallow, chicken schmaltz, vegetable shortening, butter and yes, vegetable oil. My recipe requires a solid fat, so lard or bacon fat should be your first two choices. They are also amazing with duck fat!
You need a scale to make this recipe correctly, as it largely hinges on weight. Your kitchen should have one, and if not, you can buy this nice one online
.
Also, unless you are already an expert at rolling flour tortillas by hand, you need a tortilla press.
What?! You can't make flour tortillas with a press! Yes you can. And here's how.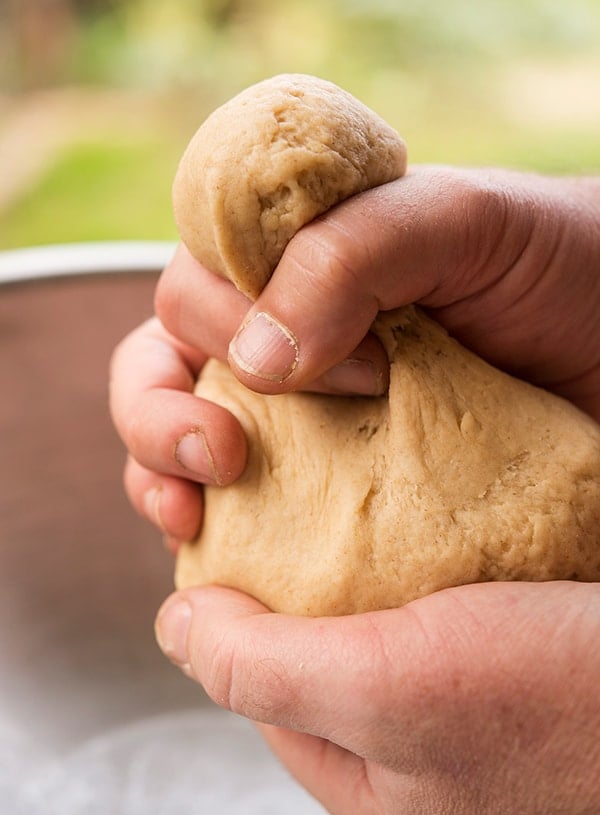 Make the dough, then squeeze off the individual balls for the tortillas (more on that in a minute), then let them rest in a plastic bag for at least 1 hour, and as many as 6 hours. This long rest is vital. It allows the gluten in the tortillas to relax so you can squash them with the press without the tortilla springing back on itself.
I learned this method myself, through trial and error, but I knew I couldn't be the only one who does it. And I was right. After I first posted this recipe some years ago, I heard from several people from Northern Mexico who do this, too. Great minds, eh?
A couple more tips: You don't want your comal or flattop to be as hot as it needs to be with corn tortillas: 400°F to 450°F is fine. You flip homemade flour tortillas the same number of times as with corn, but flour tortillas cook faster.
I like tortillas about 30 to 35 grams per ball. That's a nice size, more or less 6 inches across. Good for a taco, but go to about 40 to 45 grams for a quesadilla.
(Flour tortillas are a must for Sonoran arrachera tacos, made with skirt steak.)
Flour tortillas also keep better. Once made, these will keep for a couple days in the fridge, and will get supple again with only a short kiss of the comal.
I am so happy to share this recipe with you — it's the product of many hours of work, and they taste amazing. Hope you like them!
Variations on Homemade Flour Tortillas
If you want to, you can substitute the roasted or whole-wheat flour portion of the dough with many other things to add interest or flavor. Some good, authentic choices would be acorn flour or mesquite flour
. Any other sort of flour would also work here, too. And you will sometimes see maybe 1 or 2 tablespoons of small or ground seeds thrown in, too. The seeds of the barrel cactus or chia are sometimes used this way.
If you use a gluten-free flour like mesquite or acorn or whatever, don't go much more than one-fifth by weight, so in the recipe below, 50 grams max in a batch of 250 grams' worth of flour.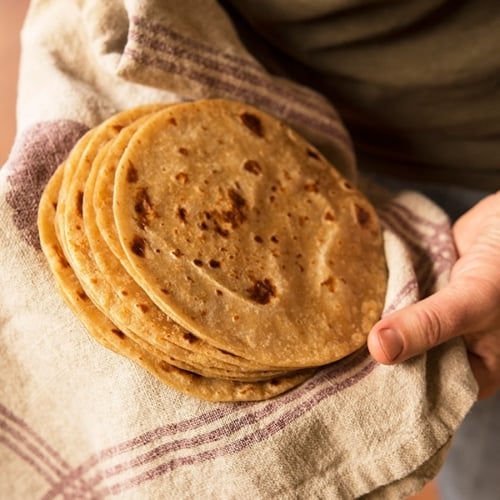 Homemade Flour Tortillas
This recipe hinges on weight, so you need a scale. Try to buy Sonoran or other soft wheat flour for these tortillas, but regular all-purpose makes a good tortilla, too.
Equipment
Scale

Tortilla press

Comal or flattop or heavy frying pan
Ingredients
225

grams

Sonoran, or all-purpose flour

25

grams

Roasted or whole wheat flour

(optional, see note below)

1/2

teaspoon

salt

40

grams

lard, bacon fat, duck fat, vegetable shortening or butter

7/8

cup

hot water

(see below)
Notes
NOTE: If you don't have or want to use the roasted or whole wheat flour, simply use more of the Sonoran or all-purpose flour. 
Nutrition
Calories:
316
kcal
|
Carbohydrates:
47
g
|
Protein:
7
g
|
Fat:
11
g
|
Saturated Fat:
4
g
|
Cholesterol:
10
mg
|
Sodium:
307
mg
|
Potassium:
83
mg
|
Fiber:
2
g
|
Sugar:
1
g
|
Calcium:
8
mg
|
Iron:
3
mg
Nutrition information is automatically calculated, so should only be used as an approximation.