Lobster Tacos
August 24, 2020 | Updated August 03, 2022
As an Amazon Associate I earn from qualifying purchases.
Lobster tacos might sound extravagant, but they are a thing on both the Pacific Coast of Mexico, as well as the Yucatan Peninsula. Here's an easy way to make them you'll find yourself coming back to again and again.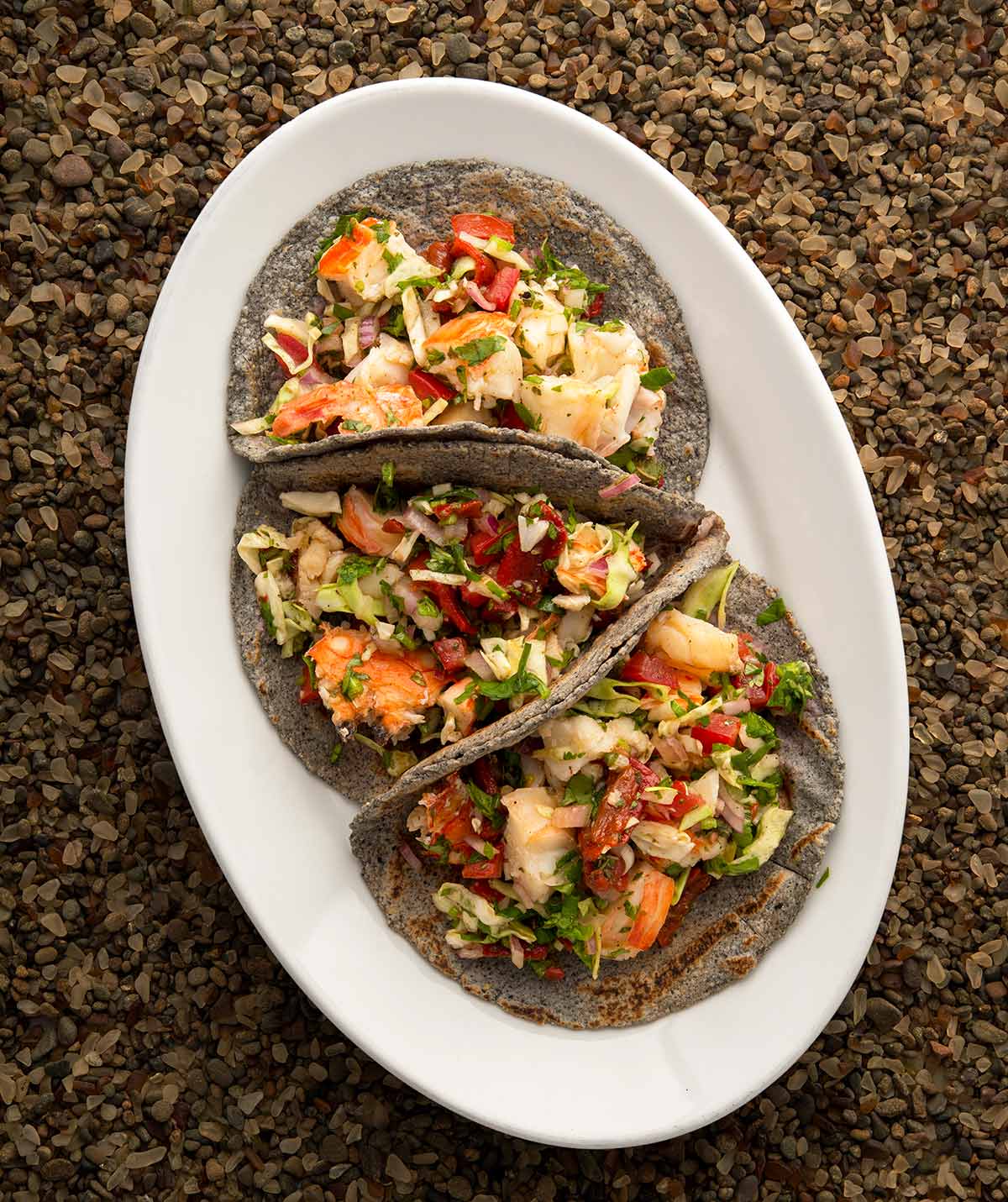 I've seen lobster tacos fried and grilled, and that's nice, but I still prefer my lobster steamed and then bathed in butter, or straight up butter-poached, for that matter. These are spiny lobster tails from Florida I brought back from a trip to the Keys; any lobster will do.
I simply put a few tails on a steamer tray in a pot with a little water in it, steam the lobster tails for about 10 minutes, remove them from their shells and dunked them in melted butter. After I ate a piece — 'cause you have to, you know? — I cut them into bite-sized pieces and tossed them with a variant on the standard pico de gallo we all know and love.
Save the shells for seafood stock, and, if you are using Maine lobsters, which have big claws, you can either use the claw meat here, or save it for lobster fra diavolo.
The salsa is called salpicon, which at its core is a pico de gallo with shredded cabbage and often chopped radishes added to it. You see seafood mixed with this a lot all over Mexico, sometimes stuffed into a roasted poblano — kinda awesome.
That's really all these lobster tacos are. Simple, buttery lobster tossed with good things that add crunch, spice, tartness, a little sweetness, and that herbal touch you get from cilantro.
If you wanted to sex up your lobster tacos, a good option would be to whip together Mexican crema with your favorite Mexican hot sauce — Huichol, Culichi or Cholula would be my recommendations — and drizzle that on top. If you can't find Mexican crema, which is thinner than American sour cream, thin sour cream with a touch of regular cream.
Want a bit more heft? Smear some refried beans on the tortilla before you top with the lobster and salpicon. Could you add cheese? I suppose, but I wouldn't. Not here.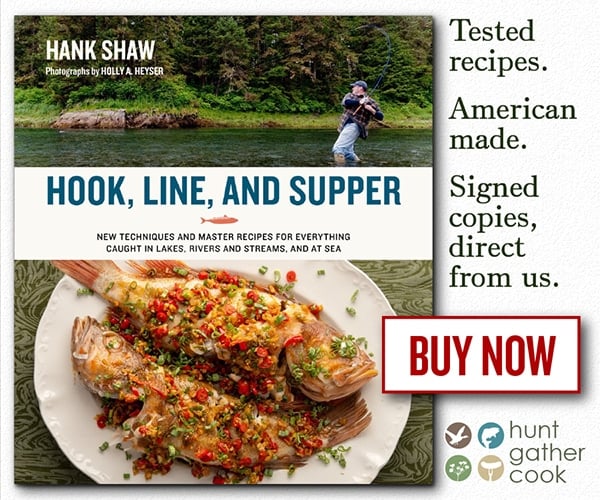 No lobster handy? Peeled shrimp or crawfish tails would be an almost perfect substitute, and squid or octopus would really shine here, too. Little steamed clams would be nice, and sure, you can use chunks of fish. If you go the fish route, you want dense, meaty fish like tautog, shark, swordfish, sturgeon, cobia, grouper, amberjack or yellowtail, pike or flathead catfish.
Corn tortillas are what you want here. I make my own, and if you want to learn how, here is my tutorial on how to make corn tortillas.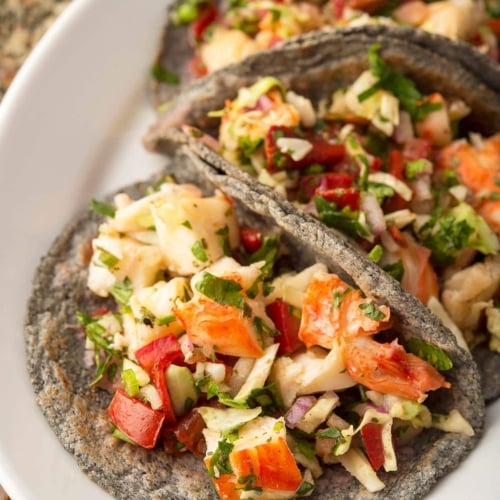 Lobster Tacos
This is a simple lobster taco recipe that you can play around with. I prefer to steam the lobster and then douse it in melted butter, but you could also grill it.
Ingredients
1

white onion, diced

1/2

cup

lime juice

Salt to taste

1

teaspoon

dried Mexican oregano

(optional)

1

cup

finely shredded cabbage

6

small radishes, chopped

1 to 3

habaneros, minced

(See below)

3

Roma tomatoes, diced

1/2

cup

chopped cilantro

1/3

cup

melted butter

1 1/2

pounds

lobster tails

12

Corn tortillas
Instructions
Start by soaking the minced onion in the lime juice. Sprinkle salt over it and mix well. Now cut all your other vegetables. Doing it this way will take the sting out of the onions.

Chop all your other vegetables and add them to the bowl with the lime juice and onions. Mix well and add salt to taste. Have this ready for the lobster.

Heat your tortillas now. If you are making your own, make them after the salpicon but before you steam the lobster.

Set a steamer tray in a pot and pour enough water to come up to just below the level of the tray. Cover the pot and bring this to a boil. Lift the lid, set the lobster tails on the tray, cover the pot and steam for about 10 to 15 minutes. Big Maine lobster tails can take 15 minutes, but little Caribbean or Pacific lobster tails will only take about 10 minutes.

Meanwhile, melt the butter in a little pot. When the lobster is ready, remove it from the shells and cut into bite-sized pieces. Put the lobster in a bowl and toss with the melted butter.

Mix the lobster with the salpicon, add it to tortillas and have at it!
Notes
NOTE: This makes a zippy taco. If you want things less spicy, tone down the peppers. Maybe go with one habanero, or downgrade to serranos. If you are really not into heat, use supermarket jalapenos, which are typically not very hot. 
Nutrition
Calories:
377
kcal
|
Carbohydrates:
44
g
|
Protein:
14
g
|
Fat:
18
g
|
Saturated Fat:
10
g
|
Cholesterol:
101
mg
|
Sodium:
382
mg
|
Potassium:
480
mg
|
Fiber:
7
g
|
Sugar:
4
g
|
Vitamin A:
1051
IU
|
Vitamin C:
29
mg
|
Calcium:
138
mg
|
Iron:
2
mg
Nutrition information is automatically calculated, so should only be used as an approximation.