Duck Tacos
March 27, 2017 | Updated June 24, 2022
As an Amazon Associate I earn from qualifying purchases.
I don't know why it took me so long to post this recipe, as these duck tacos are a perfect thing to do with confit.
Duck confit, if you are not familiar, is duck or goose that is salted, then slowly cooked in its own fat until it is meltingly tender, and then, often, crisped up before you eat it.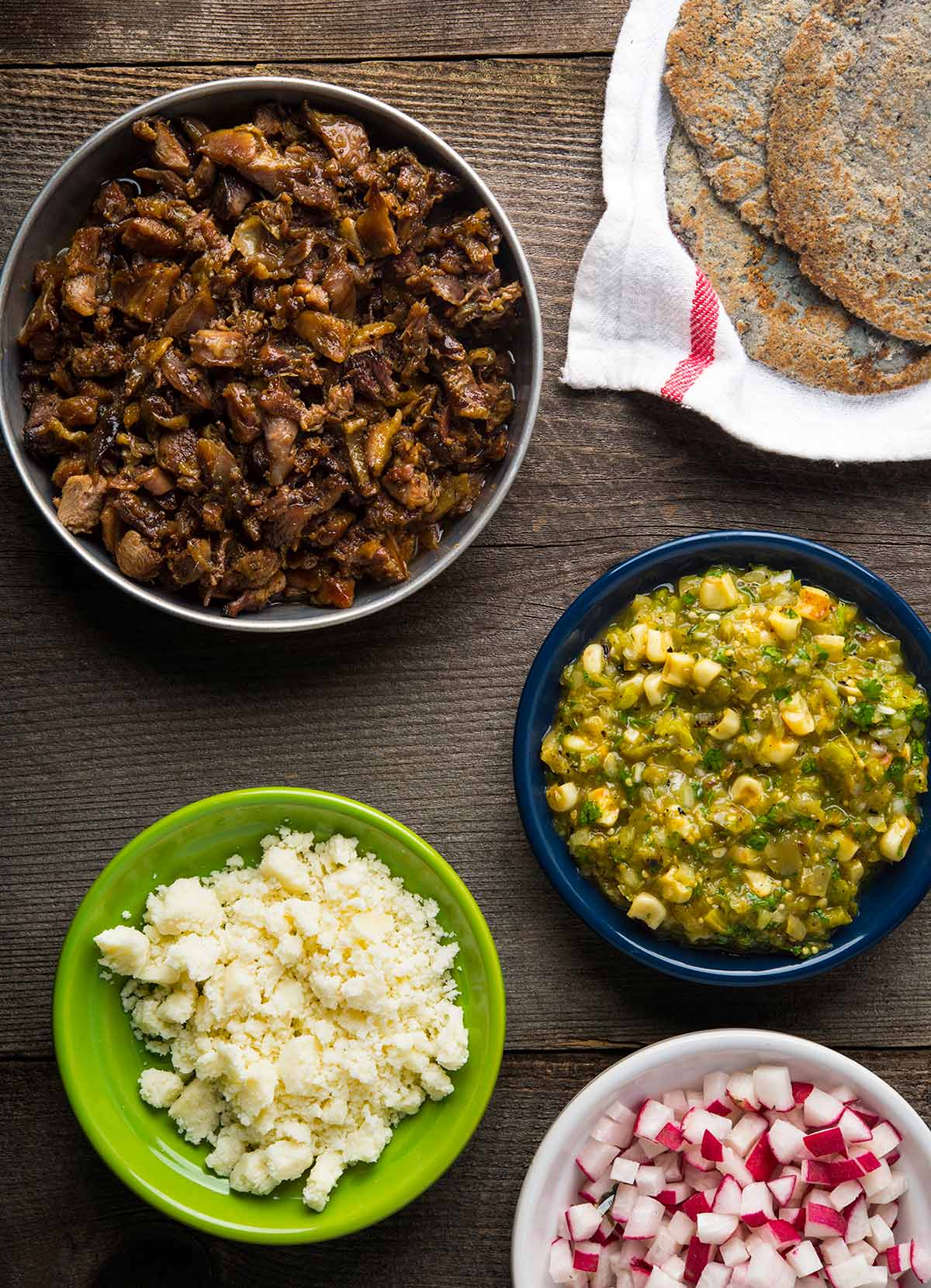 Duck confit is one of those easy recipes that takes a while, but it's all pretty passive time. You need to salt duck legs or goose legs for at least eight hours, then pack them in duck fat and slowly cook for anywhere from four to twelve hours. I go over a number of ways to make confit in my book Duck, Duck, Goose
, and I do have a duck confit recipe on this site.
It is also a perfect make-ahead meal. Once made, duck confit will keep in the fridge for a month or more. Perfect for duck tacos.
Armed with your über tender legs, you chop the meat and crisp it in some of that fat you cooked it in, with one secret, albeit optional, ingredient: achiote verde
, which you can find in most Latin markets or online. Or you can make it.
Here's how: Mix into a paste 2 tablespoons black peppercorns, 2 tablespoons oregano (Mexican if you can get it), 2 teaspoons cumin, 1 clove, 5 allspice berries, a pinch of cinnamon all ground together with a roasted head of garlic (here's how to roast garlic), plus about a tablespoon of vinegar.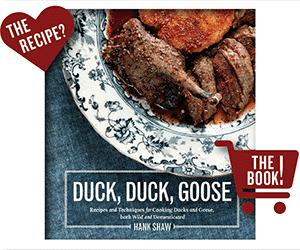 The effect is amazing, and will take you to tropical Mexico if you've ever been there.
That's the base of these duck tacos, but you'll want lots of taco accompaniments to go with it. Good corn tortillas (I make my own), some crumbly cheese, something crunchy like diced radishes, cilantro and a salsa of your choice.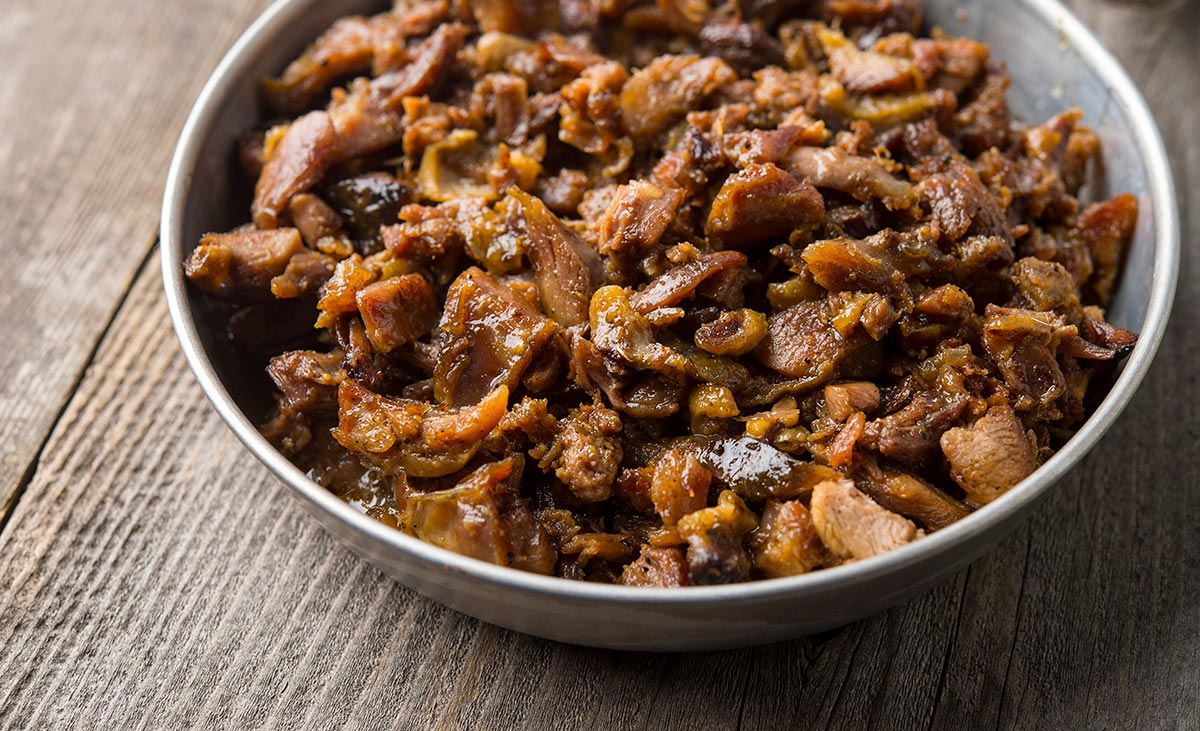 It is springtime as I write this, so we have nopalitos in the markets now. Nopalitos are young paddles off the prickly pear cactus. I mix these with some corn kernels and my regular tomatillo salsa verde. It is really, really good. Better than I'd thought it would be, actually. Incidentally, the tomatillo salsa is also a make-ahead thing, as it can be canned and kept in your pantry.
But don't get all hung up on it. Use any salsa you like with your duck tacos. Salsa morita or salsa negra is a good call, and if you like things spicy, try my salsa de chile de arbol.
Duck confit tacos, which some chefs call duck carnitas tacos, which is, more or less, also accurate, are best on corn tortillas, but you can use flour if you feel strongly about it. The meat can be made up to three days in advance.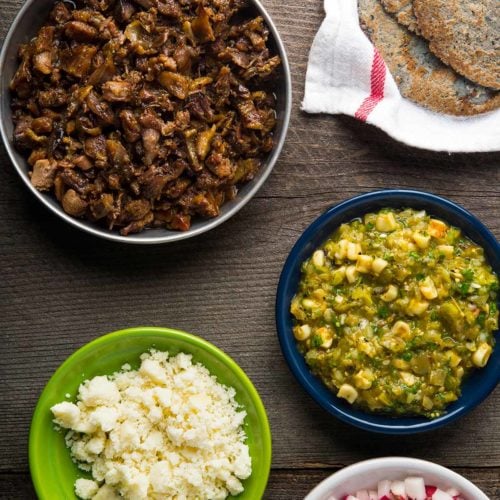 Duck Tacos
You will need duck confit to make this, but know that once confit is made it keeps in the fridge for a month or so, and freezes well. If you made the achiote verde it will keep a long time in the fridge. The salsa will not, however. You need to eat that within a day or so. 
Ingredients
2

pounds

duck confit, chopped

(see above)

2

teaspoons

achiote verde

(see above)

1

cup

chicken stock
GARNISHES
diced radishes, cheese, cilantro,

for garnish
Instructions
Have everything set before you begin, as this will come together quickly. Either buy or make the achiote verde, and make the tomatillo salsa verde ahead. 

Boil the diced cactus paddles in salted water for 12 minutes. After they've boiled 5 minutes, add a pinch of baking soda; this helps the cactus keep its color and reduces slime. Shock the cactus in ice water to cool. Another tip: If you have tomatillos, which you will if you make the salsa yourself, drop a handful of the papery husks into the cooking water. This also helps eliminate slime.

To finish the salsa, mix together the salsa verde, the corn and the cooked, cooled cactus paddles. Set aside.

Lay the chopped confit in one layer in a large frying pan with as much of the confit fat as you like; I use a good 1/4 cup. Sear over high heat for 90 seconds without touching so you get some crispy bits. Stir, and add the achiote verde and the chicken broth. Boil this away until the pan is almost dry again. When you hear the cooking switch from boiling to sizzling, turn off the heat.

Serve with warm tortillas, the salsa and any other accompaniments you'd like.
Notes
I used 6 specklebelly goose legs for what you see in the bowl. Four or 5 domesticated duck legs would be equivalent, as would about 12 to 18 mallard legs. 
Nutrition
Calories:
280
kcal
|
Carbohydrates:
9
g
|
Protein:
30
g
|
Fat:
13
g
|
Saturated Fat:
3
g
|
Cholesterol:
120
mg
|
Sodium:
494
mg
|
Potassium:
156
mg
|
Fiber:
1
g
|
Sugar:
4
g
|
Vitamin A:
248
IU
|
Vitamin C:
3
mg
|
Calcium:
10
mg
|
Iron:
2
mg
Nutrition information is automatically calculated, so should only be used as an approximation.