As an Amazon Associate I earn from qualifying purchases.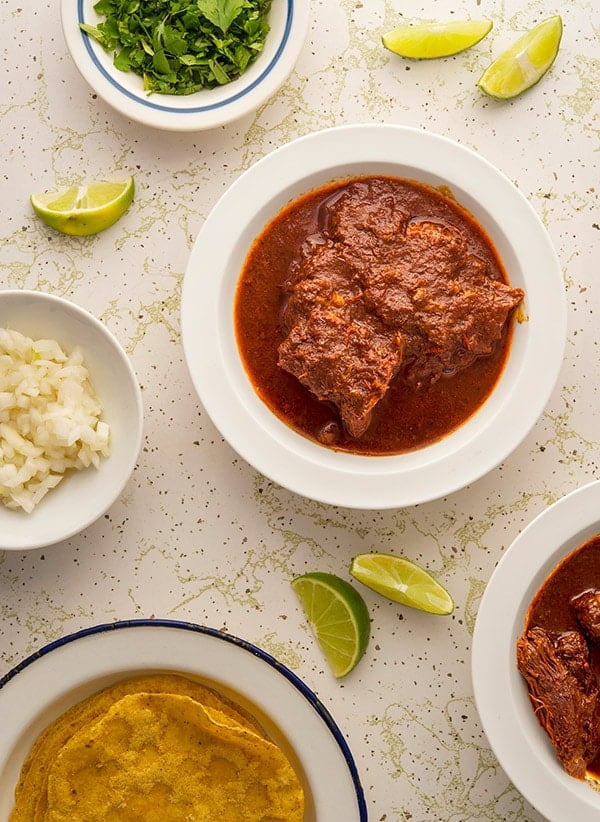 It's taken me a while to write down a birria recipe. After all, this is one of the cornerstones of the cuisine of the Mexican state of Jalisco — and given that this is where most of the Mexican immigrants living here in Sacramento come from, I had every chance to get this one right.
So I ate birria. Birria as a stew, birria tacos. Lots of birria tacos. All over town. Dozens of places. My favorites, for the record, are Don Chuy's and the now-closed Birrieria Bugumbilias.
What follows is me trying my best to give you a rendition of birria that is worthy of the name.
What's the big deal? Well, in Jalisco, birria made from goat is what carnitas is to Michoacan, or cabrito al pastor is to Nuevo Leon, or cochinita pibil is to the Yucatan. In other words, a dish people take very seriously. Think chili in Texas or chowder in New England.
I know some of you are scratching your heads: What is birria, exactly? It is a lot like barbacoa or cochinita pibil in that it is seasoned meat wrapped in something and cooked largely through smoky steam until the meat falls apart.
You either eat it in a bowl, often in its broth, or shredded on tortillas for birria tacos.
Traditionally birria is made with kid goat, but you will see it made with adult goats, mutton, lamb and beef, too. As it happens, venison birria is especially good. You want to use the neck or front shoulder or shanks here, because they have a lot of connective tissue that, when cooked slow and low, melts and makes the meat silky.
You want to make the adobo for your birria and slather it on the meat the day before; this matters. Then, you wrap the meat in leaves — maguey leaves to be really traditional, but I use banana leaves — nestle it in a pot, then seal the pot you are using. Put the whole shebang in a low oven for most of the day, crack the seal and have at it.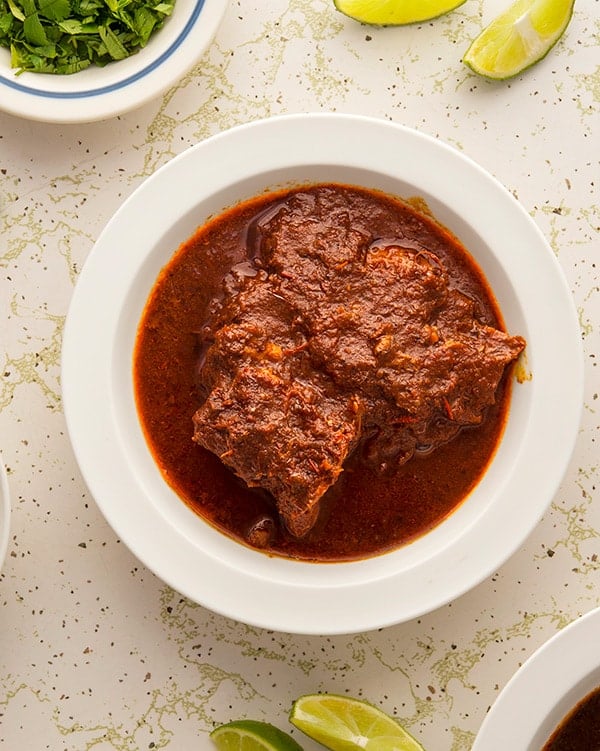 And ideal set up would be to use the whole front shoulder or neck of a small deer or pronghorn (or a whole kid goat, or front legs from a lamb, or short ribs if using beef), cut in a away that they will fit into a Dutch oven. Wrap the marinated meat in banana leaves, which you can buy in any Asian or Latin market, stuff it all into the Dutch oven, put the lid on, and seal it with fresh masa, the corn dough you use to make tortillas.
Now, you may not have the ideal set up. You can get away with wrapping the meat in foil, but I would do leaves then foil. A good, accessible alternate leaf would be collards; they are sturdy enough to not dissolve in the long cooking. If you absolutely can't find leaves, skip them and just use foil.
The dough seal really does keep all the moisture locked in, so use flour and water if you don't have masa and water. It doesn't matter. Just jam it all around where the lid meets the pot. You'll need to crack it off when you are ready.
When will your birria be ready? Hard to say. But as a general rule, you err on the side of cooking it more, not less.
Birria cooked 12 hours will still be good, even if it got tender at 8 hours. I would not even think about cracking the seal in less than 4 hours, and for most small deer, 6 hours is a good benchmark. But since you will start losing some moisture once you crack the seal to check, I'm going a full 8 hours. Now if it's a giant neck roast or something? Longer. Always longer, never shorter.
Your reward is that aroma that's been sealed in, lots of amazing broth, and meat that falls apart, practically begging to be slathered on a fresh corn tortilla. Oh and yes, corn tortillas here.
Birria tacos are so good you will only want to top them with fresh cilantro and chopped white onions soaked in lime juice. Hot sauce is the only other thing you should consider adding, and really that's to each eater's taste.
Once made, your birria will keep a week in the fridge. Reheat it slowly in its broth for weekday lunches.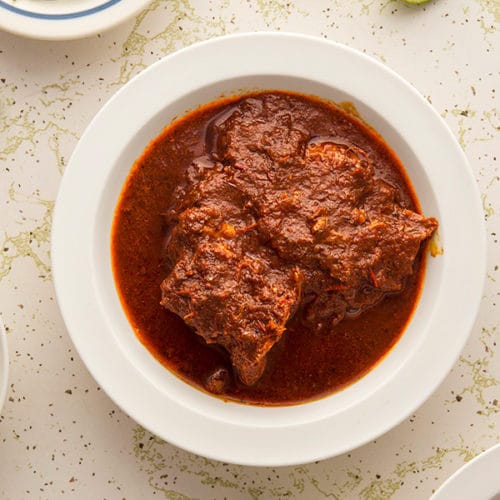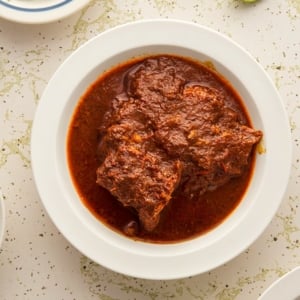 Jalisco Style Birria
I use venison neck or shoulder for this, but any front shoulder of a similar animal will do; goat is traditional. If you use beef, use short ribs.
Ingredients
4

pounds

shoulder or neck roast

12

guajillo or ancho chiles,

about 4 ounces

2

pounds

Roma tomatoes, sliced in half

1

white onion, sliced in half

1

head

garlic, separated but not peeled

2

tablespoons

black peppercorns

4 to 6

whole cloves

2

teaspoons

cumin seeds

1

tablespoon

salt

3

bay leaves

1

tablespoon

dried Mexican oregano

1

cup

Mexican beer

(I use Negro Modelo or Bohemia)

1/4

cup

pineapple or cider vinegar

Banana leaves

1

cup

corn masa or flour

(to seal the pot)

Cilantro and chopped white onion, for garnish

corn tortillas
Instructions
Stem and seed the dried chiles, then pour boiling water over them. Let them soften while you chop the other vegetables.

Get a comal or cast iron pan hot, and lay the onion and tomatoes, cut side down. Scatter the garlic cloves around the edge of the pan. Let them blacken a bit, which should take about 6 to 10 minutes. Turn the garlic cloves after about 5 minutes. Use a metal spatula to turn the onion and tomatoes, scraping all the blackened and browned bits. Move those bits to the blender.

While this is happening, toast the cumin, black peppercorns and cloves in a dry pan until you can smell them. Grind them in a spice grinder and put the powder into the blender. Put the tablespoon of salt, bay leaves and oregano into the blender, too.

When the vegetables are nicely charred, put them in the blender. Tear the chiles into pieces and add them to the blender, along with a healthy glug of their soaking water. Puree this, adding the beer and vinegar as you go. You want it pretty smooth.

Coat the meat with this sauce, put it all into a covered container and let it sit overnight, or at the very least an hour.

When you are ready to cook, preheat the oven to 275°F. Line a heavy, lidded pot like a Dutch oven with banana leaves and put the meat in the center. Add the remaining marinade. Wrap the meat up as best you can with the leaves, then put the lid on.

Mix the masa or flour with water until you have a clay-like paste. Jam it all around the seal between the lid and the pot, and put the pot in the oven. Let it cook for at least 4 hours before checking, no matter what. I don't check until 8 hours have passed. You want the meat to be falling apart.

When you are ready, move the meat to a large bowl and pour all the broth over it. Pull the meat into largish pieces and give everyone some. Let them make their own tacos as they wish, or completely shred the meat and just make tacos. Garnish with the cilantro and chopped onion soaked in lime juice.
Notes
NOTE: If you have smoked salt, use that. It adds a nice touch to the meat. 
Nutrition
Calories:
261
kcal
|
Carbohydrates:
14
g
|
Protein:
31
g
|
Fat:
8
g
|
Saturated Fat:
3
g
|
Cholesterol:
91
mg
|
Sodium:
986
mg
|
Potassium:
875
mg
|
Fiber:
4
g
|
Sugar:
6
g
|
Vitamin A:
2366
IU
|
Vitamin C:
19
mg
|
Calcium:
66
mg
|
Iron:
4
mg
Nutrition information is automatically calculated, so should only be used as an approximation.