Deer Tongue Tacos
October 31, 2016 | Updated June 24, 2022
As an Amazon Associate I earn from qualifying purchases.
If you learn only one deer tongue recipe, tacos de lengua should be it.
Mexican tongue tacos, or "lengua tacos" as pretty much ever English speaker calls them, are a food truck staple where I live in Northern California, and everyone does it slightly differently. The constant is long-braised meat that's been peeled (tongues have skin on them that needs to be removed), chopped, shredded or sliced, then seared in lard.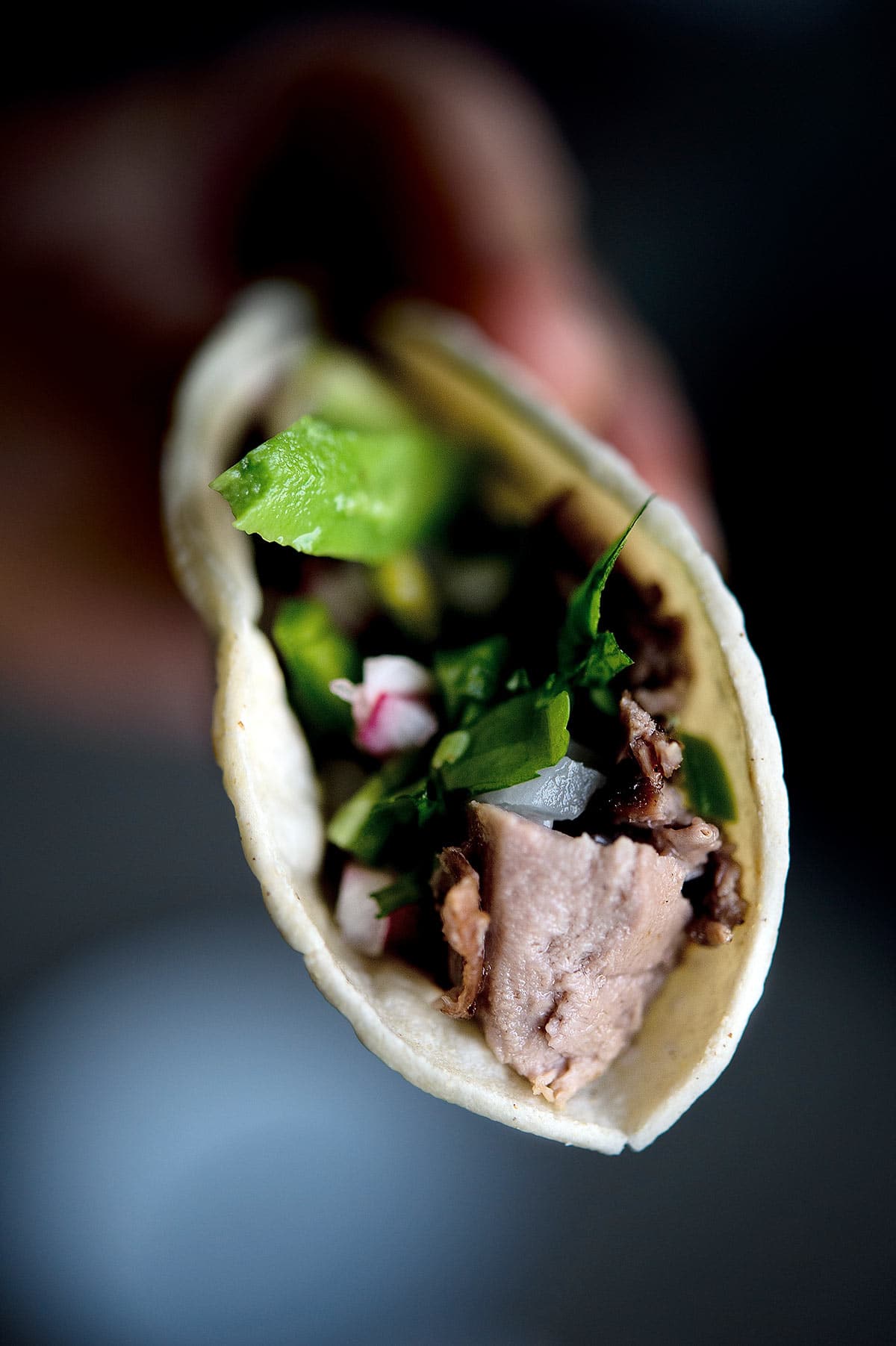 So good.
If you're not convinced, remember that tongue is just meat. And since it works all the time (deer chew cud, after all), a deer tongue is dense and full of connective tissue. Super flavorful, rich and meltingly tender, the little browned and seared edges complete things.
Once you chop the deer tongues, they just look like any other meat, so the squeamish need not know what you're serving.
As to what you serve with your venison tacos de lengua, anything goes.
I prefer little corn tortillas, but flour tortillas, burritos, even the hard shells will work. You can also use this recipe as a filling for green enchiladas or enchiladas rojas.
You'll want a typical taco spread, too. My preference is:
Chopped cilantro or epazote.
Chopped onions soaked in lime juice with a little salt
Minced hot fresh chiles, like serranos, habaneros, cayenne or jalapenos
Maybe some crumbled dry Mexican cheese like cotija
Diced radishes for crunch
Avocado adds some more richness. Slice or dice them.
A salsa of your choice. I mostly will use homemade salsa verde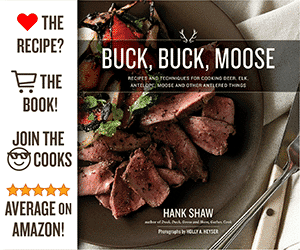 I can guarantee you that if you make these deer tongue tacos, you will win over the tongue haters. Just don't tell them what they're eating until the last tortilla is gone. I also have another version of tongue tacos, where you grill the braised venison to finish it.
As a side note, if you are not sure how to extract the tongue from the deer, elk, moose, etc. that you hunt, my friend Kevin Kossowan has a tutorial here.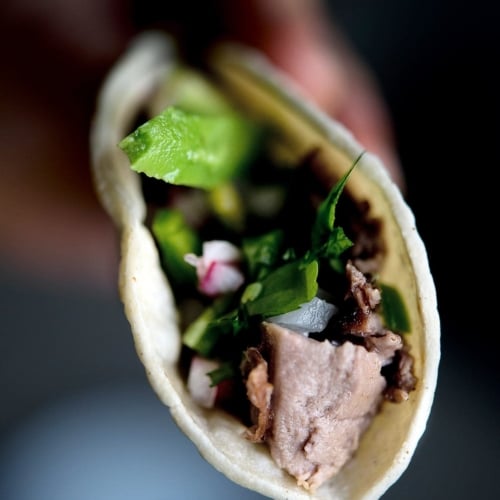 Deer Tongue Tacos
Keep in mind any tongue will do. Beef is traditional, and I use deer tongue, but lamb, pork, elk, moose, antelope, etc. will all work. I like my tongue sliced thin, shredded or chopped, not in big chunks. It's up to you. I also like a bit more in the way of toppings, and I especially think a fiery salsa verde or roasted chile salsa, plus some fresh avocado, is a perfect balance with the rich, tender tongue meat. This is beer food. Mexican beer or German lagers, or hell, Budweiser or Miller are just fine here.
Ingredients
An elk

moose or bison tongue, or 4 to 6 deer tongues

1

large onion,

chopped

5

garlic cloves,

peeled and crushed

2

bay leaves

1

tablespoon

black peppercorns,

cracked

2

tablespoons

salt

A spring of epazote

(optional)

3

tablespoons

lard or vegetable oil

Corn tortillas

Salsa,

canned or homemade

Diced or sliced avocado

(optional)

Chopped cilantro,

onion, radish and serrano chiles
Instructions
Simmer the tongue. Put the tongue or tongues in a large pot and cover it with water by 2 inches. Bring the water to a simmer and add the onion, garlic, bay, black peppercorns, epazote and salt. Simmer the tongue until the sharp point of a thin knife will pierce it easily, about 2 to 3 hours.

Prep the tongue. When the meat is tender, set it on a cutting board to cool somewhat. When it's just barely cool enough to handle, peel off the skin and discard. You can do all this up to a week ahead if you want. Just cool the peeled tongue and wrap in plastic wrap, it'll keep in the refrigerator a week.

Brown the meat. When you're ready to make the tacos, cut the tongue meat into large pieces. Sear in the lard until they're nicely browned, then chop roughly. Serve on warm corn tortillas with the salsa, avocado, cilantro and other garnishes.
Nutrition
Calories:
76
kcal
|
Carbohydrates:
4
g
|
Protein:
1
g
|
Fat:
7
g
|
Saturated Fat:
6
g
|
Sodium:
2327
mg
|
Potassium:
59
mg
|
Fiber:
1
g
|
Sugar:
1
g
|
Vitamin A:
9
IU
|
Vitamin C:
2
mg
|
Calcium:
16
mg
|
Iron:
1
mg
Nutrition information is automatically calculated, so should only be used as an approximation.