As an Amazon Associate I earn from qualifying purchases.
Turkey tacos are a beautiful thing.
And while ground turkey tacos are nice — I use ground turkey sometimes to make my Sonoran picadillo — my turkey taco meat is made with turkey breast. Wild turkey breast in this case, but store-bought works just as well.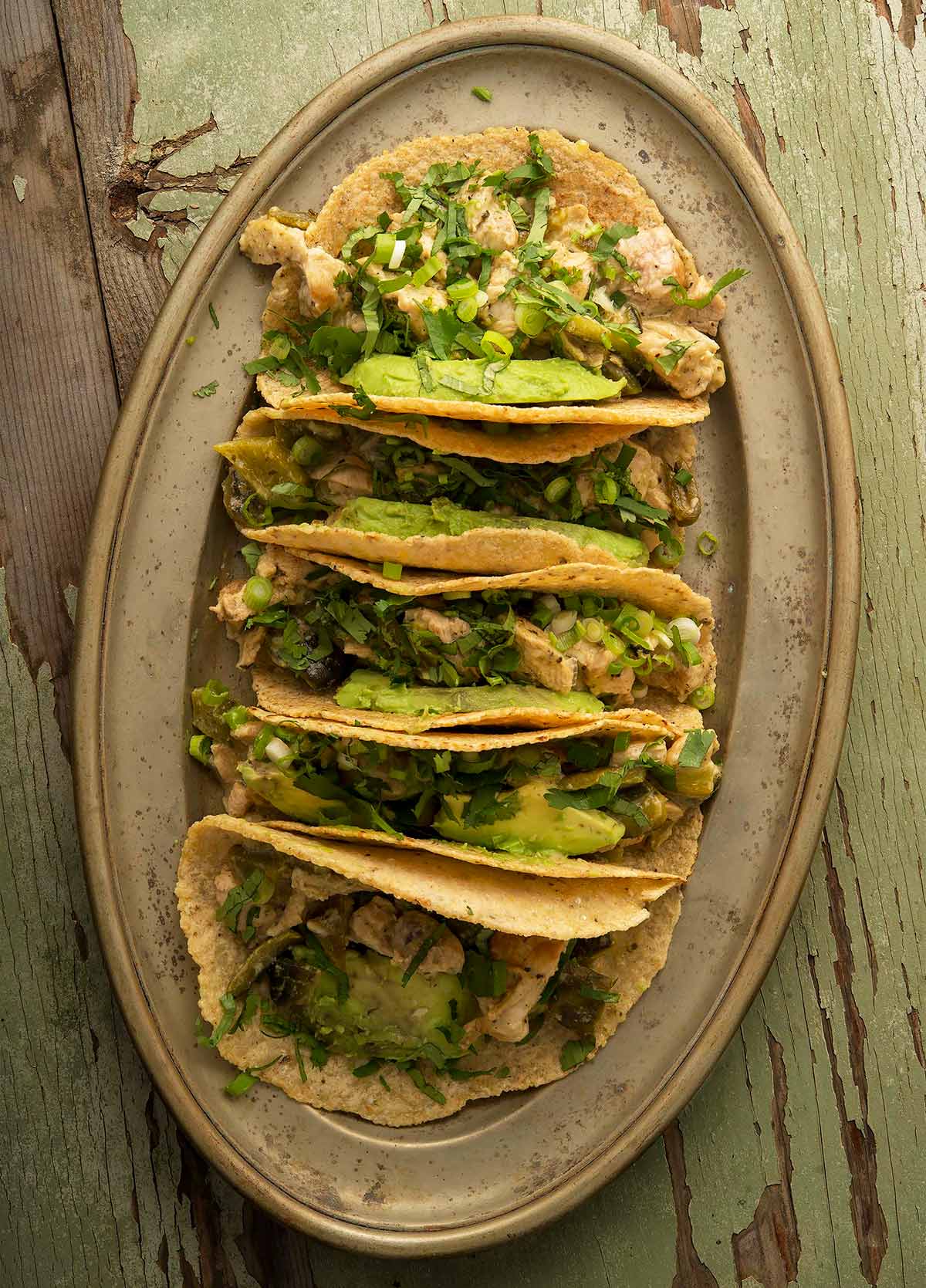 Sure, you can also simmer the legs for turkey carnitas, or crock pot them then coat them in a sauce, like my Yucatecan turkey. Both make great turkey tacos. Or, you do as we do here, and brine and sear turkey breast, then chop it.
Turkeys, you may or may not know, were domesticated by the Maya and Aztecs a few thousand years ago. As a result, Mexican cuisine is loaded with recipes for pavo, or, if you are south Mexico, guajolote. Turkey tacos, oddly, aren't really a thing there. So this is not an authentic Mexican turkey taco.
Nope, my recipe is a hybrid of American and Mexican influence. Traditionally seared turkey breast, but with jack cheese. Mexican roasted poblanos, but nothing unusual beyond that. Avocado, cilantro, maybe some green onions, that's it. You could add diced tomato.
I make my own corn tortillas, but you could use whatever tortilla makes you happy, corn or flour, even hard shells. I won't judge.
I also use a wild turkey here, a Rio Grande I hunted in the nearby Sierra Nevada. You could use any sort of turkey of course, and there is no reason you can't use a store-bought one. Only thing is you won't need to brine the store-bought turkey.
To brine a wild turkey breast, cut it into three pieces. You'll notice a turkey breast is shaped like a teardrop, with a thick end and a thin one. Slice off the entire thin end, which will look like a triangle. The remaining breast will be thick. Slice this in half crosswise to make two pieces roughly the thickness of the end piece.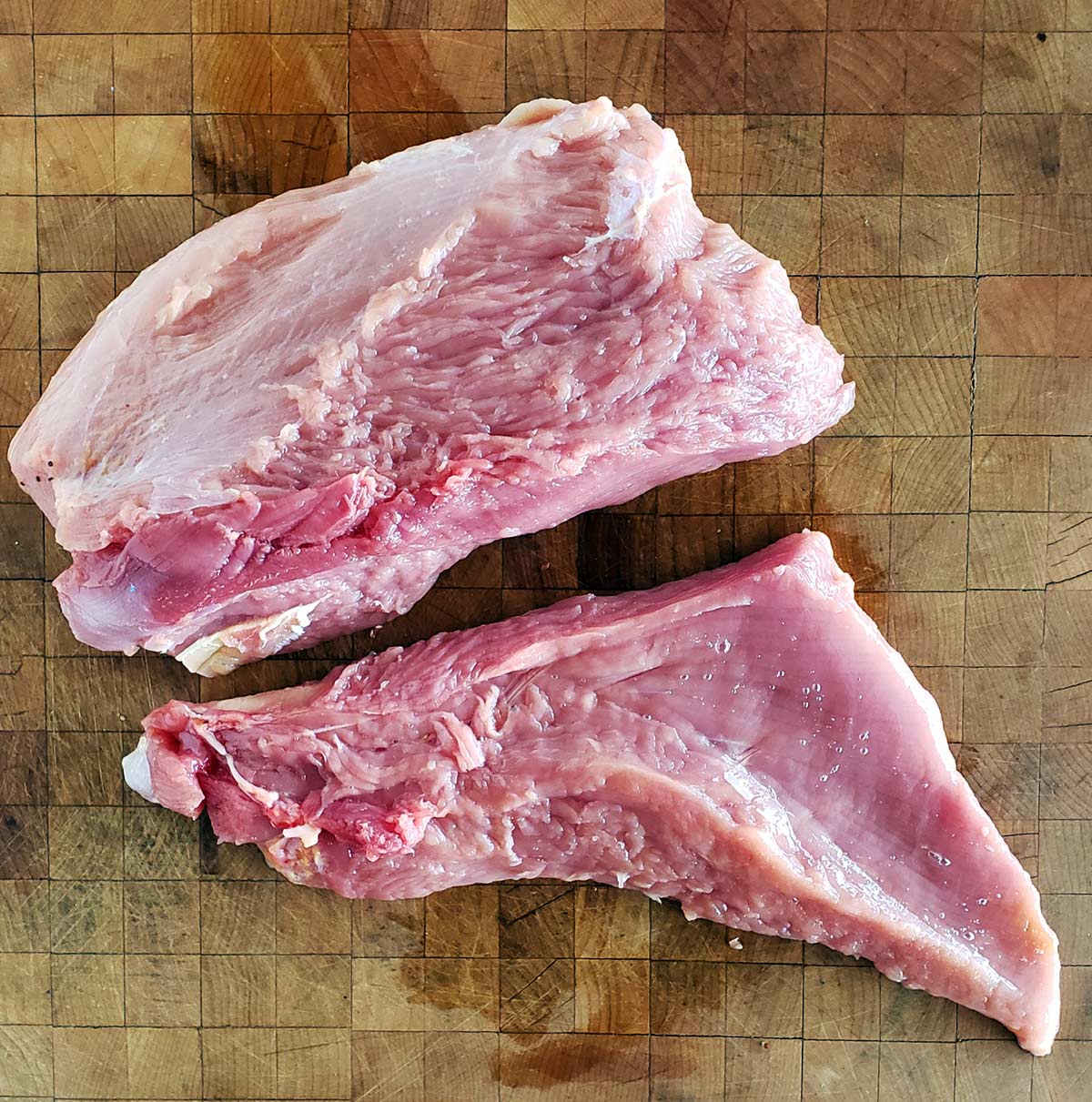 Dissolve 1/4 cup of kosher salt in 1 quart of water (I use Diamond Crystal) and submerge the turkey breast. If you need more brine, make more in that ratio. Brine the turkey in the fridge overnight. Remove and pat dry before proceeding with with your turkey tacos.
An alternative to brining is to marinate your turkey breast. I really like a marinade of tequila, a little salt, and cilantro, plus lime. It definitely adds something to the tacos.
I cook my turkey tacos by searing them over very high heat in a comal or skillet. You want to get browning on the outside without overcooking the center. It's OK for the meat to have a blush of pink, but you want it neither rare nor desiccated. Let the pieces rest a bit on a cutting board, then chop.
This is key: I've seen many other recipes for turkey tacos with slices of turkey breast. You can guess what happens when you bite into your taco: Your teeth pull the entire piece out. Chopping prevents that tragedy.
Keep in mind that this is my rendition of turkey tacos. There is no reason you can't change the cheese and toppings to suit your own taste. Some other good options would be a simple pico de gallo, some other salsa, such as my salsa negra, shredded cabbage or lettuce, Mexican cheese… you get the point.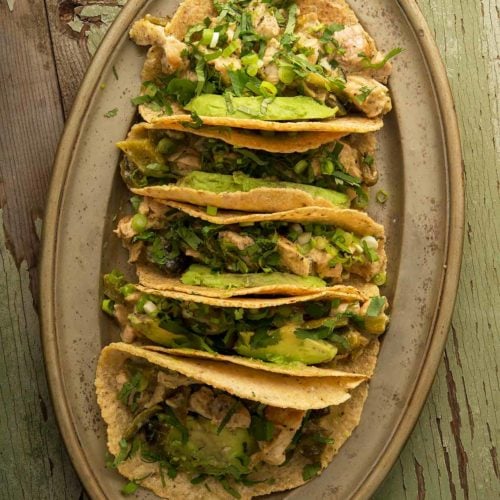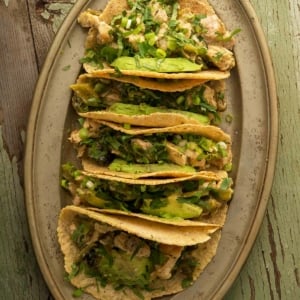 Ingredients
MARINADE
1/2

cup

tequila or mezcal

1/2

cup

lime juice

Salt

1 to 1 1/2

pounds

turkey breast
TACOS
2 to 3

green chiles,

poblanos, Anaheim, chilaca or green bell

2

tablespoons

canola, sunflower or grapeseed oil

1/2

pound

shredded Monterey jack cheese

1 or 2

avocados, sliced

1/4

cup

chopped cilantro

3

tablespoons

chopped green onions or scallions

lime wedges to serve

12 to 20

corn tortillas
Instructions
Cut the turkey breast into four or five pieces of about the same width and salt them well. Mix the tequila and lime juice and submerge the turkey breast in this. I do this in a Ziploc bag. Refrigerate overnight, or at least 1 hour.

Roast all your peppers, seed and remove the stems and cut into strips or chop coarsely. This can be done a day or two ahead. If you are doing this ahead, toss the roasted chiles with some lime juice and salt and keep in the fridge. 

Get a comal or skillet very hot over high heat. Get a tortilla warmer or some kitchen towels ready. Heat the tortillas for a minute or so on each side, until they char just a touch and puff up. Keep them warm in the tortilla warmer or in the towels. 

When you are ready to make tacos, pat the turkey breast dry. Cut the marinated turkey into about 10 pieces of roughly equal size. Coat with the oil.

Sear the turkey pieces on the hot skillet for about 2 minutes per side. You want a nice sear, but without overcooking the meat. Set aside as they are finished.

When the turkey is ready, chop it into pieces you want to eat in a taco. Put it back in the skillet with the poblanos and the jack cheese. Toss for a minute or so to melt the cheese and mix well. Serve immediately in the tortillas with the toppings.
Notes
NOTE: This recipe doesn't include the brining time, if you are brining the turkey breast. 
Keys to Success
Use high heat and a high smoke point oil like canola to get a great sear on the turkey, then let it rest on a cutting board for a few minutes to fully cook through. Then chop small. 
If you don't want to roast your own peppers, you can use canned ones. 
I prefer corn tortillas here, but flour tortillas work well, too. You won't need as many. Either way, make sure they are warm and soft. 
Nutrition
Calories:
627
kcal
|
Carbohydrates:
35
g
|
Protein:
39
g
|
Fat:
34
g
|
Saturated Fat:
10
g
|
Polyunsaturated Fat:
7
g
|
Monounsaturated Fat:
15
g
|
Trans Fat:
1
g
|
Cholesterol:
95
mg
|
Sodium:
518
mg
|
Potassium:
925
mg
|
Fiber:
11
g
|
Sugar:
2
g
|
Vitamin A:
546
IU
|
Vitamin C:
19
mg
|
Calcium:
357
mg
|
Iron:
2
mg
Nutrition information is automatically calculated, so should only be used as an approximation.