Chilaca Pork Stew
April 25, 2019 | Updated March 20, 2021
As an Amazon Associate I earn from qualifying purchases.
I fell in love with chilaca chiles the moment I learned about them, which, I am not ashamed to say, is fairly recently.
Chilaca chiles are long, slender, medium-hot chiles from Mexico. Think poblanos, only stretched out and a bit spicier. Pronounced chee-LAH-kah, they are popular in Michoacan, which is where many of the Mexican immigrants here in the Sacramento area came from.
I first heard about them in Diana Kennedy's book From My Mexican Kitchen: Techniques and Ingredients, which I bought some years ago. I later saw an entry for them in a book I am currently obsessed with, Marciel Presilla's Peppers of the Americas, which has entries on all sorts of chiles from the US down to far South America.
As a side note, Maricel notes that there is an amazing woman in Indiana who raises maybe 1000 kinds of chiles and sells seedlings. She's known as the Chile Woman, and I highly recommend here. Tell her I sent you…
Then, one day, in a local Mexican market, I saw the prettiest chilacas, some a full foot long. I had to buy them. See the serrano in the corner? Yeah, that's how big these chiles are.
I sliced some crosswise for a sort of Mexican stir fry, and they were kinda cool: inky forest green on the outside, light green on the inside. I then made a green salsa with some that were just cut up. It was, well, just OK.
Where chilaca chiles really shine is as rajas, which means strips in Spanish. Most of you who know what rajas are know them as a poblano thing, and that they are. But chilacas are better. They shred nicer, and in longer strips.
I blister all my chiles directly on my gas burners, which is a far superior way to do this than using the broiler, which will overcook any chile, but especially a thin-walled chilaca. You could blister them directly over a hot wood fire, too, which would be even better.
If you don't know how to fire-roast chiles, here is a tutorial.
How did I use my chilaca rajas? In this wonderful, comforting Mexican stew I found in another of Kennedy's books, her My Mexico. It is a fascinating technique, basically a reverse seared stew: You simmer the pork first, remove some broth, let the pot simmer dry until the pork's fat renders, then fry the tender pork chunks in its own fat.
A quick, tomato-based sauce coats the pork, the chilaca rajas go in, and you're ready to rock. This can be eaten as a stew, over rice, or in tacos or a burrito.
You'll find chilacas in the produce section of Mexican markets. You can also find them dried, where they are an entirely different thing: chile pasilla. If you want to grow some, The Chile Woman has seedlings, or you will find them as pasilla chiles in most catalogs, after what a chilaca becomes once it's ripe.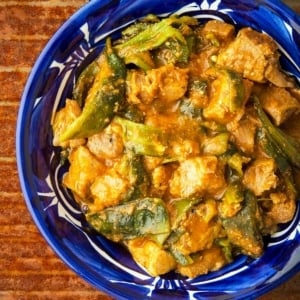 Chilaca Pork Stew
Obviously I use chilaca chiles here, but don't get hung up on it. You can use the easier-to-find poblanos instead, which are in most supermarkets. Everything else is easy to find.
Ingredients
6 to 9

chilaca or Anaheim chiles, or 4 to 6 poblanos

2

pounds

pork shoulder, cut into 2-inch chunks

6 to 8

cloves

garlic, peeled and crushed

2 to 4

avocado leaves, or bay leaves

Salt

1

pound

plum tomatoes

3 to 6

large tomatillos, husks removed

3 to 5

serrano chiles, stems removed

Black pepper to taste
Instructions
Roast the chilacas or other chiles as directed here. Remove the stems and seeds and tear into long strips, You can cut the trips shorter if you want. Set aside.

Set the pork in a Dutch oven or other large pot and cover with water. Add the crushed garlic and avocado or bay leaves and bring to a simmer. Add salt to taste. Simmer for a good 30 minutes, partially covered.

Add the tomatoes, tomatillos and serranos to the pot, whole. Let them cook in there for 10 minutes. Fish them out, along with some of the crushed garlic cloves, and puree them in a blender with some of the broth. Set aside. 

Let the pork continue to simmer until it is mostly tender. For wild pigs this could be an hour. Store-bought will be about another 20 minutes or so. Let the broth cook down while this is happening, but don't let it dry out just yet. Once the pork is tender, ladle out most of the broth and use for something else. It's tasty.

Allow the pot to cook dry. There should be a few tablespoons of fat rendered off the pork, if not, add some (or oil). Let the now-tender pork fry in its own fat. The debris that came off the pork while simmering will brown. Pick out the bay leaves and discard.

When the pork is nicely browned, add the chilaca chiles and the sauce in the blender. Scrape up any browned bits from the bottom of the pot, let this all simmer for 10 minutes and serve.
Nutrition
Calories:
185
kcal
|
Carbohydrates:
11
g
|
Protein:
20
g
|
Fat:
7
g
|
Saturated Fat:
2
g
|
Cholesterol:
62
mg
|
Sodium:
78
mg
|
Potassium:
769
mg
|
Fiber:
3
g
|
Sugar:
6
g
|
Vitamin A:
1125
IU
|
Vitamin C:
111
mg
|
Calcium:
40
mg
|
Iron:
2
mg
Nutrition information is automatically calculated, so should only be used as an approximation.