Green Chorizo
March 15, 2019 | Updated September 13, 2021
As an Amazon Associate I earn from qualifying purchases.
I wish I could say I first ate green chorizo at a market in Toluca, just west of Mexico City. But I didn't. I first saw green chorizo at the Underground Butcher in Madison, Wisconsin. At first I thought it was some gabacho bastardization of "real" chorizo. Nope, chorizo verde is a thing. And it's a good thing.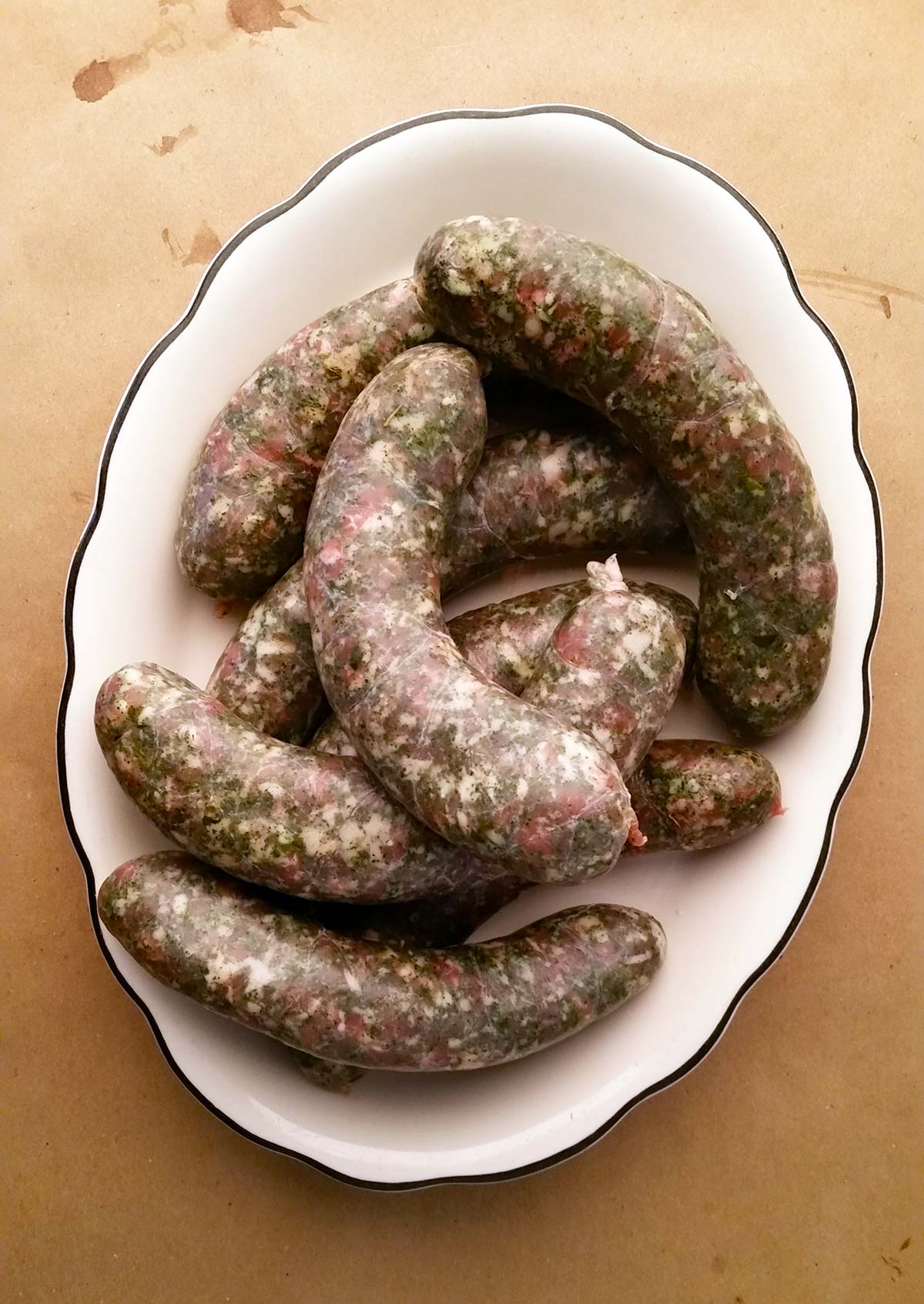 If you think about it, it makes perfect sense: Virtually everything great in Mexican cuisine is como la bandera: Like their flag, which is to say red, white and green. We all know the bright red chorizo, and yes, there is one without any visible coloration, too. This is the green one.
The flavor is amazing. Green chile, which means picante but not fiery, lots of cilantro (if you hate cilantro use parsley), just a touch of cumin and coriander, and, to green it up a bit more, a fair bit of green powder. What sort of green powder? I used dried nettles, ground fine. But you can do the same thing with spinach, green onions or chives, kelp, parsley or even more cilantro.
In Mexico you can see lurid green chorizo that has food dye in it. Not my style.
You make your own by blanching the green vegetable or herb in salty water for about 30 seconds, then dunking it in ice water to stop the cooking. Dry the greens, then dehydrate them fully. Grind to a powder. Or you can do what they do in Toluca, which is add food coloring.
Or hell, skip it. Your green chorizo will be just fine, just less green.
You want a rustic grind here. I use a 6.5 mm die, which is a medium grind. You can make chorizo verde with store-bought ground pork, too, just be sure it's not too lean.
A final word on making these sausages: I find that the C-Bind carrot fiber keeps all fresh sausages moister and better bound than those made without it. It's my secret weapon when making sausage. All it is is carrot fiber, dried and ground. Nothing weird in there.
How do you eat your green chorizo? Any way you'd like. I love it broken up in chilaquiles, that amazing Mexican "garbage plate" of stale tortillas, eggs, and basically whatever you have lying around.
But chorizo verde is really good grilled on a bun, too. Make it like a sort of Mexican hot dog, with salsa, hot sauce and or crema on it.
Play around with it, and let me know in the comments how you like eating your green chorizo.
New to making sausage? You can find my detailed tutorial on how to make sausages at home here.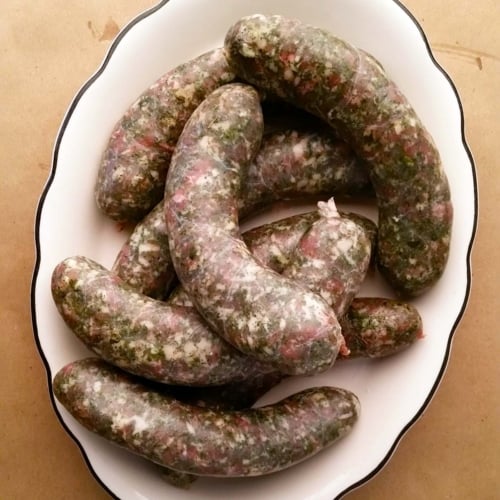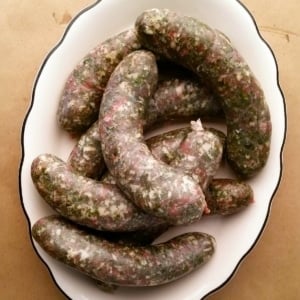 Green Chorizo
This recipe is meant for regular pork, but you can make it with most meats -- just make sure you have between 20 and 35 percent fat by weight. If you can't find a cool green powder like the nettle powder, you can add a little green food coloring. It makes about 5 pounds of sausage, and can be scaled up.
Ingredients
5

pounds

fatty pork shoulder

36

grams

kosher salt,

about 2 level tablespoons

1

cup

roasted, stemmed, seeded and chopped green chiles

(Hatch, Anaheim, poblano)

1

cup

chopped cilantro

1

serrano chile, chopped

5

cloves

garlic, chopped

1

teaspoon

dried oregano, Mexican if possible

1

teaspoon

ground cumin

1

teaspoon

ground coriander

1

tablespoon

minced fresh epazote

(optional)

1/2

cup

nettle/kelp/spinach powder

(optional)

1

tablespoon

C-Bind carrot fiber

(optional)

1/4

cup

lime juice

1/2

cup

ice water

hog casings
Instructions
Cut the pork shoulder into chunks that will fit in your grinder. Mix with the salt and put in a closed container in the refrigerator overnight. Doing this helps develop myosin in the meat, which helps your sausage bind to itself.

The next day, put all your grinding equipment in the fridge, and the blade and a 6.5 mm (or medium) die in the freezer. Take out about 15 feet of hog casings and flush them with warm water, checking for leaks. Set the casings aside in a bowl of warm water.

Put the roasted green chiles, cilantro, serrano chile, and the garlic cloves in a food processor and buzz until you have a fine mix, almost a paste. Mix that in a bowl with the oregano, cumin, and coriander. Put it in the fridge.

Grind your meat through the grinder once or twice. Once if it's decent pork shoulder, twice if you are using gnarly bits. Set the ground meat in the freezer while you clean up the grinder and set up your sausage stuffer.

In a large bowl, mix the meat, the chile mixture, the nettle or spinach powder, if you are using it, as well as the carrot fiber, lime juice and ice water. I do this with my (very clean) hands for about 90 seconds, until I can't stand it any longer; your hands should ache with cold while you are mixing. You want the entire 5-pound batch to stick to itself in a messy, sticky ball when you pick it up.

Put the loose sausage in a stuffer if you are making links, or make patties if you want it loose. To make links, thread a casing onto the stuffer tube and leave about 3 inches of casing at the end. Fill the entire length of casing fully but not too tightly. Repeat until you have filled all your casings.

To make links, starting from one end of the coil, pinch off about a 6-inch link at the end with one hand, then another by using your other hand. Roll the second link away from you about 5 times to form the link. Compress the end link with your hands and tie it off. Now move down the coil and pinch off two more links. This time you want to roll the link farthest from the end of the coil towards you about 5 times. Continue this with all the coils. Tie off the final link on the other side of the coil. Forming links this way keeps them from unraveling too easily. (This video shows how I do it.)

Use a clean needle or sausage pricker to piece the casing where there are air pockets. Gently compress each link to push out the air. Let your links hang for at least 1 hour on a drying rack, or whatever you can rig up. Ideally you'd let them hang overnight in a refrigerator, but even an hour's worth of room temperature air will help the sausages bloom and fill their casings.

Regardless, store your chorizo overnight before vac sealing and freezing. They will keep in the fridge a week or so.
Nutrition
Calories:
109
kcal
|
Carbohydrates:
2
g
|
Protein:
14
g
|
Fat:
5
g
|
Saturated Fat:
2
g
|
Cholesterol:
46
mg
|
Sodium:
791
mg
|
Potassium:
253
mg
|
Fiber:
1
g
|
Sugar:
1
g
|
Vitamin A:
61
IU
|
Vitamin C:
3
mg
|
Calcium:
17
mg
|
Iron:
1
mg
Nutrition information is automatically calculated, so should only be used as an approximation.