Mexican chorizo is very different from its Spanish cousin. Mexican chorizo is softer, spicier and more floral than Spanish chorizo.
Making an authentic one is tricky if you don't have some of the ingredients, but even if you leave some out, it'll still be good. You should also know that there is no "One True" chorizo recipe– each cook has his or her own variation.
Many store-bought chorizo recipes use a combination of beef and pork, but I find it easier to use just one meat. I've done this with domestic pork, wild boar, venison and even bear meat. All work well.
If you can't find all of the ingredients, know that only a few are critical to a good Mexican chorizo: Achiote paste, which is available at any Mexican market, or you can buy achiote online. And sometimes you can find annatto seed, which is the primary ingredient in achiote. If you can find that, grind the seeds in a sturdy spice grinder.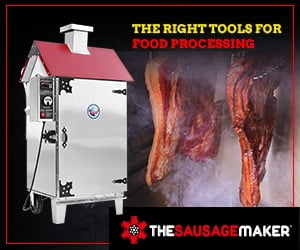 Mexican oregano is different from Mediterranean oregano, but either works. Chipotle and ancho powders rock, but are not 100 percent necessary.
You do need cayenne and some other chile powder, but these are easily available in Latin markets — or you can grind dried chiles yourself, which is what I do, using a spice grinder.
Hog casings are available at any butcher shop or large supermarket (you'll need to ask for them there), or you can buy hog casings online.
Mostly you will use Mexican chorizo uncased, however, and mostly I make large batches of this sausage and vacuum seal them. Chorizo has endless uses: In chilaquiles, as an empanada filling, in a burrito, on a taco, as a base for chili, etc.
Mexican Chorizo Recipe
You need not case this sausage. I often make it loose, as most Mexican recipes call for uncased chorizo anyway. In this case, there is no need to let the finished sausage rest overnight. Many Mexican chorizo recipes use vinegar, too, but this damages the sausage's ability to bind to itself. Use vinegar (any kind) instead of ice water, if you are not casing your links.
Ingredients
4

pounds

pork,

wild pig or bear

1

pound

pork fat

35

grams

kosher salt,

about 3 tablespoons

15

grams

sugar,

about 1 tablespoon

6

garlic cloves,

minced

6

grams

Mexican oregano,

about 2 tablespoons

5

grams

ground cumin,

about 2 teaspoons

3

grams

chipotle powder (1 tsp)

(optional)

5

grams

cayenne,

1 tablespoon

28

grams

pasilla or ancho chile powder

, about 3 tablespoons

2

tablespoons

achiote paste (annato)

1/2

cup

ice water

hog casings
Instructions
Cut the meat and fat into chunks that will fit into your meat grinder. Combine the salt, sugar and all the dry spices (except for the achiote paste) with the meat and fat, mix well with your hands and chill it until it's almost frozen by putting it in the freezer for an hour or so.

Take out some hog casings and set in a bowl of very warm water. Mix the ice water with the achiote paste and chill it in the fridge.

Grind the meat mixture through your meat grinder (you can use a food processor in a pinch, but you will not get a fine texture), using the fine die, about 4.5 mm. If your room is warm, set the bowl for the ground meat into another bowl of ice to keep it cold. Make sure the meat mixture is very cold before moving on to the next step: You want it between 27°F and 35°F.

Add the water-achiote mixture and mix thoroughly either using a Kitchenaid on low for 60 to 90 seconds or with your (very clean) hands. This is important to get the sausage to bind properly. Once it is mixed well, put it back in the fridge and clean up.

Stuff the sausage into the casings all at once. Twist off links by pinching the sausage down and twisting it around several times; do every other link and you will only have to twist in one direction. Or you could tie them off with butcher's string.

Hang the sausages in a cool place for up to overnight (the colder it is, the longer you can hang them). If it is warm out, hang for just one hour. Once they have dried a bit, put in the fridge until needed. They will keep for at least a week in the fridge. If you are freezing the sausages, wait a day before doing so. This will tighten up the sausages and help them keep their shape in the deep-freeze.
Nutrition
Calories:
454
kcal
|
Carbohydrates:
2
g
|
Protein:
16
g
|
Fat:
42
g
|
Saturated Fat:
16
g
|
Cholesterol:
87
mg
|
Sodium:
756
mg
|
Potassium:
307
mg
|
Fiber:
1
g
|
Sugar:
1
g
|
Vitamin A:
578
IU
|
Vitamin C:
1
mg
|
Calcium:
26
mg
|
Iron:
1
mg
Longaniza Sausages
Looking for a similar Mexican sausage? Try this longaniza sausage, from the Mexican state of Tabasco.