Tongue Tacos
July 13, 2020 | Updated September 13, 2021
As an Amazon Associate I earn from qualifying purchases.
I've not yet been able to find a recipe for grilled tongue tacos in any Mexican cookbook, but they are so good some taquero somewhere has to be doing it.
What's new? While my regular recipe for tacos de lengua is more traditional, where you chop the tongue then finish it with some lard in a frying pan, in this version, the tongue tacos are grilled over a hot fire first, then chopped and served.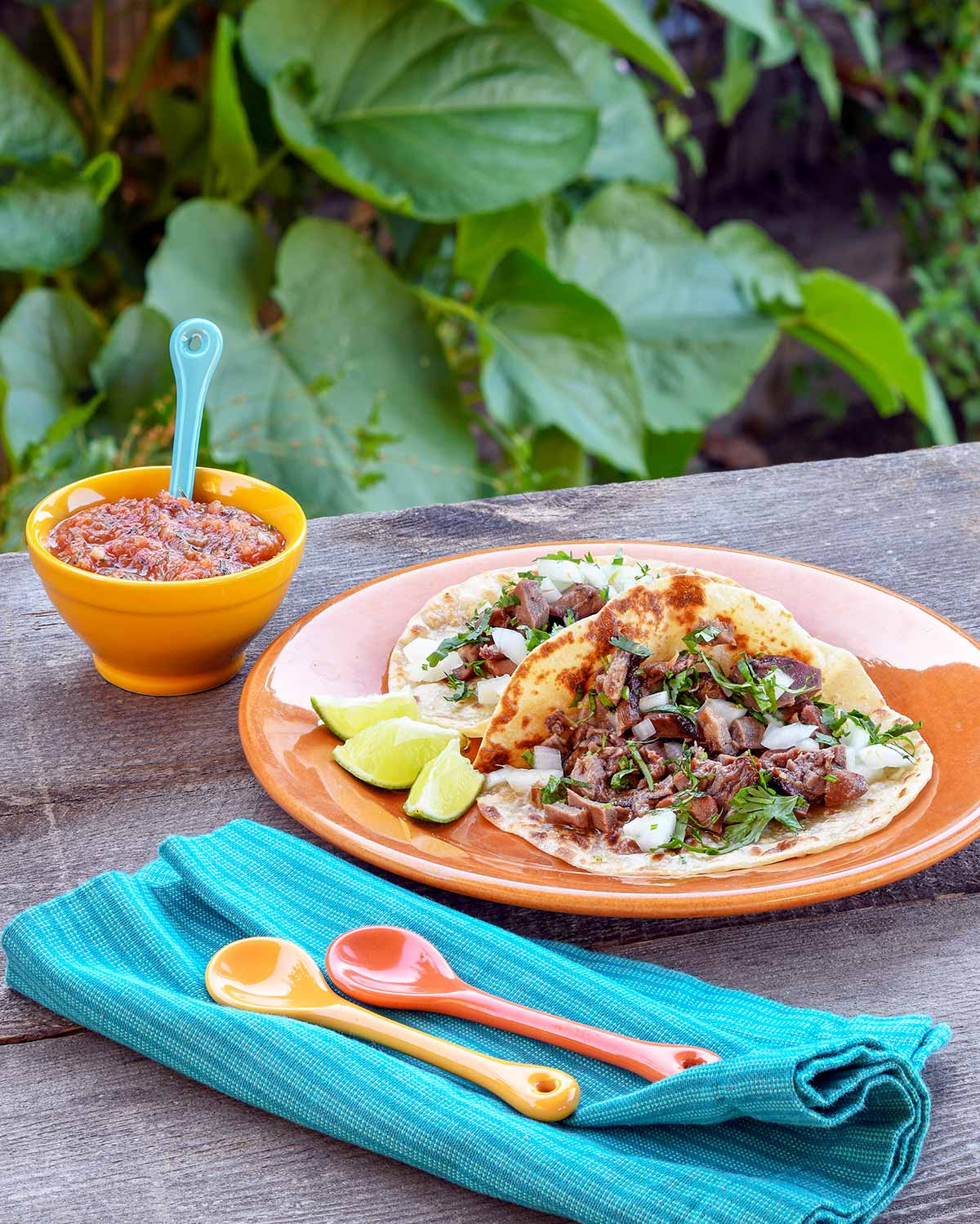 The difference is profound. Something about the kiss of flame and a bath in mesquite smoke really makes these tacos special. The simplicity is elegant, too. Simmer the tongue or tongues until tender, peel the skin off them, then sear hard over open fire. Chop and serve as you like.
And in keeping with that simplicity, I typically dress my tongue tacos only with white onion soaked in lime juice, a single salsa, and chopped cilantro or some other appropriate herb.
Since this style of taco is very much a northern Mexico thing, I went with homemade flour tortillas. (Here is my recipe for flour tortillas.) You could use corn if you prefer, and I have a recipe for homemade corn tortillas, too.
The salsa is up to you, I like salsa morita a lot with this, because of the smokiness of the morita chiles. But there are many other possibilities.
A word on the meat. Traditionally, tongue tacos use beef tongue. And I would normally use elk tongue. Having neither, I emptied my freezer of its assorted tongues: deer tongues, pig tongues and even a few lamb tongues I got as a gift from my friends at Covey Rise Farms.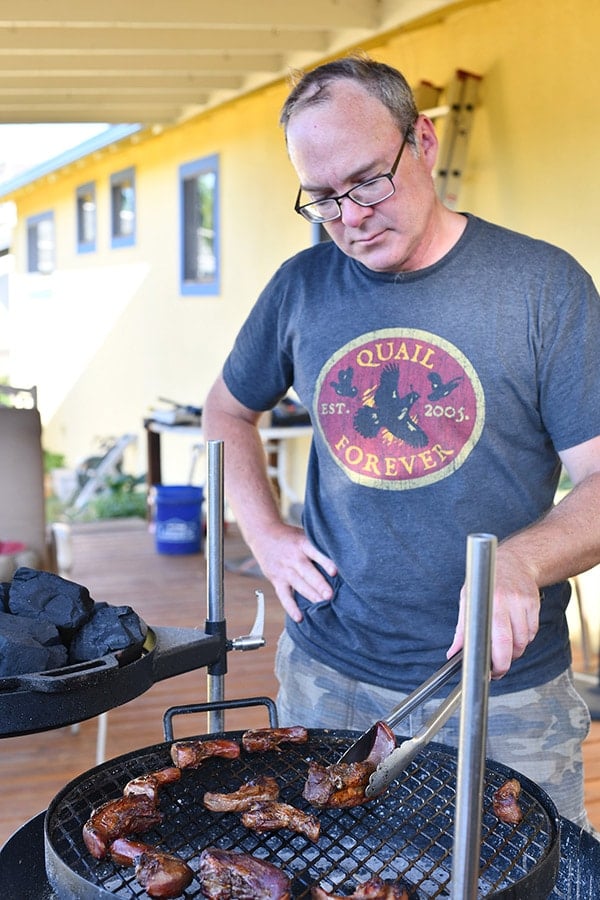 That might seem odd, using tongues from different animals, but it wasn't. Honestly, after being simmered, peeled, grilled and chopped, they all tasted roughly the same. Meaty, dense, silky, tender. The biggest difference was that the deer tongues needed an hour more than the other tongues to get tender.
You can simmer and peel the tongues up to several days in advance, so when you are ready to grill it won't be an all-day project. And, once made, your tongue tacos will keep a week in the fridge. Just reheat the chopped meat in a pan with a little lard or oil and you're good to go.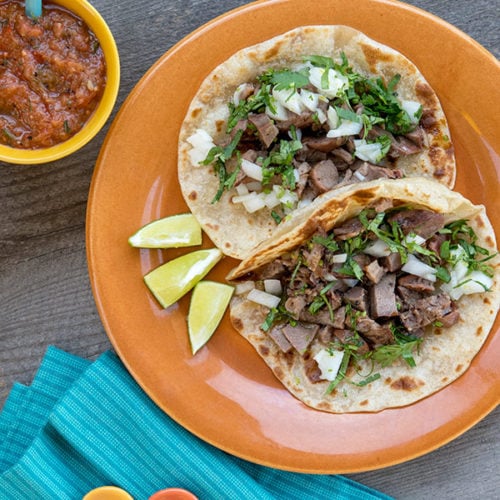 Grilled Tongue Tacos
Any decent sized tongue will work here, so use what you can find. A word on peeling them after they've simmered: You need to do this while they are still hot, otherwise the skin will stick to the meat and it'll be a pain to remove later.
Ingredients
MEAT
2

pounds

tongues

(typically 1 beef tongue)

2

quarts

water or broth

(see note below)

3

tablespoons

vegetable oil
ONIONS
1

large white onion,

chopped

1/2

cup

lime juice

Salt
TACOS
1/4

cup

chopped cilantro

Salsa of your choice

Flour or corn tortillas
Instructions
You need to simmer the tongues first. You can go as simple as simmering them in beef or chicken broth, or if you want to do water, add some bay leaves or avocado leaves, some chopped onion and maybe a carrot or two. See below for some tips on the making a great simmering broth.

Once the tongue is tender, which will take about 2 to 3 hours, remove it and, as soon as it is barely cool enough to handle, peel the skin off it. You might need a paring knife to help you with this. Discard the skin. Strain the broth and use it for some other purpose later.

While the tongue is simmering, mix the onion with some salt and the lime juice and let it sit at room temperature. This is best done the day you serve, but you can keep the pickled onion in the fridge a day or three without it getting nasty.

When the tongue is ready for the grill, get your fire nice and hot. If you are using smaller tongues, leave them whole. If you are using a large beef or elk tongue, cut it into 3 or 4 large chunks -- this will open up more surface area for browning. Coat the tongue with a little oil and grill until nicely browned.

When you are ready to serve, chop the tongue well and serve with the onions, salsa and cilantro on the tortilla of your choice.
Notes
NOTE: For the broth, I always use the broth I make for cooking venison barbacoa. I then strain it and use it later in the week, or freeze it. It can be reused indefinitely, adding more water and vegetables each time. 
Keys to Success
If you are going to make a mistake, err on simmering the tongues longer than you might think. It won't hurt them. 
Always peel the skin off when the tongues are warm. It's much harder when they are cold. 
If you can, grill your tongues over a smoky fire. It really makes a difference. If you are using a gas grill, add some wood chips in foil right on the burners to generate smoke.
These are so good I rarely dress them with a lot. I do like a little chiltepin hot sauce, or whole chiles pequin, and sometimes I do like some avocado-tomatillo salsa on my tacos. 
Nutrition
Calories:
242
kcal
|
Carbohydrates:
4
g
|
Protein:
27
g
|
Fat:
13
g
|
Saturated Fat:
8
g
|
Cholesterol:
187
mg
|
Sodium:
150
mg
|
Potassium:
484
mg
|
Fiber:
1
g
|
Sugar:
1
g
|
Vitamin A:
55
IU
|
Vitamin C:
11
mg
|
Calcium:
18
mg
|
Iron:
7
mg
Nutrition information is automatically calculated, so should only be used as an approximation.