Risotto is a classic Italian rice dish, as versatile as it is delicious. Here's a dozen risotto recipes to help you make perfect risotto every time, with whatever you have on hand.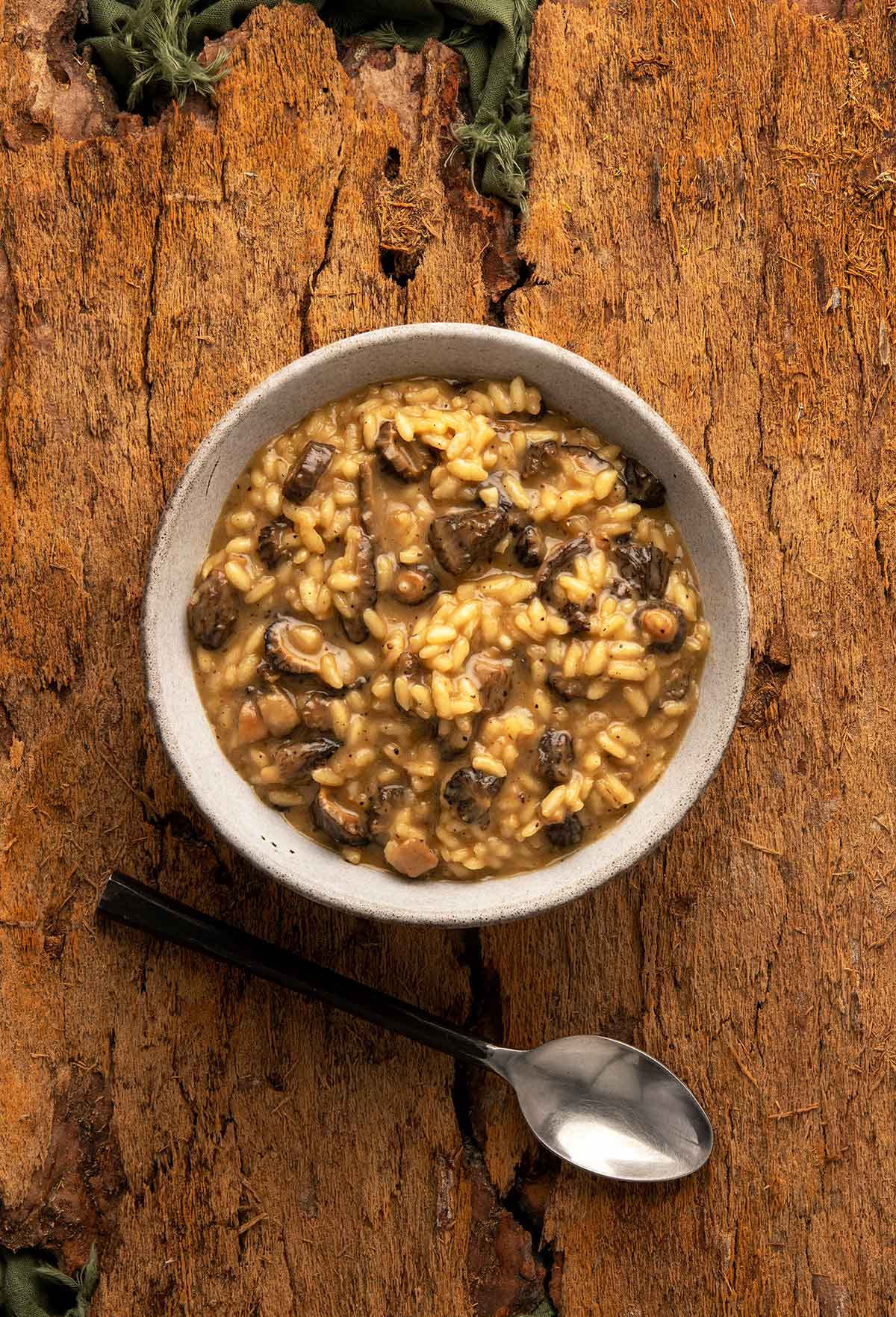 A few pointers that are universal to all risotto recipes:
You must have risotto rice. Risotto recipes don't work with long-grain rice, nor will they with sushi rice. It's because of the special starch that short-grain rices have. Many varieties exist, but the three most common are Arborio, carnaroli and vialone nano. You can also use Spanish bomba rice.
There is no cream in risotto. Risotto is creamy because of the constant stirring, which sloughs off that starch in the rice, and creates a creamy sauce.
Good risotto recipes are all'onda, which means they are soupy, like Chinese congee. You serve risotto in a bowl.
Most risotto recipes have cheese, but not all. Most rely on good stock, but not all.
The rice is the star. Keep additions to a minimum. It's a rice dish that has things in it, not a dish of things with some rice. There's a difference.
Arborio rice is in most supermarkets, either from Italy, or there is a Texas version that works well. You can buy vialone nano rice online or in specialty markets. I use this rice mostly for fish and seafood risotto.
Carnaroli rice is considered the Cadillac of risotto rices, and it's sometimes in supermarkets. You can also buy carnaroli rice online.
Risotto needs to be stirred often to create that creamy consistency. It is also cooked in an open pot, and you add more water, stock or other liquid only after the previously added liquid has mostly boiled away.
Cheese or extra butter, or fresh greens or seafood, go in during the final few minutes — after the rice has cooked.
Finally, you want your rice al dente, which is to say fully cooked, but firm and not mushy.
Jump to:
MUSHROOM RISOTTOS | VEGETABLE RISOTTOS | FAQs
Fish and Seafood Risotto Recipes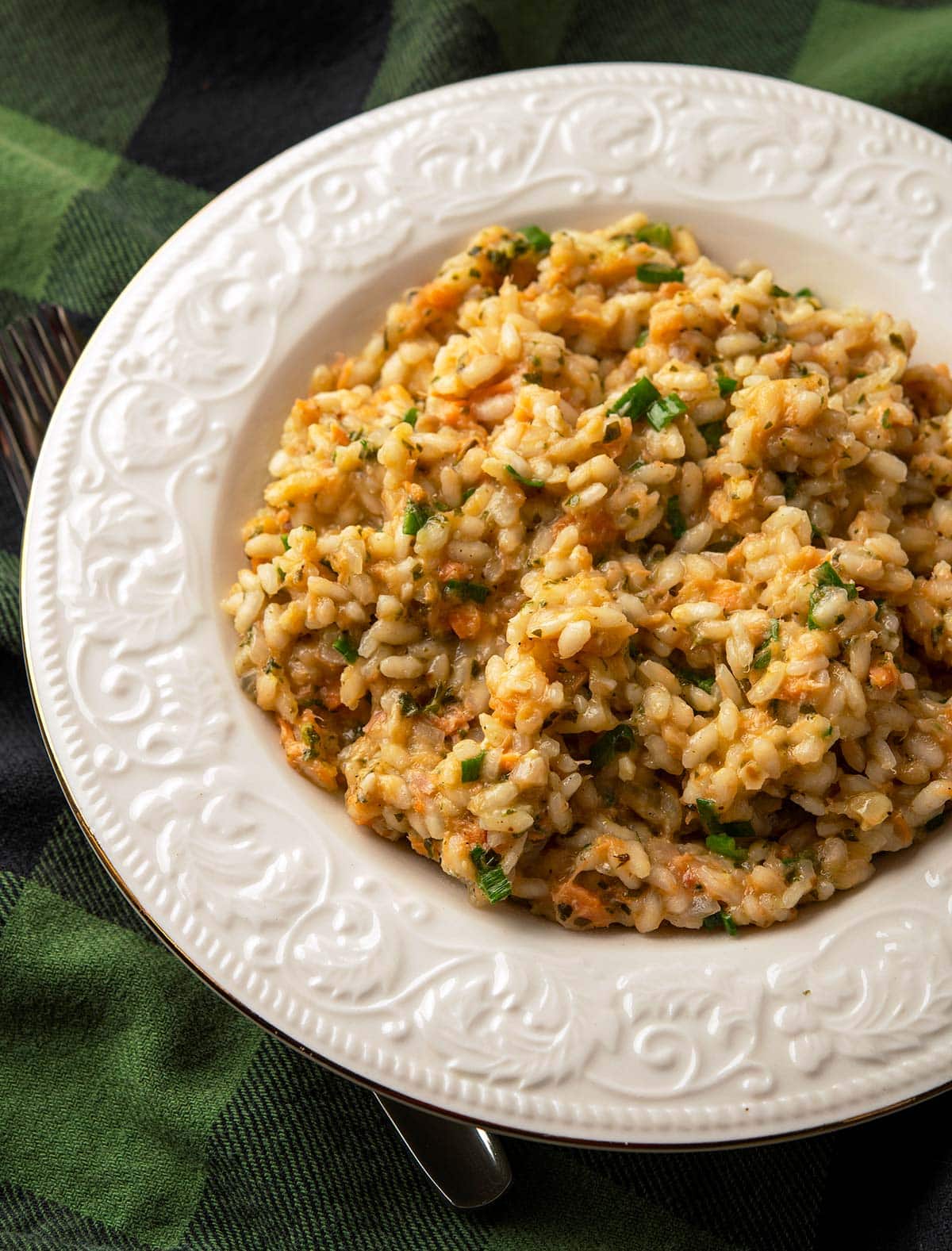 Salmon Risotto. Not an ancient risotto in Italy, but it is really good, especially when made with a fresh salmon stock and meat flaked off the bones. Frugal, nose to tail goodness. Trout works perfectly in this recipe, too.
Salmon Risotto
Risotto made with fresh salmon stock and salmon meat. Works perfectly with trout and char, too.
Check out this recipe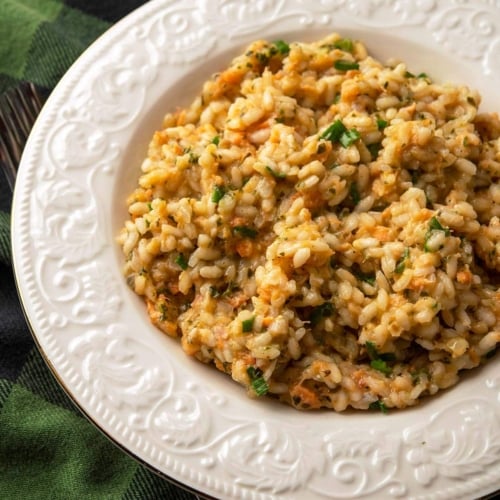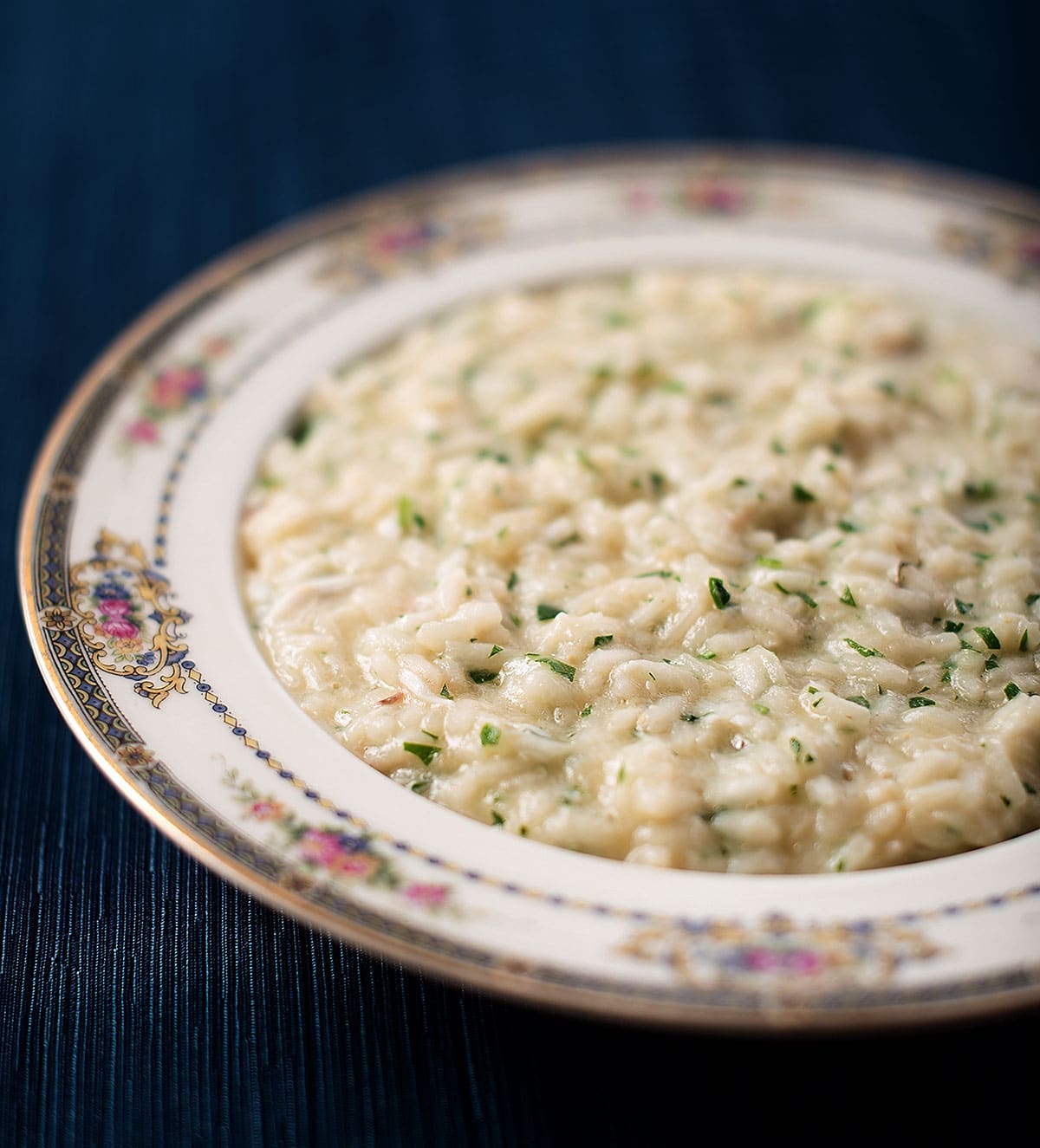 Venetian Fish Risotto. This one is an old Italian recipe, based on risotto di go, a lush, rich fish risotto that really benefits from a fresh fish stock. Make this risotto when you've caught some nice, lean fish like walleye, snapper, Pacific rockfish, black seabass or flounder.
Fish Risotto
I used striped bass for the broth in this recipe, but you can use any lean white fish. I've done this with yellow perch from Lake Erie and it was sublime, and codfish, walleye, smallmouth bass, black seabass, Pacific rock cod and ling all work fine. The fennel is important, so if you can't find a fennel bulb, add a tablespoon of fennel seeds to the broth. It's also vital that you use short-grained rice, preferably proper risotto rice — long-grained rice lacks the particular starch needed to make a risotto.
Check out this recipe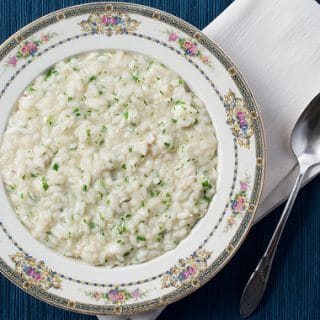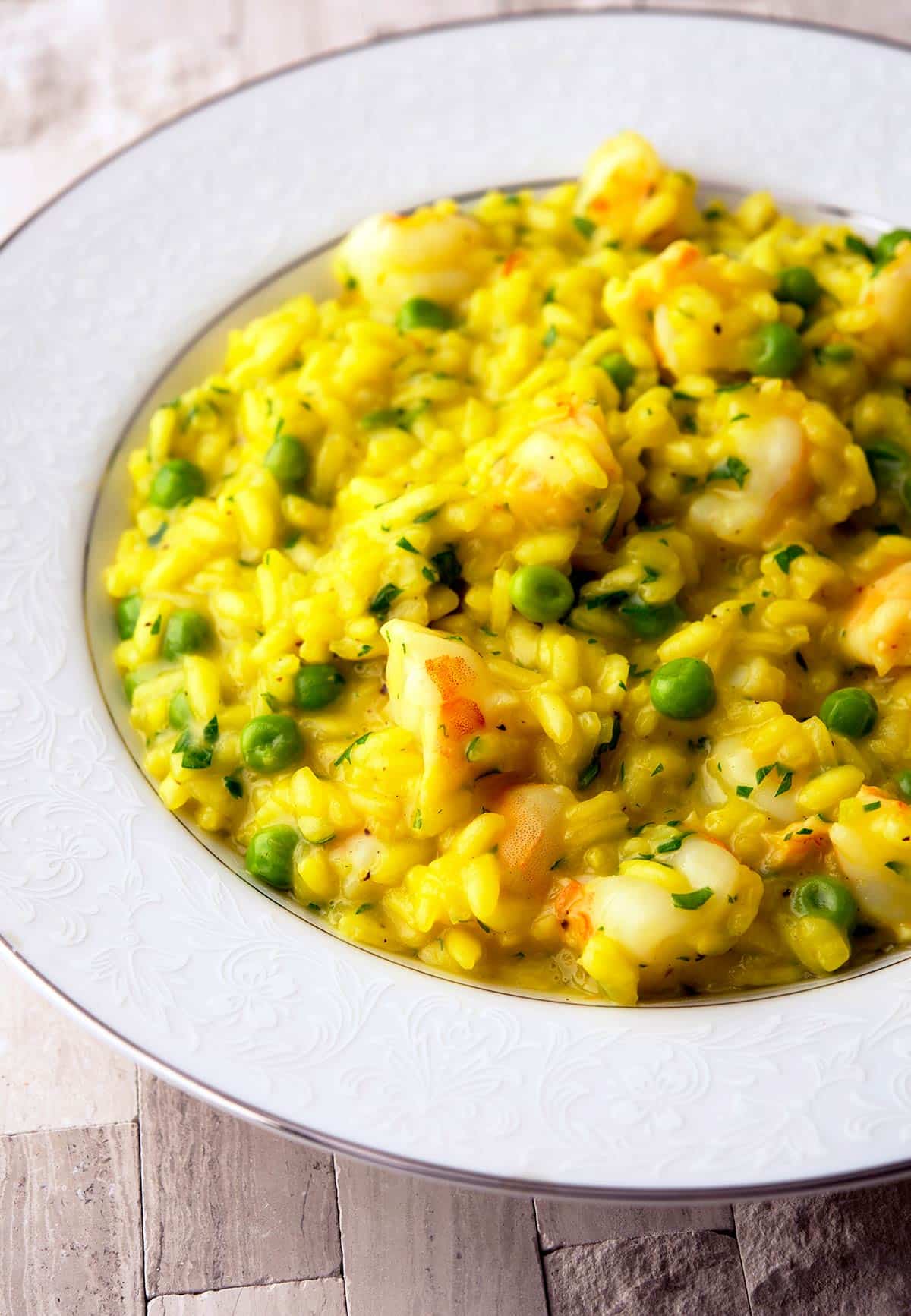 Shrimp Risotto. Risotto with shrimp is common in Italy, and I love making it in springtime, with fresh peas and a touch of saffron. And like the other risottos, shrimp risotto is better with homemade shrimp stock.
Shrimp Risotto
I use homemade shrimp stock here, but other stocks and even chicken stock will do in a pinch. Similarly, while I prefer shrimp I've caught myself, any decent shrimp will do; I recommend Gulf or boreal shrimp.
Check out this recipe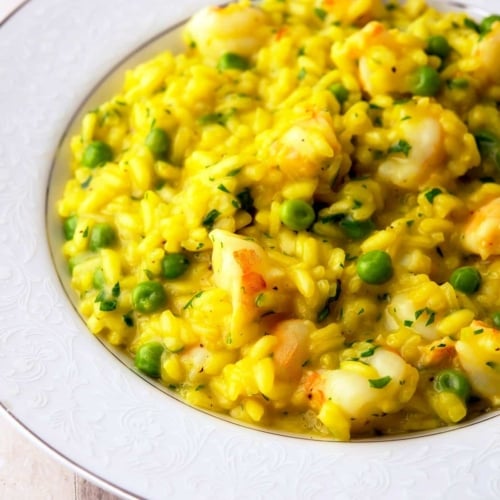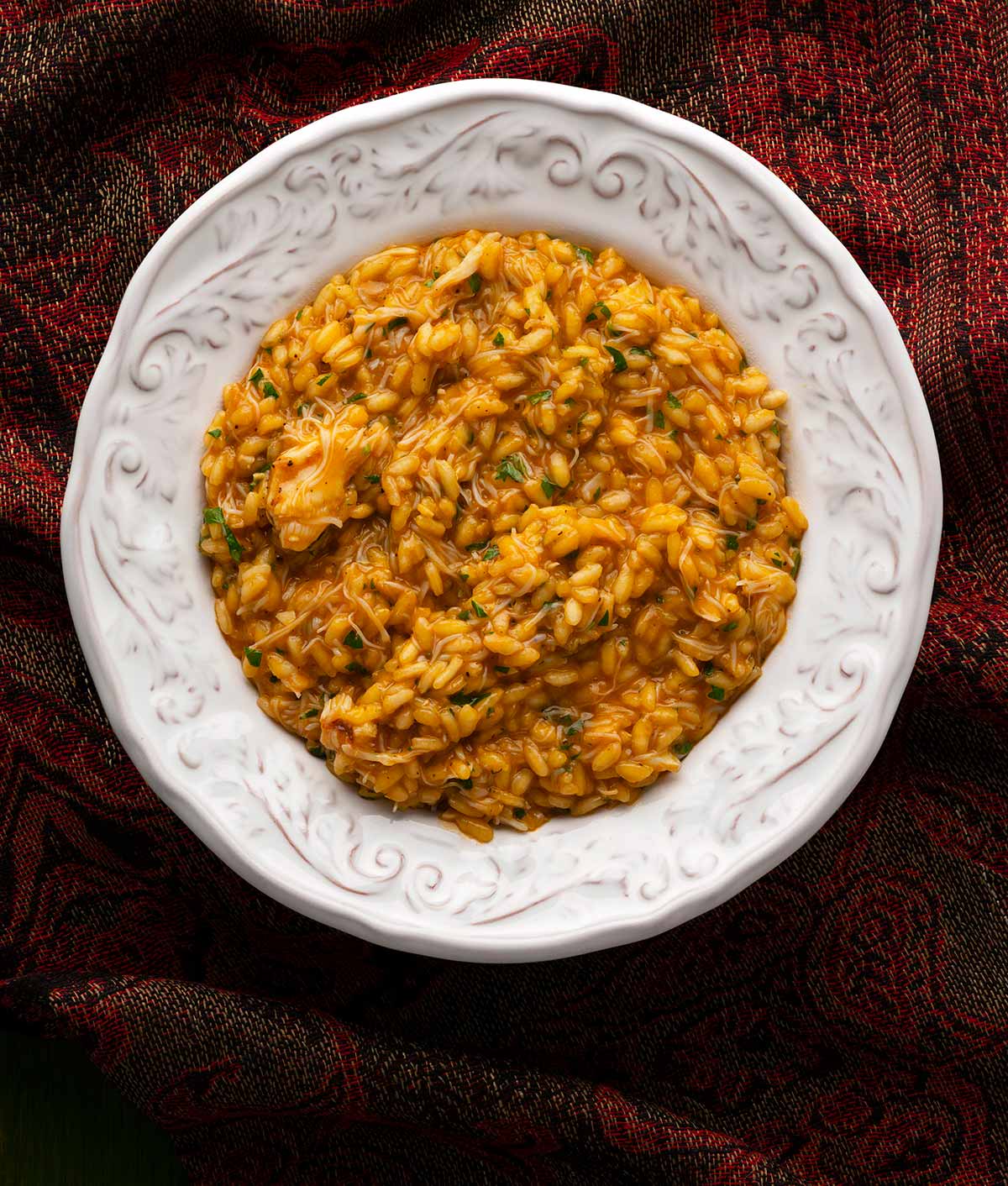 Crab or Lobster Risotto. This risotto recipe is a richer, darker one that uses tomato and crab stock. Any sort of crab works here, as do crawfish tails. Diced lobster meat is a good choice, too.
Crab Risotto
The key here is good stock. You should make crab stock special for this recipe, but you could use a high-quality fish stock instead. If you don't have access to either, use good vegetable stock, or even water. One note: If you use a salty broth or stock, taste the risotto as you go, and switch to water once the dish is salty enough for you.
Check out this recipe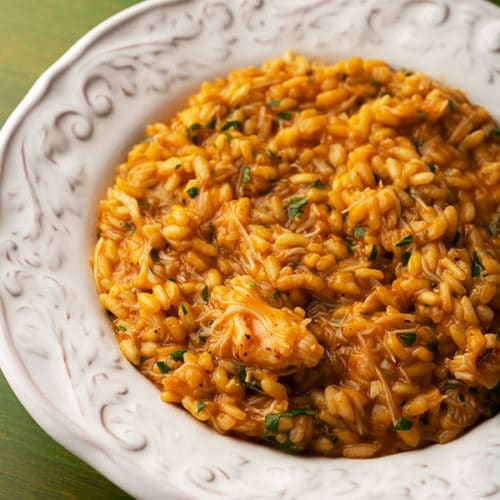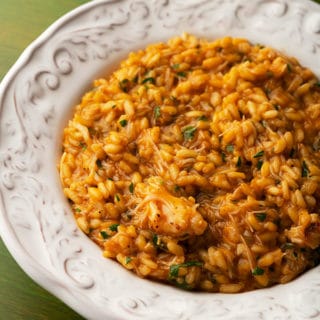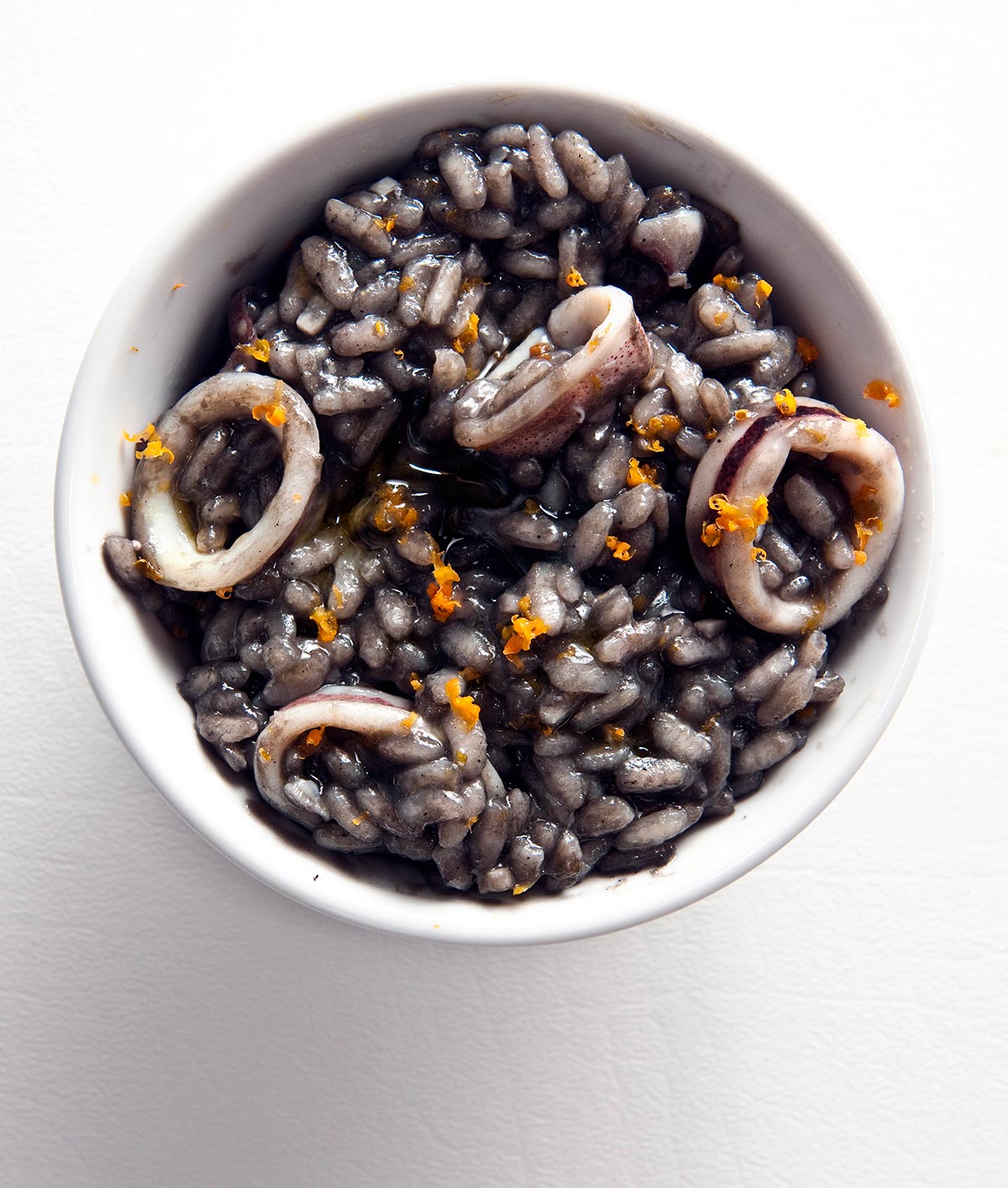 Squid Ink Risotto. This one exists in Italy, and is made extra dramatic with lots of squid ink, which you can buy in Italian specialty markets or online. This is a risotto tailor made for Vialone nano rice.
Squid Ink Risotto
To really make this you will need squid ink, which you can buy online. Everything else should be at any decent supermarket or fish market. Serve this with an austere white wine, like a Sancerre or Pinot Grigio.
Check out this recipe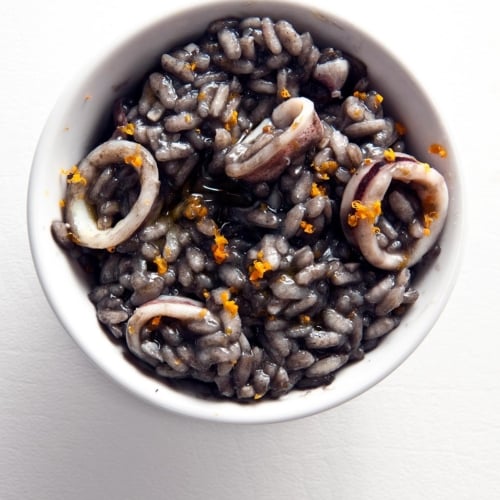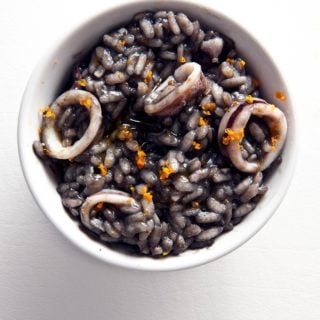 « Back to Top
Mushroom Risottos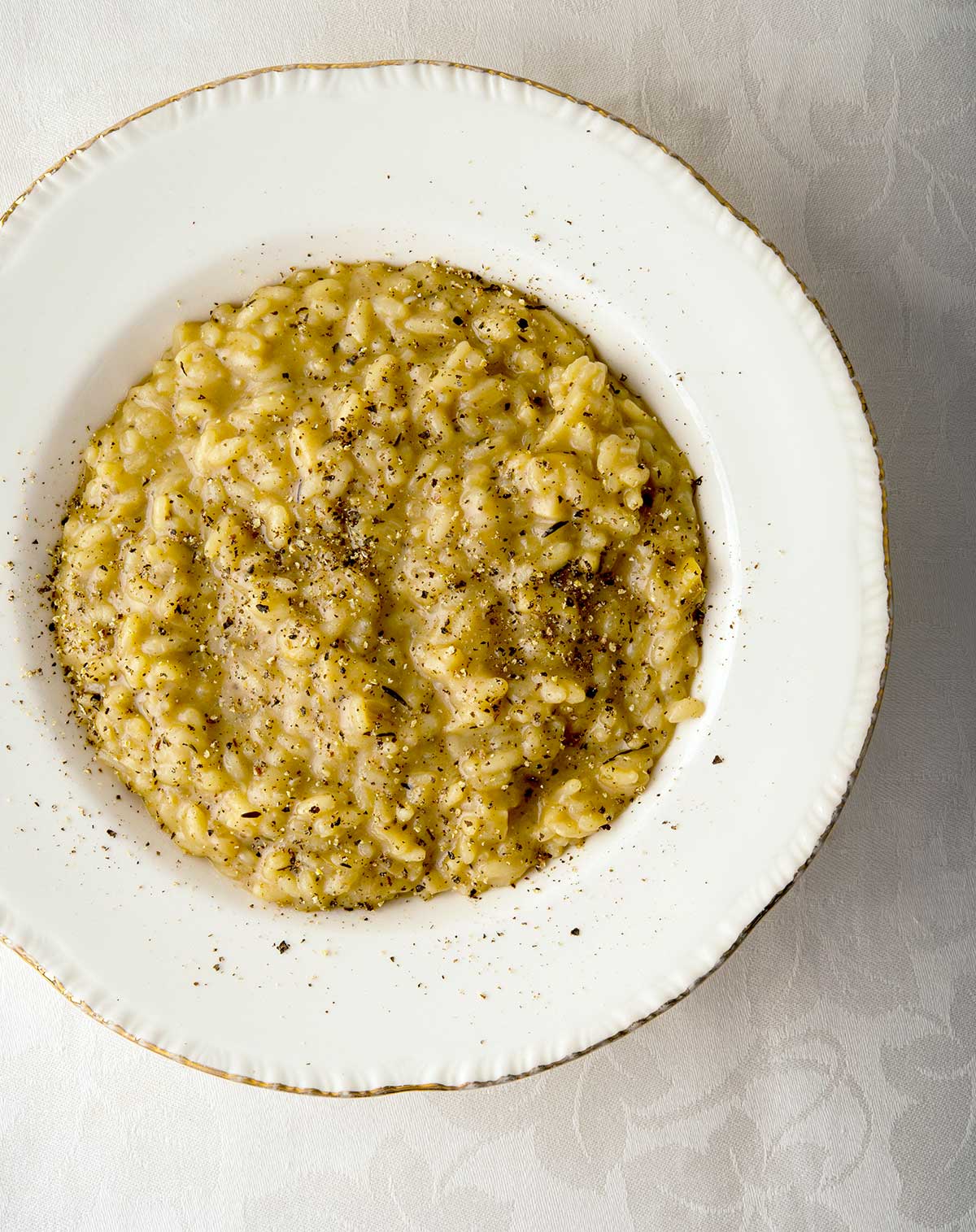 Porcini Risotto. The king of all mushrooms deserves to be first among mushroom risotto recipes. Porcini, fresh or dried, with the soaking water if you're using dried, plus, if you have it, a little porcini powder.
Porcini Risotto
If you don't have fresh porcini mushrooms, see my suggestions for substitutions above. Once made, this needs to be eaten straight away. If you do have leftovers, they are great mixed with an egg, breaded and fried as little cakes the next day.
Check out this recipe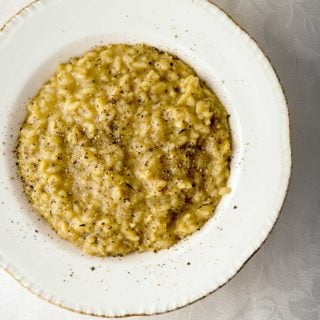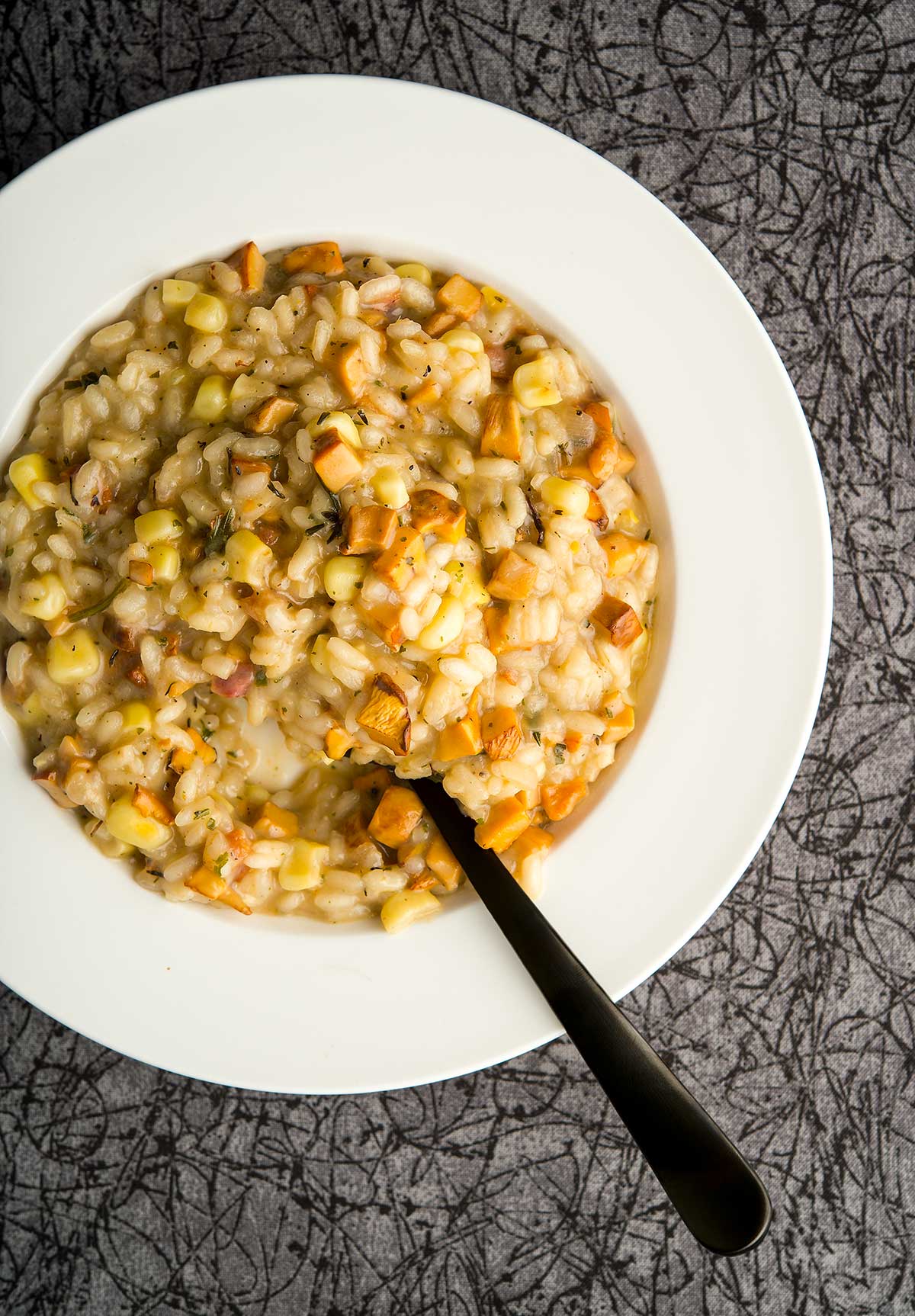 Chanterelle Risotto with fresh corn. This is more of a summertime risotto, since chanties pop in the summer for most of the United States. If you're in the Pacific Northwest, where chanterelles don't show up until winter, use frozen corn.
Chanterelle Risotto
While I designed this as a chanterelle risotto, nothing will go wrong if you use other mushrooms. Chanties and corn really love each other, though. Only chicken of the woods has an affinity for corn like chanterelles. Also, be sure to use a risotto rice like Arborio.
Check out this recipe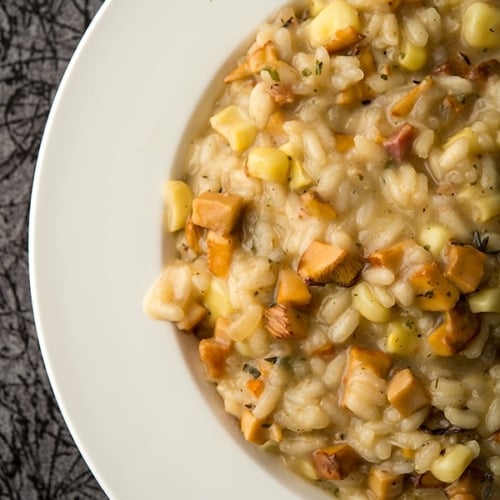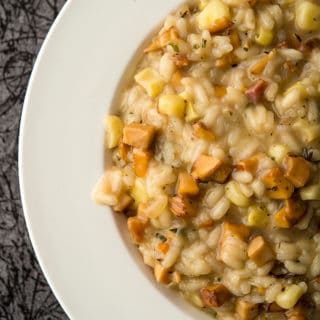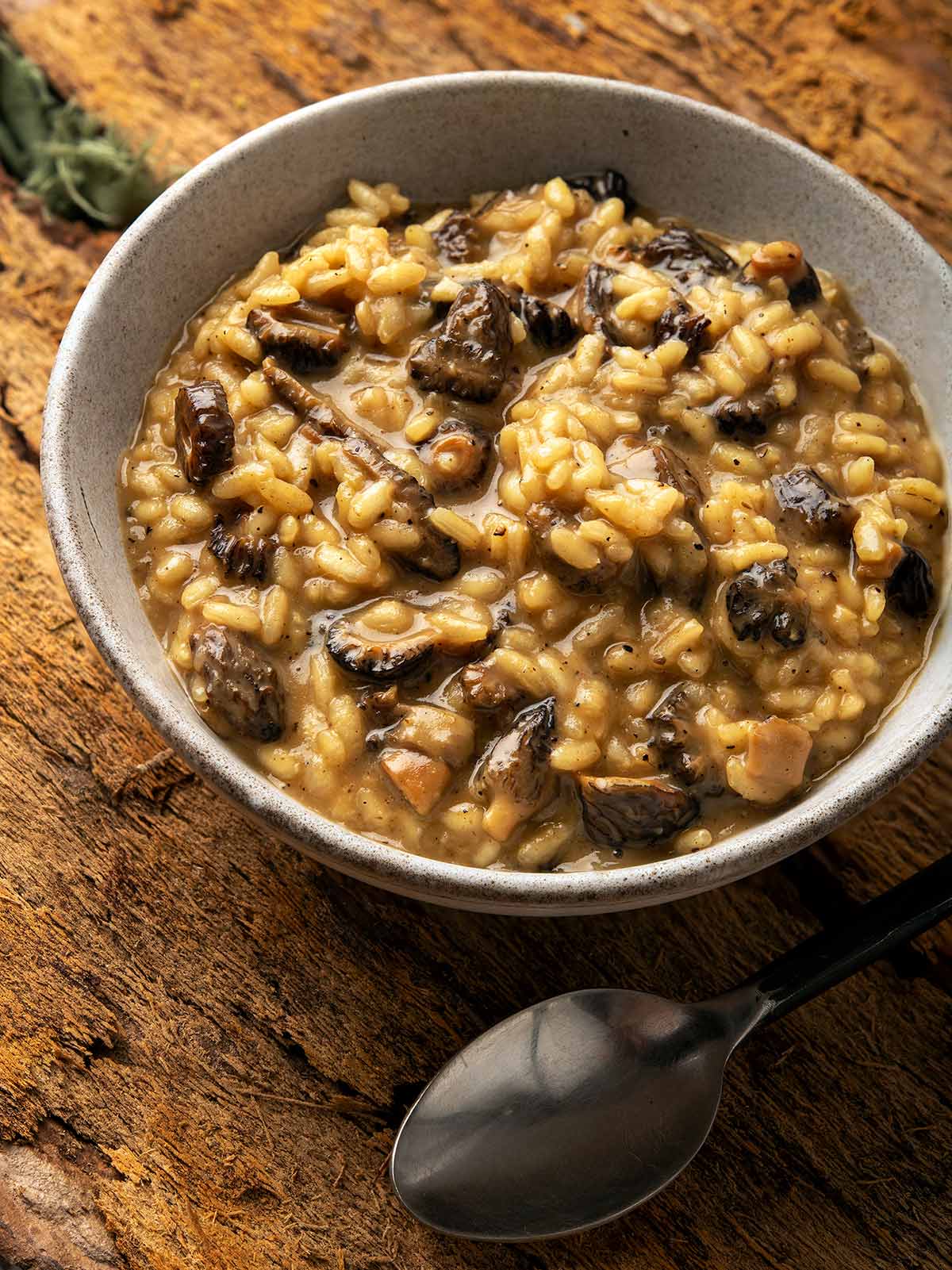 Morel Risotto. This is the King of Spring, and is an awesome way to eat morel mushrooms. Like the porcini risotto, this is every bit as good with dried morels.
Morel Mushroom Risotto
This risotto is pretty simple: You want to revel in the flavor of these mushrooms, so not much else should compete with it.
Check out this recipe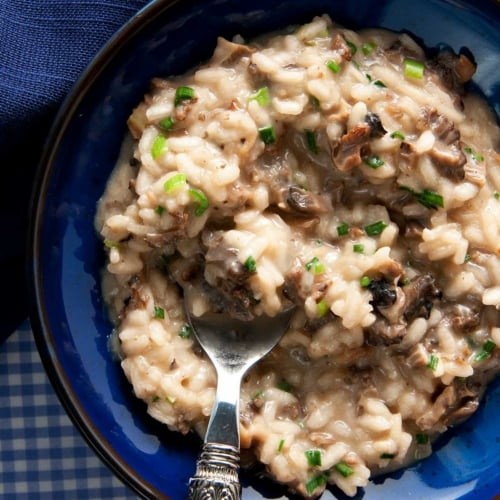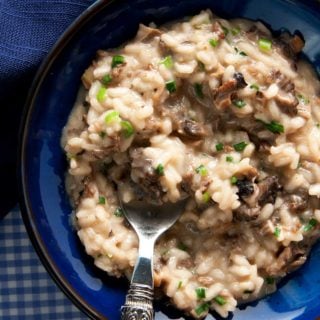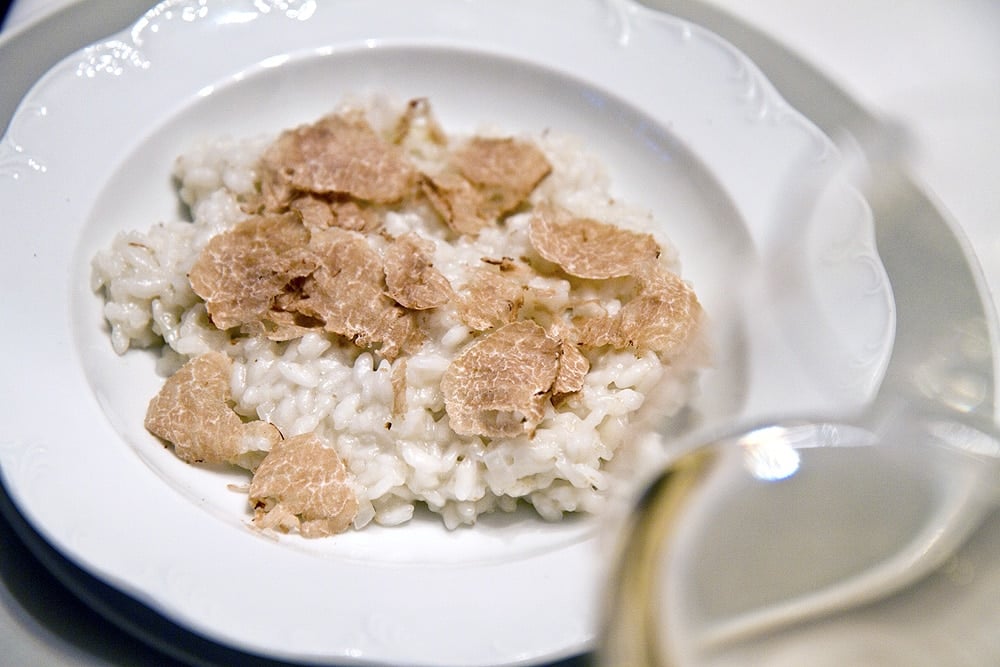 White Truffle Risotto. If by chance you ever find yourself with white truffles, from Italy, France or Oregon, make this risotto. One secret? Use real truffle oil, not the synthetic stuff. This is what I use.
Truffle Risotto
This is a simple, but elegant white truffle risotto. I use Oregon white truffles, but obviously European truffles are great, too.
Check out this recipe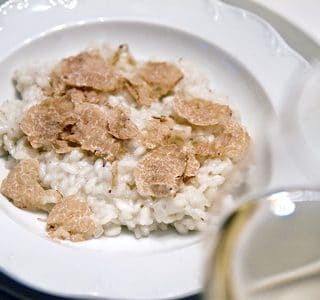 « Back to Top
Vegetable Risottos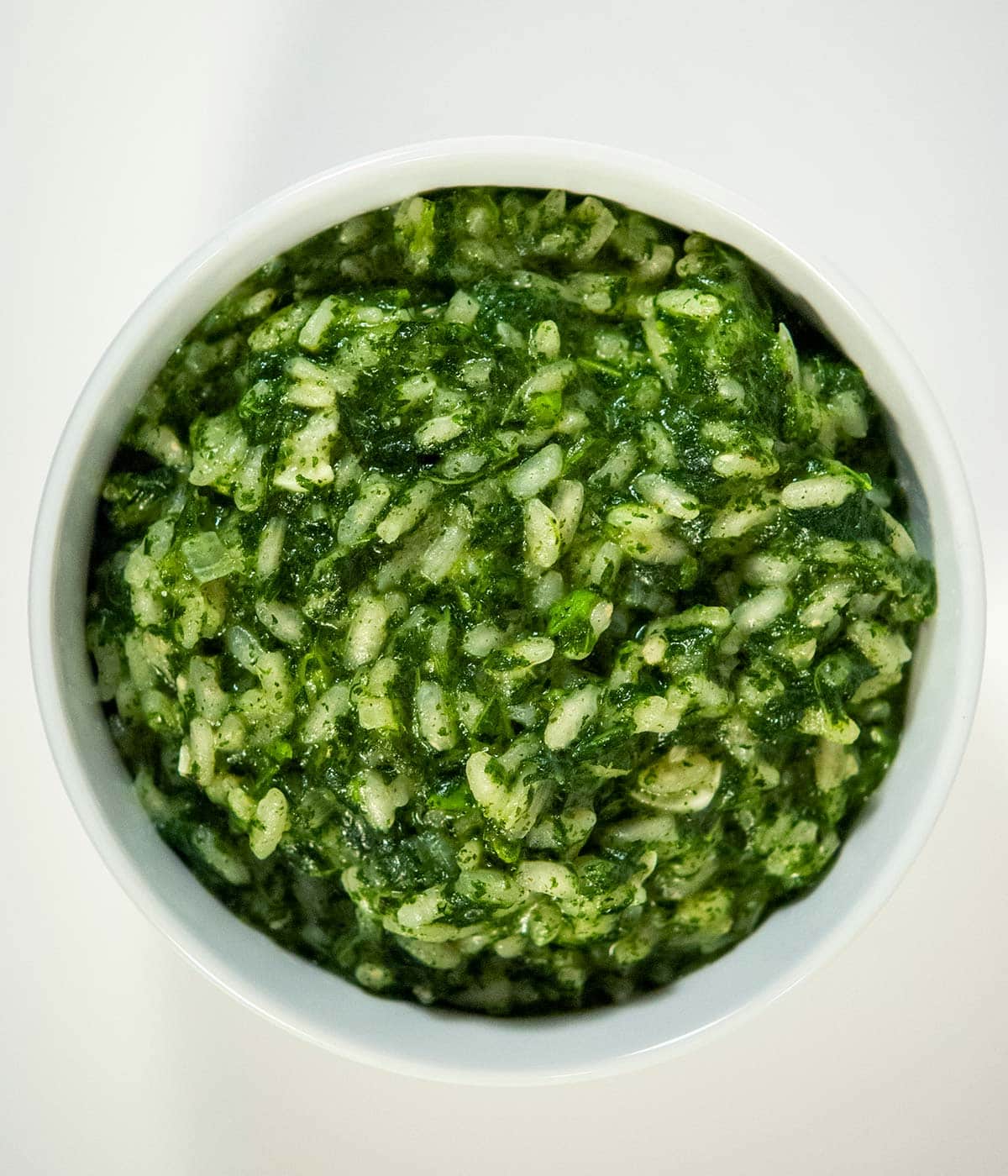 Nettle Risotto. Use this as a stand-in for any fresh, tender, leafy green, from nettles of course, to lambsquarters, amaranth greens, spinach, chard or something similar.
Nettle Risotto
You can use any spring green in this recipe. Nettles are the greenest, and most nutritious, but dandelions, spinach, curly dock, chard, amaranth or lamb's quarters are all good choices.
Check out this recipe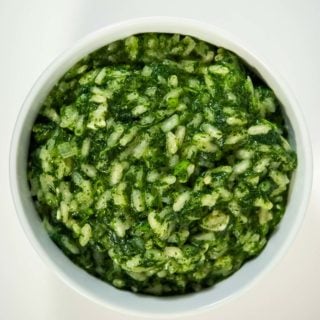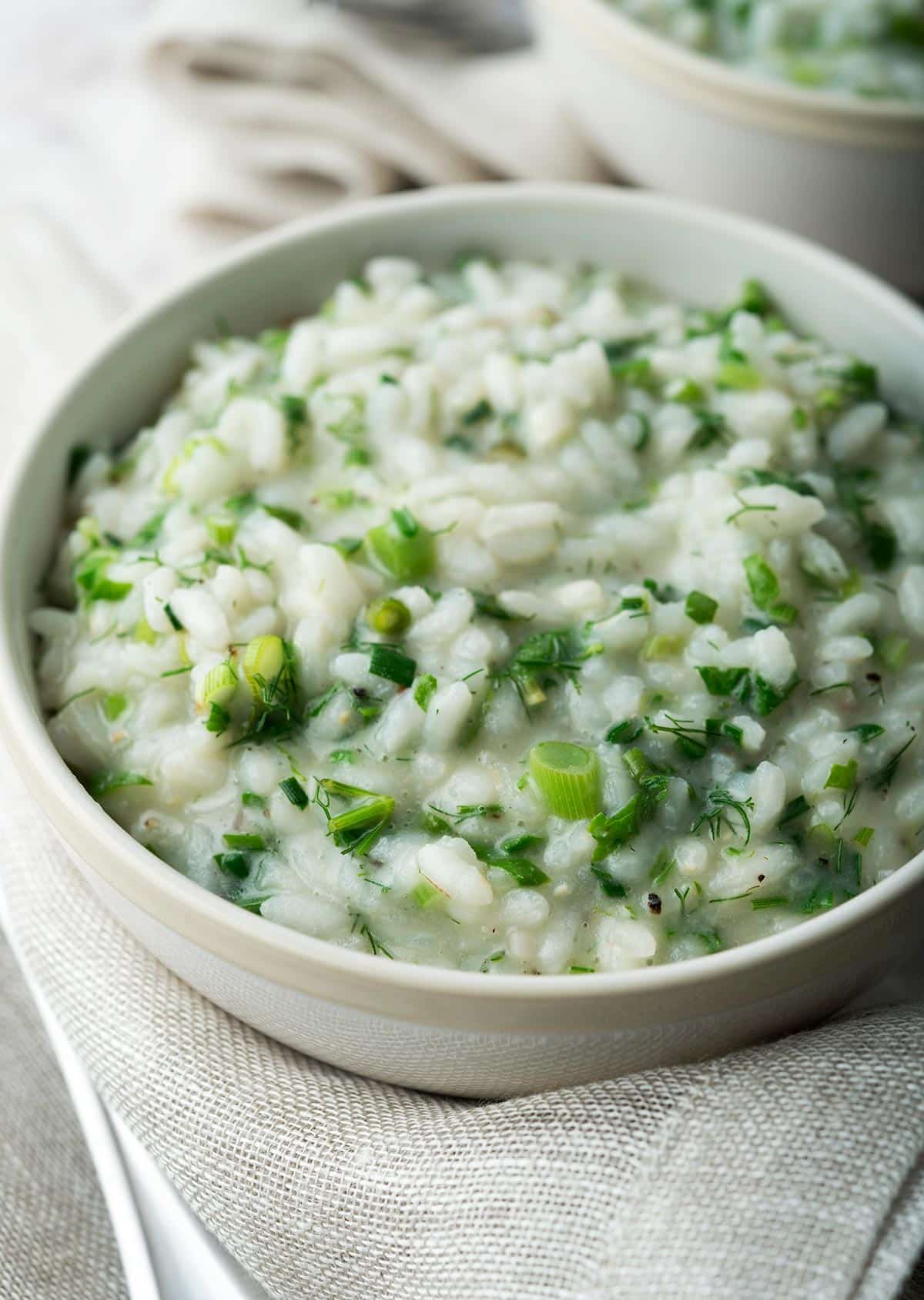 Ramp Risotto, or risotto made with any green allium, like chives, green onions, green garlic, or any variety of wild onion — even lawn onions. Taste like spring in a bowl!
Ramp Risotto
The point of this rice dish is to add fresh, green spring vegetables to the dish. The result is creamy, rich rice brightened up with the green things. I used Sierra Nevada wild onions and wild fennel, but any green onion, as well as chopped green leafy thing will work. You might also want to toss in some fresh peas or fresh green fava beans. For the onions, you need to separate the white parts and the green parts, and you need about 1/3 to 1/2 cup chopped white parts.
Check out this recipe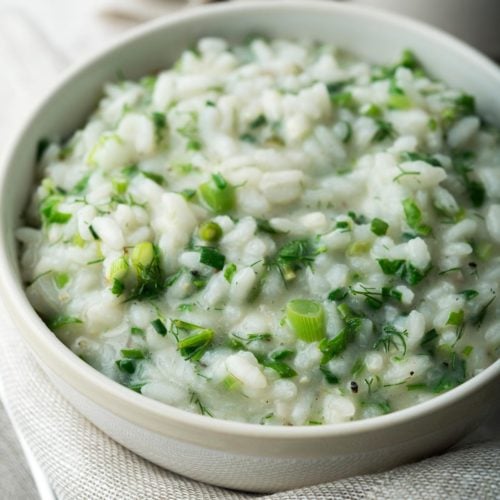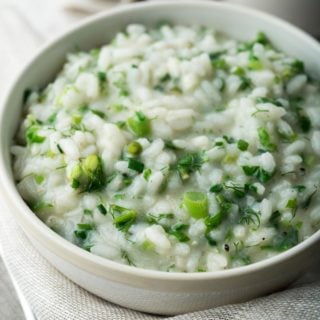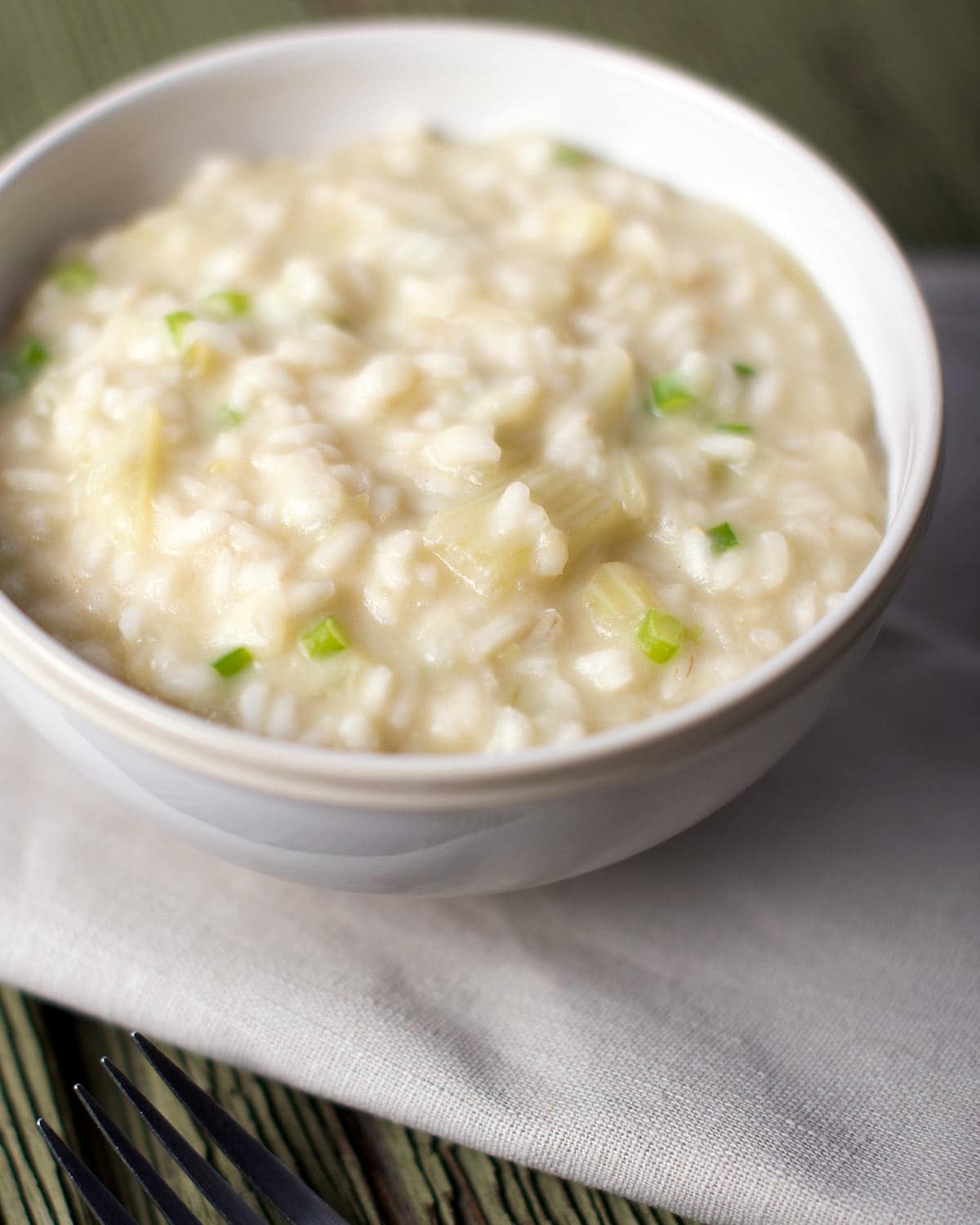 Cardoon Risotto. Esoteric, I know, but in winter, when cardoons are at their least bitter, this is a wonderful way to enjoy them on a cold, rainy night. Here's more about both growing and cooking cardoons.
Cardoon Risotto
If you don't grow your own cardoons, as I do, you can find them in some supermarkets (my local Raley's has them), Italian markets and some farmer's markets. You will need to cook the cardoons first and then make the risotto, so this is something of a Sunday supper kind of dish — although you can cook the cardoons on one day, keep them in the fridge and then make the risotto on a weeknight. Resist the urge to use stock or broth here. The flavor of a cardoon is subtle, and strong stocks or broths can overwhelm it.
Check out this recipe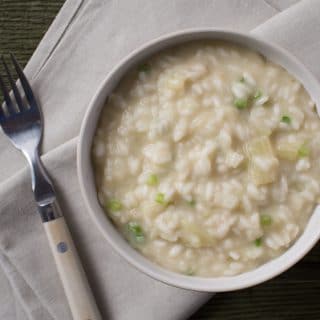 « Back to Top
Frequently Asked Questions
Do I need special rice for risotto?
Absolutely. Risotto relies on amylopectin, a starch that will slough off when agitated, creating a creamy sauce without cream. Long grain rices don't have this. And Asian short-grain rices cannot absorb the amount of liquid that risotto rices can, so they will not be as flavorful.
How much cream should be in risotto?
Trick question: none. Risotto doesn't have cream in it. Cheese and butter, yes, but not cream. You get that consistency from the stirring.
Do you have to sauté the rice before adding liquid?
Yes, because this helps the grains stay separate, even in a soupy risotto. If you didn't do the sauté step, the rice can clump together.
Can I add all the liquid at once?
People disagree on this one. Some say you can, but not a single Italian cook I have ever worked with would think about doing that. You always add liquid bit by bit, stirring almost constantly, until the rice is done. This makes sense because you can control how soupy the risotto is this way, and you can adjust things like salt level on the fly. If you had dumped in a quart of beef broth, for example, you might not need that much, and it might make the risotto too salty.
Do I really need to stir risotto all the time?
Kinda. While it's not necessary to stir risotto the entire time it's cooking, the best risotto is stirred every couple minutes. That is what creates the saucy consistency. What's more, you never want the bottom of the pot to burn, and stirring prevents that.
I really want to put 24 different ingredients in my risotto. Can I do that?
You do you, but those of us who make a lot of risotto don't do that. Risotto is a rice dish, with accents. Too many ingredients muddy that up.
I need to make risotto for a dinner party. I can't be standing there for 40 minutes while it cooks. What should I do?
The restaurant trick is to make your risotto about 80 percent of the way — you need experience to know where this point is, but generally it's when the rice is edible but not really done. Then, let it stand in the pot off the heat until about 10 minutes before you need to serve. Then restart the risotto and finish it with more liquid, the cheese and butter. In the case of seafood, this is when you toss it in.