Growing and Cooking Amaranth Greens
As an Amazon Associate I earn from qualifying purchases.
Amaranth greens, a/k/a pigweed, are some of the most nutritious leafy greens you can eat. Amaranth leaves are eaten all over the world, from India to Southeast Asia, Greece to Mexico. Here's how to harvest and cook them.
Before we get too far, this article is not about amaranth grain, commonly known as quinoa. Those are amaranth seeds, the topic of another post.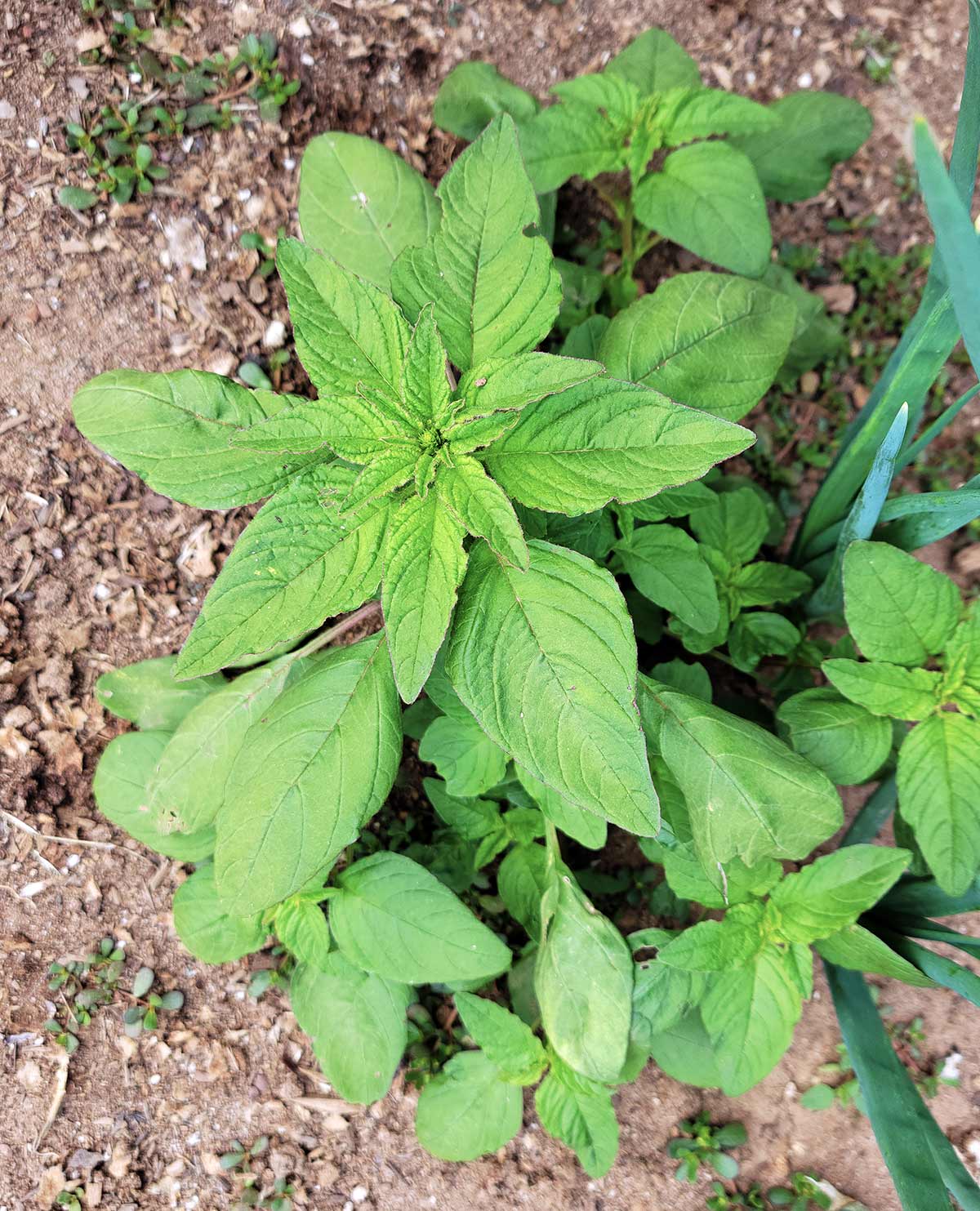 A Global Green
Amaranth greens show up in lots of cuisines, under many names. Quintonil in Mexico, they are one of that nation's most important quelites, or wild greens.
In Greece, where vlita is an important horta, their word for wild greens, you'll find amaranth leaves in pies, stews and warm salads. In India, amaranth falls under the saag moniker, a common meal of cooked greens. Saag paneer is the classic dish.
The famous callaloo of the Caribbean can be made with amaranth, too, although several greens can be used for that dish.
Here's a cool one: Amaranth and lambsquarters are believed to be foundational plants in the development of agriculture here in the United States by the Eastern indigenous groups, several thousand years ago.
More recently, we in the United States know amaranth as pigweed, and it has a long tradition in country kitchens, along with pokeweed shoots and other local greens.
Growing Amaranth Greens
Chances are they are already growing in your yard or garden. I've written about edible weeds that likely live in your yard, and amaranth, or pigweed, is one of the most common.
Redroot or common pigweed, A. retroflexus, appears magically in my garden beds. Thanks, birds. I've also grown a pretty dark red amaranth for greens (reds?) and seeds, and it has naturalized in my yard as well.
Because many cultures like to grow and eat amaranth leaves, you can buy seeds of various varieties easily. Some of my favorites include red and white leaf amaranth from Kitazawa Seed Co., and Native Seed Search in Arizona has an entire selection of amaranth seeds for sale.
Many other seed companies sell them, too.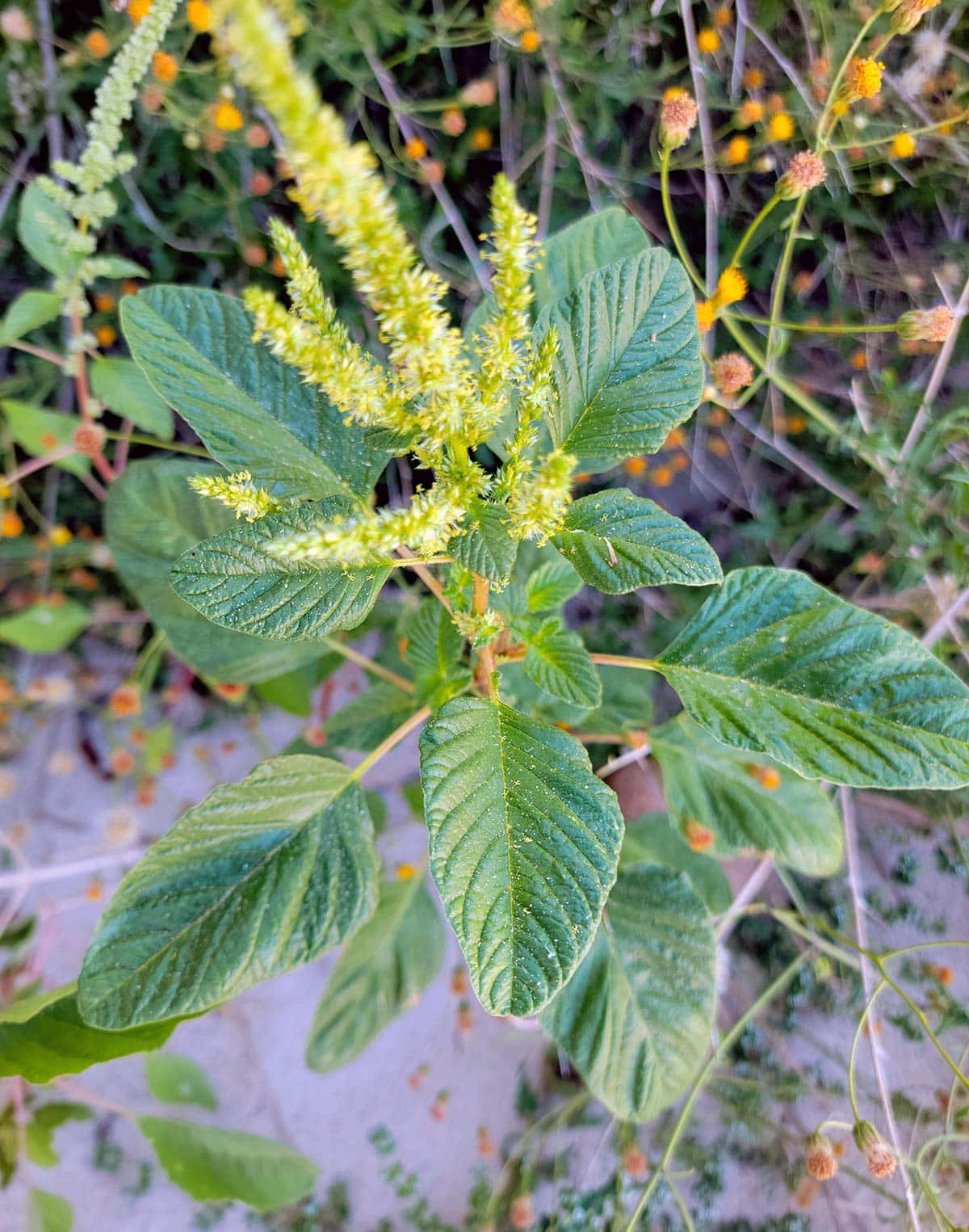 Amaranth is a warm weather plant, so it will appear well after the last frost as the soil warms. It has no problem with 100-degree days, and can seemingly grow inches a day when it's hot out.
Amaranth has no real needs in terms of soil. I've seen it growing in beach sand and sidewalk cracks in Mexico, in a gravel parking lot, along roadsides, in old construction sites, and yes, in pretty, manicured garden beds, too.
Water it once in a while, if you feel like it. Amaranth is super drought tolerant, and sends a taproot to China. The plants are best spaced about a foot apart. They'll grow closer, but the leaves won't be as lush.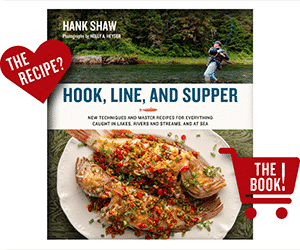 Keep in mind that if you want to harvest amaranth greens, you need to watch the plants. Amaranth wants to create an often showy and gigantic seed head — amaranth as a grain are those seeds — and once it gets going on that, the leaves suffer.
If you want to harvest amaranth leaves all summer, it's not a bad idea to plant it several times, a month apart, from May to September.
Nutrition
Amaranth leaves are a powerhouse of nutrients. One recent study compared amaranth with spinach and chard, and the results were stark: pound for pound, amaranth greens have more protein than spinach (a lot more than chard), almost twice as much Vitamin C, and more fat, carbs, calcium and iron than the other two leafy greens.
Lambsquarters are close in nutrition; they are higher in protein and calories than amaranth, but amaranth leaves contain more potassium and iron than lambsquarters.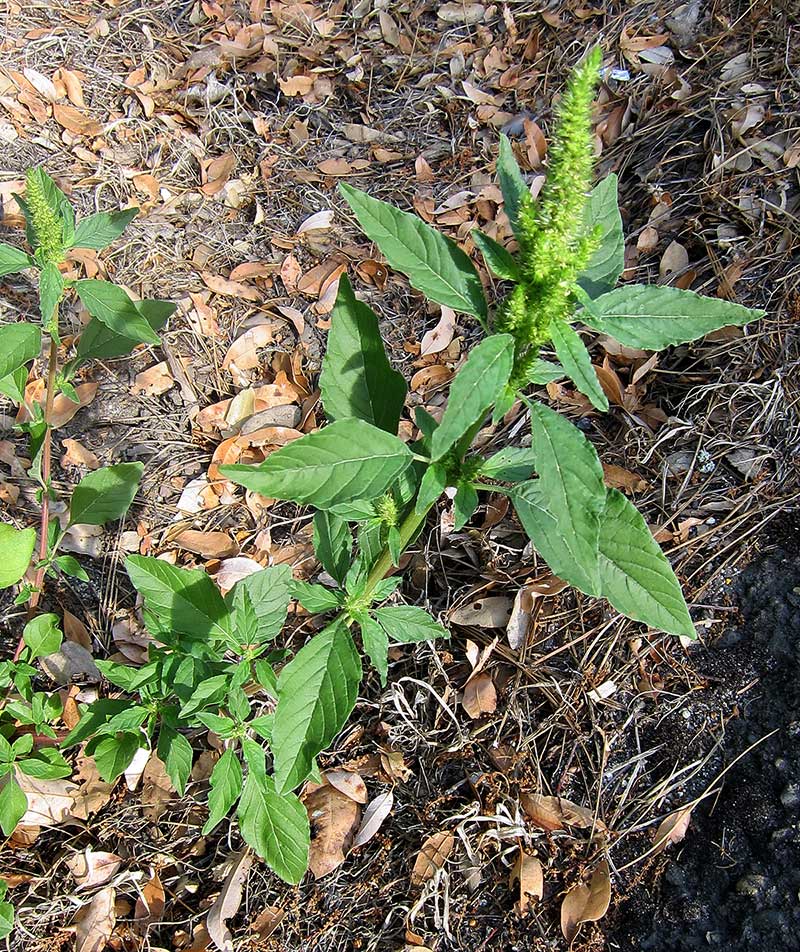 Harvesting
I generally harvest amaranth leaves off a whole plant. I let certain plants live until they get big — remember they are a weed all over my yard — and just as they start setting their seed heads, I pull the whole plant.
I strip all the leaves off the stems, discarding the baby seed heads, which are prickly. The leaves will keep in a plastic bag in the fridge for a week or so.
You can also just remove main stems of amaranth plants to harvest the leaves. The downside to that is that when you remove big stems, the plant tends to switch gears and start setting seed.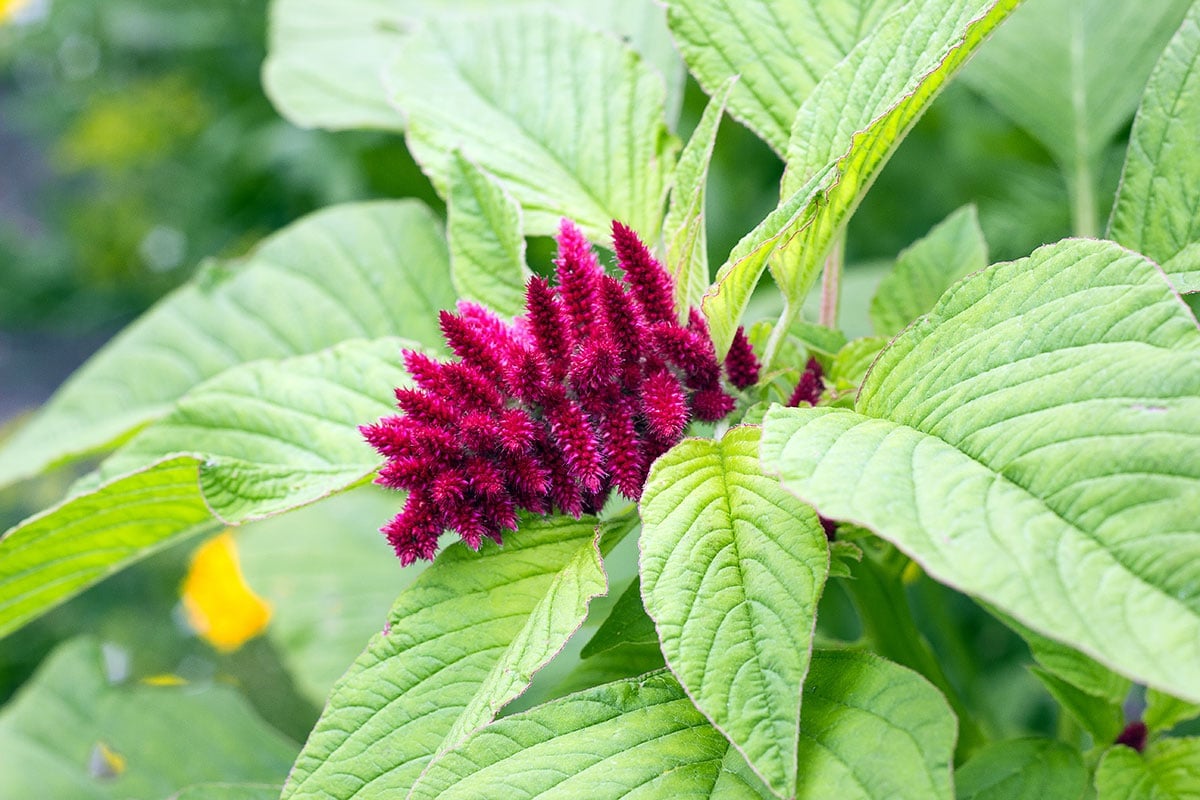 Cooking Amaranth Greens
The most common, basic and wonderful recipe for amaranth leaves, or really any leafy green, is this: Heat some oil, add a chopped onion and some garlic, salt, the greens, stir-fry to wilt them, add some sort of chile, then a little acid (citrus or vinegar) and black pepper at the end.
That's it. That's the best way to enjoy amaranth greens as they are.
If you make them this way, amaranth leaves are great stuffed in a tortilla with cheese as a quesadilla, stewed with pork instead of purslane, or tossed with pasta or served over polenta.
There's a lot more to cooking amaranth leaves than that, if you want to explore. Here are some good options:
Cook the greens, chop and then use in these Italian spinach dumplings.
Same deal, although you'll need to puree the cooked amaranth greens, if you want to make green spaetzle.
Make some Indian saag paneer.
Use amaranth greens in place of collards, with a ham hock and a jalapeno.
Use them in place of spinach, chard, kale or turnip greens in really any recipe.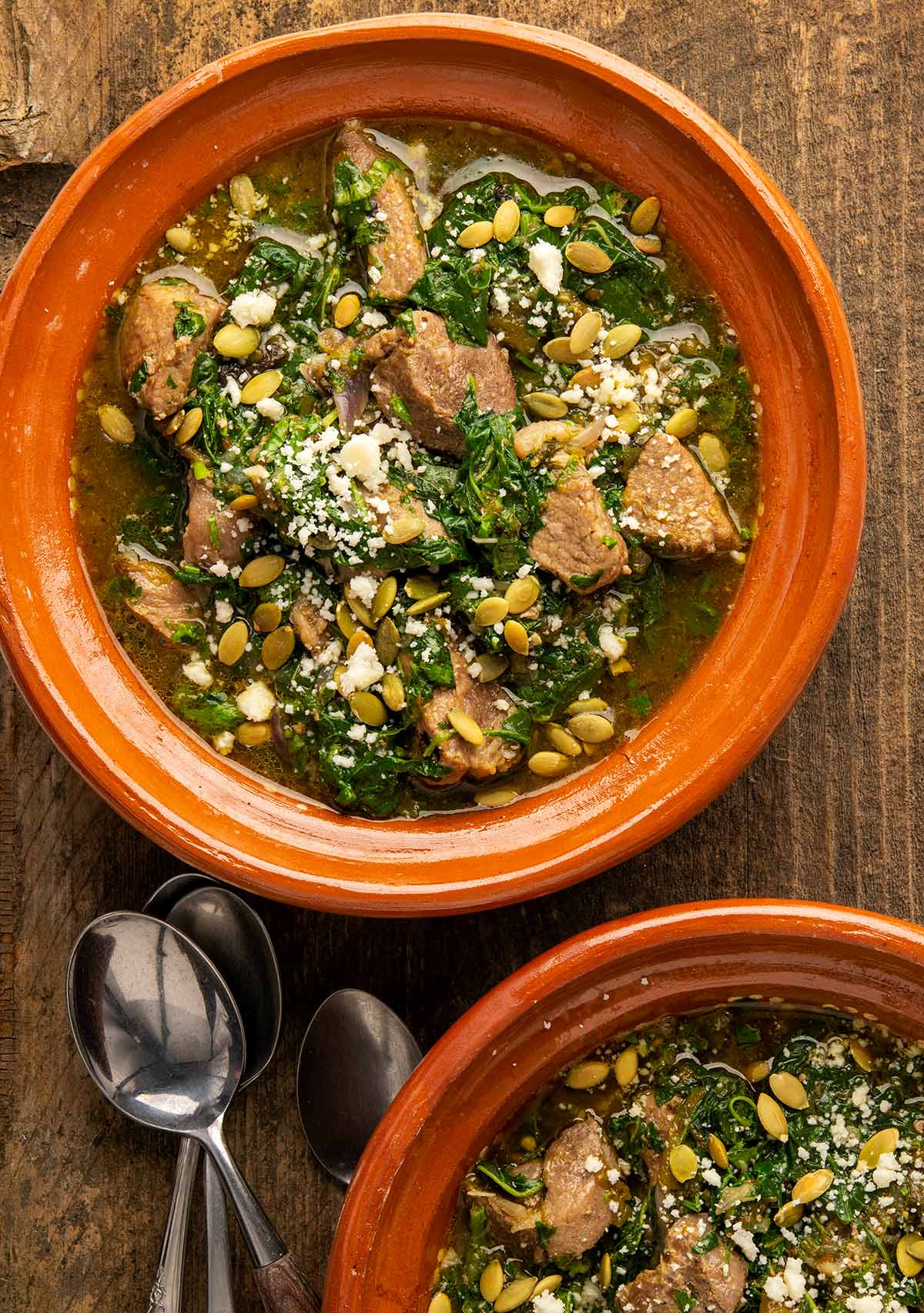 Preserving Amaranth Leaves
I normally just cook and eat amaranth greens. They're all over, and the season lasts a long time. That said, if I want to preserve some for winter, I will boil them in very salty water for about 1 to 3 minutes, then shock the leaves in a big bowl of ice water.
Squeeze the excess water out of them and then vacuum seal them. Frozen, amaranth greens will keep about 6 months before they slowly discolor in the freezer.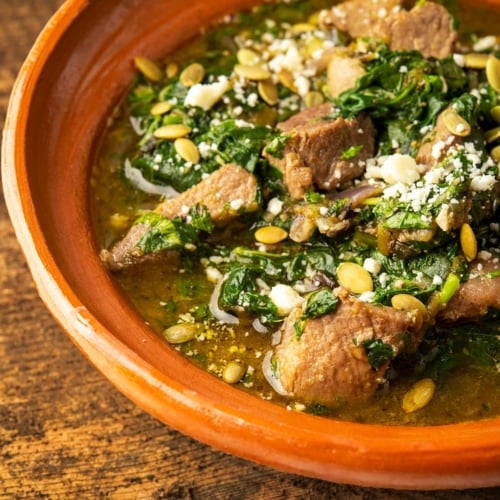 Amaranth Greens with Pork
This is an easy way to enjoy any leafy green, not just amaranth. Serve with rice or bread or tortillas.
Ingredients
1

pound

amaranth greens,

or other leafy green

Salt

A pinch of baking soda

2

tablespoons

olive oil

1

pound

pork loin,

cut into large dice

1

medium onion, sliced thin

2

serrano chiles, chopped

(or 2 roasted Hatch or poblano peppers, chopped)

3

cloves

garlic, minced

1

teaspoon

Mexican oregano

1/4

pound

tomatillos,

chopped fine

1

cup

stock or water

1/2

cup

chopped cilantro

Toasted pepitas or sunflower seeds,

for garnish
Instructions
Bring a large pot of water to a boil. Add the salt and the baking soda; the soda turns the water alkaline, and helps preserve the green color of the greens. It can make the water froth up, so leave some room between the water level and the top of the pot. Boil the amaranth greens for 2 minutes, then drain in a colander. Set aside.

Heat the olive oil in a cazuela or really any large pot over medium-high heat. Brown the pork, salting it as it cooks, then add the onion and peppers. Cook until they are wilted, stirring occasionally. Stir in the garlic and cook another minute or two.

Add the oregano, tomatillos and water or stock, mix well, and let this simmer. Add salt to taste. When the pork is tender and the liquid has cooked down a bit, maybe 15 to 20 minutes, add the cilantro and the amaranth greens, mix well, and cook 5 more minutes. Serve topped with pepitas and maybe some cotija cheese.
Nutrition
Calories:
296
kcal
|
Carbohydrates:
15
g
|
Protein:
32
g
|
Fat:
13
g
|
Saturated Fat:
3
g
|
Polyunsaturated Fat:
2
g
|
Monounsaturated Fat:
7
g
|
Cholesterol:
71
mg
|
Sodium:
125
mg
|
Potassium:
1138
mg
|
Fiber:
6
g
|
Sugar:
3
g
|
Vitamin A:
13359
IU
|
Vitamin C:
99
mg
|
Calcium:
381
mg
|
Iron:
3
mg
Nutrition information is automatically calculated, so should only be used as an approximation.