How to Make Fish Stock
July 16, 2015 | Updated June 17, 2020
As an Amazon Associate I earn from qualifying purchases.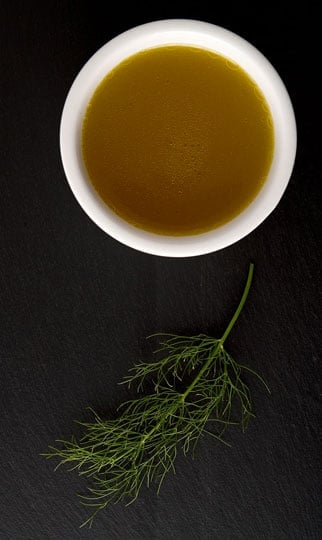 I catch a lot of striped bass, and while I love to eat the fillets, I am always more excited about the heads and bones because they make a surpassing fish stock. And to me, fish stock is one of those zephyrs of the food world, a mystical wonderment that lasts only as long as it takes to make and eat it.
Yes, you can store fish stock, and it's OK, but never as amazing as when it has been freshly made.
So that means I normally find myself making fish risotto or chowder right off the bat when I have a good haul of stripers, Pacific rockfish or lingcod. The fillets get eaten later. Yes, I am aware this is opposite to what most people do. Pretty typical for me.
Fish stock isn't like normal stock. It's a fairly quick affair. My venison stock takes all day, or even overnight. All my fish stock asks of you is 45 minutes or so. Strain and enjoy. A long-simmered fish stock gets cloudy and bitter and fishy. I don't recommend it.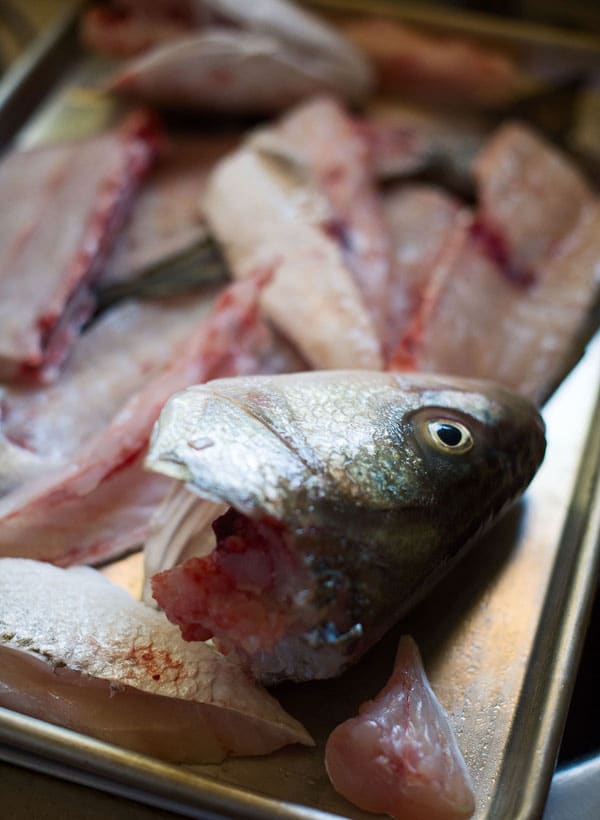 What fish? Really almost anything. I've made fish stock with bass, walleye, perch, black seabass, white seabass, lingcod, Pacific rock cod, stripers, tilefish, porgies, redfish, sea trout, spotted bass, bluegills… you get the point.
Be sure to rinse the heads and bones well to remove slime, and be absolutely certain to snip our the gills. Gills in your stock will ruin it, as the blood in them will cloud your stock and give it an "off" flavor very quickly.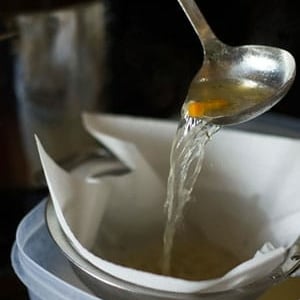 Homemade Fish Stock
You can make fish stock out of any fish or shellfish, although my fish stock recipe is considerably different from the stock I make with crabs and lobsters. For the most part, you want white, lean fish here. While I've made stock with trout and salmon, it's oily and strongly flavored and really only good as a base for salmon chowder or somesuch. I've never heard of anyone making stock with mackerel, tuna or bluefish, so I'd avoid it.
Ingredients
3

tablespoons

olive oil

1

large onion,

chopped

1

large carrot,

chopped

1

fennel bulb, chopped

(optional)

3

celery stalks,

chopped

Salt

2

cups

white wine or vermouth

2

to 5 pounds of fish bones and heads

A handful of dried mushrooms

(optional)

2

to 4 bay leaves

1

star anise pod

(optional)

1

to 2 teaspoons dried or fresh thyme

3

or 4 pieces of dried kombu kelp

(optional)

Chopped fronds from the fennel bulb
Instructions
Heat the olive oil in a large stockpot over medium-high heat. When the oil is hot, add the chopped vegetables and cook, stirring often, until they are all soft, but not browned. This should take about 10 minutes or so.

Add the white wine and all the remaining ingredients, plus enough water to cover everything by about an inch or two. Bring to a simmer, then drop the heat to a bare shimmy, about 175°F if you want to be precise. It should not boil under any circumstances, and keep an eye on things to ensure that it doesn't. Simmer like this for 45 minutes to 1 hour, no more.

Turn the heat as low as it will go. Set a fine mesh strainer over a big bowl, then put a piece of paper towel or cheesecloth in the strainer. Ladle the stock through this set-up into the bowl. When you get to the bottom, skip the dregs down there, as they will be filled with sediment. The stock will never be as good as it is right now, but it can be refrigerated for up to a week and frozen for up to 6 months.
Notes
NOTE: You'll notice that my stock differs from others in that I use mushrooms and dried kombu kelp, which is a sort of seaweed. Dried mushrooms are easily available in most supermarkets, but you'll need to go to an Asian market for the kelp. You can skip it if you want.
Nutrition
Calories:
29
kcal
|
Carbohydrates:
2
g
|
Protein:
1
g
|
Fat:
1
g
|
Saturated Fat:
1
g
|
Cholesterol:
1
mg
|
Sodium:
9
mg
|
Potassium:
62
mg
|
Fiber:
1
g
|
Sugar:
1
g
|
Vitamin A:
345
IU
|
Vitamin C:
1
mg
|
Calcium:
8
mg
|
Iron:
1
mg
Nutrition information is automatically calculated, so should only be used as an approximation.