Cardoon Risotto
January 06, 2014 | Updated October 28, 2020
As an Amazon Associate I earn from qualifying purchases.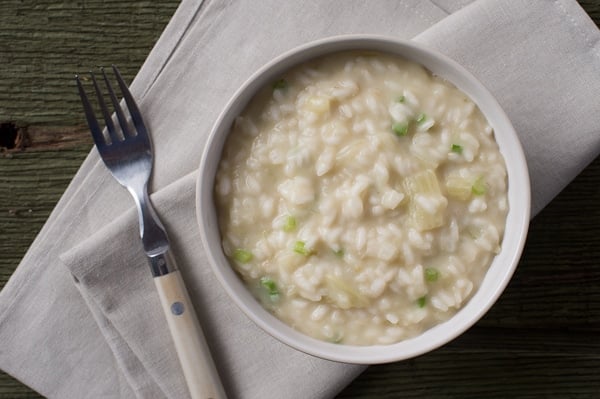 I have something of a love-hate relationship with my cardoons. Cardoons, if you don't know what they are, are an ancient relative of the artichoke. The Romans were fond of them, and they grow wild all over the Mediterranean, as they do here in California. I started growing them back in 2004 and they've naturalized in my yard, so I always have a few of these gigantic, fountain-like plants erupting from one part of my garden or another.
I love my cardoons because they are super cool looking, and require no effort on my part to grow. I also love the taste of cardoons, which is an odd combination of artichoke hearts, celery and bitter endive. I find that cardoons require cheese as a foil in almost every instance.
I hate my cardoons because they are, well, invasive and can get in the way. I also hate how laborious it is to get these crazy plants ready for the table. First off you can only eat them in cool weather — hot weather make the stalks impossibly bitter. Ideally you need to tie up the plant with cardboard or something wrapped around it to whiten the stalks, then cut the plant at the ground (it will grow back), then strip off the outer stalks, which will be punky, then the leaves, then all those little strings on the stalks; they're like celery stalks on steroids.
Then you need to cook the damn things in a witches brew of water, lemon juice, salt and flour to get them ready for anything else you might have in mind for them. This is why I almost never do anything with my cardoons except for cardoon gratin.
Until I found this recipe. I first came across it in Culinate, then forgot about it. Then I picked up a copy of Deborah Madison's Vegetable Literacy. This is my kind of vegetarian cookbook. Deborah has done her homework, and includes the sort of deep knowledge you get only by working with something for a long time. She also gives love to some unusual vegetables, like mesquite and lamb's quarters and yes, cardoons.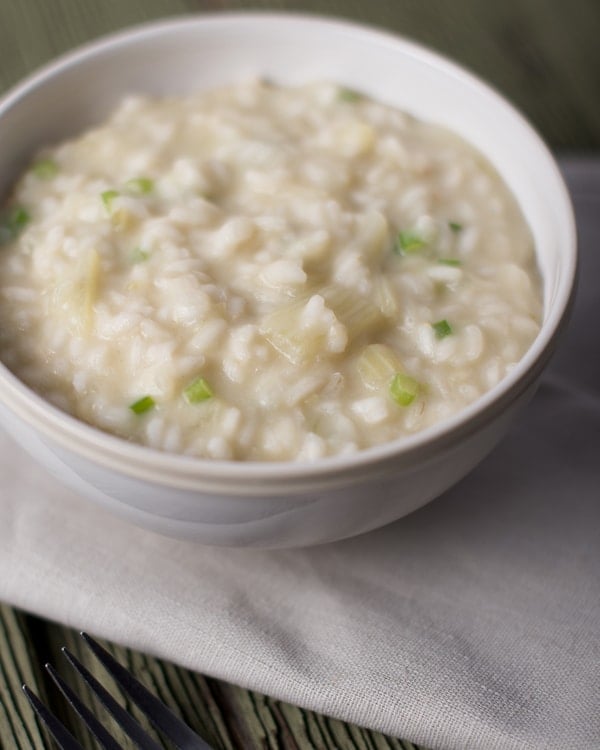 This recipe is adapted from Deborah's version in her book. Mine has stronger flavors than hers, and my experience with cardoons goes back a ways, too, so I have some tips for handling them that she does not. I think it's a nice meeting of the minds.
A cardoon risotto is a delicate thing, with all the complexity of the cardoon inside it, al dente rice, ample "sauce," a richness from sweet butter and just enough parmesan cheese to balance cardoon's bitterness. And the topper? My friend Jack Czarnecki's Oregon Truffle Oil. It is the finest truffle oil I know of, and the only one I know of actually made from truffles — the rest are synthetic. The marriage between truffles and cardoons is a perfect one. Without it, this is a lovely dish. With it, it's total date night material. Ritzy and simple at the same time.
If you're looking for more risotto recipes, I have more than a dozen for fish and seafood, mushrooms and vegetables – you can check them out here.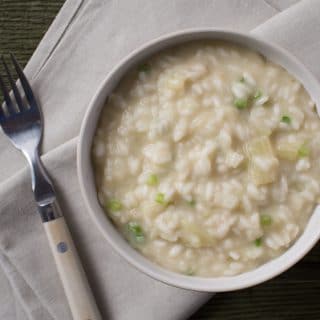 Cardoon Risotto
If you don't grow your own cardoons, as I do, you can find them in some supermarkets (my local Raley's has them), Italian markets and some farmer's markets. You will need to cook the cardoons first and then make the risotto, so this is something of a Sunday supper kind of dish -- although you can cook the cardoons on one day, keep them in the fridge and then make the risotto on a weeknight. Resist the urge to use stock or broth here. The flavor of a cardoon is subtle, and strong stocks or broths can overwhelm it.
Ingredients
PRE-COOKING CARDOONS
1

large bunch of cardoons,

about 3 pounds

2

lemons

2

tablespoons

flour

3

tablespoons

salt
RISOTTO
The cooked cardoons

4

cups

water

Salt

4

tablespoons

unsalted butter,

divided

3/4

cup

minced green onion,

white and green parts separated

1

garlic clove,

minced

1

cup

risotto rice,

(Arborio, carnaroli, etc)

1/2

cup

white wine

1/2

cup

grated parmesan cheese

Black pepper

Oregon truffle oil

(optional)
Instructions
To get the cardoons ready, start by pulling the bunch apart. Slice off the narrow ends and any leaves attached. Use a vegetable peeler to remove the tough strings (they're like celery strings) off the outer side of the cardoons. You can also just peel them off with your fingers. When you get to the inner stalks, rub off the white "bloom" from the stalks; this is bitter. Chop the cardoons into 3-inch pieces, putting each piece into a bowl of water that has the juice of a lemon squeezed into it.

Bring a large pot of water to a boil. Add the salt and the juice of another lemon, then whisk in the flour; this process helps keep the cardoons that pretty light green. Boil until they are tender, which can take anywhere from 20 to 45 minutes. The inner pieces will cook faster. I fish the pieces of the inner stalk out and set them aside.

When the cardoons are done, take about 2 cups' worth of cardoon stalks -- from the outer stalks -- and puree them in a blender with 2 cups of water. Mix this puree with another two cups of water and pour into a pot. Bring to a bare simmer and have this at the ready. Chop the remaining cardoon stalks small; they will go whole into the risotto.

In a saucepan heat 3 tablespoons of butter over medium-high heat. Add the white parts of the green onion and saute for 1 minute. Add the garlic and the rice and saute another minute, making sure to coat the rice well. Turn the heat to high and add the white wine. Stir it constantly until the wine has pretty much evaporated.

Add two ladles' worth of the cardoon broth to the risotto. Cook over medium-high heat, stirring more or less constantly, until it has mostly boiled away. Repeat this process until the rice is tender, but still a bit al dente. If you run out of cardoon broth (which should only happen with old rice), use water.

When the rice is ready, add back the chopped cardoon pieces, the green parts of the green onion, the remaining tablespoon of butter and the parmesan cheese. Stir well and loosen the risotto up with a little water if need be -- I like my risotto all'onda, or a little porridge-like. Grind some black pepper over everything and add the truffle oil, if using. Serve with the same white wine you put in the risotto.
Nutrition
Calories:
388
kcal
|
Carbohydrates:
49
g
|
Protein:
9
g
|
Fat:
15
g
|
Saturated Fat:
9
g
|
Cholesterol:
41
mg
|
Sodium:
5440
mg
|
Potassium:
149
mg
|
Fiber:
3
g
|
Sugar:
2
g
|
Vitamin A:
458
IU
|
Vitamin C:
29
mg
|
Calcium:
169
mg
|
Iron:
3
mg
Nutrition information is automatically calculated, so should only be used as an approximation.