Seafood Stock
February 18, 2022 | Updated April 18, 2022
As an Amazon Associate I earn from qualifying purchases.
Seafood stock, usually crab stock for me, is a mainstay in my kitchen during Dungeness crab season, which in California runs from November through June. But a good seafood stock can be made with any sort of crab, or lobsters, crawfish, shrimp, or fish.
Really what makes a nice seafood stock is a mix of seafood, a grab bag of shells and bones you might otherwise throw away.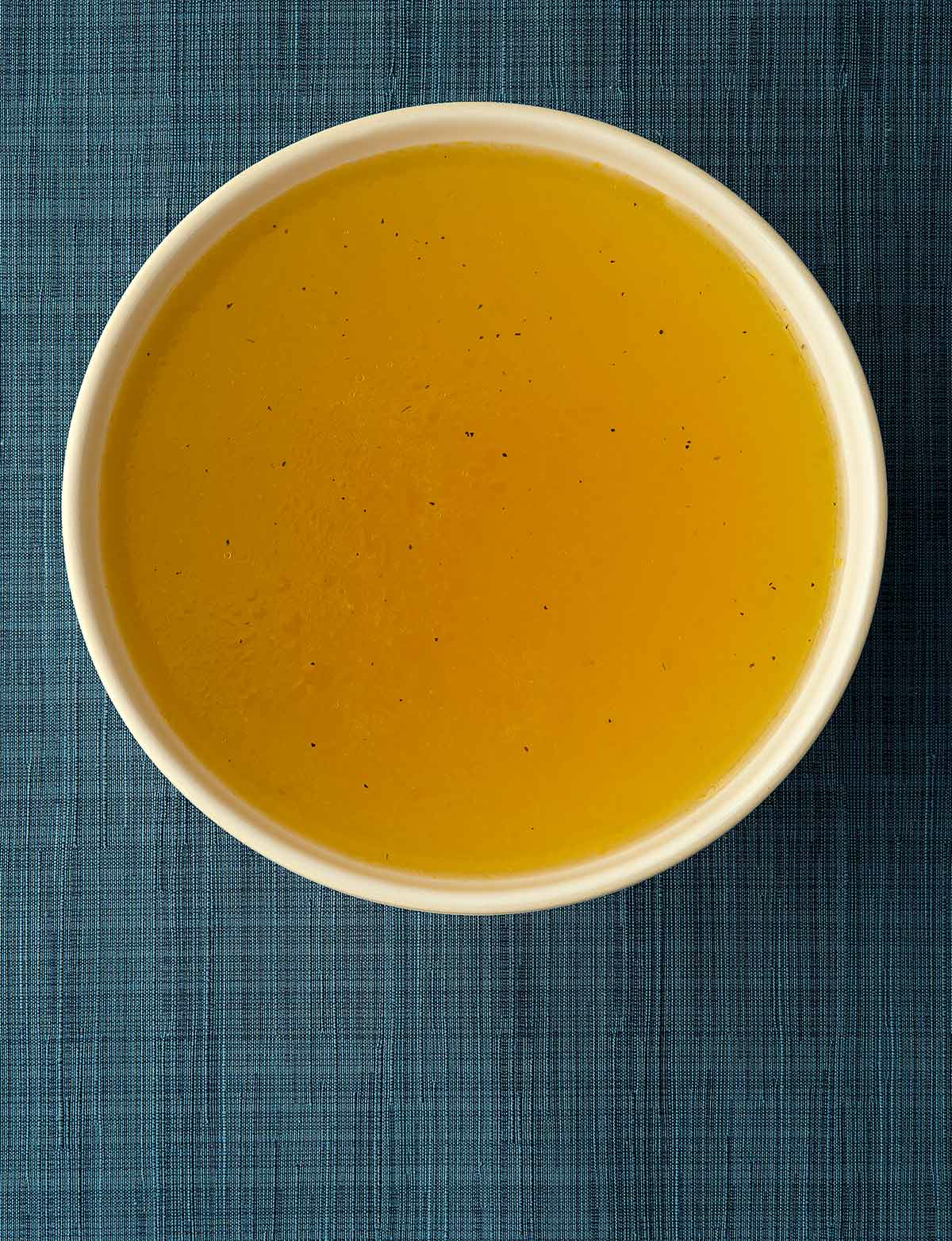 I like to gather the shells and such as I eat seafood, then freeze them in bags until I want to make a seafood stock. I find that the best bits are the shells from the legs, as well as the top shell. If you use the inner shell bits from the body, there's a lot of fat in there that can cloud the stock. If you aren't worried about that, go right ahead.
Shrimp heads and shells are also great, and you might want to toss in a fish head or backbone for good measure. Play with it.
Unlike my recipe for fish stock or for a straight-up shrimp stock, I use tomato in seafood stock. The reason is because tomato and shellfish like crabs, crawfish and lobsters just go so well together. It's only a couple tablespoons of tomato paste, but it makes a difference.
I love adding chopped fresh fennel bulb because it adds a hint of anise flavor without being overpowering. My other touch is a bit of mushrooms, for added savoriness. I prefer dried porcini, but matsutake are great, and hell, plain button mushrooms are fine.
Other than that, I use your typical mirepoix of carrot, celery and onion.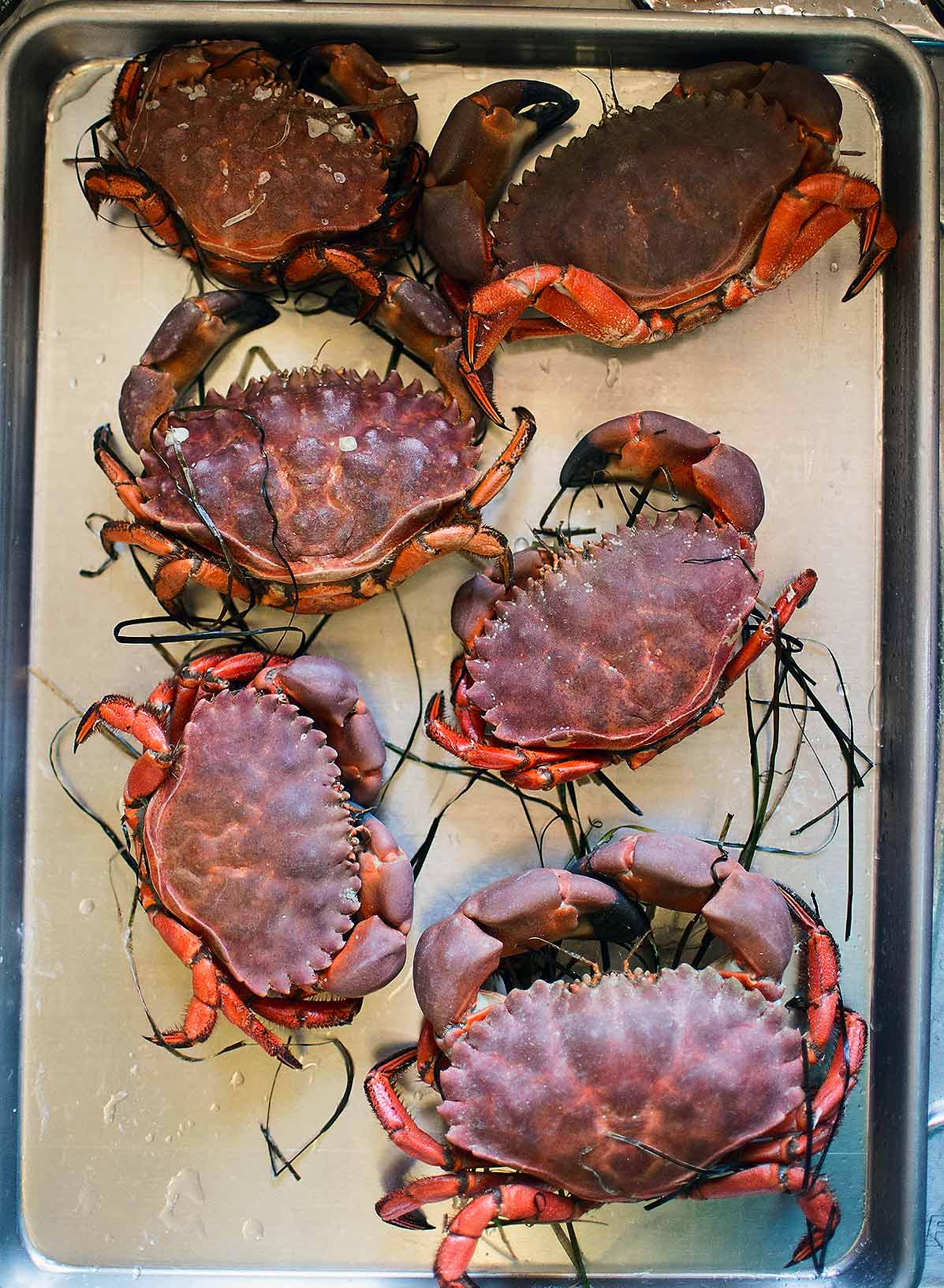 This recipe makes a reasonably clear seafood stock, but if you want a crystal clear seafood stock, the easiest thing to do is freeze it, then let it thaw through a regular coffee filter, which will filter out the fine particulates that are clouding the stock. It takes a few hours, and you can do it at room temperature, or in the fridge overnight.
Another tip for a clearer stock is to never let it boil. Boiling will cloud a stock worse than most other stocks; not sure why that is.
Obviously you can make a seafood stock out of any crab, lobster or shrimp. I've done it with pretty much every species in North America, including the shells from snow and king crab legs.
Use this stock in seafood soups and stews, as a base for a French crab sauce like Nantua (normally made with crayfish), or Crab Risotto or in Crab Curry. Or as the base for any fish or seafood stew, such as this East African inspired fish stew.
Once made, seafood stock will keep in the fridge about a week, tops, and it freezes well for about 6 months. After that it gets fishy.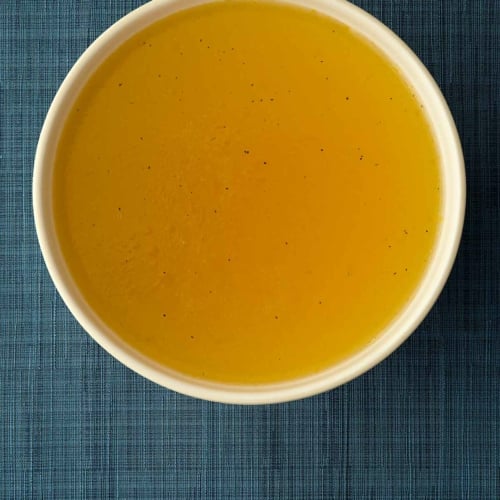 Seafood Stock
The vegetables in here are what I use, and are open to substitution: The only ones you really need are the onions (or leeks), and celery. I also think fennel adds a lot here. If you can't find it, add fennel seeds, or even a shot of ouzo or other anise-flavored liqueur. Use any seafood you have available.
Ingredients
1 to 2

pounds

crab, lobster or shrimp shells

4

tablespoons

olive oil

1

large onion,

chopped

2

garlic cloves,

chopped

3

celery stalks,

chopped

2

carrots,

chopped

Tops from 1 fennel bulb

chopped

1/2

pound

mushrooms,

or a handful of dried, chopped

2

tablespoons

tomato paste

1

cup

white wine

3

bay leaves

2

tablespoons

black peppercorns,

cracked

1/2

cup

chopped parsley

Salt
Instructions
Heat the olive oil in a large stockpot and sauté the vegetables over high heat for 5 minutes, stirring often, until the onions are translucent. If you are using fresh mushrooms, add them, too. Add the tomato paste, stir well and cook over medium heat for another 2 or 3 minutes, until it darkens.

Add the shells and bodies and bones and smash them all with a potato masher. If you are using dried mushrooms, add them here. Mix well to coat with the tomato paste and to disperse everything. Cook for another 2 to 3 minutes, stirring a couple times.

Add the white wine, bay leaves, peppercorns and parsley and bring to a boil. Let this cook for a minute or two, then pour in enough cold water to cover everything by about an inch; normally this is about 10 cups. Let this simmer very gently for between 30 and 45 minutes. Add salt to taste.

Turn off the heat. Set up another large pot or bowl and put a fine-meshed strainer over it. Line the strainer with a plain paper towel or cheesecloth and ladle the stock through this set-up into the large pot or bowls. Do not try to get the last dregs of stock, as this will be full of debris. Discard the shells, etc.

Let the stock cool for 15 to 30 minutes, then use or pour into quart jars. The stock will keep for a week in the fridge. It will freeze well for 6 months, but after that it deteriorates rapidly.
Notes
This recipe makes about 5 quarts. 
Keys to Success
Don't let this boil (you want a very gentle simmer) and don't be tempted to simmer it for more than 1 hour or it will lose flavor and get cloudy. 

Really wail on the shells, etc. when they go into the pan. You want the pieces small, which will give you better flavor faster. You can put them in a bag and crush them before they go into the pot, too. 
All fish and seafood stocks are best immediately, so do yourself a favor and have something that will use them in mind when you start. I really love crab risotto or shrimp risotto made with fresh stock. 
Nutrition
Calories:
192
kcal
|
Carbohydrates:
13
g
|
Protein:
3
g
|
Fat:
12
g
|
Saturated Fat:
2
g
|
Sodium:
97
mg
|
Potassium:
512
mg
|
Fiber:
3
g
|
Sugar:
5
g
|
Vitamin A:
4809
IU
|
Vitamin C:
15
mg
|
Calcium:
60
mg
|
Iron:
2
mg
Nutrition information is automatically calculated, so should only be used as an approximation.