Porcini Powder
April 03, 2020 | Updated June 04, 2022
As an Amazon Associate I earn from qualifying purchases.
Porcini powder is one of my secret ingredients. A pinch here and there adds depth and savoriness — umami — to whatever it touches. Here's how to make it at home.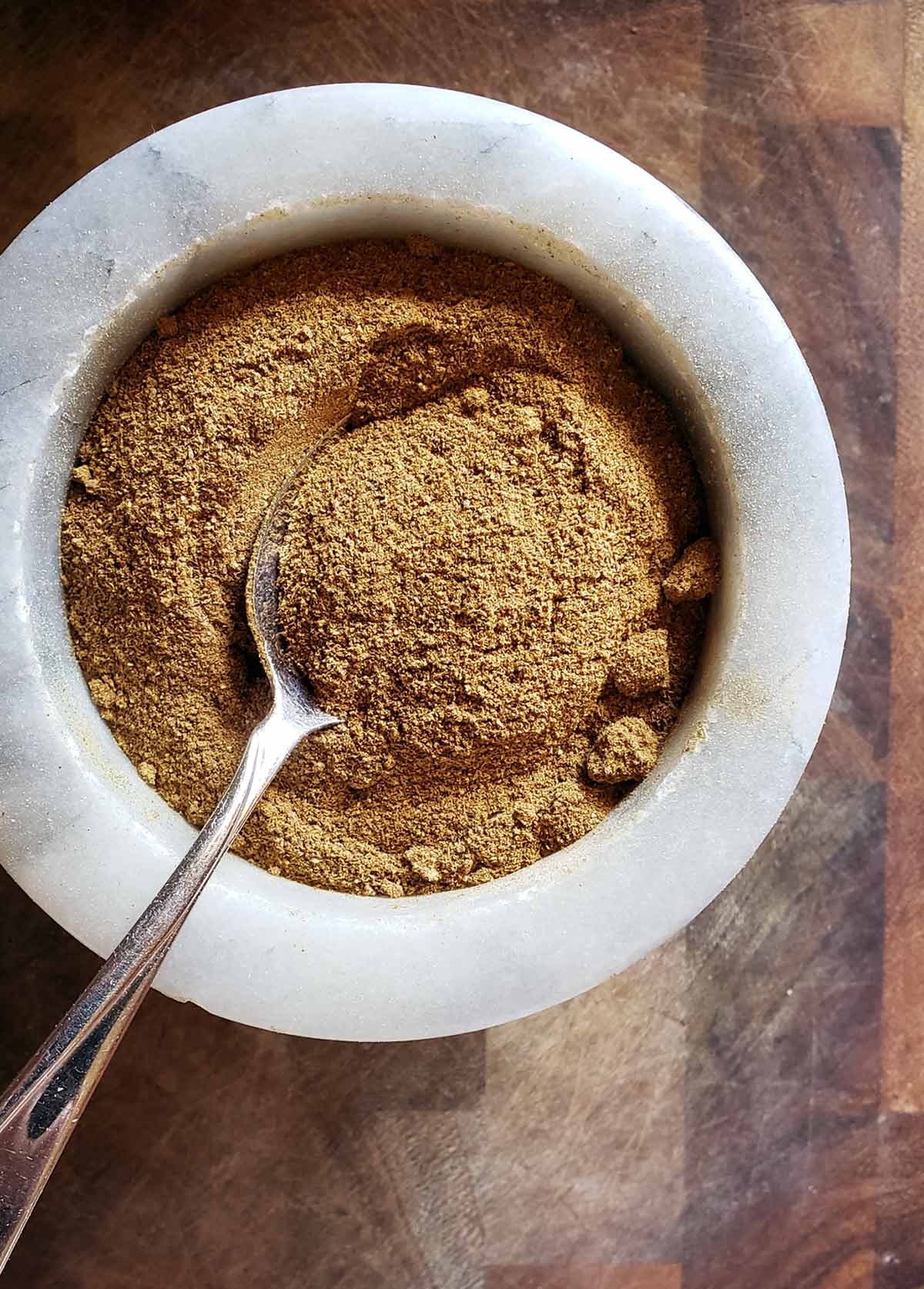 You can of course buy porcini powder
, and if you are not a mushroom hunter, that is the easiest way to get your hands on some. Your other option is to buy dried porcini and grind them into a powder with a spice grinder.
Here's how to go about making porcini powder from mushrooms you've collected. First, you need to know your mushrooms.
Porcini is the Italian name for Boletus edulis. This is actually a complex of species that live in many, many places around the world, and they are prized almost everywhere they appear. The Germans call them steinpilz, the French cepes, the English penny buns, the Spanish panza. Porcini is most commonly used in the United States. Incidentally, one of these mushrooms is called a porcino.
Now that said, porcini powder can be made really any edible bolete. And there are a lot of them.
Here in California, we have spring kings, B. rex-veris, as well as our fall kings, B. grandedulis, not to mention a raft of very similar bolete mushrooms like the butter bolete. The Rockies and Arizona have their B. rubriceps, which has a reddish cap. And the Midwest has B. subcaerulescens. Then there are the ivory colored Barrows bolete and the B. subalpinus… I could go on. A lot.
A whole other class of lesser edible boletes are perfect fodder for porcini powder. These are the suillus clan, the slippery jacks. Almost all of these guys are "meh" when eaten fresh, but when dried, many have an even more powerful aroma than true porcini. What's more, American porcini tend to smell milder than the imported Italian ones; they're different species.
A generally good rule of thumb when picking boletes is to follow these rules:
The mushroom has spongy pores, not gills.
Those spongy pores are white or yellow.
When bruised or cut, the mushroom does not stain blue.
If you follow those rules, you are in the clear. Nothing you pick will be actively toxic, although some might be gross. Now real mushroom people will chime in about the various delicious boletes that stain blue, notably butter boletes, but these rules are good for beginners.
Let's assume you have some fresh porcini, or their friends, and you want to make porcini powder. What now?
First, for the love of all you hold holy, do not dry and grind pristine, beautiful button porcini, like these.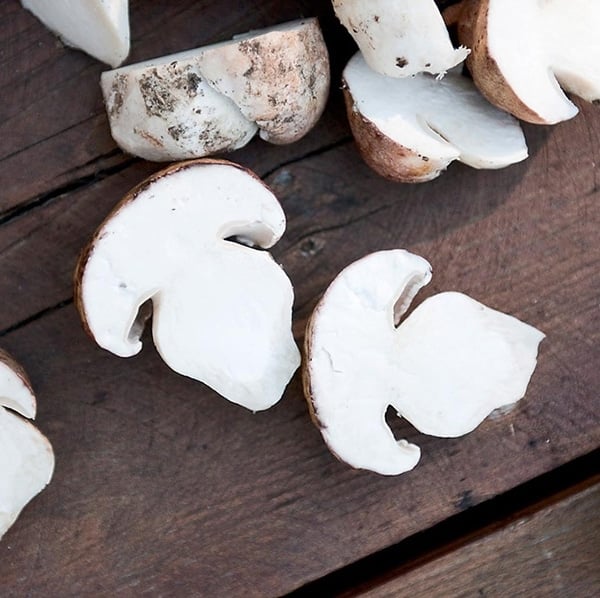 If you do, I and other mycological jedi will feel a disturbance in The Force, as if millions of voices suddenly cried out in terror and were suddenly silenced. We will fear something terrible has happened. And it will have. You will have ruined one of the greatest joys in the wild world, a pristine porcino.
Unblemished porcini are not all that common. A variety of parasitic flies lay eggs in them that hatch into little black-headed maggoty things that can riddle a mushroom in days. Grrrr…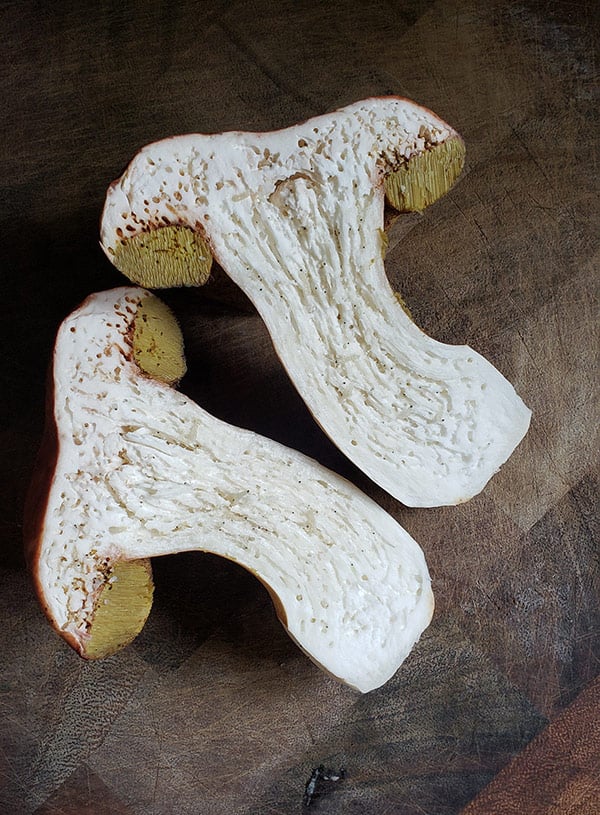 This one was too far gone even for me. But if a porcino is only slightly wormy, it is perfect for porcini powder. Dry it and grind it. What's even better is to make your porcini powder from the sponge itself.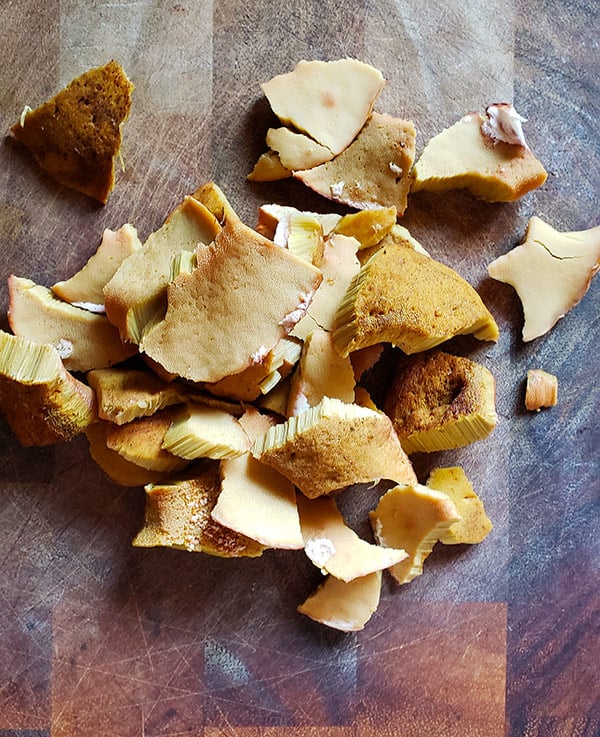 Yep, just that part. Why? Unless it is from a super young mushroom and is white and tight, the spongy pores will cook up, well, spongy. Not a great texture. Fortunately, they come off the mushroom easily.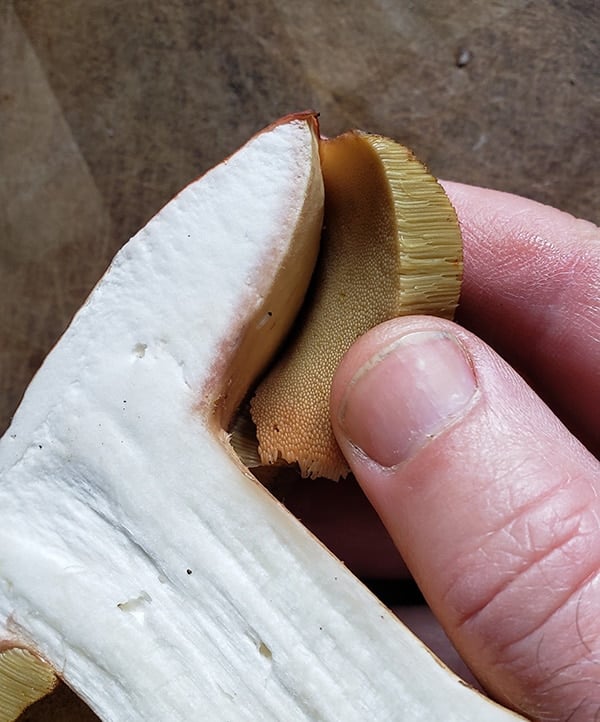 Gather them up from even nice mushrooms and dry them separately. And guess what? porcini powder made from the sponge is more aromatic and flavorful than from the rest of the mushroom. So you've turned the worst part of the shroom into something useful.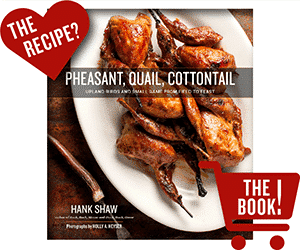 How to Use Porcini Powder
Once you have your powder, you can use it in a variety of ways.
I've added a few tablespoons into flour tortilla dough, and it would be good in bread dough, too. Porcini pasta, too. You can add it like a spice to anything you want a savory, earthy note to, like chili, or a meat stew, or if you are a vegetarian, porcini powder will make a typical vegetable stew as "meaty" as one with beef.
A dash of the powder boosts flavor in a porcini risotto, too. Or any other mushroom risotto.
It is great in spaghetti sauce. It is fantastic mixed with other herbs and spices of your choice and used as a coating for venison or beef or pork: I like to roll a length of venison backstrap in porcini powder after it's been cooked but before it has rested.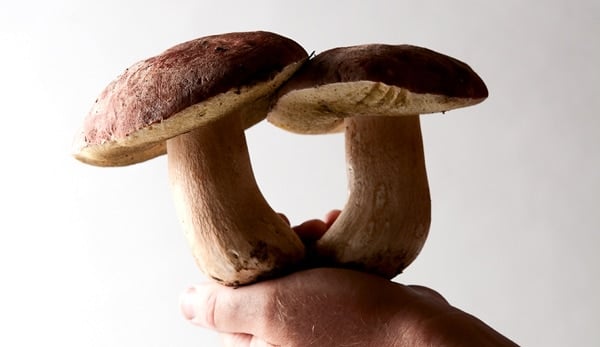 Another great use is to add a spoonful of porcini powder to a pan sauce. So after you've cooked your meat, add minced shallots or onions and let them cook a bit. Add a chopped herb, like rosemary or sage or thyme, then the powder, then a splash of wine or whisky. Salt to taste and you're good.
But where I mostly use my porcini powder? As an additive to meatballs, meatloaf and sausages. I'll even sneak a bit into a burger, especially my venison mushroom burgers. If you only add a spoonful or two, you won't taste it per se, but the meat will be more powerfully flavored.
Finally, once you have some, porcini powder lasts more or less forever in a cool, dry place. One tip? Put one of those silica packets into the jar. It will suck out any stray moisture that can ruin your powder.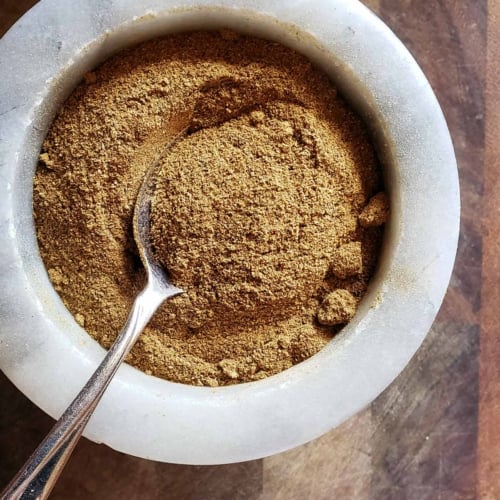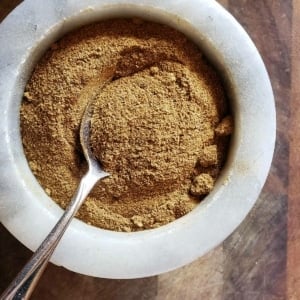 Porcini Powder
This is how to make porcini powder, but it works with any dried mushroom. Morels and black trumpets are other great options. It assumes you are starting with fresh mushrooms.
Equipment
1 Dehydrator

1 spice grinder
Ingredients
1

pound

fresh mushrooms

(see below)
Instructions
If you are working with boletes like porcini, slice them in half. Any that are marginal, as in slightly wormy, should be dried. Ones with no worm holes should be eaten fresh. Remove any of the "sponge" that is yellow and reserve.

Slice the mushrooms and arrange them on a rack for the dehydrator, along with the sponge if you have some. Dehydrate on low heat, ideally about 110°F, until they are crispy dry.

Put all this into a spice grinder and grind to a powder. You might have to return larger bits for re-grinding.

Store in a glass jar, ideally with a silica packet, in the pantry. Will keep for years.
Nutrition
Calories:
5
kcal
|
Carbohydrates:
1
g
|
Protein:
1
g
|
Fat:
1
g
|
Saturated Fat:
1
g
|
Polyunsaturated Fat:
1
g
|
Sodium:
1
mg
|
Potassium:
72
mg
|
Fiber:
1
g
|
Sugar:
1
g
|
Vitamin C:
1
mg
|
Calcium:
1
mg
|
Iron:
1
mg
Nutrition information is automatically calculated, so should only be used as an approximation.