Porcini Risotto
December 21, 2011 | Updated March 15, 2021
As an Amazon Associate I earn from qualifying purchases.
Porcini risotto is one of those ugly delicious meals. Sure, at first it looks like a beige plate of rice porridge, and I suppose it is. But it is so much more than that.
Porcini mushrooms in their various forms and species — they are more of a complex of mushrooms rather than one set species — are widely regarded as the king of all mushrooms. Large, meaty, beautiful. They are loved even by the normally mushroom-phobic English, who call then penny buns.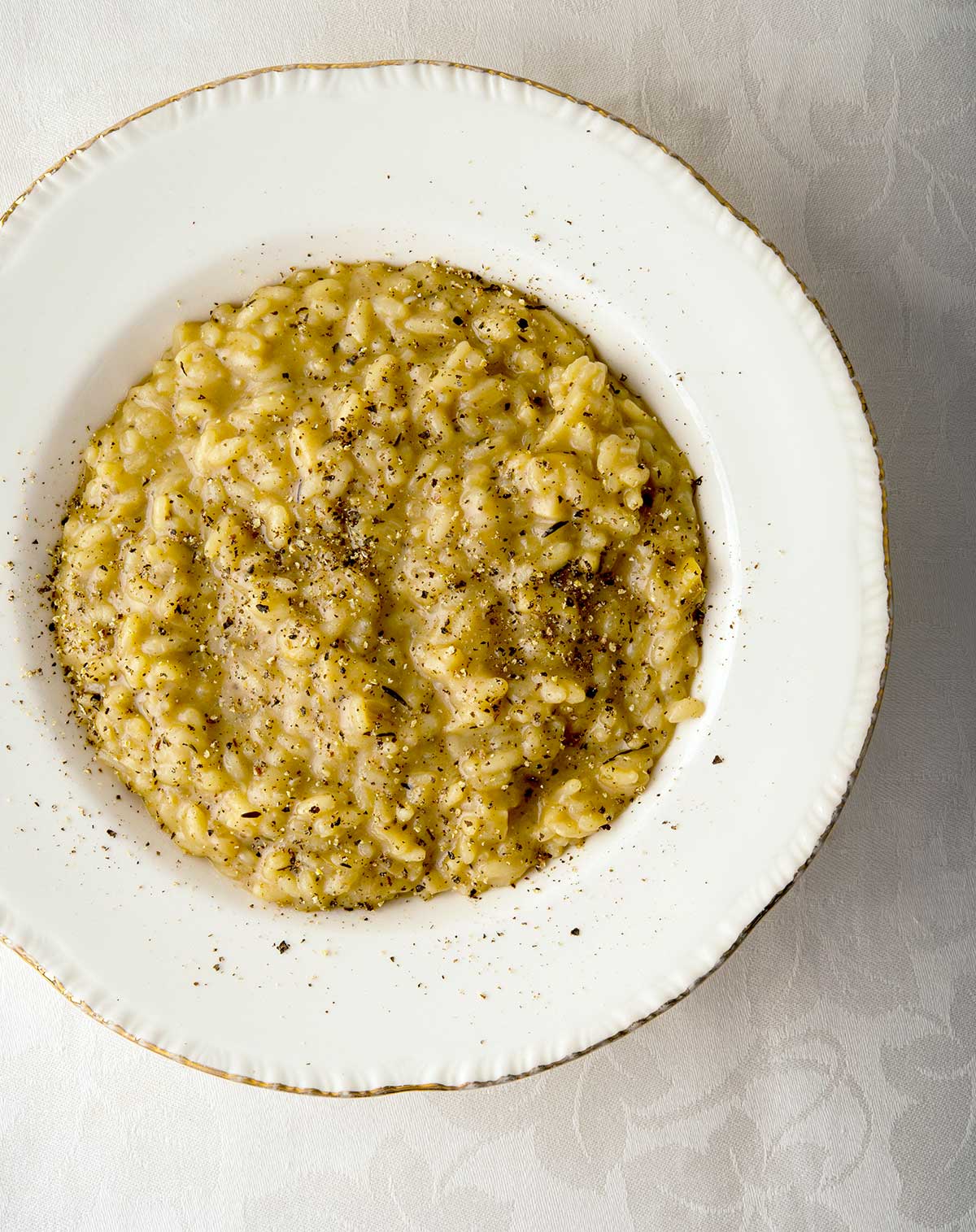 But the problem with porcini is that everything loves them. Deer, bears, squirrels… and bugs. Lots of bugs. Various species of parasitic flies invade the mushrooms and can render even a seemingly pretty young one useless, fly ridden. Ruined.
So when you find a perfect porcino, which is what you call one of these mushrooms, you want to celebrate it. Porcini risotto is one good way to do that.
Risotto is a Northern Italian way to cook rice that is vaguely like Chinese congee, a rice porridge. You must use short-grained rice that has a lot of a particular sort of starch, which sloughs off as you stir and stir the pot, making your risotto creamy with no cream. Cream does not belong in risotto.
It lends itself to pretty much anything, and I have a great many recipes for risotto on this site, even other mushroom risottos, like my morel risotto and my chanterelle risotto. They are all a bit different from this porcini risotto, but you could switch up mushrooms depending on what you have.
Now, here's the thing. Fresh porcini are expensive. If you are not a mushroom hunter, this is a special occasion dinner, as they can run upwards of $30 a pound. Those of us who gather them can enjoy this wonderful dish any night of the week in season.
But there's another way to make porcini risotto, using dried porcini. Dried porcini are much, much cheaper.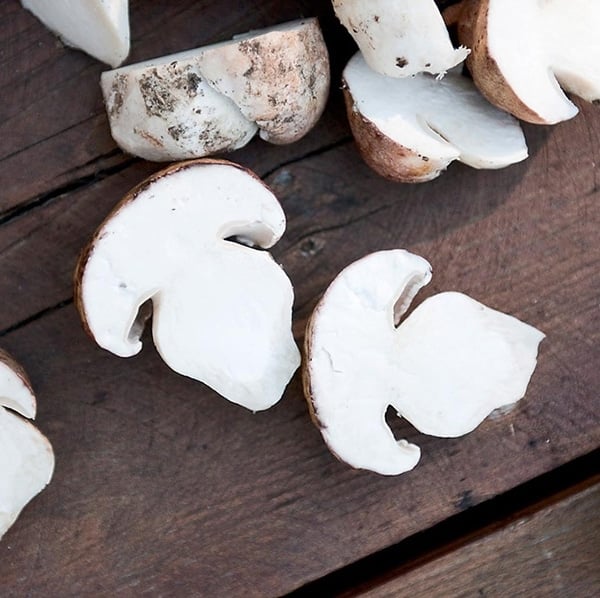 If you only have dried porcini, don't think you are making an inferior risotto — you will have a secret weapon that you would not have had with a fresh porcini risotto. The soaking water.
Use 1 ounce of dried porcini, a typical package. Pour 1 quart of boiling water over them into a bowl. Cover the bowl and let them set 1 hour. Remove and chop the mushrooms small, then strain the water through a paper towel into another bowl to remove all grit and debris.
You now have the stock you need to make your rice.
One other tip. If you happen to have porcini powder on hand, a spoonful really does wonders here. You can buy porcini powder online, but it's easily made by grinding dried porcini to a powder.
Porcini Risotto
If you don't have fresh porcini mushrooms, see my suggestions for substitutions above. Once made, this needs to be eaten straight away. If you do have leftovers, they are great mixed with an egg, breaded and fried as little cakes the next day.
Ingredients
1/2

pound

fresh porcini mushrooms, diced small

5

tablespoons

butter, divided

1

shallot,

minced

Salt

1

garlic clove, minced

2

cups

risotto rice

(Carnaroli, Arborio or Vialone Nano)

1/4

cup

white wine or vermouth

1/2

teaspoon

dried thyme

1

tablespoon

porcini powder

(optional)

1

quart

stock

1/4

cup

grated parmesan cheese

Black pepper
Instructions
In a large, heavy pot, heat 3 tablespoons of butter over medium-high heat for 1 minute, then add the shallot and fresh porcini. Sprinkle some salt over them as they cook. Stir often and saute for 6 to 8 minutes. The mushrooms will give up their water at some point, and you want this to mostly boil away.

Stir in the minced garlic and the rice and saute for another minute or three. Add the dried thyme and the porcini powder, if using.

Pour the vermouth into the pot and stir it in. It's likely that it will almost immediately evaporate. If so, add 1 cup of the stock. Stir this in. You are now in the work stage of a risotto. You will need to constantly stir and add stock to the rice as it cooks to get that creamy consistency. I stir almost continuously at this point, but you can step away a little bit. Once the liquid is almost gone -- you never want the rice to stick to the bottom of the pot -- add a little more, then a little more, and so on. Sprinkle salt in the pot once or twice as you do this.

You will likely need more liquid than the quart of stock. Use water from here on in. When the rice is cooked but not mushy, stir in the remaining 2 tablespoons of butter and the parmesan cheese.

Add a little more water to keep the risotto loose, then spoon it into bowls and grind some black pepper over it.
Notes
A word on the rice. I prefer Carnaroli or Arborio rice for this recipe. You absolutely need a risotto rice to make this. No long-grain, OK? 
Nutrition
Calories:
597
kcal
|
Carbohydrates:
91
g
|
Protein:
16
g
|
Fat:
18
g
|
Saturated Fat:
11
g
|
Cholesterol:
43
mg
|
Sodium:
300
mg
|
Potassium:
540
mg
|
Fiber:
5
g
|
Sugar:
2
g
|
Vitamin A:
491
IU
|
Vitamin C:
1
mg
|
Calcium:
86
mg
|
Iron:
5
mg
Nutrition information is automatically calculated, so should only be used as an approximation.