Chanterelle Risotto
August 03, 2017 | Updated May 18, 2020
As an Amazon Associate I earn from qualifying purchases.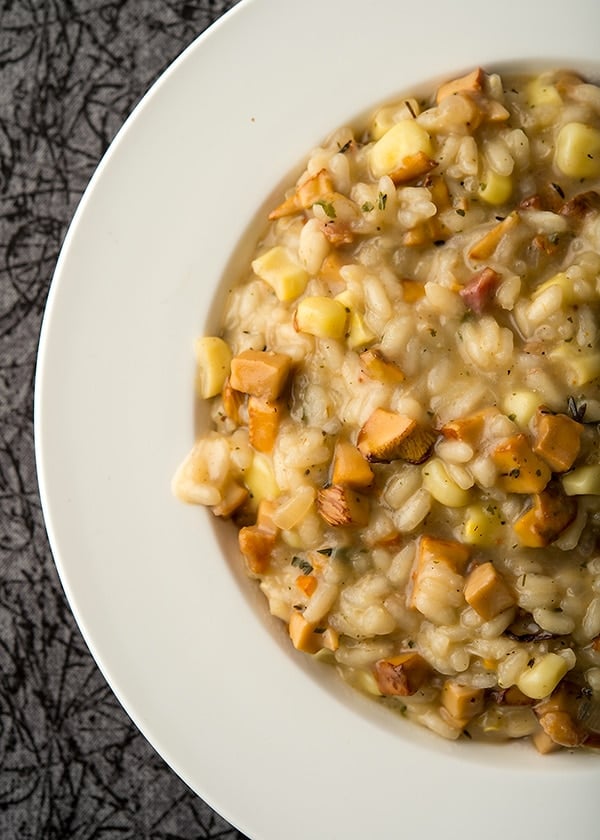 Chanterelle mushrooms, for most, are one of the highlights of summertime. Starting in June in the Deep South, they march northwards through the East and Midwest into Canada, where the fabled little chanties of Saskatchewan start popping in August.
Here in the West, where I live, chanterelles tend to be more of a winter thing, a bright spot in often rainy, gloomy winters. That's when I designed this simple chanterelle risotto. It's an Italian sort of a rice porridge loaded with chanties and their summer lover, sweet corn.
One of the keys to cooking chanterelles is to remember that they like sweet corn, thyme, butter and cream. So no matter how you cook your chanties, remember this and you're on your way to a great meal.
Risotto, if you've never made it, needs to be made with Mediterranean varieties of rice. Most often Arborio, you can also use carnaroli, vialone nano, baldo and even Spanish bomba rice. Arborio is widely available all over the country, and is grown extensively in Texas and California. Let me reiterate: You can't make risotto without one of these types of rices. So no long-grain rice, OK?
Once you have the rice, you make your chanterelle risotto by slowly adding water or stock, stirring often, so the special starches in this kind of rice slough off and make a creamy sauce.
Risotto can feature anything – I have more than a dozen risotto recipes here – but I really like doing it with mushrooms. I have whole separate recipes for porcini risotto and morel risotto, in fact. Risotto needs to be restrained to be good — only a few ingredients, so you can appreciate them — and using 'shrooms as one of those ingredients puts them front and center; most mushroom recipes are really about something else, with the mushrooms playing a supporting role.
The end result is smooth, comforting. The chanterelles play the part of meat, the rice is cooked through but each grain distinct, the corn gives you bursts of sweetness. A light stock (I use pheasant or quail stock) builds body, and lots of grated cheese fill out the flavors.
Looking for more chanterelle recipes besides chanterelle risotto? I make a mean chanterelle pasta, and an even better chanterelle soup.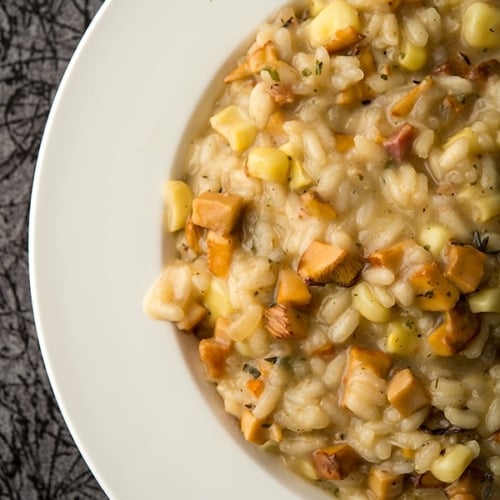 Chanterelle Risotto
While I designed this as a chanterelle risotto, nothing will go wrong if you use other mushrooms. Chanties and corn really love each other, though. Only chicken of the woods has an affinity for corn like chanterelles. Also, be sure to use a risotto rice like Arborio.
Ingredients
4

tablespoons

butter, divided

1

shallot, minced

(or 1/2 cup minced onion)

Salt

2

cloves

garlic, minced

1/2

pound

chanterelle mushrooms, diced

2

cups

risotto rice

(arborio, carnaroli, etc)

1/2

cup

white wine

1

teaspoon

dried thyme

6

cups

chicken or other light stock

1

cup

sweet corn kernels

1/4

cup

grated cheese

(pecorino or parmesan)
Instructions
Bring the chicken or other stock to a gentle simmer in a pot. Heat 2 tablespoons of the butter in another pot and cook the shallot over medium heat until it softens, about 4 minutes. Salt it as it cooks.

Add the garlic and diced chanterelles and turn the heat to medium-high. Stirring often, cook for 5 minutes. Stir in the rice and cook another 2 minutes or so. You want the rice to get a little translucent.

Pour in the white wine and add the thyme. The pot will sputter. Stir constantly until the rice has absorbed the wine.

Once the wine has been absorbed, start adding the hot stock, a ladle or two at a time. You want to stir the rice often at this point, about every other minute or so. Keep it bubbling and boiling at a steady heat -- normally this means keeping the burner at medium. Keep adding stock and stirring often until the rice is cooked, but still a little al dente at the center, about 20 minutes.

When the rice is nearly done, stir in the corn and grated cheese and add the final 2 tablespoons of butter. You want this to be a bit soupy, so add more stock. If you're out of stock, add water. Add salt to taste and serve.
Nutrition
Calories:
634
kcal
|
Carbohydrates:
98
g
|
Protein:
18
g
|
Fat:
17
g
|
Saturated Fat:
10
g
|
Cholesterol:
38
mg
|
Sodium:
259
mg
|
Potassium:
793
mg
|
Fiber:
6
g
|
Sugar:
4
g
|
Vitamin A:
522
IU
|
Vitamin C:
3
mg
|
Calcium:
90
mg
|
Iron:
8
mg
Nutrition information is automatically calculated, so should only be used as an approximation.