Crab Risotto
January 30, 2012 | Updated January 22, 2021
As an Amazon Associate I earn from qualifying purchases.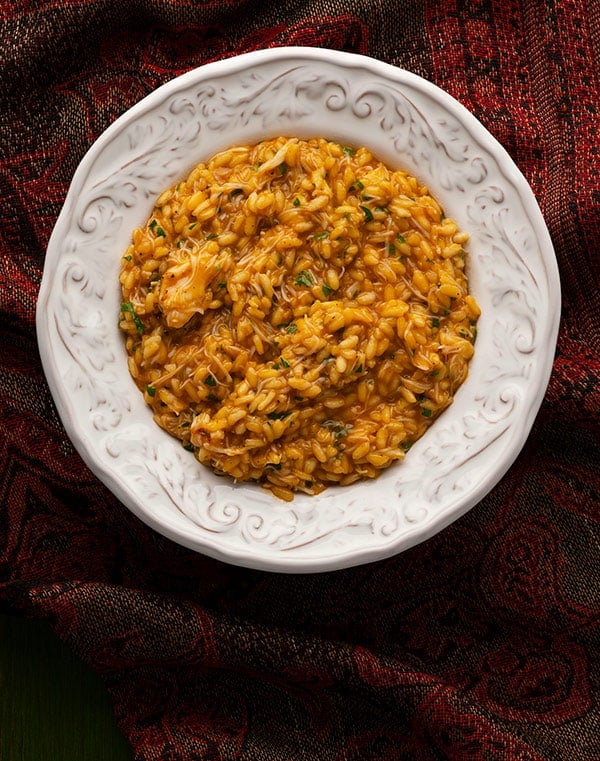 Seafood risottos are one of the great joys in life, especially when they are made with fresh stock and fresh ingredients. Lobster and crab risotto is my favorite of them all.
Unlike terrestrial meats and stocks, those made with the fruits of the sea are zephyrs: Make them, enjoy them, and move on. They don't store well.
I make this risotto to celebrate our Dungeness crab season, but you could use blue crabs in the East, Jonah or stone crabs — even snow or king crab meat. And yes, you can use crawfish or lobster, too. Both are wonderful.
You will need arborio, vialone nano, or carnaroli rice for this dish, and if you happen to have access to all three, go for the vialone nano — it's the rice most Italian cooks use for a seafood or crab risotto. I've seen it in some supermarkets, and in most Italian groceries. Spanish bomba rice works well, too.
I urge you to make the seafood stock for the rice. It is a zillion times better than using store-bought stock, and it comes together in less than an hour. I feel so strongly about this that if you can't make your own fish or seafood stock for this, I recommend chicken or vegetable stock, not a store-bought seafood stock, because most are overly fishy.
Should you have leftovers, my favorite way to cook leftover risotto easily — fried arancini balls are amazing but time-consuming — is to beat a couple eggs, then pour some olive oil into a pan. Heat the oil, spread the cold risotto out in the pan so it's about 1/2 inch thick, then pour the beaten eggs over it all. Mix it a little, maybe add any leftover crab or parsley, flip once and eat for lunch the next day. It's amazing and simple.
As a side note, I have a pretty spectacular recipe for fish risotto that I cribbed from an Italian language cookbook from Venice, as well as a pretty shrimp risotto with saffron. You can find more than a dozen risotto recipes for fish and seafood, mushrooms and vegetables here.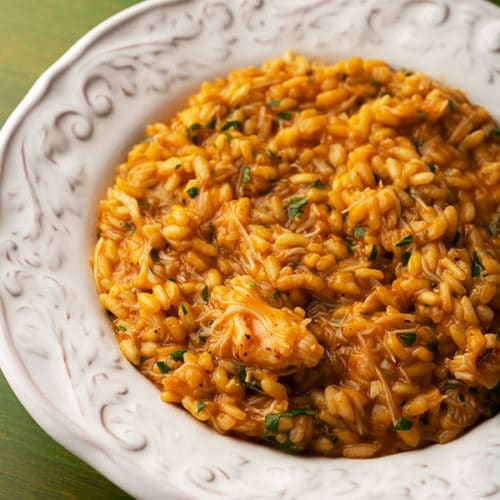 Crab Risotto
The key here is good stock. You should make crab stock special for this recipe, but you could use a high-quality fish stock instead. If you don't have access to either, use good vegetable stock, or even water. One note: If you use a salty broth or stock, taste the risotto as you go, and switch to water once the dish is salty enough for you.
Ingredients
2

cups

risotto rice

4

garlic cloves,

chopped

2

tablespoons

olive oil

1

heaping tablespoon tomato paste

1/3

cup

Marsala

or white wine

1/2

cup

chopped parsley

1 to 2

cups

crab meat

5 to 7

cups

crab stock,

fish stock or chicken stock

Salt
Instructions
Pour the stock into a pot and bring to a bare simmer.

Heat the olive oil in another pot over medium-high heat for a minute or two. Add the garlic, rice and tomato paste and stir-fry them until the garlic just begins to turn golden.

Pour in the Marsala and stir vigorously. It will combine with the tomato paste to make a thick slurry, so start pouring in your crab stock. Start with 1/2 cup. Stir well to combine. Sprinkle a little salt over everything now -- unless your stock is already salty.

Stirring constantly, let the liquid evaporate. When the pot is nearly dry, add another half cup of hot stock. Keep doing this for about 20 to 25 minutes, until the rice is fully cooked but still firm.

Once the rice is cooked, add a little more stock, the parsley and the crab meat and stir to combine. Add some nice olive oil now if you want. I do. Turn the heat to low and stir until the crab is heated through. Serve at once.
Notes
This recipe also works very well with crawfish and lobster. 
Nutrition
Calories:
546
kcal
|
Carbohydrates:
85
g
|
Protein:
21
g
|
Fat:
10
g
|
Saturated Fat:
2
g
|
Cholesterol:
18
mg
|
Sodium:
1335
mg
|
Potassium:
538
mg
|
Fiber:
3
g
|
Sugar:
2
g
|
Vitamin A:
1264
IU
|
Vitamin C:
24
mg
|
Calcium:
140
mg
|
Iron:
6
mg
Nutrition information is automatically calculated, so should only be used as an approximation.