All About Lambsquarters, or Huauzontles
July 01, 2019 | Updated March 13, 2021
As an Amazon Associate I earn from qualifying purchases.
For the life of me I cannot understand why people hate on the chenopods: Lambsquarters, its Mexican cousin huauzontles, salt bushes and all their various goosefoot friends. All are fantastic greens, with edible flowers and seeds, one of which I am sure you know: quinoa.
I grow two in my garden. I planted huauzontles, Chenopodium nuttalliae, and well, if you look pretty much anywhere, you will find lambsquarters, C. album. These and all their chenopod friends share the same leaf pattern, more or less, and all are incredibly drought tolerant and do just fine in crappy soil.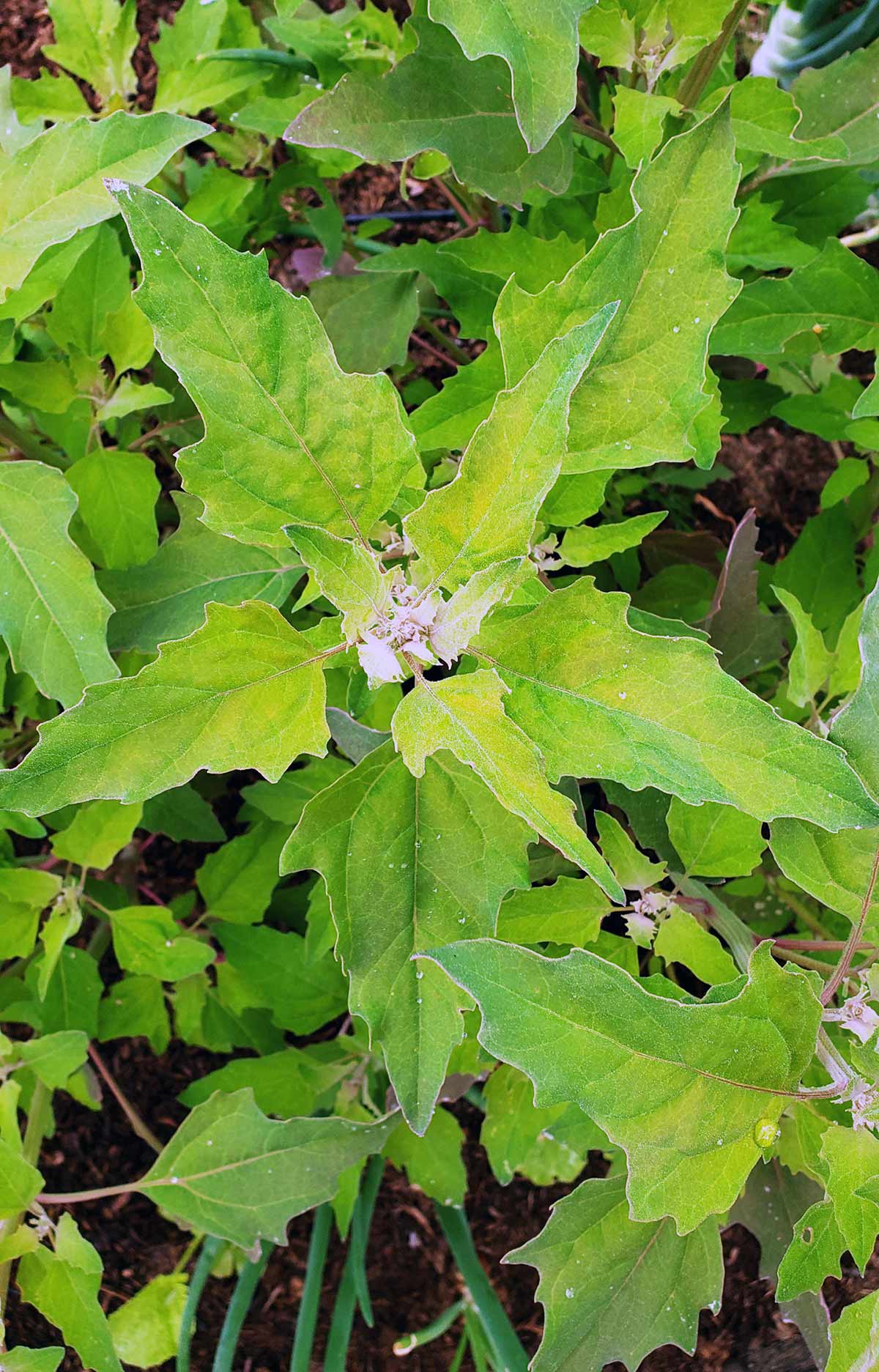 They are all related to amaranth, but while all chenopodium species are amaranths, not all amaranths are chenopodium. I happen to be growing a true amaranth, too, but that's for another post. And as you can see on this map, some species of lambsquarters, or something very much like it, lives near you.
As for my huauzontles, it's basically the common lambsquarters on steroids. Bigger, leafier, with larger seed heads, it is clearly what the Aztecs wanted after breeding many generations of regular lambsquarters. It is mostly eaten in the center of Mexico as quelites, in soups (see below), or made into several kinds of fritters.
It wasn't just the Aztecs who cultivated lambsquarters. Scientists are fairly certain that a variety of Eastern Native American groups cultivated their own goosefoot, C. berlanderii, which is very closely related to huauzontles, as far back as 3800 years ago.
Europe also has its cousin of lambsquarters, called Good King Henry, but it is not, technically speaking, a chenopod. That said, you can use Henry in any recipes that call for lambsquarters or huauzontles. Africa and Asia also grow C. album.
So what happened? Why did these plants get tossed from a valued place in our gardens to the weed heap?
If I had to guess, it is because of those damn brassicas, and their friends spinach and chard. Think about it: Lambsquarters and its cousins have delicious green leaves, but they are not terribly large compared to our modern greens like collards, chard or even spinach. Spinach, incidentally, is also an amaranth.
And, while we still love broccoli, we seem to have forgotten that the teeny "broccoli" tops on the various chenopods are just as good, if not better. We do at least still eat the dried seeds as quinoa or amaranth.
It is notable that in the hot regions of this world, lambsquarters still has a place in the garden. Sacramento, California, where I live, being one of those hot regions.
The reason is simple: You try growing a leafy green of almost any other variety in temperatures consistently over 95°F with humidity often dropping below 15 percent. Spinach won't last a week in that. Yes, there are other hot weather greens, like New Zealand spinach and Malabar spinach, but the chenopods are easier to grow.
And let's talk about nutrition. For a typical 100 gram serving, lambsquarters has 43 calories and 4.2 grams of protein, 96 percent of your daily vitamin C needs, 73 percent for vitamin A, and 37 percent for vitamin B2. It's also high in calcium and manganese. Spinach is not as nutrient dense, with only 23 calories and much lower vitamin C levels, although spinach is higher in vitamins A and K.
How to cook your lambsquarters? Lots of ways.
Obviously they and all their chenopod cousins, hell, add in all the amaranths and orache and atriplex relatives, too, are an excellent substitute for spinach or some other leafy green. That's how I use them most often.
Some parts of the country call lambsquarters "bacon weed," because, well… fry up some bacon, remove and chop it, cook a mess of lambsquarters in that bacon fat, maybe with some onions and garlic, add back the bacon as well as a splash of vinegar and you'll thank me later.
The young seed heads can be eaten like broccoli, added to fritters or soups, as you will see in the simple huauzontles soup below.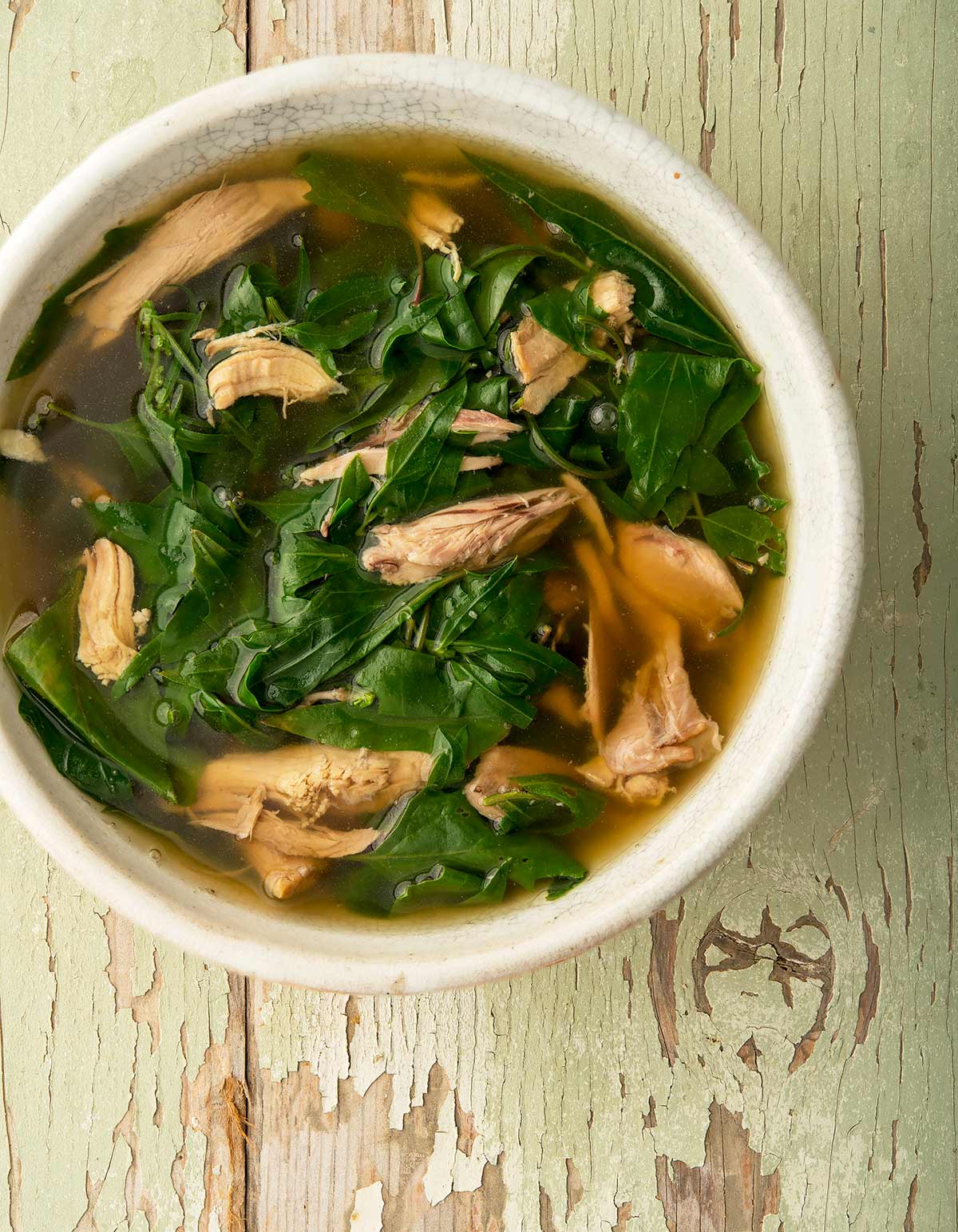 The Indians (from India) call lambsquarters bathua and use it in any place you'd normally see spinach used; saag paneer springs to mind.
What if you have too much? Best to boil your lambsquarters in very salty water for 1 minute, then move them to a big bowl of ice water; this stops enzymatic activity and sets the green color. Squeeze out the excess liquid and vacuum seal them in the freezer.
Identifying Lambsquarters
If you are unsure whether you have lambsquarters in your yard, or anywhere else, for that matter, follow these steps:
The plant likes disturbed areas, like vacant lots, gardens, and yards. Highly unlikely that you will find lambsquarters in a forest.
It varies in size from about a foot tall to, well, really big. I've seen one almost 6 feet tall before.
Many times the base of each side stem is pinkish red.
The leaves are shaped like a diamond, or an arrowhead. They are irregularly lobed. They often have a sort of whitish powder or sheen on their undersides. This is a key identifier.
The "flowers" are clusters of little green spheres at the top of the plant; incidentally, these are what most people eat in Mexico.
You can also dry lambsquarters for use as a dried green thing in a winter soup.
Speaking of soups, this one is a favorite of mine. Super simple, I first read about it in the excellent book Eat Mexico: Recipes from Mexico City's Streets, Markets & Fondas. It's just a simple chicken (or other poultry or rabbit) soup, spiked with lots of huauzontles (lambsquarters), served over rice with some crispy tortilla chips.
Other Ways to Cook Lambsquarters
In short, pretty much any way you would eat any tender, green, leafy vegetable: As I mentioned, think spinach and all its uses.
I will blanch and chop them into Italian ricotta dumplings, add them as a green vegetable in stews like this three sisters stew, or this West African palaver sauce. You can also simply sauté them as you would spinach of kale, with garlic, olive oil, a little chile and a splash of lemon.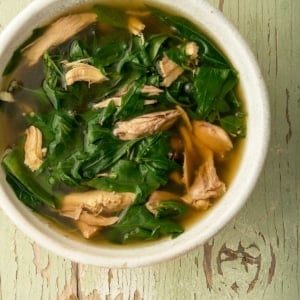 Lambsquarters Soup
This is a simple lambsquarters soup from Mexico, where they are called huauzontles. I like to make this with wild turkey, pheasant or rabbit, but chicken is perfectly fine. I also like to steam some rice and put that in the bowl, then ladle the soup over it, to make it a more substantial meal.
Ingredients
3

pounds

turkey, pheasant or chicken wings

1

quart

chicken broth,

or other light broth

4

avocado leaves or bay leaves

1

sprig

epazote

(optional)

2

teaspoons

dried Mexican oregano,

or regular oregano

1

onion, sliced

3

stalks

celery, chopped

2

pounds

lambsquarters,

or spinach or some other tender green.

Lime juice to taste

cayenne to taste
Instructions
Put the turkey wings in a soup pot and add the stock, plus 2 quarts of water. Bring to a simmer, then add the avocado or bay leaves, epazote (if using), oregano, onion and celery. Let this simmer, partially covered, until the meat wants to fall off the bones, about 2 to 3 hours.

Remove the wings and pick off all the meat from the bones. One trick I do with wild meats is to fish out what's ready, put the shredded meat into a bowl in the fridge and return the debris to the pot. Check every 30 minutes or so until the toughest wing or leg or whatever is tender, then shred that. This makes for a better broth in the end, rather than forcing the issue with wings or legs that aren't tender yet. Reserve all the meat.

Strain the broth well. I set a paper towel in a sieve and set that over a large bowl to remove debris. Rinse out your soup pot and return the strained broth to it. Add the shredded meat and allow this to cook for a few minutes.

Add all the lambsquarters at once, stir well and allow to simmer for no more than 10 minutes. Serve with lime juice and a little cayenne. And, as I mention in the head notes, I like to ladle all this on top of simple steamed rice.
Nutrition
Calories:
299
kcal
|
Carbohydrates:
11
g
|
Protein:
30
g
|
Fat:
16
g
|
Saturated Fat:
4
g
|
Cholesterol:
80
mg
|
Sodium:
148
mg
|
Potassium:
914
mg
|
Fiber:
5
g
|
Sugar:
1
g
|
Vitamin A:
13175
IU
|
Vitamin C:
92
mg
|
Calcium:
382
mg
|
Iron:
3
mg
Nutrition information is automatically calculated, so should only be used as an approximation.